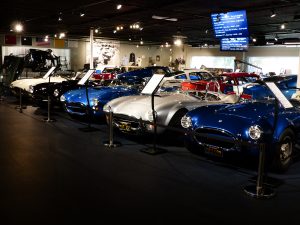 As usual, double click on any photo to see it full size and high res
This fabulous Shelby/Cobra/Mustang museum is billed as "America's Place for Cobra & Mustang Fans" and it truly is.  Besides visiting the Shelby American factory and museum in Las Vegas, this place is the Other Must on any Shelby, Cobra, Mustang, or high performance Ford enthusiast's To Do list.  It's just that good.
Drew Serb jumped on the Shelby bandwagon in the early 1970s and has built a rather magnificent collection and now facility dedicated to the people and machines behind and created by Carroll.  As Drew (and daughter Emily's) collection continued to grow, more room than the family garages and an industrial space here and there was needed.  So Serb purchased a large commercial/industrial/office building in Martinez (east San Francisco Bay area) California, and reimagined it into The Cobra Experience.
It's an open airy, handsome space of about 25,000 sq. ft, including plenty of museum gallery exhibit area, plus several top notch event spaces too; there's a Library/Boardroom, a lounge, banquet space that'll hold 200+ people, a 4500 sq. ft outdoor patio area, and a first rate, 40 person theater (and I'm not talking about your den and a big screen, as this is a real theater with excellent audio systems, and proper theater seating).  You can show your movies or theirs for you and your guests.
Considering that the Cobra Experience is private and doesn't operate on the budget of the Petersen or the Guggenheim, the display quality and museum craft is excellent.  The lighting is good too, and besides all the great cars there are many display cases full of Cobra and Shelby ephemera, plus a large wall dedicated to help you decode the differences between all the wire and cast wheels used on Cobras over the years.  Lots of great photos and autographs on the walls, plus the obligatory gift shop (better than most).
The gallery spaces include lots of tools, benches, a dyno and office furniture from the original Shelby American SoCal shops.  The spaces include nearly the entire run of Cobra production models, some particularly rare birds, and several other interesting and significant Ford and Ford powered racing cars.
Even though The Cobra Experience is established and operated as a non-profit foundation, it is also very private in that it isn't open to the public every day nor does it depend upon gate income to stay afloat.  It is however open to the public the third Sunday of every month from 10:00AM-3:00PM, by appointment only other days and times.  Many of the vehicles belong to the Serb family, but several others are there on loan and belong to others.
It's less than an hour away from SFO and other major airports, so consider The Cobra Experience for a destination event or party that people from far away can easily visit.  The spaces are attractive and lend themselves to group activities.  The museum also does parking lot events, Cars n'coffee gatherings, and some fun events to involve kids and get them hooked on the hobby too, plus charity activities.
If you love Ford and Shelby history, this is a place you will not want to miss.
The Cobra Experience
777 Arnold Drive
Martinez, CA  94553
925/558-5585