Automobile, Lowrider and Truck Trend will be discontinued, among others, according to a memo to MotorTrend Group staffers.
I was somewhat disturbed yet not entirely surprised to learn that TEN, The Enthusiast Network Publishing — (formerly, long long ago, Petersen Publishing Company, PPC) is dynamiting most of the rest of its remaining print titles in favor of online editorial, video programming, application based delivery platforms, and cable TV, which makes some sense as a majority of the company is owned or otherwise controlled by the Discovery Network folks.  It's a bummer for me personally that I wrote for and contributed to several of these titles, enjoyed reading many more of them, and now I'm sure that a number of good folks I know will be out of work.
The story below, by (media trade outlet) Folio Magazine's Greg Dool, tells much of the story as it's known so far.  I worked at what used to be Petersen for a total of 15 years, as a senior staffer then Executive Editor of Motor Trend magazine, then Executive Editor and later Editor of what I still consider my baby, Motor Trend Classic.  Many if not most of those years were good, and in that time I saw a smorgasboard of owners and senior execs come and go; few of which ever had any real idea of the business they were charged with, how to run it, or what to do with it.
We were for a time owned by the group of venture capitalists that bought the company from Mr. and Mrs. Robert E. Petersen, then for a while we were owned by England's EMAP publishing, then a merger with what was Primedia, then we were owned by a magazine distribution guy named Ron Burkle, then bankruptcied back into a stand alone company called SourceInterlink, and that's about the time that I left.
The list of titles being shuttered is just below, and some of these titles had lived long past there "best used by date."  Others were absolutely still viable.  It all reminded me of a time in the early 1980s, before anyone heard of or used the Mysterious InterWebs, and "Apps" were found only on restaurant menus, Petersen Publshing Company boasted more than 80 print titles, not to mentions special publications, books, Yearbooks and all other sorts of book and magazine style products, and was massively successful and profitable.
What reduced Petersen/Emap/Primdia/TEN from nearly a hundred titles to soon to be three?  I acknowledge and appreciate the world changing impact and value of digital media, but at the end of the day, I attribute this great company's decline from mega publisher, down to a few stalwart magazine titles, plus television, and a gaggle of websites to not only the "digital media convergence," but to the company never finding a solid home, and often, titanically poor management.
If you're at all interested in the early days of the company, the cars, and the brilliant people that birthed it, you can read my book about the Petersens, the birth of HOT ROD magazine, hot rodding, the company and the times here…
It's available publisher direct at motorbooks.com, autobooks-aerobooks.com, or Amazon.com of course.
And you can check out the rest of Folio's story below…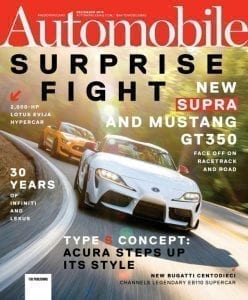 TEN Publishing will shutter 19 of its 22 automotive magazines by the end of the year, leaving MotorTrend, Hot Rod and Four Wheeler as the only three titles that will continue to be published in print in 2020.
According to a memo sent to staffers at MotorTrend Group…and obtained by Folio:, titles going out of print include Automobile, Lowrider, Truck Trend and Vette, among several others. A full list can be found below.
"It was announced today that TEN Publishing will discontinue publishing 19 of its 22 automotive print titles by the end of the year," wrote MotorTrend Group president and GM Alex Wellen in the memo. "I know this is difficult news, but I want to assure you that we remain committed to you and your pursuit to deliver quality automotive storytelling and journalism across all of our content platforms."
MotorTrend Group, a joint venture formed in 2017 and majority owned by Discovery, Inc., comprises the digital and video businesses of the company formerly known as The Enthusiast Network, whereas TEN Publishing controls those brands' print magazines. Under a licensing agreement, MotorTrend Group provides editorial and ad sales support to TEN, producing content for both MotorTrend Group's digital platforms and TEN's magazines.
Folio: reached out to TEN for comment but hasn't heard back.
"Simply put, we need to be where our audience is," Wellen continued in the memo. "Tens of millions of fans visit MotorTrend's digital properties every month, with the vast majority of our consumption on mobile, and 3 out of every 4 of our visitors favoring digital content over print."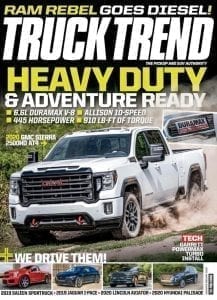 "While TEN Publishing will no longer print the following magazines," he wrote, "[MotorTrend Group] will continue to offer our audiences and advertisers digital coverage for these discontinued print titles online," adding that subscribers to the shuttered magazines will be offered digital subscriptions to MotorTrend, Hot Rod or Four Wheeler as well as MotorTrend's video streaming service.
The memo didn't explicitly warn of impending layoffs at MotorTrend Group as a result of the changes at TEN, but did notify staffers of the creation of a one-time voluntary separation program, in which some editors and salespeople will be given the option to resign in exchange for "special separation benefits."
"We created the VSP to empower eligible employees to be a part of the decision-making process around how we evolve the business," Wellen told staffers. "The next phase of our growth is crucial, and many of you will need to make some important decisions."
In a statement provided to Folio:, MotorTrend Group said it is "doubling down on our best-in-class digital product experiences, while maintaining our support of the three most popular, profitable and strategic brands across digital and print—MotorTrend, Hot Rod and Four Wheeler."
A Tweet sent Friday from Automobile's account seemed to confirm that the brand would live on digitally.
"While TEN Publishing will no longer print Automobile Magazine, MotorTrend Group will continue to offer our digital coverage," it said. "On the web, it's full steam ahead."
The publisher of more than 60 enthusiast magazines as recently as five years ago, Source Interlink Media was rebranded TEN: The Enthusiast Network in 2014 after its parent company, Source Interlink, filed for Chapter 11 bankruptcy following the collapse of its magazine wholesaling business.
In 2017, TEN formed a joint venture with Discovery, Inc. that would combine the company's, automotive digital, DTC, social and live events businesses—essentially everything other than its automotive print magazines and its adventure sports brands—with Discovery's Velocity TV network. That venture, majority owned by Discovery with backing from GoldenTree Asset Management, was rebranded MotorTrend Group a few months later.
"While TEN's print businesses will not be contributed to the new venture, a commercial agreement will allow for continued cross-promotion between the print portfolio and the new venture for a true multiplatform, 360-degree advertising offering," read an August 2017 statement announcing the venture.
Earlier this year, TEN Publishing sold its 14-title adventure sports portfolio, including Bike, Powder and Surfer magazines as well as the Dew Tour event series, to National Enquirer publisher American Media, LLC for an undisclosed sum.
Here's a full list of discontinued titles:
4-Wheel & Off-Road 
Automobile 
Car Craft 
Chevy High Performance 
Classic Trucks  
Diesel Power 
Hot Rod Deluxe  
Jp 
Lowrider 
Mopar Muscle 
Muscle Car Review 
Muscle Mustangs & Fast Fords 
Mustang Monthly 
Street Rodder 
Super Chevy  
Super Street 
Truck Trend  
Truckin' 
Vette