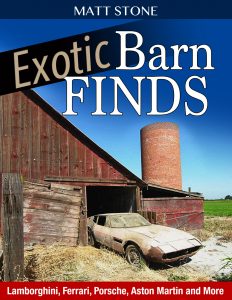 Greetings Visitors and Friends,
I hope you had a great July 4 weekend and holiday.
I've just made a super deep discounted publisher-direct quantity buy on my Exotic Barn Finds book, and I can sell them to you for peanuts.
Here's the deal: these are brand new copies, right out of the box. Retail is $24.95, plus in most cases you pay sales tax and shipping. That's at least $30 a copy. The best you might do is Amazon Prime, which sells the book at $17.49 plus tax. I will sell one to you at $20 including tax and free shipping. You can't buy it for less anywhere, and this way you can get an autographed (and personalized if you wish) copy.
I'll sell you one or twenty copies at that deal, twenty bucks each including tax and ship. But I only can deliver through eBay. Here's the link:
http://www.ebay.com/itm/222567465972?ssPageName=STRK:MESELX:IT&_trksid=p3984.m1555.l2649
I will autograph call copies in blank unless you tell me otherwise. If you want it personalized to you or anyone else, just let me know the name via eBay Messaging or in the message box with your PayPal payment.
What a great gift to yourself or someone else for $20, no?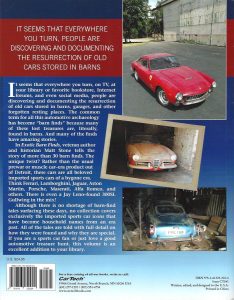 Either way, its a fun book with some amazing photos and interesting stories, and I hope you enjoy it.
Much thanks — MS