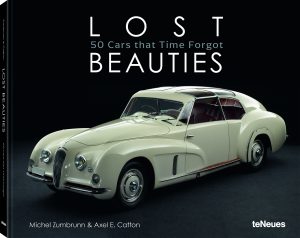 LOST BEAUTIES: 50 CARS THAT TIME FORGOT
by Michel Zumbrunn and Axel E. Catton
Click on any image in either review to see it full screen
This beautifully written, photographed, and presented 220 page hardbound volume isn't another barnfind book, although a few of the cars contained herein could be said to be in that condition.  Instead it is homage to highly unusual, very rare, and in many cases one of a kind machines that I promise most of us have never seen or heard of before, or at least had forgotten about.  Zumbrunn is a European photographer of considerable artistry and talent; Catton is equally credentialed after a life in automotive PR and journalism.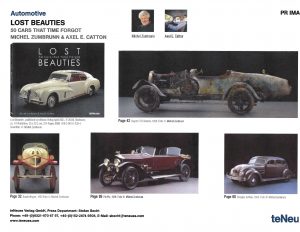 Besides the artful layout and fabulous studio photography, the book is easily digestible in small bites or large chunks, as you wish to consume it.  Each vehicle gets about four pages of coverage — with just enough history and detail to be meaningfully descriptive, without going overboard or ever droning on.   The fact filled but easy to read text is presented in both German and English, among the languages Mr. Catton speaks.
It's not all about "the strange" as there are many marques and names you will know, but likely represented by models you won't.  A beautifully researched, written, shot and presented piece that any aficionado will want on his or her bookshelf.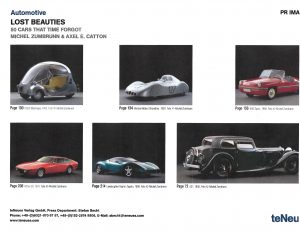 LOST BEAUTIES, published by teNeues
IBSN 978-3-96171-339-4
9 1/2″ x 11 1/2″ hardbound, horizontal format
Available on Amazon, Autobooks-Aerobooks.com, or teneues.com.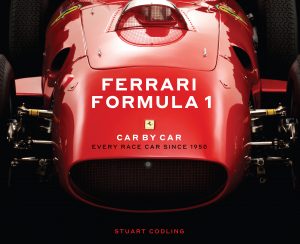 FERRARI FORMULA 1 CAR BY CAR – Every race car since 1950.
By Stuart Codling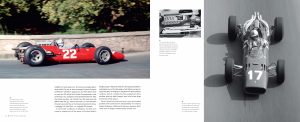 If you live, breathe and eat F1, and particularly Ferrari F1, you'll be deeply compelled by this fabulous new release.  Some Ferrari F1 machines are beautiful, some less so; many were successful, some less so; but all are interesting including the themes, variations, and evolutions of them — not to mention the races and championships they won or lost, and the all-time greats roster of pilotos that drove them.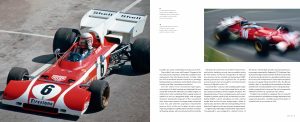 This new hardbound book neatly blends the history, design, and technology with the human factors of who built them, drove them, and their performance and results.  Much of the photography appears sourced directly from Ferrari's archive, and is something every cognoscenti and tifosi will want.  Among the many things this book demonstrates is the evolution of F1 tires, wings, and aerodynamics.  From tall skinny tires to the foot wide (and more) rubber, and no wings to cars dominated by wings, as the decades rolled by.  Production values very high here, and a high quality lasting piece about a story that's never been told all in one place at one time.  The index of races, wins, season results, and such is a very worthwhile addition to the chapters text.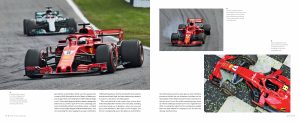 Ferrari Formula 1, by Quarto Publishing
9″ x 12″ hardbound, 224 pages, hundreds of color and black& white photos.  IBSN 978-07603-6777-3
Available at Amazon.com, QuartoKnows.com, Autobooks-Aerobooks.com