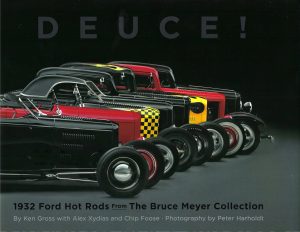 Click on either image to see it full screen in high res
Bruce Meyer (not to be confused with the late Bruce Meyers, of dune buggy fame) is about as serious and committed a car guy as I know, plus a great ambassador for our hobby.  He likes to say "I think of myself first as an enthusiast, not a collector."  Well sorry cuzzin, you're both, and at the very highest levels.  Bruce's gathering of fabulous cars and car stuff is breathtaking to say the least, including countless great Duesenbergs, Mercedes-Benz, several top rung Ferraris, the 1979 24 Hours of Le Mans winning Porsche Kremer K3 935, and so on, and on and on, including not less than 10 '32 Ford hot rods…8 of which are historically significant in one way or another.
Veteran journalist, hot rodder, and my friend Ken Gross has been looking to put together a written compendium of "Bruce's Deuces" for quite some time, and it's finally happened, just published in a dandy of a hardbound book he jointly authored with Bruce, and Alex Xydias and Chip Foose, with primary photography by the superlative Peter Harholdt.
This is a superb piece of work on every level.  It tells you a lot about Bruce himself, the DNA of hot rodding, and 8 spectacular cars, plus several more from his "not a collection."  The photography is a perfect mix of fresh studio art, and a solid helping of archival photos, including some great black and whites from hot rodding history.  The production values are high, with an elegant, clean layout, with great printing on high quality stock, hardbound covers, and a handsome cover jacket.
Even if you don't consider yourself into hot rodding, you'll find a lot to learn and enjoy from this fine piece.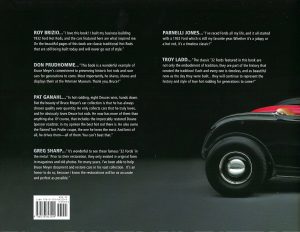 So far only two places to buy it, and they would be The Petersen Automotive Museum in Los Angeles (in which Mr. Meyer plays major roles) Gift Shop / Museum Store, or at Autobooks-Aerobooks.com in Burbank, California, which can also arrange for an autographed copy for you at no additional cost.  Find it by ISBN 978-0-578-84320-9, and trust me when I tell you its worth ever peso of its $39.95 MSRP.
Congrats Bruce, Ken, and Team Deuce – MS