Guest Blog: words and photos by Kirk Gerbracht
Double click on any photo to see it high res full screen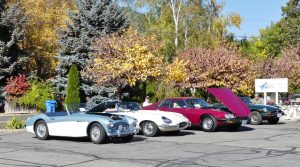 The British Car Club of Southern Oregon held its (not quite) All British car show on October 20, 2018 in Rogue River, Oregon. Since the Club is rather low-key, we confess up front, that "All British" included any manner of Miata, MR2, T-Bird, an Opel, and an all Ameircan Pontiac Fiero, just to name a few. This club is all about fun and welcomes everyone. Casual is an understatement, as they don't even bother with by-laws or a website.
Run, whut'cha brung.
Established in 1987, and with a current roster of about 50 members, the Club meets once a month at a local eating establishment and plans its next event. Weather plays a big factor in Southern Oregon, but the group enjoys club drives to interesting local destinations. The roads of Southern Oregon are beautiful, uncrowded, and made just for spirited driving.
This event included a light lunch for participants, a raffle, many British cars and plenty of camaraderie. To my surprise, there was not one, but three Morris Minors, two of which were right-hand drive, one even sporting operational semaphore turn signals. There were plenty of MGs (TD, TF, B, BGT, Midget), Triumphs (TR4, TR6, and Spitfire), Minis (when a Mini was mini), Austin-Healey (100 and 3000), and Jaguars (E-Type, XK, XJ).
Overall, most of the cars were above-average drivers. Of particular note were two Jaguars, a Series 1 E-type roadster and an XK120 DHC, both of which were worthy of Pebble Beach. There was also an outstanding Healey 100, an MG TF, and a TR4.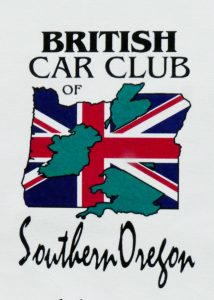 Even sans Meghan and Harry, this little show was the proverbial "bloody" success with a good time had by all.
Oh please don't leave, more photos just below…