Special Advertising Feature
The Petersen Automotive Museum in Los Angeles needed to know, and Covercraft and Kimberly-Clark had the answers
By Matt Stone
Photography by Evan Klein
Petersen Automotive Museum Collection Manager Tom Kenney has an enviable job. He spends his days surrounded by hundreds of fabulous classic cars. He gets to fettle and fiddle with them. He drives them, and takes them to the world's most significant car shows and concours, representing the Museum. But with all the car geek joy comes a bucket full of challenges. How to store and protect them? The constant battle with dead batteries, spoiled fuel, leaking transmissions, and flat tires. Managing vehicle storage is a never-ending job. While the museum does have some enclosed basement space, some vehicles are stored outdoors in covered parking areas, and Kenney and the museum's curatorial staff are constantly moving cars about the property, in and out of exhibits, and to and from shows, photo shoots, and to suit all sorts of other needs.
You might think that cars stored in an enclosed environment, or beneath a covered parking structure, wouldn't require much more than a dust sheet, big piece of flannel, or maybe just a huge piece of clear plastic to keep them nice and shiny, right?
So wrong.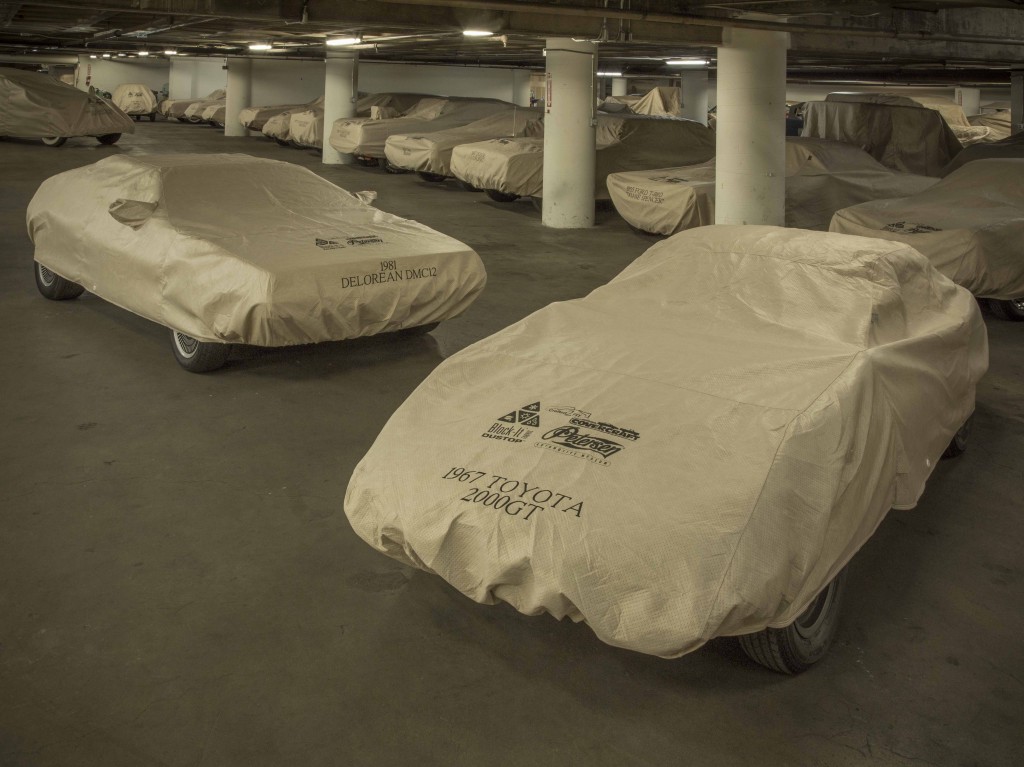 According to Kenney: "In our outer perimeter storage areas, where the environment is less than pristine, we use covers to keep dust, greasy air, and particulate matter (from exhausts and general environmental fallout) from settling on the finishes. In the past, we've relied on the softness of a typical flannel cover, but found that flannel covers allow very fine dust particles to pass through the cover and on to the car. After several weeks, the car gets dirty under the cover, so when you remove it, you're actually pulling a very fine, abrasive layer of dust across the car. Some of our cars sit for months, so the accumulated dirt becomes a serious issue. Also, it's not just the paint that gets soiled, but the chrome and other plated parts begin to "bloom" because of the contaminants in the environment.
We also use car covers at car shows/concours, as more show organizers are requesting that participating vehicles be placed on the show field the day before the show. Again, contaminants from the air, trees, birds, etc., can affect our car, and overnight moisture from the ground causes other issues with the car's cosmetics. A good cover minimizes the risk of damage."
Some of the museum's cars already had covers, of varying age, quality, condition, and protective effectiveness. Not good enough, so the Petersen hooked up with Covercraft, reputedly the world's largest purveyor of custom fit car covers. Given Kenney's summary of the museum's needs outlined above, the museum and Covercraft chose a Kimberly-Clark synthetic fabric named DUSTOP. DUSTOP's 4-layer non-woven construction is specifically designed to assure any car it covers will be as clean when it is uncovered as it was when rotated into storage; it was developed to afford at least double the dust and dirt protection of single layer flannel or cotton covers. DUSTOP's outer layer is tough, yet still relatively soft, and underneath it are breathable layers of material designed to keep out dust, dirt, and airborne chemical fallout. Underneath all this is a super soft fabric, that is like the softest flannel pillowcase you've ever rested your head on, to nuzzle and protect the car's paint and plated surfaces. DUSTOP's four layers combine to create a bit of a cush, helping resist minor dings and dents as museum staff and equipment circulates around the covered cars.
You might think this multi-layer protection is a dose of overkill, but not so. Take, for example, the Petersen's one-off Jonckheere-bodied 1925 Rolls-Royce Phantom I Aerodynamic Coupe. The car is positively huge, and painted all black, far and away the most difficult color to care for and keep pristine. And this massive Roller just drips with chrome and other plated metals, also a challenge to keep perfect under the conditions Kenney mentions above. This famous "round door Rolls" is a legitimate player for best of show in any show in which it's entered, and bloomed or spidered chrome or plated surfaces would kill its chances, instantly.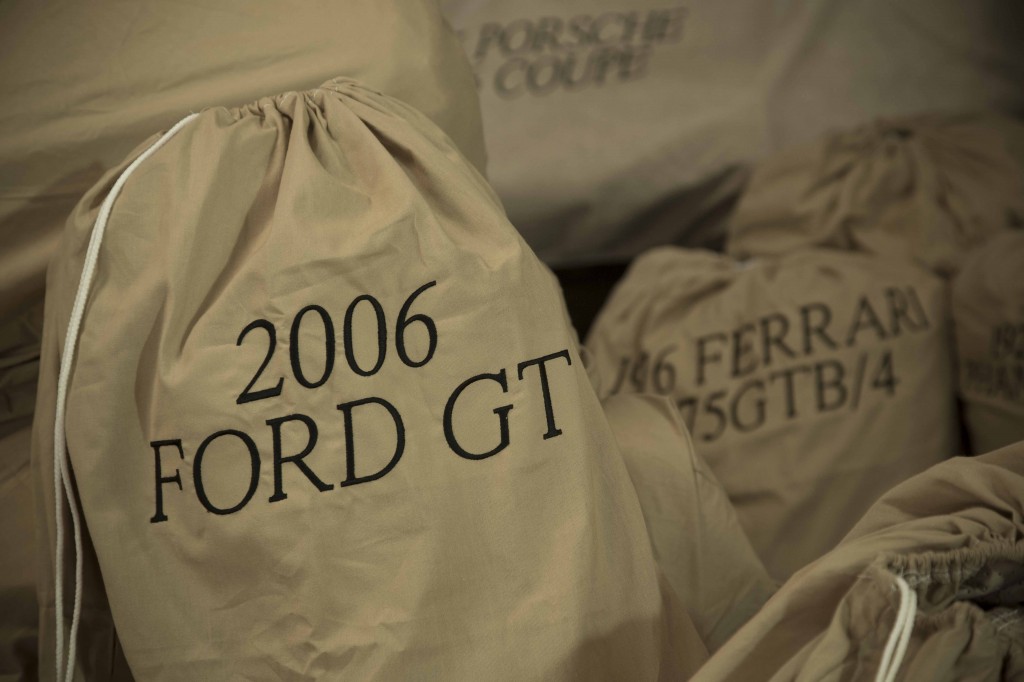 The Petersen's new covers are spiffy too, silkscreened with a variety of sponsor logos, and the year, make and model of each car so the underlying machine can easily be identified by museum staff down in the warehouse, and so the covers don't get mixed up from car to car. Covercraft has tens of thousands of cover patterns already in house, but given that so many of the Petersen's cars are specialized one offs or customs, it took a crew of Covercraft technicians several days to measure and template the museum's inventory.
The project has so far involved the custom construction of 135 covers, and in as much as Covercraft and Kimberly-Clark wanted to take a sponsorship role with the Museum, the companies donated the entire deal at no cost. Are they working? According to Kenney, yes: "We've been using the new Covercraft covers for a few months now and have noticed that the covered cars are remaining much cleaner and our plating is maintaining its finish." "Working with the Petersen Automotive Museum has been a great experience," says Jay Baxter, Business Development Manager for Kimberly-Clark Professional Protective Fabrics. "We're proud that our DUSTOP fabric was chosen to protect these classic cars and the automotive passion they represent. We want visitors to the museum to know they too can get the same level of protection for their vehicles, new or old."
Keeping a car covered when its outside is just as important, and sometimes even more critical. An equal goal in keeping a car clean when its parked outside is keeping it safe from the sun and corrosive fallout, from birds, acid rain, surplus fuel dumped from aircraft, tree sap and the like. The answer is relatively simple: When your car's outside and going to be parked for more than a few minutes, cover it up (as long as its clean). Especially if it sits outside all day while you're at work. The sun's UV rays begin eating your car's paint, and are drying out and aging rubber trim, tires, and upholstery the minute the car isn't in your garage or under a cover, no matter how much wax or trim/leather/vinyl protectant you apply. DUSTOP is designed primarily for indoor cover usage, but Kimberly-Clark has developed its EVOLUTION fabric for overall use, and water resistant NOAH is calibrated for outdoor protection and particularly long term storage.
Whatever you do, don't use tightly wrapped clear plastic sheeting or a tarp. These materials don't breathe, but will trap moisture underneath and can ruin your paint in a heartbeat. You can't drive your car around under a cover, but keeping it waxed, detailed, and under a quality cover when parked will go a long way toward it looking fresh for years to come.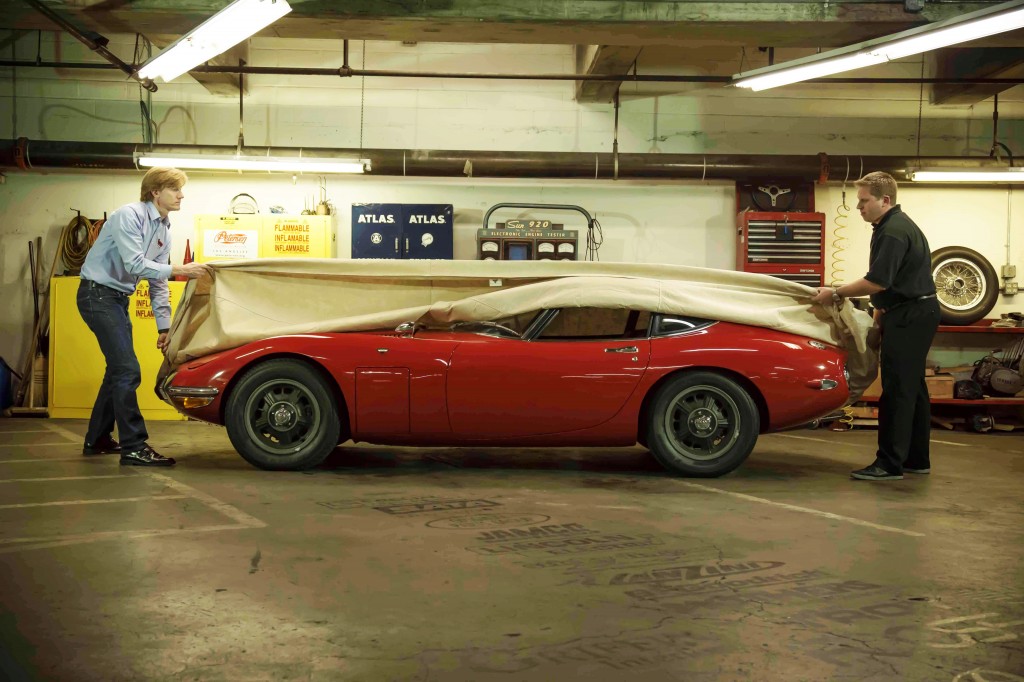 The Petersen Automotive Museum: www.petersen.org
Covercraft: www.covercraft.com
Kimberly-Clark vehicle cover fabric information: www.block-it.com