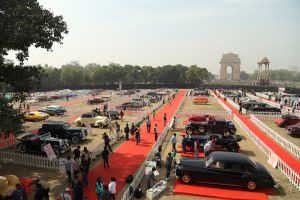 Automotive history is deep and rich in India
Photos by me, Linda Stone, and courtesy 21 Gun Salute International Vintage Car Rally & Concours Heritage Trust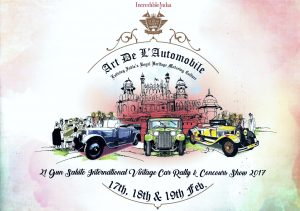 It all happened quickly and simply: I was in Monterey last August for Car Week when I met a tall, handsome, well dressed Indian gent, who introduced himself as Madan (pronounced Mah-don, emphasis on the "don") Mohan (emphasis on the "han"), chairman of the 21 Gun Salute International Vintage Car Rally & Concours Heritage Trust in India. He presented me with a beautifully illustrated multi page booklet about the event of the same name, and invited me to come to India as an international judge for the 2017 concours and rally. I was in a bit of a rush at that moment, and could only accept his materials, shake his hand and promise I'd be back in touch. Classic car Concours in India!
Who knew?
I have been judging top concours level car shows for 25 years now, but this sounded like something entirely new and different. Once home from Monterey, Mr. Mohan and I began a long email discussion about me accepting his invitation. Which I ultimately did. And a few months later, after a mere 18 hours of sleepless flight time from Southern California, I was touching down at the Delhi airport. Delhi being a very historical place, and India's capitol city.
The next morning I was in a taxi, heading toward Delhi's India Gate Park, deep in the most insane traffic I've ever experienced.
I've been to and/or driven in what many consider the most traffic riddled cities in the world: Tokyo, Manhattan, Los Angeles, Boston, Milan, Paris, Rome – and nothing matches the helter skelter food processor of traffic in Delhi. Lane lines are at most a suggestion; if the road is striped for three lanes, then cars, bikes, buses, trucks, scooters, motorcycles, tuk-tuks and you name it jockey for position four to five wide. Large roundabouts probably help keep it all moving, but also serve up their own particular brand of vehicular terror. Many of the drivers there just dive in, move over, pull up and pass at will, trusting the other guy not to hit them. And this may include whole families of four or five people, crouched tightly onto a small scooter, with or without helmets. Or a guy sitting on a decrepit wooden trailer piled 20 feet high with bags of rice, being pulled by a horse. Pure bedlam.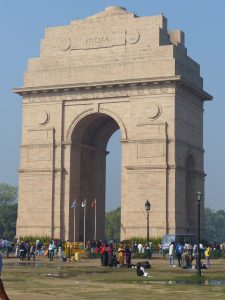 Finally I see the iconic India Gate, arriving sans metal to metal contact or witnessing a single injury. The India Gate loosely resembles Paris's Arc di Triomphe although the two are not historically connected in any way. The show is held in a 40 or so acre section of the large park built around the India Gate, and the first order of business is a judge's meeting (this show is a two day affair), after which we are free to peruse the field a bit prior to the commencement of judging.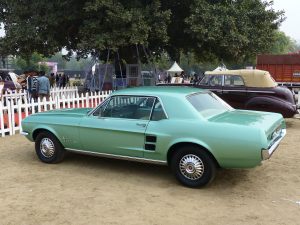 It turns out American cars are very popular in India. I didn't get a hundred yards before nearly tripping over a '67 Mustang notchback coupe, not something I expected there. A further review of the entry list revealed that there were a number of Fords in the show, including another Mustang and a Mercury Cougar. The '67 was clean yet a very bread and butter car; 289 2V, automatic, steel wheels and hubcaps, no GT package. The car belongs to Mr. Ranjit Pratap, who owns around 40 classic cars of all stripe and vintage, three of which were on display at this event. I'd meet Mr. Pratap at dinner the night before and he told me a lot about India's motoring history and current collector scene. For instance, it isn't legal to import any car newer than 1949 into India. Nor is it legal to register any new car with left hand drive there, as the country, being a former member of the British Commonwealth, drives on the "other" side of the road than we do in the West, so "right hookers" are the order of the day. Up until recently, high quality restoration work was very hard to come by, but with the advent of the internet and worldwide media, the locals are learning to work to higher standards of quality, authenticity and originality. There are no trade embargos with India, as there are with Cuba, so parts can be imported and sold in the country with no major hurdles other than high cost. The importation of restoration parts and parts cars flows relatively freely. And of course, eBay is a major market source for so much of this.
Before we wrap up the discussion of the American Musclecar Class, a couple other Fords are worthy of mention; one being a nicely and authentically restored 1946 Ford Deluxe Fordor sedan, resplendent in a deeply brilliant maroon over a gray interior, still sporting its original, yet fully overhauled, and dead stock Flathead V-8 with a three speed manual transmission. Another was a handsome 1936 Ford Phaeton convertible sedan, also sporting its original Flathead V-8; it was a right hand driver, possibly sold in India as new, or imported from the UK.
Rightly or wrongly, my pre event expectations included rows of grand touring cars from the stables of this maharaja or another, and ultimately I wasn't disappointed. A spectacular Rolls-Royce Silver Ghost, along with its stablemate '67 Phantom Limo, made the trip from the UK, and looked positively regal lined up alongside other similar machines. Some sports cars too, although not a single Porsche, Maserati or Ferrari in the field. A fair number of Mercedes-Benz on show, an MG TD, a spectacular early 60s Fiat 1500 spyder, an immaculate Alfa GTV, a few Jag XKs and so on. A delightfully varied field, but who would have thought that two of the most popular cars in the show would be a pair of American stationwagons from the late 1950s.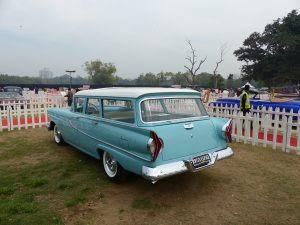 And how could we forget what is likely the best restored 1958 Edsel station wagon in the world (no kidding). This amazing two tone blue and white Edsel Villager wagon was sold new into India, and had recently spent several decades backed into a garage, sitting and not running, with everything forward of the firewall sticking out into the elements. And remember, India has a monsoon rain season, so the whole front of the car was ravaged by pounding rain and unrelenting sun; suffering near terminal rust. A fairly new restoration shop, staffed by eight or nine young locals, took the car down to its last nut and grommet and restored it to at least showroom condition. A derliect Edsel parts car was sourced to provide some bits and patterns, but anything from the original or parts car that couldn't be saved and restored was simply remade from scratch, by hand. Fortunately, the original 410 cubic inch MEL series four-barrel V-8 was restorable and thus rebuilt, detailed, and retained, along with the three on the tree tranny. Many yards of vinyl and interior fabrics had to be tooled for and reproduced, to exact original spec, to accomplish this showroom fresh interior. When the Pebble Beach Concours d'Elegance has a category open to a '58 Edsel, this is the car that should be there. It's just that outstanding. And it's also driven. As you may surmise, it handily won the Post WWII American class. The crowd, and the judges, loved it. Because of the restoration quality, originality and authenticity levels it demonstrated it was actually under consideration for Best of Show! Imagine how that would have rocked the concours world that's used to a Best of Show diet of Delages, Mercedes, Rolls-Royces, and such.
A 1959 Chevrolet Parkwood "estate" wagon was restored to near similar levels, and equally adored by spectators and judges alike. Also in two-tone blue and crème, it ran a healthy sounding 283 V-8 with a three speed manual transmission. Big gunner Cadillacs – late 1930s – mid-50s — is also very popular in India.
Best of show turned up to be a most appropriate car and story: A breathtaking – not exaggerating – 1933 Minerva AL limousine with a town car style front compartment for the chauffer, and a landaulet type carriage roof in back for the passengers. This car, a rare V-12 engined example, was bought new and lived its entire life in India, and its restoration and presentation quality would have placed it well at any concours in the world. It lacked for nothing, resplendent in a deep navy blue, with gleaming nickel and chrome trim, plus gold-plated instrument bezels. A worthy best of show winner anywhere.
Day Three turned out to be a particularly enjoyable surprise: that being a road tour from central Delhi out to the Buddh International Formula One circuit about 60 miles outside of town. This facility is a modern, amazing, architectural wonder that hosted F1 only three times. Naturally, the event fell off the F1 calendar over money and tax issues in disputes between then F1 czar Bernie Eccelstone and the Indian government. This is a travesty, as the facility is completely up to current FIA spec, beautifully laid out and built, with a fast, sweeping track layout that made for high speeds and great racing.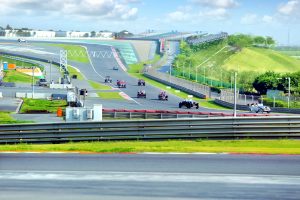 The most recent F1 race there was in 2013, won by Sebastian Vettel prior to his move to Ferrari. About 100 classic cars from the show and the community joined the tour on the trip from Delhi to the track; a few had problems, most made the run without incident. After some ceremonial dance and music demonstrations, the cars each took a few laps of the track. A few thousand locals turned out to watch and cheer. My ride was a charming, 1926 Chrysler touring sedan, top down of course; a police escort keeping the normally manic traffic at bay. One can only hope that new F1 leadership and India's increased efforts at promoting tourism will conspire to get Buddh back on the Formula One calendar.
The prime purposes of this event were to unite enthusiasts from around the world in celebration of India's rich motoring history, and to help boost tourism to the country; both of which goals were handily accomplished.
We also went on to visit the Taj Mahal (as magnificent as you have heard it is), the Red Fort, rode elephants and everything else you'd expect to do in India. You can keep up with future shows at 21gunsaluterally.com.