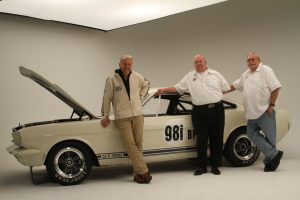 January 4, 2018 — A little more than fifty years after Carroll Shelby and his merry band of designers, fabricators, racers, and hot rodders built the original racing versions of the '65 Shelby GT350 Mustang, a small nucleus of that group is putting the band back together to design and produce a Ford Motor Company and Shelby American authorized "tribute" or "continuation" run of those R-Model Mustangs. The gang is called the Original Venice Crew, because the first round of those cars, back in the day, was built at a shop on Princeton Street in Venice, California.
The Original Venice Crew is offering production versions of their popular 1965 Shelby GT350 "competition model" sports car. Only 36 of these cars will be built, each incorporating several aerodynamic and other enhancements by Shelby American designer Peter Brock.
Each Shelby is hand built at the Shelby facility in Southern California, just as Carroll Shelby and the OVC team did in 1965. The new OVC "shop" is the former location of the Carroll Shelby Engine Company, which is part of the Carroll Shelby International headquarters in Gardena, called "Shelby LA." Modeled after the 1960s offices at the original Venice facility; the shop features a desk for the late Carroll Shelby replete with one of his famous Stetsons.
For the month of January, 2018 only, the OVC Mustang stars as the inspiration "installation" or activation, behind an innovative and engaging retail experience exhibit staged at the new Tees + Jeans gallery, also in Venice, California. Junk Food Clothing and Levi's recently conceived this new retail concept that weaves in basics with the growing trend of personalization. This installation and gallery exhibit opened to the public, with a well-attended opening party held January 4, 2018.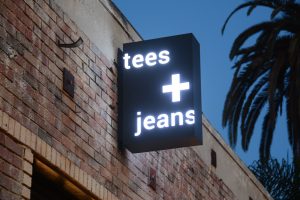 The 2,700-square-foot "industrioretail" space is the product of a group of Junk Food Clothing and Levi's executives working together to create this innovative Abbot Kinney Boulevard space. The concept shop will also include "activations" [with differing inspirational concepts and sponsors] set to rotate out on a monthly or quarterly basis featuring Venice locals all the way up to large companies such as Netflix.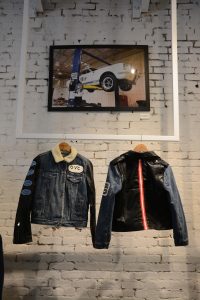 "This is a brand new retail concept. It's a new relationship between Levi's and Junk Food and it is truly the best ingredients with unlimited possibilities," said Blair DiGiacomo, Junk Food direct-to-consumer concept general manager. The space, which is a permanent location, includes a merchandise assortment of Junk Food T-shirts in addition to Levi's classics such as trucker jackets, cut-offs and skirts, among other items, not to mention Levi's "Authorized Vintage" reconditioned – but still legitimately patinated — jackets and pairs of jeans costing hundreds of dollars each.
The space is divided into thirds with the front of the house serving as the gallery place for the theme "activations," with the kick-off homage to the birth of skateboarding and Venice local Craig Stecyk, who wrote and featured in the documentary "Dogtown and Z-Boys," and replaced by the Original Venice Crew Shelby Mustang theme for January, 2018.
During the opening night presentation, Jim Marietta and Ted Sutton (OVC team members) along with a couple of Venice area historian/author types, led a casual Q and A session talking about the early days of Shelby American, the history and inspiration behind the new OVC GT-350, and some "back in day" talk about when Shelby first set up shop in the now trendy, and uber hip SoCal beach town of Venice, California.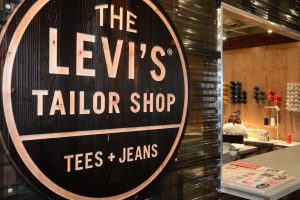 From there, shoppers can move to the middle section of the store stocking the variety of clothing where they can make their selections before moving on to the back half for tailoring and customization. About 90 percent of the assortment can be personalized within roughly 20 minutes, DiGiacomo said.
The impetus for the concept began with a handful of people from both Levi's and Junk Food. "We just said, 'Hey, what could we do in a really great space on Abbot Kinney?' We have the perfect jeans [and] the perfect Ts. Everyone wears Ts and jeans. Let's put it together and layer on top this amazing tailor shop and full customization and see where this thing takes us. Its Ts plus jeans, right? So there's an opportunity to have other things added on, whether it's another artist, another company or another city," DiGiacomo said. It is interesting that the space has an historic automotive connection beyond Shelby American, as DiGiacomo advises that Gerry Wiegert used this exact building in which to construct the original Vector W-8 supercar.
Each OVC Mustang is individually built to order, as there are a few options and choices to make in terms of engine and rear suspension design. Brock redesigned the original car's lower front fascia spoiler for better aero, and to more closely replicate what he intended to do back in 1965. The special rear window was also reconfigured a bit for better visibility and a neater cleaner install. Every OVC Shelby build begins with an actual "K-Code" 289 "Hi-Po" Mustang fastback, as did the originals; in this case the cars are stripped to the nubbins, fully reconditioned using Ford factory or Shelby American parts, and built back up to racing spec, and since each example is based on a real Mustang with a V.I.N., they can be legally registered and street licensed. One particularly interesting option is a newly produced independent rear suspension that was originally designed and envisioned for this car back in the day, but nixed last minute due to cost. The fit, finish and quality of the new OVC build would set standards at any Concourse d'Elegance; the cars are beautiful and of jewel like quality in every way. The car's performance and suspension development work was done by three guys with major Shelby experience and cred: Vince LaViolette, Shelby American's current product development chief, well credentialed racing writer Rick Titus, and John Morton, a former SCCA Trans-Am champion racer with many years of Shelby American tenure. All guests at the gallery opening received a specially curated "OVC Shop Manual" containing an interesting variety of original Shelby American graphics and photos; the pages of which instead of being stapled together, were, or course, stitch bound in the Tees +Jeans tailor shop.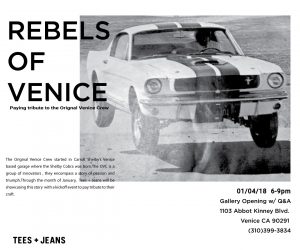 How much for all this speed and beauty? $250,000 buys you this new piece of Shelby American speed, style, and history.
Visit Tees + Jeans at 1103 Abbot Kinney Blvd., Venice, California, 90291 and learn more about the car at www.OVCMustangs.com