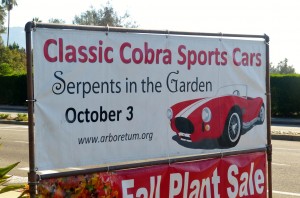 Commentary and photos by Kirk Gerbracht
Ultimately, it's great cars that make a great car show.  But sometimes the venue can add a little something extra to create the perfect event.  Such was the case with Serpents in the Garden.  A little more than a year after the Arboretum celebrated the 50th anniversary of the Ford Mustang with its event entitled Mustangs in the Garden, it reprised a show held a few years earlier, Serpents in the Garden.  In this case, these serpents were the famed Shelby Cobra.
Approximately 30 Cobras (or more correctly, Cobra like tribute and in some cases "kit" cars, reproductions, clones, continuation cars, call them as you well) were on hand to celebrate this milestone in automotive history.  The "garden" was the Los Angeles County Arboretum and Botanic Gardens in Arcadia, California, 127 acres of beautiful gardens, lawns, ponds, and waterfalls – a remarkable public property.  The Cobras were strategically placed along the wandering walkways of the Arboretum.  This format provided the opportunity to enjoy the cars while strolling through the pristine gardens, although this placed is so large, it would have easily held double or triple the number of cars on show this day.
Unfortunately, there were no original Shelby 260, 289 or 427 Cobras from the 1960s.  The closest thing to the original cars were two "continuation" cars.  These are cars manufactured by Shelby American, with Shelby CSX serial numbers.
The Cobra is probably the most replicated car in the world (which makes sense because beat up originals start about a million bucks).  With numerous aftermarket companies making everything from fiberglass or aluminum bodies to complete turn key cars, these replicas represented all the other cars in the show, a bit of a letdown considering that there are dozens of real Cobras living in Southern California so rounding up a few shouldn't have been difficult.  As is always the case with cars created to an owner's specs and taste, some are pretty close to the original Cobra in many details, while others show much more creative license, or what some of us call "built to taste."
The replicas are usually pretty easy to spot, with dual or square shaped roll bars, mag wheels from recent Mustangs, fuel-injected engines also from late model Mustangs, high-back seats, headrests, 4-bolt wheels, custom dashes and gauges, CD players, and side-pipes with heatshields – none of which were on original Cobras.  And while a number of folks incorrectly call them "AC Cobras"–  remember that real Cobras were ultimately produced, finished and titled by Shelby American in Los Angeles, even though the Cobra body design and chassis was based on the out of production AC Ace, and that AC Cars in England built the Cobra bodies and chassis.  They are Shelby Cobras, and there technically is no such thing as a 60s era AC Cobra.