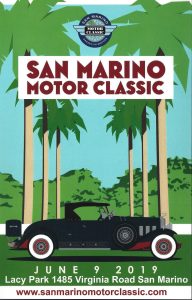 The San Marino Motor Classic is always a part of my summer car show agenda, and this year's rendition didn't disappoint.  I've shown cars there, judged there, and bought a ticket and attended as a regular car fool just like all the rest of us.
Part of what makes San Marino so excellent is the location, in this case historic Lacy Park in very upscale San Marino. Once known as Wilson Lake, and Kewen Lake, the natural body of water that once occupied Lacy Park was fed by underground springs.
Once a naturally occurring body of water at the site of present-day Lacy Park, by the early 20th century, the lake after which the street and park are named had dried up into a swampy morass due to excessive water usage by local settlers.  Fed by springs and streams that flowed down from the mountains, the lake once provided water for the Gabrielino-Tongva people who inhabited the area. When the Spanish missionaries came to the area in the 1770s, they also took advantage of its resources, eventually damming the lower end of the lake to power a saw mill, wool works and tannery and using it as a drainage area. 
All that's gone now and what remains is an elegant location for a concours…the mostly rounded now grass field still shows the obvious shape of the former lake, with a road paved around it for access.There's lots to see at this event, from early black iron cars and buggies to the latest, greatest, fast and dangerous.  An expansion of the show this year was to absorb and encompass a former Ferrari car show that took place in old town Pasadena, so lots of Rosso Corsa on the grounds this year.  Plus the usual AACA car show "within a car show."  Noted Ferrari collector David Lee was on hand with his usual fine stable of Maranello magic.  Plus nearly every other marque you can name to be found in this large and diverse field.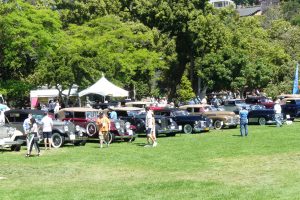 Another important aspect of this event is that, besides the fun and the sharing of great cars, it's all for charity.  The Motor Classic raises a ton of money for a variety of charities, small and large, so it's all for a good cause.  My continued congrats to Chairman and Founder Aaron Weiss, himself an extraordinary enthusiast car collector, and his committee for increasing this event's stature every year, and for all the good work done for its benefitting charities.
Additional thanks to Kirk Gerbracht for the great photos, and please remember you can doubleclick on any shot to see it full screen in high res.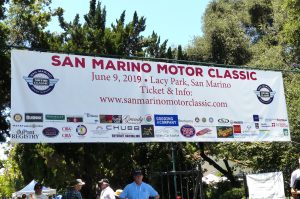 Learn more about the show, the 2019 results, and next years event at https://www.sanmarinomotorclassic.com/