As a guy who writes car books for a living, I pay close attention to all the new bookware that gets published.  Plus of course I love to read them.  Here's a couple new ones for your consideration.
JUNKYARD: Behind the gates at California's Secretive European Car Salvage Yard, by Dieter Rebmann and Roland Lowisch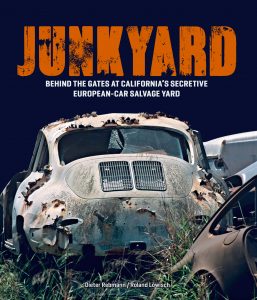 This book will simply blow you away, especially if you enjoy barn findy type books and photos.  It artfully photodocuments a somewhat unbelievable (primarily) European car scrapyard that used to sit quietly in South Central Los Angeles.  It was owned and run by a German gent who gathered up all manner of high end imports, primarily, but not limited to Porsche and Mercedes-Benz.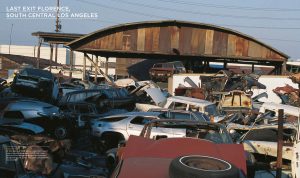 Some of the cars were intended for his own collection and use, others were there to be parted and or sold.  The photography in this book is spectacular, not only artfully composed, but all shot on medium format film, so the quality is high — no over the fence shots on Polaroids or crappy cellphone pix.  Some would call this gent a hoarder, others would say he was a crafty businessman that could see the value in these great cars.  At one time he was said to have over 200 Porsche 356s on the property.  Plus all manner of 912 and 911 models too.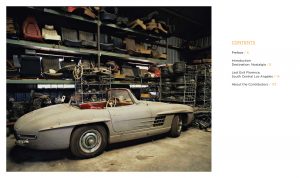 And some big banger Mercedes-Benz too; 300 SEL 6.3s, and a 300SL roadster to name a couple.  A few Rollers and Bentleys,  Several Maseratis, a couple Isos, and believe or not, a Lamborghini Miura.   Plus a couple yank tanks that somehow slipped in.  Anyone will find things to enjoy in this book, so I call it a must have. And don't start planning your trip to Florence, CA, in the hopes of a snag — the original owner has passed away, his sons have sold off the hardware, and the lot is now vacant.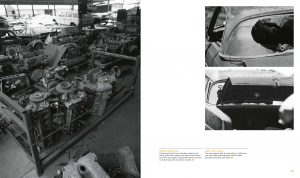 Published by Motorbooks, ISBN 978-0-7603-6768-1  175 pages, hardbound.  MSRP $40.  QuartoKnows.com
1001 Steve McQueen Facts, The Rides, Roles, & Realities of the King of Cool, by Tyler Greenblatt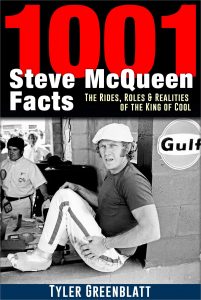 I've now written three books about Steve McQueen as Hollywood car guy, actor, and racer, so naturally I read just about everything about this guy I can put my hands on.  This book is filled with all kinds of mini stories and anecdotes, that could almost qualify for a Steve McQueen Trivial Pursuit game script.  And its a really good fun ride, plus the archival photos make the deal.  You'll see lots of great shots of Mr. Cool himself, his wives and kids, and so many of his memorable cars and bikes.  It also appears to be pretty accurate (important as there is so much urban legand, rumor, innuendo, and lie out there about him).
Published by CarTech Books, ISBN: 978-1-61325-473-8  278 pages, softbound, MSRP $29.95.  cartechbooks.com