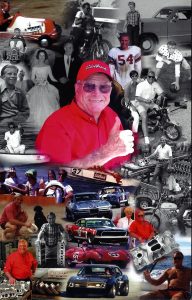 Otis Victor Edelbrock Jr. passed away June 9, 2017, at the age of 80.  That name most likely rings bells as one of the world's premier performance products company.  Edelbrock's original products were intake manifolds, and high performance heads for Flathead Ford V-8s.  The company was founded by Otis Victor Edelbrock, Sr., as an all-around garage and then race shop – Vic Sr., was a formidable midget racer, and midget race car builder and preparer.  Sr. passed away in 1962, leaving the stewardship of this bourgeoning aftermarket performance company to son Vic Junior, who at the time was in his mid-30s.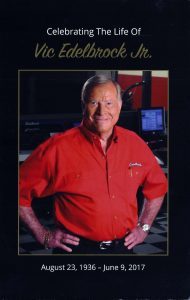 Tall, handsome, blondish young Vic, Jr. was smart, worked hard, had a big, outgoing personality, and built the family business into a juggernaut.  Expanding far beyond intakes and heads into carburators, camshafts, exhausts, and a plethora of aftermarket go-fast goodies.  Edelbrock's influence ultimately extended far beyond the performance aftermarket, and has long been an OEM provider – bet you didn't know that Edelbrock's foundry casts the aluminum housings for the supercharger on Dodge's 707 horsepower Challenger Hellcat.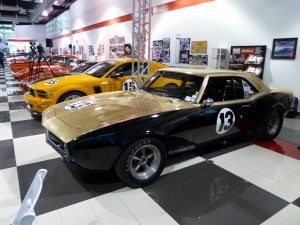 It should come as no surprise that Vic (all further references are of Vic, Jr., unless otherwise noted) was a car collector of considerable note.  He kept most of his toys in a multistory building that's just one piece of the sprawling Edelbrock, LLC, industrial, production, and office complex in Torrance California.  This fabulous toy box is nicknamed Vic's Garage.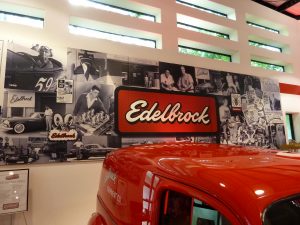 As you might expect, this very much living museum is immaculate and detailed to perfection.  Edelbrock's company colors are red, white and black, and so are those of Vic's Garage.  The whole place is a tribute to the man, and the company, filled with great cars, bikes and ephemera, including some of his father's original tools and belongings, manifold displays, and photographs of this legendary life and family.  Vic was as proud an American as anyone I've ever met, a huge donor to various programs at his much beloved UCLA, so it only figures that most of the cars in his collection are American brands, and particularly Detroit muscle cars and racers.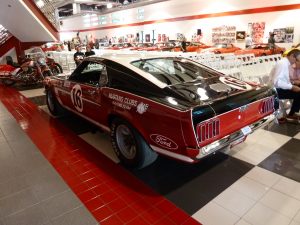 Vic did his share of vintage racing with his priceless collection of SCCA Trans-Am (and other) racers.  Among the most prized pieces in this eyewatering collection is the original, all black, stripped down '32 Ford Highboy roadster that his father, Vic Sr., owned and raced on the California Dry Lakes and at Bonneville, back in the earliest days of the birth of hot rodding and top speed racing.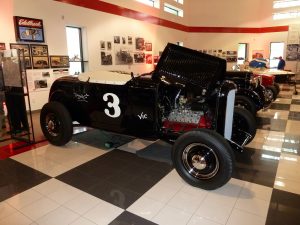 Vic once told me the story of how he came across it; his father had sold it off when Vic was just a kid, yet somewhere along the trail Vic and the Deuce's current owner met up, and Vic gave him a card and asked him for first right of refusal to buy the little black roadster back should it ever come up for sale.
The guy put Vic's card in his wallet with a note to his wife, asking, upon his passing, that she contact Vic about buying the car back into the Edelbrock family.  Which is what ultimately happened.  The car needed a complete restoration, with the plan of returning it to the exact configuration that it was in when raced by Edelbrock, Senior.  Which is also what ultimately happened; today the car looks like a highly polished black jewel, and Vic at least had the privilege of owning and restoring his father's famous hot rod.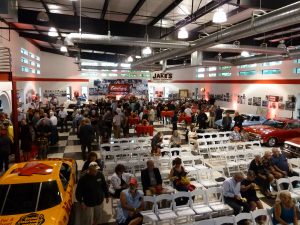 Vic would have never called this collection a "museum" which to many implies a very static display.  No it is indeed a living collection, as all the cars, bikes and boats ran and were ready to go at all times.  And Vic drove, raced, and enjoyed his stuff.  High performance camshaft innovator 96 year old Ed "Isky" Iskenderian is one of the few people alive that new Vics Senior and Junior, and speaks highly of both.  They used to have shops across the street from each other in Culver City, California, and he recalls doing a considerable amount of camshaft and other component testing on the Edelbrock dynamometer, a piece of equipment he later ended up purchasing.  Vic is survived by his wife Nancy, his daughters, and a worthy trail of grandkids.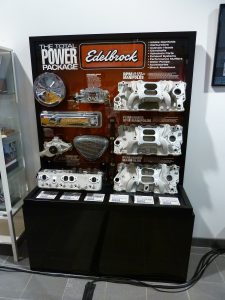 Vic Edelbrock, Jr., was an absolute pioneer of the high performance and racing aftermarket; I'm honored that when I wrote a biography about the aforementioned Isky, that Vic agreed to write the book's Foreword in order to honor his lifelong pal.  Vic's departure leaves a huge empty vacuum in the world of hot rodding, and to say "he will be missed" just doesn't quite cut it.  I'm pleased to have known him; high performance cars, hot rodding, and motorsport in America, wouldn't be the same without having him.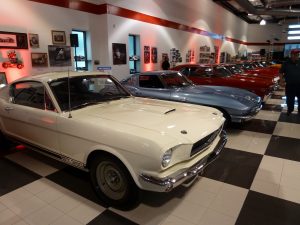 What a guy, what a life, and what a legacy.  And what a Garage!