I'm deeply saddened to learn of the passing of Vic Edelbrock, Jr., June 9, 2017.  He'd been battling all sorts of pulmonary issues, perhaps some combination of bronchitis and pneumonia.  He'd been in the hospital a bit lately, then out, but still needing a feeding tube.  Those around him thought he was on the mend, but ultimately not.  He was 80.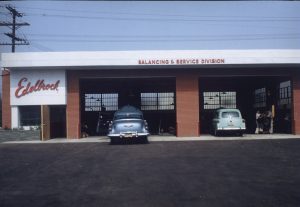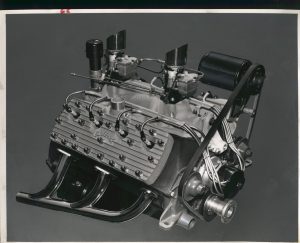 Vic's father, Vic Senior, of course, launched what became among the world's largest, and most significant aftermarket performance equipment manufacturers.  It all began at a somewhat humble South Los Angeles gas station and garage, which then became a race shop, which then became a global powerhouse in the power parts business.  Their initial games were high performance intake manifolds and heads for Ford Flathead V-8s, and then a plethora of products for nearly any engine you can name.  That all lead to camshafts, carburators, valve covers, and a catalog's worth of accessories to make horsepower, and/or make an engine look better, but the real drive was to make it go faster.  When Vic Sr, passed away in 1962, his then young son took the successful yet still somewhat small and humble company to the highest of heights in the racing and performance business.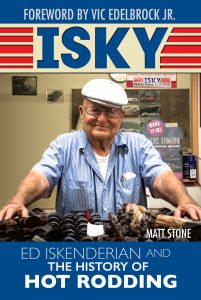 Vic was always a tall, handsome, robust guy, and last time I spent time with him about a year ago, it was clear time was taking is toll.  He was still sharp as a whip, but didn't look as robust as he usually did.  I'm forever grateful to him for authoring the Foreword for my Ed Iskenderian biography, as Vic and Isky went back many decades to when Ed first began grinding high performance camshafts, and Vic Jr., was just a kid.  For some years their shops were just across the street from each other, so these boys all spent a lot of time cranking on cars together.  Vic, Jr., wrote a beautiful, thoughtful, humorous, and heartwarming tribute to his old pal Isky.  I can't thank him enough for doing me this honor.  Both men are founding members in the early 1960s, of Specialty Equipment Market Association (SEMA) trade association for the automotive aftermarket, and Vic was a board member for decades.
Photos courtesy Edelbrock LLC, author collection, Ed Iskenderian, and SEMA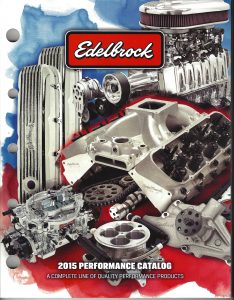 Edelbrock was not only an aftermarket company, but actually an OEM supplier too; Edelbrock's Southern California foundry produced the aluminum castings for the supercharger used on Chrysler's 700-plus horsepower Hellcat Hemi V-8, that gives you an idea of the quality of hardware Edelbrock can build.