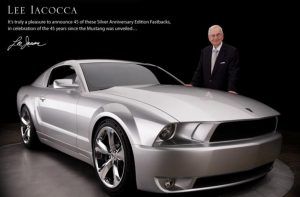 Photo Courtesy Galpin Auto Sports
I was distressed, but unfortunately not surprised to hear of Lee Iacocca's July 2, 2019 passing.  Lido Anthony Iacocca was born October 15, 1924 in Allentown, Pennsylvania, making him 94 when he died.  He was known and will be remembered for many things in the Autosphere.
Mr. I was often incorrectly billed as the "father" of the Ford Mustang; in fact the Mustang's most prominent papa was Gale Halderman, who was the car's primary design leader, although it is all but certain that investment in the Mustang never would have gotten the corporate green light had it not been for having a friend in Iacocca at Ford's senior management table; so Mr. Iacocca does claim certain parental rights to the car.  It was for sure Mr. Iacocca who gave Carroll Shelby the marching orders to "make a mule into a race horse" (Carroll's quote, not mine) and develop the Shelby G.T. 350 for 1965.
Iacocca enjoyed a long and fruitful career at Ford, ultimately rising to the title of President, although never making to Chairman, that post held for some time by Henry Ford II.  Mr. I was also a motive force behind the Pinto, and you can make all the exploding gas tank jokes you like, but the Pinto was a fundamentally good car and a great seller.
Lee Iacocca had, among his many other talents, considerable instinct.  Like a tiger that can smell its prey from a mile away, Iacocca just had a nose for the car business, and what customers wanted and would buy, and why.  He was a good manager and team builder; very few automotive projects he got behind failed or fell very far short of mark.
Post Ford, he's best known for reviving the Chrysler Corporation during the 1980s.  He served as President and CEO of Chrysler from 1978 and additionally as Chairman from 1979, until his retirement at the end of 1992.  He was the only executive in recent times to preside over the operations of two of the Detroit "Big Three" automakers which he did during different tenures.  Iacocca is perhaps best remembered at Chrysler for the overhaul of the company's car lines with the development of the K-Car platform architecture, which spawned more than a dozen different models (including the first modern minivans) over more than a decade, and for negotiating a $1.5 Billion loan guarantee from the U. S. government to keep the company out of bankruptcy.
This was critical, because the shuttering and/or liquidation of Chrysler Corp would have put tens of thousands of people out of work, and significantly impacted the United States economy.  Much of the public was worried about this move, but it proved a stroke of brilliance, keeping the company in business, paying back the loans so quickly that the government and supporting banks hadn't yet established an accounts system to process the payments.
The charmingly confident Iacocca even appeared in many of Chrysler's TV and print ads to assure the public that its products had in fact turned the corner, and that the smaller, more fuel and cost efficient K-Car models were the cars they wanted and needed.  It worked a treat, for even though Chrysler ended up having more financial travails later on, the company survived and prospered as today's Fiat/Chrysler.
I met and spoke with Mr. Iacocca on one memorable occasion, and was deeply impressed with his instinct and depth of knowledge about the car business.  Smart man, and the industry needs more like him…and will miss him.