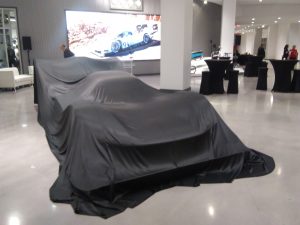 In case you hadn't heard, an all-electric powered purpose build race car now holds the all out record at the famous Pikes Peak Hill Climb. This is no mean feat, as Pikes Peak is among the very toughest and most historic hillclimb events in the world. In the olden golden days, Pikes was dirt, and a crazy variety of cars and motorcycles have tackled the mountain over the years.
Some time back it was paved, which made it all at once easier, harder, and faster. Up until June 24, 2018, the previous record was held by WRC champ Sebastian Loeb, and the hill has never been cracked in less than eight seconds. In less than 250 days from annoucement to race, VW developed its pure electric I.D. R Pikes Peak racer with the intent of breaking the record for electric cars, and did one better.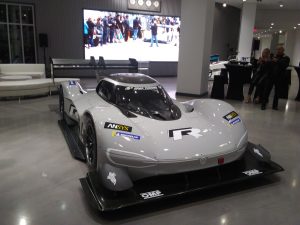 Pikes is no average mountain road, the course is 12.2 miles long, encompasses 156 corners and a vertical elevation climb of over 500 feet in that short distance, and is usually cold as hell with some sections of the steep mountain course shrouded in fog.
VW's driver of choice was French sports car racing ace Romain Dumas, who always felt that the "the Mountain" could be run in less than eight minutes, and made it his personal goal to do so. June 24, 2018 was his day, and the crazy torquey and powerful Volkswagen I.D.R Pikes Peak was his car, with Dumas shattering every existing Pikes record in one flawless run in 7:57:148 minutes, handily cracking the eight minute mark, and beating Loeb's old record by nearly 17 seconds. Everyone seems to know about lap times at the Nurburgring, but setting records at Pikes is no less (and maybe even more) of an accomplishment.
This record breaking VW has also demonstrated its considerable magic at the Goodwood Festival of Speed, and even appeared on the "concept car lawn" at Pebble Beach prior to making its two month long stop at the Petersen in Los Angeles; the car is there as of last night, and is currently scheduled to be on exhibit through January.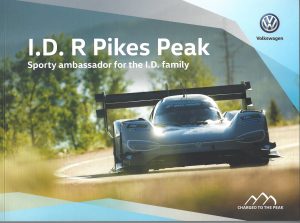 Volkswagen Motorsport is all over facebook, twitter, Instagram and YouTube if you want to learn more about this amazing car and record setting performance. And if you didn't think electric race cars could be exciting, check out the I.D. R Pikes Peak, and stay tuned for an onslaught of new pure electric offerings coming to VW showrooms over the next few new car seasons. And you can get all the info you need about the Petersen Automotive Museum at Petersen.org