Monterey Car Week 2017 is now in the books, and it was pretty memorable for a lot of reasons.  I need to recheck the math, but this was something like my 30th car week.  It used to be called "The Weekend" but some years ago, it became "The Week" with so many new events, shows, club meets, and other happenings leading up to the vintage sports car races at Mazda Raceway Laguna-Seca, and of course the grand dame of car shows, the Pebble Beach Concours d'Elegance.  There's so much going on, so many cars, so many great people, that to encompass it all is about impossible, but I thought I would at least share with you some of my happy snaps.
I drove up on the Thursday before the two main events, and my first order of business was to meet up with, drive, and photograph two fabulously yellow Ferraris belonging to mega collector David Lee.  They were a brand new, built to order Ferrari F12 Tour de France, paint color matched to his Ferrari 250 GTL Lusso competizione.  I connected with them both at a fabulous house right across the street from the golf links of Pebble Beach (you know, giant house, garage/guest house complex) and ocean view.  Here are a couple quick phone snaps from that gathering, which also featured many more Ferraris (three Enzos parked next to each other), a gaggle of McLarens, and lots of other fast and dangerous.  All thanks to my friend Andy Cohen and his beverlyhillsmotoring.com.
Friday's main event for me was the Porsche Werks Reunion, an all Porsche gathering hosted by the Porsche Club of America.  The photos tell the stories better than I can…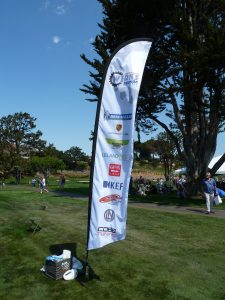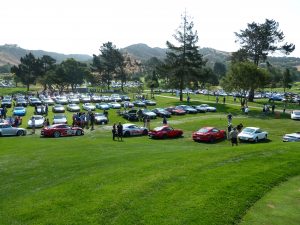 My next order of business on Friday was a quick visit to the Inn at Spanish Bay for a quick meeting.  This is my favorite Pebble Beach hotel for its perfect on the beach layout, immaculate condition, great restaurants, and unbeatable front parking area which ends up being a car show all its own…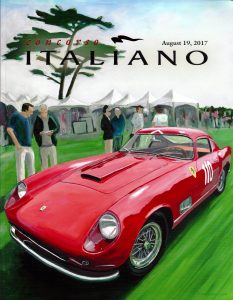 Saturday morning it was again my please to act as morning emcee at Concorso Italiano.  During the morning awards presentation, we did live interviews with two aspiring young racing drivers, and a special tribute to the 50th Anniverary of the original Maserati Ghibli.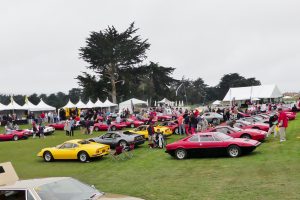 My next order of business Saturday afternoon was to participate in a Pebble Beach Collector Car Forum panel discussion discussing the early days of hot rodding.  The panel was hosted by my friend Wayne Carini, and featured a roster of hot rodding experts and legends.  Plus a large and very appreciative crowd.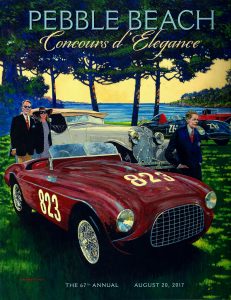 My weekend finished up with the Pebble Beach Concours d'Elegance, the grandaddy of concours; the 250 or best cars you are likely to see at any one place anywhere in the world on a given day.  This year's special classes were dedicated to Ferrari's 70th (duh) and Isotta Fraschini — two of my favorite subjects to I couldn't have been happier.
It was my honor to judge again, this my 23rd year (yes I'm that old) and the competition was mighty.  Luckily I had a roster of talented, experienced, and smart judges who worked very hard and made great selections in our various classes, but it was tough, some of the differences between a first and a second or a second and a third coming down to quarters of a point.  That's how high the quality was.
And I already can't wait until next year.