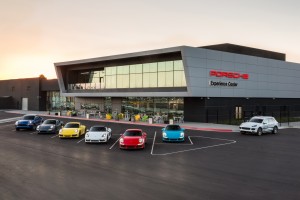 Porsche has doubled down on its customer outreach and Motorsport HQ investment in North America, with the grand opening of its sparkling new 53 acre Experience Center in Carson California.
It is similar in concept to other Experience Centers, allowing current and potential Porsche customers an opportunity to improve and expand their driving abilities, while also getting much more than an "around the block" test drive of a variety of new Porsche models, and immerse themselves deeper into the Porsche brand and history, all outside of the dealership environment with no sales pressure. Carson California is a primarily industrial suburb of Los Angeles, just a few miles from Los Angeles International Airport, and about a half hour Southeast of Hollywood.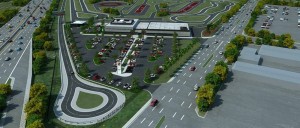 The 53 acre property located at the intersection of the 405 and 110 Freeways was a former golf course that was well past it; the legal and planning approval, design, construction, and finishing of the project took nearly five years. The official media launch, and gala public grand opening, took place on the eves of the 2016 Greater Los Angeles International Auto Show, November 14 and 15.
Impressively the entire Porsche Executive Board of managers traveled from around the world to attend, speak, and to cut the ceremonial red ribbon including Dr. Wolfgang Porsche himself. "This is a significant milestone for Porsche, as we further expand our presence in the United States," said Oliver Blume, Chairman of the Executive Board of Porsche AG. Our decision to open a second Experience Center in North America underscores our commitment to the largest sports car market worldwide." If California were a country, it would be the fifth largest market, accounting for 23 percent of Porsche vehicles sold in the United States, you may recall that the original Porsche 356 Speedster was aimed primiarly at the SCCA road courses of North America, and also raced successfully by two of Hollywoods best and brightest racing actors, James Dean and Steve McQueen.
Not to be understated is the establishment of Porsche Motorsport of North America in the new facility; previously, Motorsport had been housed in a too small and somewhat dated industrial complex in nearby Costa Mesa. We were initially surprised that the new PEC doesn't house a Classic Center, although we hear quietly that it's in the plan and will be under development soon.
Visitors to the PEC LA can enjoy instructor-led, 90-minute experiences on the driver development track in Porsche sports cars. The eight training modules include two handling circuits, an ice hill, an off-road course, a dynamics area, a launch control and acceleration straight, as well as a low friction handling circuit, low friction circle, and "hydraulic kick-plate" encompassing about 4 miles of courses. Several of the corners and passages of the handling circuits (they are not racetracks, nor allowed to be called by that name) replicate famous corners and passages from important circuits around the world; for example, one long sweeping corner is fashioned after the world famous Karussell at the Nordschleife.
The "launch control and acceleration straight" is more than a mile long, enabling you to safely launch the car in an accelerative test fashion, and come to near top speed in several Porsche models. The courses are highly technical, mostly late-apex tracks with enough speed potential to still be very exciting. Particularly challenging are some of the low speed, low traction exercises. One course is finished entirely in polished concrete, allowing massive tail out oversteer at 15-20 miles per hour. The "ice hill" and "kick plate" courses are paved with a coating of polypropylene rubber, which is constantly wetted by a recycled water sprinkler system; it simulates the grip levels, or lack thereof, of glare ice. Imagine cornering and climbing a modest hill in your Turbo under those conditions; the surface is so slick, it isn't safe to walk on. Naturally there is a challenging off-road course for demonstrating the capabilities of Porsche SUVs.
Besides several large "event space" areas, the main building houses a variety of office and conference rooms, the Motorsports garages and parts stocks, an elegant gift shop, the 917 fine dining restaurant, a racing simulator lounge, and the Speedster Café European style "grab and go" bakery and coffee shop. Commonly on display are an assemblage of Porsche Museum collection cars, customer cars, and racing cars. The facility and restaurants are open to the public most days, although driving courses must be booked in advance. PECLA can also be reserved for meetings and other private events. There is no on sale dealer on site.
The gala grand opening on Tuesday night, 15/November was quite the do. The place was lit up like Versailles, with a celebrity red carpet, paparazzi, and dozens of great cars on display. The Porsche AG Executive Board was all on hand, circulating and quite approachable, as were Motorsport celebs Derek Bell, Patrick Dempsey, Tommy Kendall, Hurley Haywood, Chad McQueen, Danny Sullivan, Hans Stuck, Jr., and likely a few more we missed in the considerable crowd.
The striking and elegant Maria Sharapova, Porsche Brand ambassador, also attended, recently off an ill-considered suspension from professional tennis, smiled, posed for selfies, and shook every hand presented to her. A lovely young woman and a class act.
With absolute respect to Disneyland, for Porsche people, the new Experience Center Los Angeles may just be The Happiest Place on Earth.
Oh please don't leave yet, many more cool photos just below…
Porsche Experience Center – Los Angeles
19800 South Main Street
Carson, CA 90745 USA
Tel: 888-204-7474
https://www.porschedriving.com/porsche-experience-center-los-angeles/experiences/driving-experiences?dclid=COHByu7LsNACFdN_Ygod40cHyA
E-mail: PECLAinfo@porsche.us