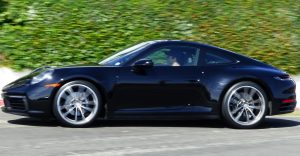 Can you get an S for Less?
A tuned Carrera might be your key to 992 happiness
Click on any image to see it full screen in high res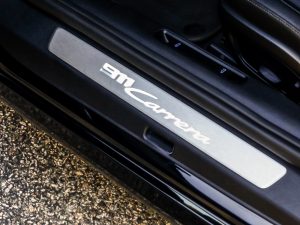 In 1971, Amelia Island Concours d'Elegance Founder and Chairman (and racer, and motorsport photographer) Bill Warner went Porsche shopping…"Of course, like everyone, I really wanted a 911S, but they were nine grand ($9000) and who the hell could afford that?"  He ultimately settled on a white, late year build 911T for $7900.  Which 911 (now Carrera) to buy has been a question that has often perplexed and unsettled 911 buyers for years if not decades.  Porsche has always ensured that the two cars were differentiated by content and performance, not only price.  Today, however, those waters can be murkier, since the "standard" Carrera edges ever closer to the step-up S model in terms of available content, performance and options.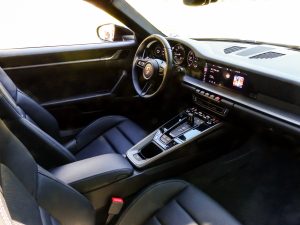 Of course the price delta is no longer the $1100 it was for Mr. Warner those five decades ago.  That gap has grown, comparing optionless two-wheel drive model base prices of $99,200 for the Carrera to $115,100 for the step-up Carrera S – is now a considerable $15,900 or about double what Bill Warner paid for his entire 911T in 1971.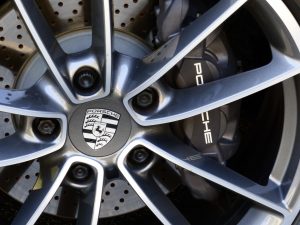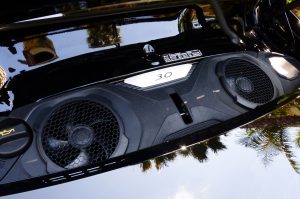 As noted, there are meaningful content and performance differences; while both cars run what is essentially the same bi-turbo 3.0-liter flat six, the S model runs it with larger, higher capacity turbochargers and a different engine management system tune, that together make more boost and more power; 443 in the S versus a 379 in the standard Carrera.  There's also a big torque rating differential too, with the base car spooling out 331 lb-ft, and the step up model S good for 390.  Yet the cars share more than they don't, in that all Carreras now wear the wide, more aggressive bodywork that used to be reserved only for S and other racier models.  You can order virtually identical wheel/tire/braking packages, although the Carrera isn't available with the S's rear wheel steering technology.  Both can be had with the factory tune-at-the-touch-of-a-button Sport exhaust system, and driver adjustable suspension and stability systems.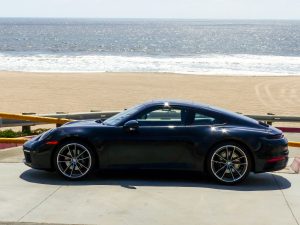 When the first 992s began to trickle across the pond to North America, supplies were somewhat limited, and loaded S models were a bit light on the ground. Downtown Los Angeles Motors (DTLA) Porsche has quickly grown to be one of the top selling dealers in the U.S. and general manager Victor Ghassemi wanted to offer something special to his early adopting customers who couldn't wait to get into Porsche's newest 911, so he worked with Aftermath-Tuning's (formerly AKA Spencer Racing) performance tuning engineers, to develop a dealer installable power kit upgrade that would bring a Carrera up to, or exceeding Carrera S levels.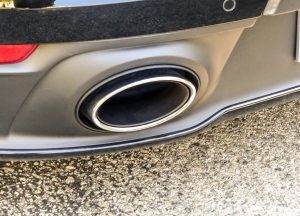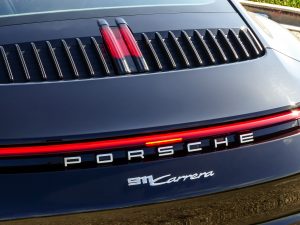 What they developed is straightforward in concept, although very sophisticated from a technical and sophistication standard.  Relying on deep connections with Porsche factory and Bosch engineers, Aftermath's  leading Performance Tuning Engineer Stuart Schikora developed an engine remapping program that adjusts boost, timing, fuel delivery and other engine parameters in order to amp up the horsepower and torque output – by a bunch.  The full kit includes a similar reprogramming of the PDK shift mapping for crisper, more responsive shifts, either in PDK manual/paddles mode or in full auto.  Finally, the only hardware change involved – or needed, for that matter – is a swap to high flow, BMC intake air filter packs.  All of the engine upgrades are applicable to both PDK and manual transmission equipped Carreras.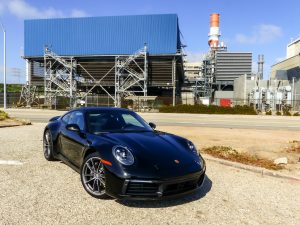 The results, on both road and paper, are impressive.  The engine and transmission remain internally stock, and aren't in any way mechanically opened up or meddled with; drivability is unaffected, the idle remains smooth, every system remains operable, and there's no emissions test downside.  The chassis dynamometer tells the story, with maximum flywheel horsepower increasing from 379 to an S-beating 478. More significant, in terms of performance increases you can easily feel, is the major bump in terms of torque; that number making a giant leap for mankind from 331 lb-ft to an also S-toppling 473 pounds-feet.  More than 100 more horsepower and pounds-feet (!).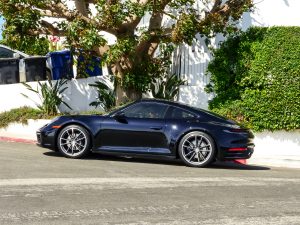 These are dyno verified numbers you can instantly and absolutely feel.   In this day and age of the often frankly blue sky unrealistic power increases claimed by so many "tuners," Aftermath's mods are carefully calibrated not to transform the engine into an accidental hand grenade by wildly increasing timing, fuel, or boost to levels (that could terminally harm the engine, or compromise emissions tests), while unleashing so much more of what Porsche engineered into the engine.  You may wonder why no aftermarket exhaust, headers, camshafts, cylinder head work, bigger turbos, or other old school mods involved.  Simple: that stuff is egregiously expensive, and often, on today's electronically orchestrated engines, not always that effective.  For example, the factory exhaust system is uber efficient, and it's doubtful that many (if any at all) aftermarket systems can offer meaningful and verifiable power increases over the Sport mode of Porsche's pipes.  Plus in the DTLA/Aftermath kit, increased fuel, timing, and cam profiling is already built into it.  If you really want further stratospheric horsepower number and performance gains, you may be best to consider a GT2, Turbo S, or GTS level car to begin with.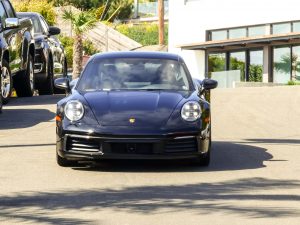 Twist the key fob on this black beauty and the engine lights with no more drama than a dead stocker.  The engine fires and quickly settles to a smooth idle, if perhaps a bit edgier and "cammier" than the unmodified car.  Engage the more deep throated "open" mode of the Sport exhaust, flick the PDK shifter into gear and you're away.  We drove this car extensively in both PDK Auto mode, and on the paddles.  Honestly, having not known this car wasn't born a Carrera S, it's doubtful most could tell the difference between this protein fortified Carrera and the up level S.  The acceleration is now fierce and beyond merely fast, with the mid-range pull and torque output so much more than before.  The now palatial powerband feels as wide as the Sahara.  Plus the sound is glorious – deeper, throatier, a wonderful mix of increased intake howl courtesy of the new filters, and a sharper edge to the Sport exhaust.  It would take sound equipment to verify if it's actually louder, and we don't feel it is, but the sound is at least sportier and all around more exotic.
The beefier engine output and the now utterly smarter PDK are superb dance partners.  While racy types love to play the shifter paddles – which is of course is what they are there for – you'll find the automatic Drive mode thoroughly satisfying.  The trans is so intuitively responsive to conditions, and to the actions of your right foot that you may not bother with the paddles unless you're just in the mood.  Keep your foot into the rev range a bit, and the PDK holds gear as you accelerate, delaying the shift until your brain, and/or your right toe, are ready for it.  Downshifts are equally intuitive; toe it modestly for a single gear downshift, and more aggressively if you want two or three lower ratios – the engine management system now feeling so much more directly hard wired (or is it all done wirelessly now?) to your brain and demands.  All in, the fortified Carrera goes well past satisfyingly quick to genuinely fast with meaningful and useful responses to all driver inputs.
So what does all this telepathic performance increase cost?  All in, just shy of $6000, which includes the engine remap, the PDK rethink, and the intake filter packs, installed.  Or you can have them a la carte at $3500 for the engine work, $2000 for the trans, and just $300 for the heavy breathing filters.  But why would you part and parcel the mods?  It all works so harmoniously together and only makes sense to us to shoot the works on the three pronged upgrade kit — even at that, you've only spent yourself a third of the way to a Carrera S spec car with highly comparable or better performance.
If you want a new 992 built up like this one, or beyond, or any new Porsche, or already have a car you'd like upgraded, call Victor at DTLA, – he'll hook you up with the good stuff.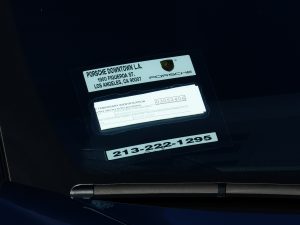 Porsche Downtown Los Angeles
1900 S. Figueroa Street
Los Angeles, CA 90007  USA
https://www.porschedowntownla.com/