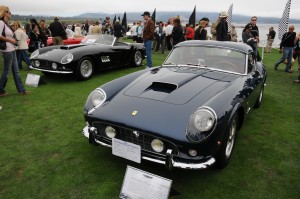 I'm absolutely honored to have been asked by my friend Wayne Carini, and the folks at the Pebble Beach Concours d'Elegance to participate as a panelist in their Classic Car Forum during Monterey car week.
Pebble Beach Classic Car Forum
Highlights Automotive Heroes
Here's the news as released by Pebble Beach…
Famous GT40s Drivers Will Be among Featured Speakers
​​PEBBLE BEACH, Calif. (July 15, 2016) — Enthusiasts head to Pebble Beach Automotive Week to see magnificent cars, but they also have the opportunity to see and perhaps even meet their automotive heroes — from designers to racing greats to historic car legends. The Pebble Beach Classic Car Forum allows them to do just that.
The complete schedule for the 2016 Forum, presented by AIG and TDC, has just been announced, and highlights will include an exciting conversation with the drivers who piloted the Ford GT40s to multiple victories in the 1960s. Well-known TV hosts Jay Leno, Wayne Carini, Spike Feresten and Alain de Cadenet will also be hosting sessions, and topics will range from "The Evolution of Racing at Indy" to "Life in the Pits" and advice for first-time car buyers and collectors. All of these must-see panels and interviews take place in an intimate setting and are limited to 200 participants.
Forum sessions will be open to the public without fee, but reservations are required. Please visit www.pbclassiccarforum.com to reserve seats.
"AIG, along with partner TDC Risk Management, is thrilled to be sponsoring the 2016 Speakers Forum," said Ron Fiamma, AIG Global Head of Private Collections. "At a time when education is crucial for the future of our hobby, this annual event has become an important part of Pebble Beach Automotive Week. The Forum will touch on racing legends, history, the future of collecting, and even a discussion of what to do with your cars when you're gone."
Announced below is the full schedule for the Forum, as well as the key speakers.
Thursday, August 18
3:00 pm – The Racing Legacy of the Ford GT40, with the drivers who piloted these cars to victory
Chris Amon, who won eight Grand Prix and led GT40s across the finish line in their famous ​1-2-3 win at Le Mans in 1966.
Dan Gurney, the first driver to win in all four major motorsport categories: Grand Prix, IndyCar,NASCAR and Sports Cars.
David Hobbs, who claimed 22 victories in Formula 5000, earned 11 wins in IMSA and won the 1983 SCCA Trans-Am Championship.
Jacky Ickx, a driver with 25 podium finishes in Formula 1, numerous sports car wins and multiple World Endurance Championships.
Brian Redman, who participated in 15 World Championship Grand Prix, including his most successful season driving for McLaren in 1972.
Moderator: Ken Gross, an automotive writer for 43 years, has received the Washington Auto Press Golden Quill Award, the Society of Automotive Historians' Cugnot Award and the James Valentine Memorial Award for excellence in automotive historical research.
Additional Special Guests
Friday, August 19
10:30 am – "Jay Leno's Garage" on CNBC Prime: Assess & Caress
Jay Leno, former late-night TV show host and acclaimed stand-up comedian, and enthusiastic car guy.
Donald Osborne, featured on the Assess & Caress segment of the CNBC Prime show, "Jay Leno's Garage."
12:30 pm – Estate Planner's Perspective: Top Mistakes with High-End Collections
Moderator: Christopher E. Erblich, who practices sophisticated estate planning, business succession planning and tax planning for high net worth clients and business owners.
2:00 pm – The Evolution of Racing at Indy
Bobby Rahal, a driver who won 24 races and 3 championships in the CART open-wheel series, including the 1986 Indianapolis 500.
Danny Sullivan, who earned 17 wins in the CART IndyCar World Series, including the 1985 Indianapolis 500.
Moderator: Ed Justice has been the President and CEO of Justice Brothers, Inc.,
a legendary international manufacturer, and is also a recipient of the prestigious
Motor Press Guild Dean Batchelor Best of the Year Award. In addition, Ed has also been the recipient of numerous International Automotive Media Awards.
Saturday, August 20
11:00 am – Life in the Pits
Nick Mason, a founding member of the rock band Pink Floyd and racer at the 24 Hours of Le Mans.
Jochen Mass, a racing great with numerous wins in sports cars and in Formula 1, driving for Surtees, McLaren, ATS and Arrows.
Sir Stirling Moss, who was British Champion for 10 years and still holds the 1,500-cc record at over 240 mph.
Moderator: Alain de Cadenet has hosted numerous television shows on the Speed Channel, such as "Legends of Motorsport," as well as the Velocity Channel show "Renaissance Man." He has also presented on ESPN.
12:15 pm – "A Moment in Time" Preview
A brief showing of the film "A Moment in Time" on Norman Dewis by KUSANA. In honor of one of the last living legends of the automotive & racing world, the film unveils the character behind the often repeated legends of world records, disc brakes, Le Mans wins and epic drives to Geneva. It is about a man who has fallen out of time, who can give witness to what was the greatest time in racing history.
1:00 pm – Classic Car Matchmaking 101: Advice for First-Time Vintage Car Buyers and Collectors
Alex Finigan, who has been with Paul Russell & Co., the world-renowned restoration company, since its opening in the late 1970s.
Steve Serio, President and General Manager of Lotus Motorsports/Aston Martin.
Travis Okulski, Site Director for Road & Track digital, where he guides RoadandTrack.com's editorial coverage.
Moderator: Spike Feresten, host of Esquire Network's "Car Matchmaker," is best known as a writer for television programs such as "Seinfeld," "Late Show with David Letterman" and "Saturday Night Live."
3:00 pm – Know When to Hold 'Em
McKeel Hagerty, the President and CEO of Hagerty Insurance.
Dave Kinney, a renowned market expert who writes regular columns for Automobile, AutoWeek, Hagerty, and Octane magazines, and contributes to The New York Times.
Ralph Marano, one of the premier Packard collectors in the world.
Matt Stone, a freelance journalist, author, broadcaster and former Editor at Motor Trend Classic magazine.
Bill Warner, founder of the Amelia Island Concours d'Elegance, chairman of the Amelia Foundation, president of H.C. Warner, Inc., and owner of Bill Warner Racing.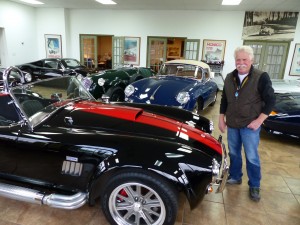 Moderator: Wayne Carini, the host of "Chasing Classic Cars" on the Velocity
Channel, currently in its ninth season, is the proprietor of F40 Motorsports sales and restoration services. He is a noted collector and a recognized collector car authority.
Book signings and other opportunities will also be available at the Forum.
—
Pebble Beach Concours d'Elegance
First conducted in 1950, Pebble Beach Concours d'Elegance® (www.pebblebeachconcours.net) has grown to be the world's premier celebration of the automobile. Only the most beautiful and historic cars are invited to appear on the famed 18th fairway of Pebble Beach Golf Links®, and connoisseurs of art and style gather to admire these masterpieces. Charitable donations raised by Pebble Beach Concours d'Elegance® now total over $21 million. Related events include Pebble Beach Tour d'Elegance® presented by Rolex, Pebble Beach RetroAuto™, Pebble Beach Classic Car Forum™, and Pebble Beach® Auctions presented by Gooding & Company. Pebble Beach®, Pebble Beach Golf Links®, Pebble Beach Concours d'Elegance®, Pebble Beach Tour d'Elegance®, Pebble Beach RetroAuto™ and Pebble Beach Classic Car Forum™, Pebble Beach® Automotive Week are trademarks, service marks and trade dress of Pebble Beach Company. All rights reserved.
About Pebble Beach Company
Pebble Beach Company, headquartered in Pebble Beach, Calif., owns and operates the world-famous Pebble Beach Resorts®, including The Lodge at Pebble Beach™, The Inn at Spanish Bay™ and Casa Palmero®. The company also operates four renowned golf courses: Pebble Beach Golf Links®, Spyglass Hill® Golf Course, The Links at Spanish Bay™ and Del Monte™ Golf Course. Its other famed properties include scenic 17-Mile Drive®, The Spa at Pebble Beach™, Pebble Beach Golf Academy™ and Pebble Beach® Equestrian Center. It annually hosts premier events such as the Pebble Beach Concours d'Elegance®, AT&T Pebble Beach Pro-Am, TaylorMade Pebble Beach Invitational presented by EMC2, Pebble Beach Food & Wine and Nature Valley First Tee Open at Pebble Beach. Future site of the 2019 U.S. Open Championship, Pebble Beach Golf Links® has hosted five U.S. Opens, four U.S. Amateurs, one PGA Championship and numerous other tournaments. For reservations or more information please call (800) 654-9300 or visit www.pebblebeach.com.
Pebble Beach Concours d'Elegance
200 Clock Tower Place, Suite 205A | Carmel, CA 93923
​831-622-1700 | 831-622-9100 (fax) | info@pebblebeachconcours.net​