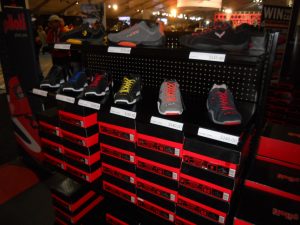 I freely admit that I really love all the "stuff" that goes along with the enjoyment of cars and driving.  Watches, sunglasses, driving gloves, gadgets and goodies, ephemera, and really comfy, stylish driving shoes that support good driving and pedal management.  And T-shirts: I've got more car related T-shirts than a chicken coupe has eggs.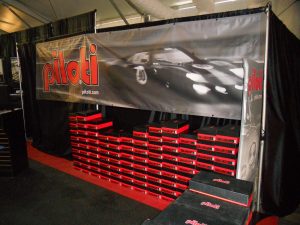 I was really pleased when a new company was formed in 1999 called Piloti, offering a top quality line of driving focused shoes. Understand this isn't to be immediately confused with racing shoes, although Piloti made those too, so much as shoes designed to be worn while racing booties are something very different: they are super soft, with very little structure or the support you need for walking or running.  Real certified racing shoes are constructed primarily of fire resistant Nomex, for obvious reasons, and also intended to offer the driver/wearer maximum pedal feel and dexterity in the cockpit.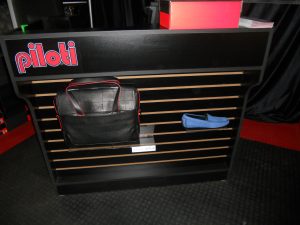 Piloti was the brainchild of its original founders, Kevin and D'Arlene Beard.  The idea was well built, high quality, stylish shoes meant for driving and driving enthusiasts.  Most of the styles looked great, wore sporty Italianesque names, were of high quality, and a dream to wear.  Over time the company had its ups and downs, but the concept was a success.  The Beards are lovely people, as I got to know them both.  And very good marketers, making sure that the brand was everywhere driving enthusiasts were.
Yet along the way somehow, the business wasn't making it, and the Beards were forced to shutter their operation a few years back.  Which was a shame for those of us who wore and loved these products.  I'd collected several pairs by then and was disappointed that the supply was being cut off.  Fortunately, an enthusiast group of executives at Canadian Tire Company recognized the goodness of the concept and the value of the brand, so in 2014 CTC purchased the brand, patents and existing designs, and engaged a new designer to come up with new brand-appropriate products and styles.  Thus Piloti was reborn, continuing some of the models it felt still right for the market, and launching several new shoe lines, plus hats, belts, gloves, t-shirts, luggage and some other related goodies.  And I'm thinking watches and sunglasses would also be great.
So what makes these shoes so damn good?  They are uber comfy, to begin with, made of high quality great looking materials, and they really are designed for driving.  There are also technical reasons.  The biggie for me is the "roll control" heel, which is radiused to allow your foot to set on the floorboard and fluidly rock forward and backward on the pedals.  Another is a some extra sole material on the outer surface of the right shoe to protect it against wear from the trans tunnel.  The "Performance" model shoes use real Nomex lining and thread, which is racy by nature, and looks cool.  Plus the sole materials are stamped and patterned after vintage racing tires.  All the rest of the tech specs are listed here:  https://piloti.com/us/about-us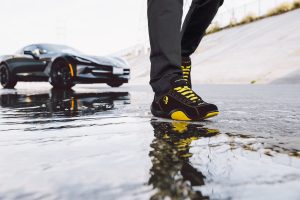 These shoes aren't intended as walkers or runners, but I have many times worn them all day to include not only driving but a fair amount of walking, and find them to be super comfortable and supportive enough for all day, most any day wear.  I've since met and spoken in detail with Michelle Massicotte, Piloti's Managing Director, who has assured me that CTC's commitment to the brand is absolute, and that Piloti will be around, and in fact is expanding its sales reach and product development.  Piloti has a joint marketing effort with Chevrolet as the official shoe for the C7 Corvette.  These are great looking products, and you don't need to own a Corvette to wear them.  There some new, made in Italy fashion designs that are too yummy for words, and will look as good with your suit or tux as they do with jeans and a T-shirt.  I asked Ms. Massicote where else the brand can go and she replied that "there are likely lots of products we can develop for the gentleman driver" nothing that many of the brand's "gentleman driver" clients are women.
Prices run up and down the gamut, as some of the sportier designs are more affordable, and naturally the made in Italy uber leather styles are costly.  But the design, quality, style, and comfort make them all worth it.  I promise you that this message from me isn't a paid endorsement, moreover something that I really feel you'll like and want to know about, especially if you liked the brand originally, and were as disappointed as I was to see it go away for a while.  Pilotis are available at many upper end car dealerships, and they also often have booths at car shows, concours, and other events.  Or you can buy on line at www.piloti.com.