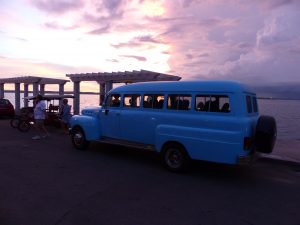 Hi Gang, this post is somewhat similar to another post I put up about Cuba some weeks, ago, but highlights one particular vehicle and build that I'm especially taken with, so I hope you enjoy it to see semi again — Thank you for visiting, MS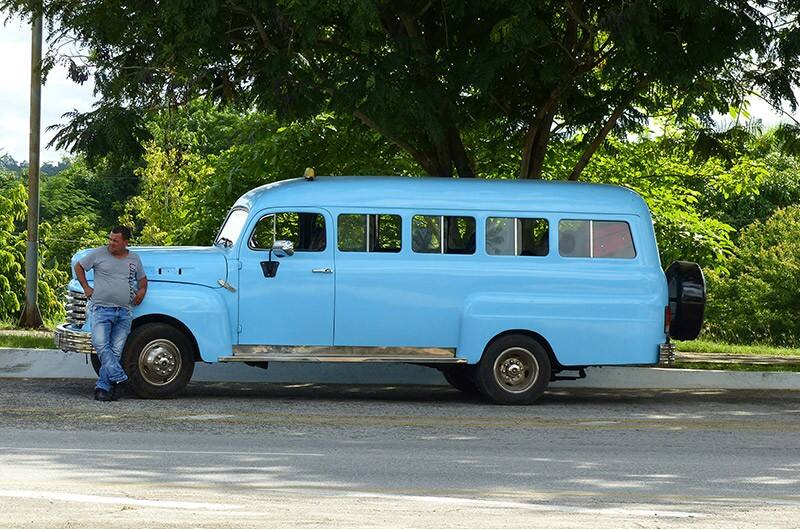 Author's Note: A few years back, Linda and I visited Cuba with a small group of like-minded car people.  The whole trip was magical – wonderful, colorful places, warm, lovely people, great food, nice beaches, and a seriously enthusiastic and resourceful vintage car scene. Given more recent changes to the political landscape, I'm not sure how easy this sort of visit is or isn't any more, but if you ever have the chance to go, you'll enjoy the whole deal — I promise. There are parts of the island we didn't make it to, and would gladly go again. Hope you enjoy these happysnaps…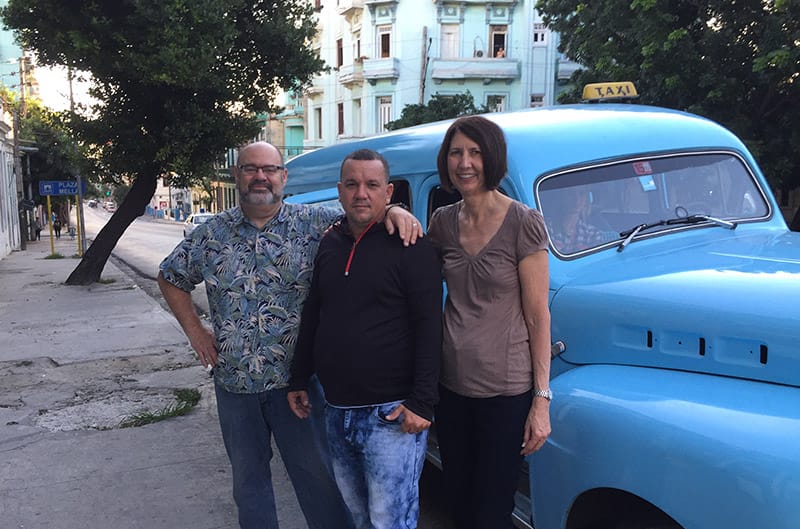 What do you really know about Cuba, that mystical little island that sits about 90 miles off the south coast of Miami? You probably know about the world's appetite for the finest Cuban cigars and rum, the latter being the primary ingredient in the perfect Mojito. Maybe you've heard that president Obama began easing U.S. trade and travel restrictions with Cuba now some years ago. If you're a little older, you'll remember the Russian/Cuban Missile Crisis, and the ill-fated Bay of Pigs invasion. And you probably heard that Cuba's former revolutionary dictatorial leader, Fidel Castro, has since passed away and his brother is now in power.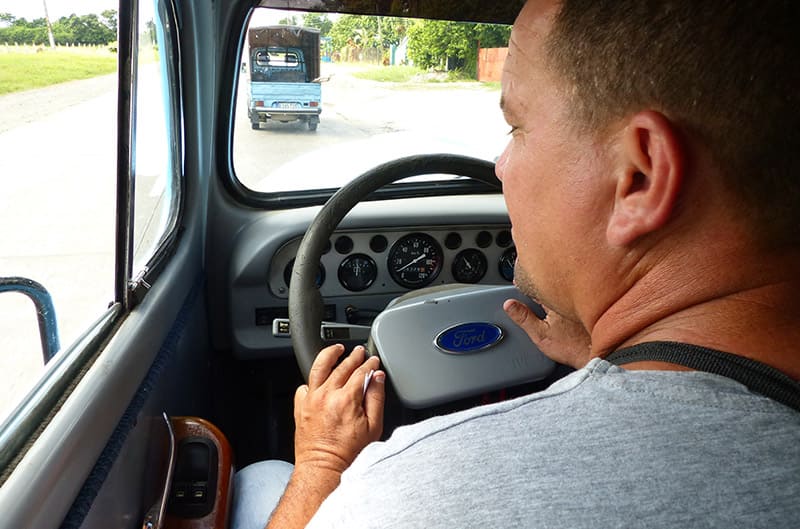 In its heyday, Cuba was nicknamed the "Paris of the Caribbean," and played host to the rich and famous, the Rat Pack, the mafia, several heavyweight boxing bouts and wealthy vacationers from around the world: an irresistible combination of waterfront hotels, gambling, sunny beaches, rum and cigars.
I have long heard of the crazy car scene down there, where old American cars are held together with baling wire, tape and tractor parts, or whatever the crafty Cuban car enthusiasts can get their hands on in order to keep their cars on the road. American cars used to be freely imported into and sold in Cuba, prior to the United States' trade embargo beginning in 1959 – the American government's way of commercially protesting the Cuban Revolution, Communism, and the reign of the Castro family. The last new American cars to legally make it to the island were 1959 and 1960 models. I had to see it for myself.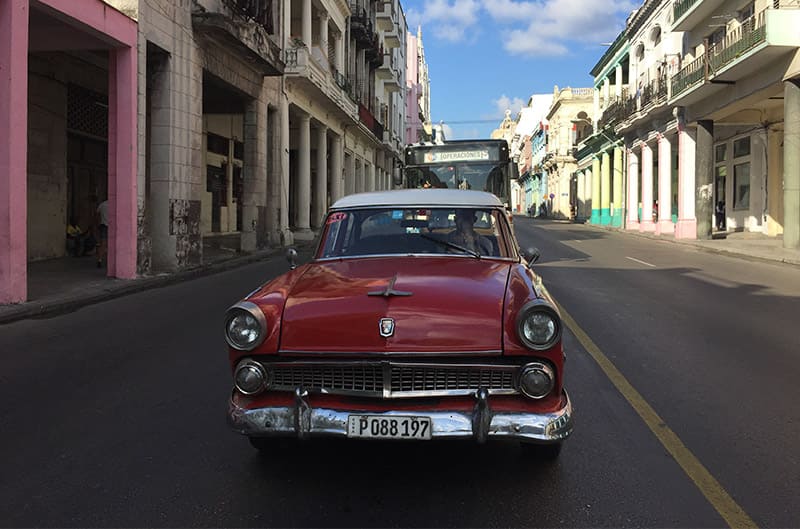 Experts estimate that 50,000-60,000 pre-1960 classic American cars are marooned on the island, as no new American cars are currently being sold there, and it is illegal to export them off the island for two reasons: First is that they are now considered national treasures, part of Cuba's color and history. Secondly, it would be detrimental to the locals who depend on these cars as a means of transportation and often "tour taxi" income. Many other countries have free trade with Cuba, so most of the new cars you see are Russian, Italian (primarily Fiat), German, Korean, and Japanese. Any post-1960 American car or truck made it to Cuba via one of several black markets.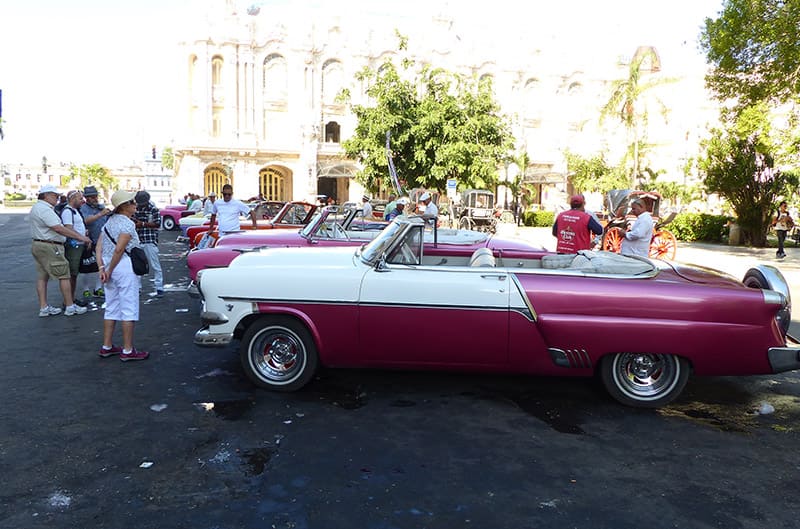 On the plane ride from LA to Miami, I was wondering how long I'd have to wait,  or how far I'd have to walk, to see cool cars out prowling the island. The answer turned out to be "30-30" — that being 30 feet or 30 seconds, whichever came first. I cleared Customs and walked out of the charming little airport in Santa Clara (just a few hours outside of Havana) to a parking lot about the size of a baseball diamond, and was greeted by '57 Chevys, a couple '55-56 Fords, a few American trucks, and the absolute most battle-worn '59 Chrysler Imperial Crown Coupe I've seen this side of a wrecking yard.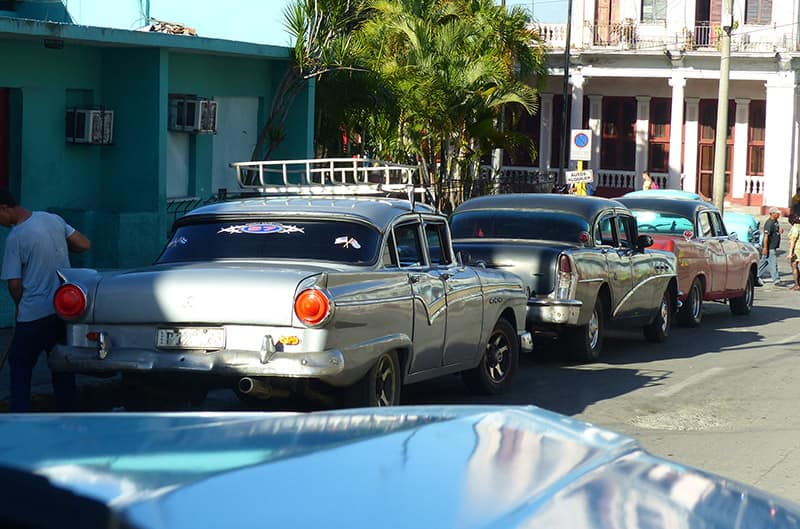 It was in this airport lot that I met up with my tour-bus driver for the week, Frank, a tough-but-friendly local who has been driving taxis for 25 years. Frank owns, drives and built, the Blue Whale. The Blue Whale began life as a standard 1948 Ford F-1 panel delivery, which worked its first career for a coffee delivery company. Over the decades, the "Ford, '48" as Frank calls it, served well but just plain wore out. Frank picked it up as a tired non-runner. No problem: Frank had plans. He and a couple of buddies cut the old Ford into quarters. They then widened it a little more than a foot, and then lengthened it two feet. This major surgery greatly increased the track, comfort, ride quality and interior dimensions – in the Cuba "tour-taxi" biz, more seats means more income potential.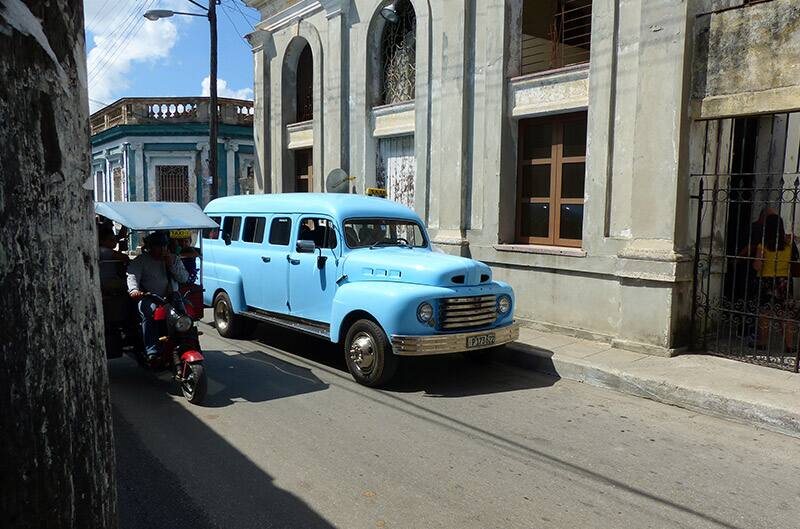 The frame needed serious expanding and reinforcing to match the newly enlarged bodywork. The guys re-engineered the whole undercarriage and beefed up the suspension. Frank wanted it stable and smooth — so he found a Ford 9-inch rear end, narrowed it, and then machined new hubs and axles set up for eight-lug duals out back. No period-stock powertrain would handle the gaff of up to 10 passengers plus luggage, so Frank and friends latched on to a Toyota four-cylinder diesel truck engine, then hand-fabbed motor mounts and a bell housing adaptor to mate it to a Nissan heavy-duty truck 5-speed, granny-low, manual gearbox.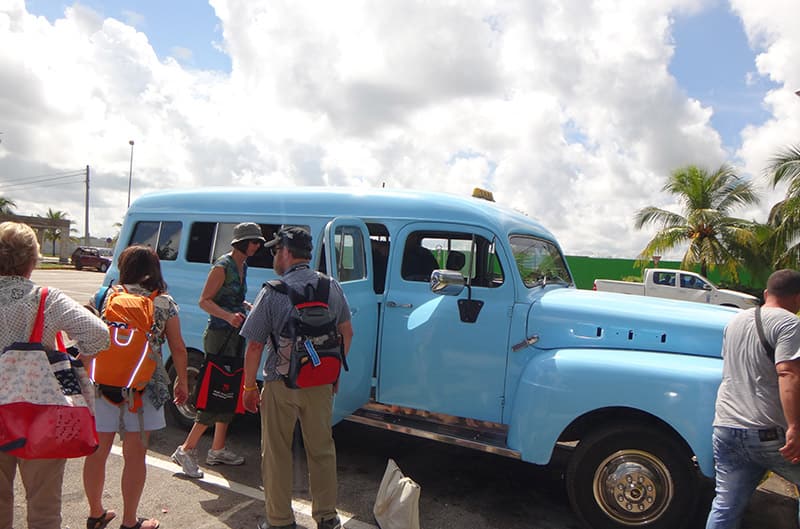 While the Blue Whale boys were at it, they plumbed it all up for power steering, brakes and AC. It took lots of time, money and some serious sheet-metal fortitude and parts-scrounging to fill in all the missing bodywork created by the lengthening and widening job, which Frank and pals did in his driveway. They also added an additional door on the passenger side, and comfy seats and sliding windows commandeered from a boneyard bus. The whole thing got a gray-and-blue upholstery job inside, and stainless-steel trim and running boards out. Frank's backyard also served as his spray booth, and the Whale was finished off in a mid-50s Ford non-metallic sky blue hue. All in, it was about a five-year build of mostly nights and weekends as all the guys have families and worked full time on other jobs. Inside, the AC blows cold, the nav system keeps track, and you can watch DVDs if you want to — but I never did, as the scenery passing by outside was entertainment enough for me.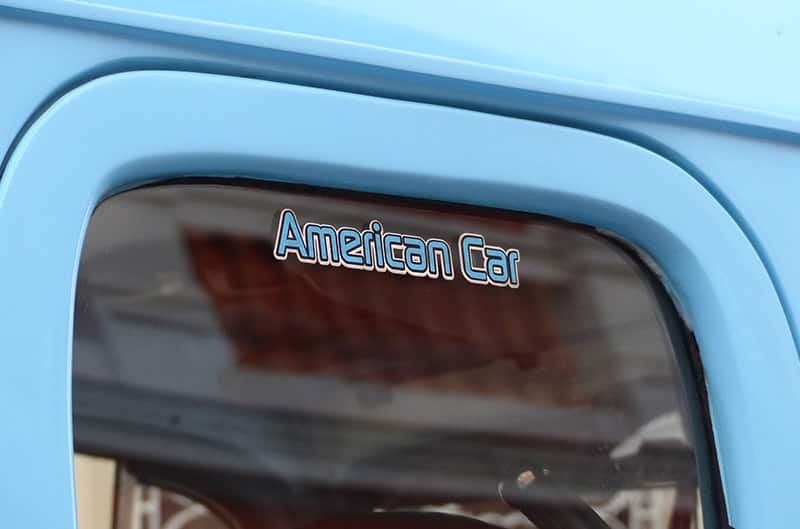 The ingenuity, enthusiasm, hand-fab skills and parts-scrounging prowess of these guys is as good as any grassroots race shop in America you could name.  They are, and should be rightfully proud of what they can and often do. Frank keeps the Blue Whale immaculate at all times, and the big blue bus never overheated, and neither burped, farted, nor acted-up in any way — no matter how many hours a day we ran it through the tropical heat. If there's a cooler way to cruise Cuba than in this truck, I never saw it.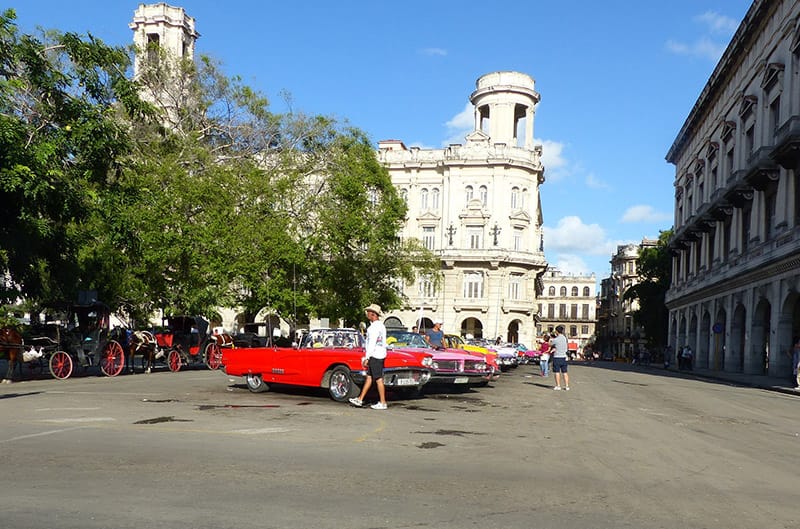 You've likely heard that the parts supply down there varies from scarce to non-existent. While some Chinese-made reproduction parts filter their way onto the island, forget about American-made or factory replacement parts; keep in mind that the internet is government-censored, and international shipping is closely regulated. There is a black market for certain things, but of course that jacks up the price considerably. You need an OEM rebuild kit for a 272, 292, or 289?  Nope.
This is one reason so many cars in Cuba boast crazy engine swaps. That, and the fact that regular gasoline – at 83 Octane – is about a buck a quart; diesel is cheaper and, if you can believe it, of better quality. So diesel engines are plentiful; most tractors and industrial equipment runs on diesel, as do many of the cars. One popular favorite is a Ssangyong inline 5-cylinder diesel – with turbo or without – which is a near-exact Chinese copy of a similar Mercedes-Benz passenger Inline-5 oilburner. As noted, Frank's Blue Whale '48 Ford taxi bus runs a Toyota truck I-4 diesel with loads of torque, easy parts supply, and relatively good fuel mileage on the local diesel.
The next Cuban car nut we met was Carlos – a hyper Lebanese who retired to Cuba and runs a Hyundai turbodiesel engine and 5-speed manual trans in his red-and-white '55 Bel Air convertible. He swears it to be the best upgrade swap there is. He usually works the area near Cuba's beautiful capitol building in Havana, and will take you on a one-hour, top-down tour around all of the city's hot spots – and talk your ear off in any of the six languages he speaks – for about $40. You can tell the cars that run modern turbodiesels, as they move along pretty briskly with minimal black smoke. Older, naturally-aspirated oil-burners are as noisy and smelly as you'd expect.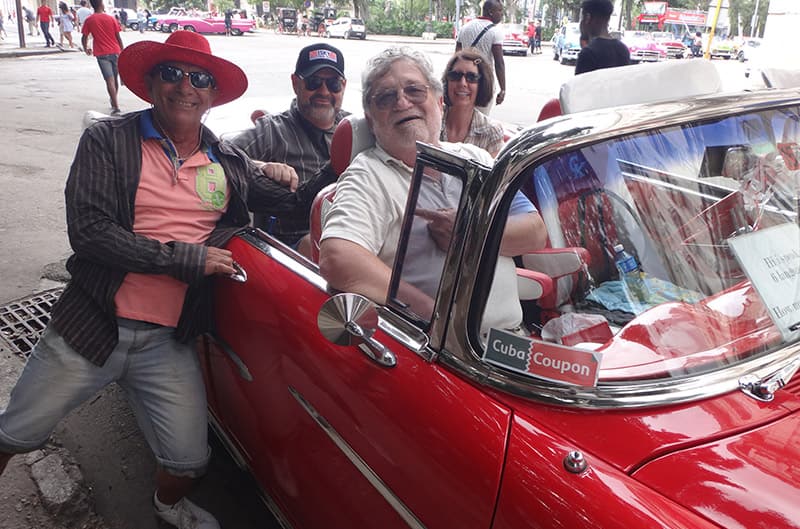 The overall Ford footprint on this magical little island is substantive, and very cool. The oldest Ford I saw was a Model A, in the nationally owned and run car museum described just below. I saw at least a trio of mid-late 40s "fat-fendered" Fords, but mostly 1950s, and of course no Mustangs, Falcons or Torinos as they're all post-1959 embargo. I did see a couple Mercurys, a fair number of Ford trucks, one Thunderbird, and but a single Lincoln. Condition runs from mild to wild, with some being little more than beat-up old cars, while others are in excellent if not occasionally spectacular condition.
In a country where the streets are pretty much a living car museum, Cuba still has a place devoted to the cars it finds extra special. Just a week before my visit, Hurricane Matthew passed near Cuba, dropping torrential rains for several days, and the Cubano Museo Automovil was flooded, so the state-owned collection moved to a temporary location near old Havana. The cars were fine, although the current display is little more than an old dockside warehouse – like so much of Cuba, they're doing the best they can with what they have. Curator Eduardo was happy to get the collection's modest archives out undamaged. No matter — the cars are cool. But that's exactly what can we expect in Cuba.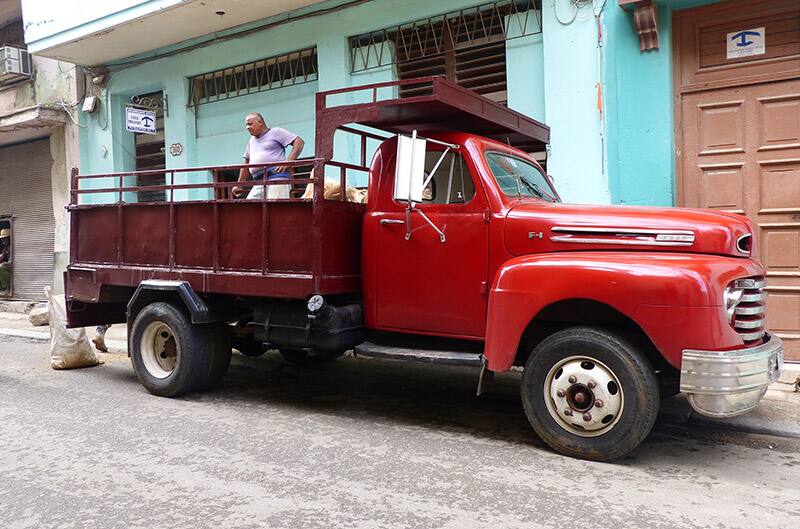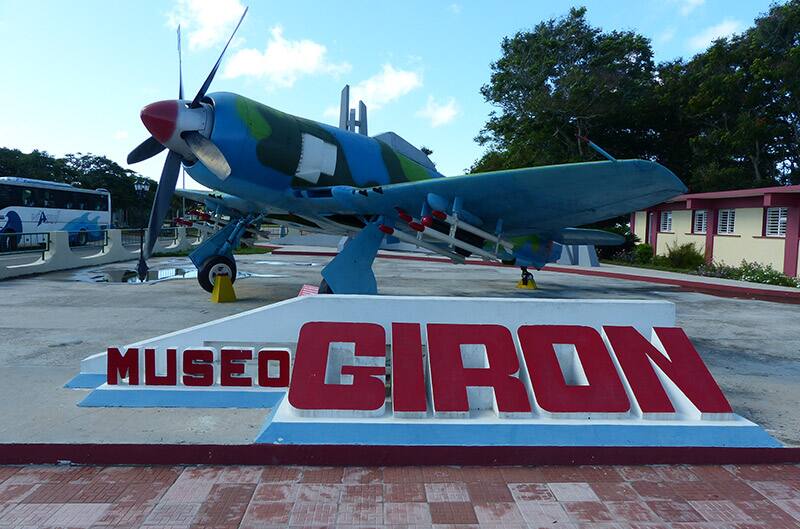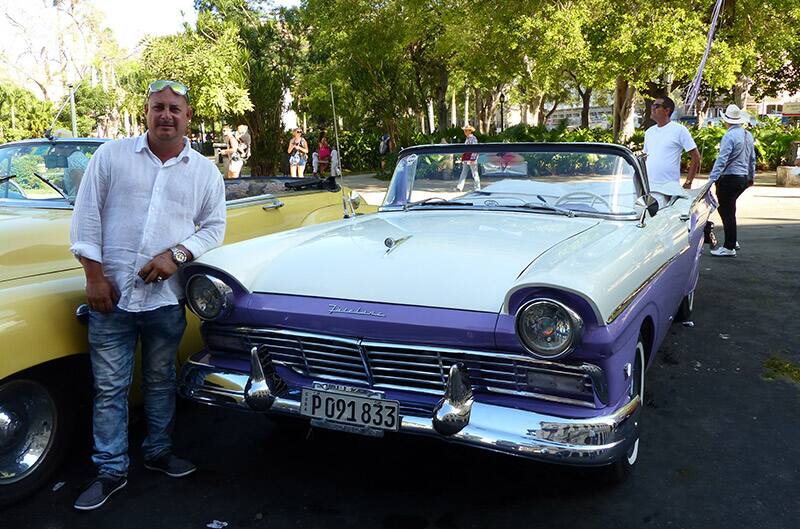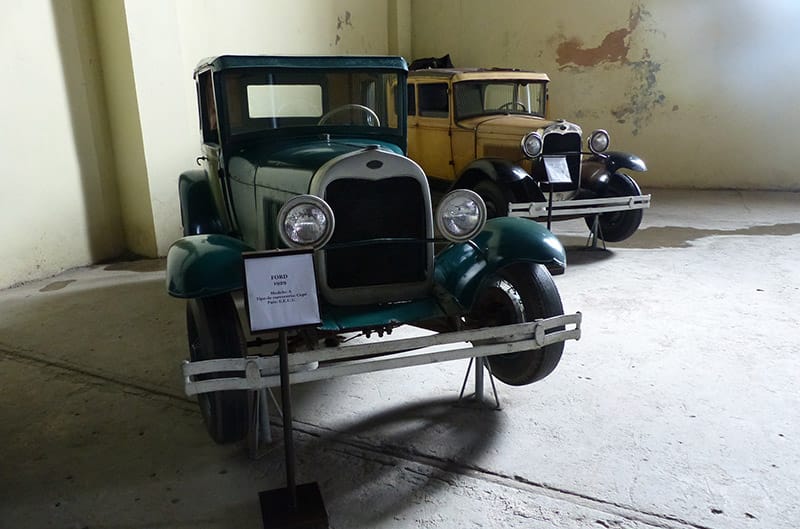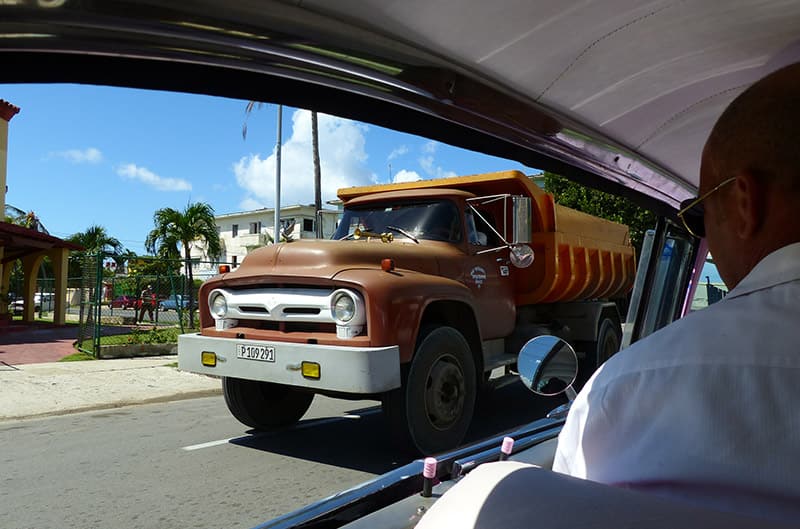 (My thanks to DetourswithMatt.com, Nostalgicarcuba.com, and Brenda Priddy for all their help and great times.)