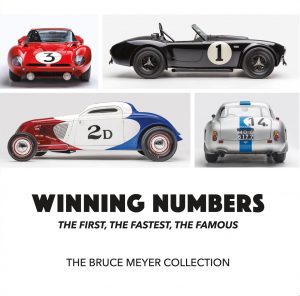 Gang…This small but mighty collection of The First, The Fastest and The Famous belongs to my friend and mega enthusiast/collector Bruce Meyer, and is worth a special trip just to see.  Bruce has over time, carefully curated this gathering of winners, firsts, and onlys, and is sharing it with the public at the Petersen from now through next January.  Don't miss it, and be sure to buy the exhibit catalog as the photos and stories are worth every penny.  If you've heard of Bruce but don't know him, you may incorrectly write him off as just "another rich guy who bought up all the great cars."  Which would be a huge injustice.  He is in fact a self made rich guy who has bought up and restored a lot of great cars, but he's so much more; a committed family man, a serious philanthropist, one of the foundations of the birth and success of The Petersen Automotive Museum, and at day's end, just a very nice man, and one of the very best ambassadors of our hobby possible.  I'm honored to call him my friend, and this collection will make you sweat at least a little…photos by Ted, courtesy The Petersen Automotive Museum…doubleclick on any photo to see it high res in full screen…thanks – MS
The new display is highlighted by the first production Shelby Cobra, the winningest Ferrari road racer of all time, the 1962 Greer Black Prudhomme Dragster, the 1979 Le Mans-winning Kremer Porsehe and more….LOS ANGELES The Petersen Automotive Museum opened its newest exhibit featuring 10 groundbreaking race cars, each with a unique story of triumph and victory.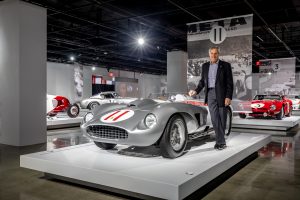 Titled "Winning Numbers: The First, The Fastest, The Famous," the exhibit is comprised of Le Mans winners, land speed record setters, dragsters and road racers from the personal garage of Petersen Founding Chairman Bruce Meyer.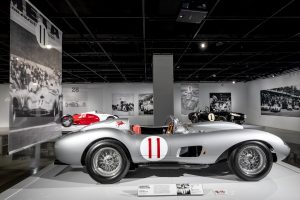 Key vehicles on display include the winningest Ferrari road racer of all time, the 1957 Ferrari 625/250 Testa Rossa, which claimed first prize in more than half of the 50 competitions in which it was raced…
the first production 1962 Shelby Cobra, CSX2001…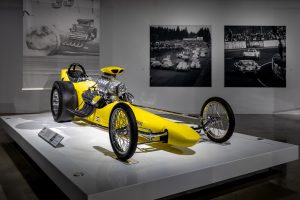 the 1962 Greer Black Prudhomme, which was raced by drag racing legend Don Prudhomme who won 237 of the 241 races in which he piloted the car…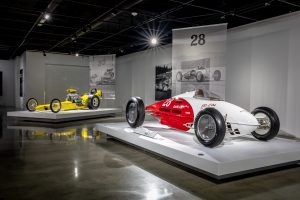 the renowned 1952 So-Cal Speed Shop Belly Tank Racer, which was fashioned from a P-38 Lightning fighter belly tank from World War II by hot rod racing icon Alex Xydias…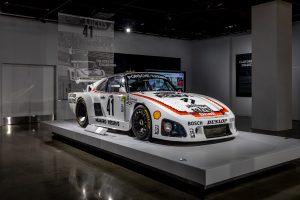 the 1979 Kremer Porsche 935 K3 that
took first place overall at Le Mans…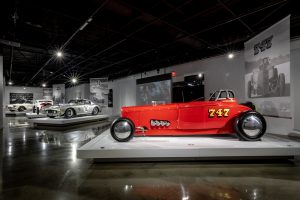 and the 1929 Ford "747" Bonneville Racer that Meyer ran 204 mph at
Bonneville Salt Flats…
"Affectionately called 'the car guy's car guy,' Bruce Meyer epitomizes true automotive passion," said Petersen Automotive Museum Executive Director Terry L. Karges. "The charisma with which Bruce shares his passion is what sets him apart. 'Winning Numbers' reflects his discerning tastes as a collector and motorsports enthusiast, and we're proud to share his fervor for the hobby with the community."
The exhibit's public opening was preceded by an evening reception and media preview on February 22, 2019. Guests of the exclusive event were treated to passed appetizers by the Petersen's exclusive catering partner Drago, a full cocktail bar and a Fireside Chat discussion between Meyer and Karges.
"Winning Numbers" will run through January 19, 2020. For more information about the Petersen
Automotive Museum exhibits, visit www.Petersen.org.
###
About Petersen Automotive Museum
The Petersen Automotive Museum Foundation is a non-profit 501(c)(3) charity. The Museum is located at
6060 Wilshire Boulevard (at Fairfax) in Los Angeles, California, 90036. Admission prices are $16 for
general admission adults, $14 for seniors, $11 for children ages 4 to 17. Active military with ID, personal
care attendants and children under four are admitted free. Museum hours are 10 a.m. to 6 p.m. For
general information, call 323-930-CARS or visit www.Petersen.org.