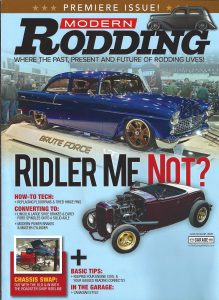 HOT ROD Deluxe.  Rod & Custom.  Street Rodder.  Popular Hot Rodding.  Due to a combination of changing times, mergers and closures, the media convergence, and titanically poor management, one by one, many of America's best, best known, and/or most enjoyed magazines about hot rodding have gone the way of the Dodo bird.
Which then gives me considerable pleasure to announce the birth of a new one.  A real live, newly launched, printed on honest to goodness paper (and pretty darn good paper at that) just born car magazine called Modern Rodding.  The trio behind the new venture, which also spawned a sister title called Classic Truck Performance, are all guys I've known around the motor magazine business for eons. They're solid dudes, good editors and publishers, and know the game.  So far each title is bi-monthly until the first of the year when they go monthly along with our third title … All Chevy Performance, all combined with online components that compliment, rather than compete with, each other.
The publishing company behind it all is also new; and of course they're in the game to earn a living and make a profit, but not at the expense of the products themselves — or the reader for that matter.  I've thumbed the debut issues of each, and the quality is good.  The story telling is honest, the use of photography and graphics is of high quality.  Majordomos Brian, Tim, and Rob aren't corporate stiffs who'll sell out the whole deal just to shill for some advertiser who has a shady agenda.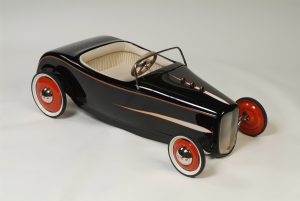 I like these guys a bunch, and I wish them more than well.  Is this little post an out and out plug?  Hellyes it is.  As you might guess, if you know anything about me at all, I love great stories well told and illustrated, and printed on paper you can't see through — you know, something more than 160 hastialy written characters and a crappy cellphone picture.
I believe these guys all "get it" and are absolutely on the right track.  I will support them, and I hope you do too.
Subscribe, and get the rest of the story at inthegaragemedia.com.
And so, just like vinyl records, carburators, manual transmissions, and 35mm cameras, print ain't entirely just dead yet.  Good luck boys,
MS