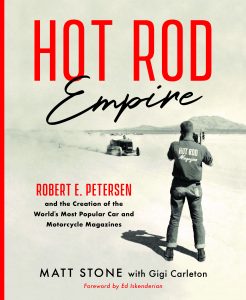 I'm pleased to announce the publication of my new book, HOT ROD Empire. By me, with Gigi Carleton, and Foreword by Ed Iskenderian.
This new project is very exciting, and I believe provides a long overdue look into the epic lives and times of Margie and Robert E. Petersen, they of Petersen Publishing Company and The Petersen Automotive Museum, among many other things. Mr. P was the founder of HOT ROD magazine, and for all intent and purpose launched the specialty magazine publishing business in America in 1948. Plus many other businesses, big game philanthropy, and two car museums. Lots and lots of archival photos here and things you likely never knew about this fabulous couple, their personal car collections, their sons, and lots more.
It was my honor to work with Ms. Carleton, my friend, and for 40 years the Petersens' executive secretary and personal manager. Gigi had marvelously curated files of photos, letters, press clippings, interviews, invites and priceless ephemera from this dazzling couple's lives, and it was a book that just had to be written, and I'm thrilled it was me that got to do it.
You can pre order from Amazon.com, buy publisher direct from motorbooks.com, or brick and mortar from autobooks-aerobooks in Burbank, California.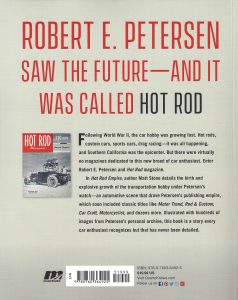 Published by Motorbooks, Hardbound, more than 200 pages and something like 400 photos, ISBN: 978-0-7603-6492-5.
Please check it out, and I hope you enjoy it. Thanks — MS