Back when I was a much younger man, in a much more innocent time, my friends and I used to do such mundane things as ride our bikes all around town, just for fun, looking around, and discovering.  Of course me being me, there was always a camera in my pack or around my neck, and more often than not it was loaded with black-and-white negative film.  As you might equally expect, most of my shots were of cars, motorcycles, and car and bike related subjects.
Like many of us, I've been cleaning out closets, files, and such while on Covid Couch Arrest, and found these amazing shots.
One day we were riding around a rural area of what was then Cucamonga, now Rancho Cucamonga, near what used to be vineyards.  And we stumbled upon this Field of Dreams full of old cars.  So I snapped off these few shots.  As you can see, nice choice of great stuff; '57 Chevy, late 40s Mercury and Ford, at least two '37 Fords, and an uber rare '56 Ford Crown Victoria Sunliner, with the tinted acrylic roof panel.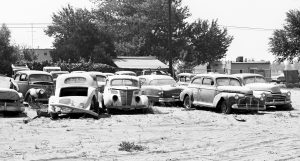 We were both of driving age, and even from across the field, picked out our favorites, with a plan to revisit within a few days in an attempt to find out who owned them and what was for sale.  As you might expect, by the time we got there the following week, the entire lot had been cleared, the cars were gone, the property empty dirt once again.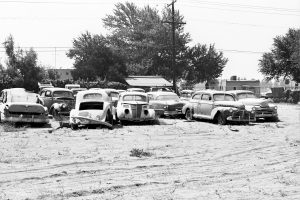 "Bummer, snooze ya lose, he who hesitates"…and all that.