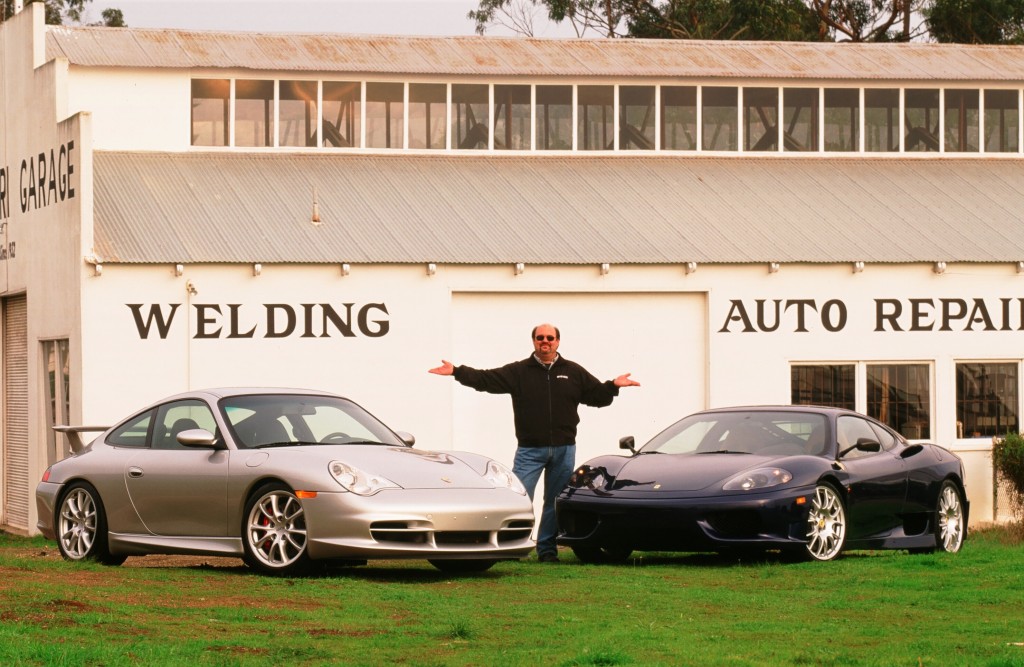 Every car guy needs a little place to call home, right?
photo by Kiwi
You no doubt have spent some time dreaming of the size, look, layout, and location of your Ultimate Garage. I know I have; two semi-distinct ideas have formed in my pea brain. One property already exists; all that remains is for me to acquire, remodel, and inhabit. The other lives (so far) only in my mind, but is probably out there somewhere.
The first is an abandoned mechanics shop, located in Cayucos, California. This quaint little berg dots the central California Coast, North of Morro Bay and South of the Monterey Peninsula. The building, when in operation as a working automotive repair shop, was called the Borradori Brothers Garage (you can Google Earth it at 455 North Ocean Avenue, Cayucos, CA). It's a wonderful block and tin building at the North end of town, right on the Business Loop of Highway 1. There isn't much around it but plenty of parking for friends' cars, and of course it sits up on a bit of a hill, and there's a balcony out back with an ocean view. Perfect for my Adirondack chair, hammock, and grille. The Borradori brothers originally opened up shop about 1000 feet away, and moved to this property in 1950 when Highway 1 was reconfigured a bit, taking their old shop with it. This building, now vacant, is likely about 5000 square feet and lets in lots of glass lit natural light. Most of the framing inside looks like metal, and I'd merely refurbish and detail it up, building my residential loft at the rear of the structure connecting to the aforementioned balcony (or once remodeled, I guess I could call it a veranda or a lanai). And I'd host my very own "cars & coffee" breakfast cruise there every Saturday morning; trust me, this place has it all. I'm not sure what the future holds for this magnificent structure, but I've never seen a For Sale sign around it, and have heard that the current owners want to remodel it into a restaurant. Not a bad idea, but sorry, I think my plan is better, and should thus come first.
Garajmahal II exists in my fertile imagination, and it would be an old decommissioned brick firehouse on a fabulous beach somewhere. Again given my penchant for the central Cali Coast, it could be anywhere from Santa Barbara through Pacific Grove, and I'd be happy (giddy actually). A firehouse is perfect for cars. Lots of parking, big doors already installed a likely immaculate polished concrete floor, and living quarters upstairs. Maybe a little something with a lighthouse attached?
Hey, long as I'm dreaming, I can dream big, right?
And I'm thinking somewhat museum minimalist in terms of decoration. Satin polished concrete or metal floors, natural finish brick walls, and any metal or wood structural beams to be restored to their natural finish. I've seen a lot of great car barns filled with neon dealer signs, artwork, and all kinds of stuff hanging on the walls and from the ceilings, but I think I'll pass on all that. Eyes on the prizes; the cars are the stars. And of course a loft office overlooking it all, filled with my collection of automotive art, racing photography, and rare die-cast models.
Can't ya just see it??