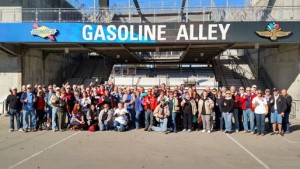 Some news I thought you might enjoy…
With Massive Event at Indianapolis Motor Speedway
Mustang Club of America to host 40th Anniversary Celebration at the iconic Indianapolis Motor Speedway
Event highlights to include track activities, Night at the Museum, Mustang Parade, MCA Banquet and more
Mustang Enthusiasts from around the world are expected to attend
PENSACOLA, Fla., May 16, 2016 – Mustang Club of America, the ultimate international Mustang enthusiast organization, is celebrating its 40th anniversary at the iconic Indianapolis Motor Speedway with an exciting lineup of performance cars and track events. The MCA celebration will be held Sept. 1 – Sept. 4, and will feature heart-pounding action and excitement for automotive enthusiasts of all ages from around the globe.
"We're thrilled to celebrate the 40th anniversary of MCA at Indianapolis Motor Speedway," said Jeff Mays, President, Mustang Club of America. "This MCA celebration will be unbelievable as we honor four decades of our club's history. Enthusiasts from across the globe are planning to attend our larger-than-life event, as we share personal stories about Ford's legendary pony car."
Throughout the weekend, Mustang enthusiasts will have plenty to feed their appetite including exciting track events and performance ride-and-drives at Indianapolis Motor Speedway, vendor booths and demonstrations offering the latest in performance technology. For those looking for a little down time, MCA will also have designated car corral areas for individual MCA chapters, as well as members of Shelby American Automobile Club and Team Shelby.
In addition to activities throughout the day, attendees are also encouraged to take part in MCA's nightly events. These will include a Night at the Museum on Thursday, the world's longest Mustang Parade on Friday and an MCA banquet on Saturday night featuring special guests and honorary speakers.
"Since its founding in 1976, the Mustang Club of America continues to play a major role in keeping "Mustang" the original "Pony" car of choice for thousands of enthusiasts worldwide," said Steve Prewitt, MCA Past President. "Over the past 40 years it has developed the most comprehensive and documented set of judging rules for all Mustangs from 1964 ½ to the 2016 models, but it's no longer just about car shows and judging. Numerous MCA events now include open track driving events, vendor swap meets, and technical seminars. The celebration of Mustang Club of America's 40th Anniversary at Indianapolis Motor Speedway will be no exception. There will be something there for everyone."
In 1976, 30 Ford Mustang enthusiasts responded to an Atlanta newspaper ad. It provided the details of a meeting in April 11, 1976 at the Antique Car Museum in Stone Mountain, Georgia. That was the first meeting of the Mustang Club of America.
Who would have imagined that 4 decades later, the Mustang Club of America would hold their 40th Anniversary on one of the most iconic tracks in the United States? The first meeting had 13 Mustangs on hand while the 40th Anniversary, is expected to have more than 2,000 Mustangs in attendance. MCA has certainly grown from humble beginnings to become the true Mustang Club of America for all Mustang enthusiasts. Between the first meeting in 1976 and today, the club has grown to over 13,000 members, with more than 190 chapters worldwide holding multiple National judged events around the country each year.
Details continue to be finalized for the event. Information is continuously updated on a special website, http://www.mca40th.com/ and at the MCA website, http://www.mustang.org/.
About the Mustang Club of America
The Mustang Club of America is a non-profit organization dedicated to the preservation, care, history, and enjoyment of all model years of Mustang, Shelby, Boss, Saleen, Roush, SVT Cobra, Steeda, and McLaren. Membership includes enthusiasts throughout the United States, Canada, and worldwide and more than 190 Regional Clubs.