You may love the Unser family, or you may not. No matter, any true racing fan will respect their considerable accomplishments. Nearly two handfuls of Indy 500 wins, several championships in a variety of series, Pikes Peak, Formula 5000, IROC. The Unsers have been there and won that.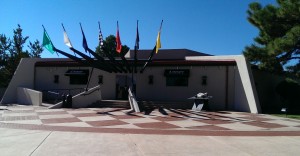 If you are heading by or through Albuquerque, NM, then you must stop by. Admission is just a few bucks, and the cars, ephemera and history on display are worth your time and enjoyment.
Below all the stats are a few cellphone pix, and I'll leave the rest for your to discover on your visit.
Unser Racing Museum, Located at the Unser Discovery Campus, 1776 Montaño Road NW
Los Ranchos de Albuquerque, NM 87107Phone(505) 341-1776

 

This is Bobby's 1968 Indy winner, also driven by Paul Newman in his racing epic film Winning.