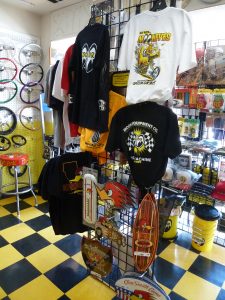 The famous "MoonEyes" logo is cool, cute, and somewhat iconic.  It all represents a company called Moon Equipment, built, run, and owned by a guy (logically enough) named Dean Moon.  Moon was a seriously committed hardcore drag racer and hot rodder.  He also had great ideas for a line of relatively light weight, high quality equipment also targeted at drag racers and hot rodders who demand the best; spun aluminum fuel, oil, and coolant tanks (cool in that they resemble small beer kegs), valve covers, intakes, and his famous aerodynamic "spun" aluminum wheel covers, designed to smooth out the air flow over factory style steel wheels and lugnuts.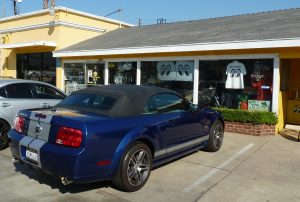 Perhaps coolest of all is that the company is still in business, has a world wide reputation, and you can visit free of cost.  The Sante Fe Springs, California, property features what was originally a small house, to which more and more building and garage space was added to it.  The "gift and goodie" shop is stuffed to the gills with great hot rodding and racing inspired stuff, although its neat clean and organized, fun to look or shop.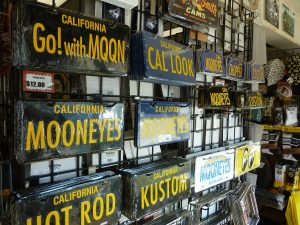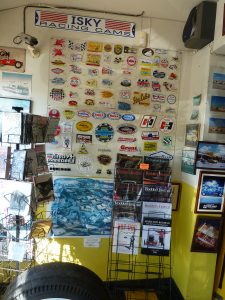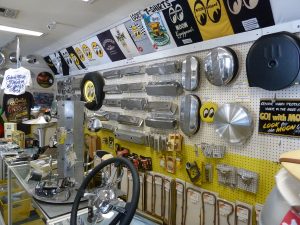 Among the many great cars that have been worked, built, or cranked upon at Moon's shop is the very first original prototype Shelby Cobra, CSX2000, and you can visit and walk through the very shop space in which that Small-Block Ford 260 V-8 powertrain met up with a yawning, engineless, aluminum skinned AC Ace body/chassis for the first time.
Although that stall is currently used primarily for shipping and receiving, you'll still recognize it as the surroundings for the creation of the first Shelby Cobra.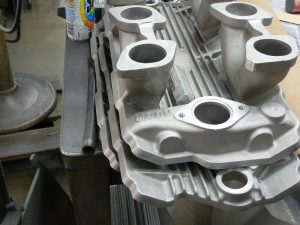 Anyway, check out these photos, and I encourage you to visit the Moon garages property if you're in, or next time you're in Southern California.  David Fetherston also wrote a great book about Dean Moon and his history, which is still in print and not expensive — I believe you'll enjoy the book, a visit to the shop, and learning more about this famous and important guy in the history of hot rodding.  It doesn't hurt to call first and make sure someone will be there when you plan to drop by.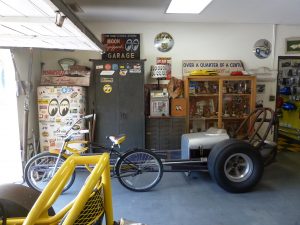 MOON EQUIP. CO. ADDRESS & LOCATION:
MOONEYES USA, Inc.
10820 S NORWALK BLVD
SANTA FE SPRINGS, CA 90670
USA
OPERATING HOURS for the SHOP
MON – FRI: 8:00 AM – 5:00 PM (California Time)
SATURDAY: 9:00 AM – 3:00 PM (California Time)
SUNDAY: CLOSED. Gone to the Show!

Telephone:
Toll Free: 1-800 547-5422
International/Direct Line: 562 944-6311
Fax: 562 946-2961
We're on Facebook

EMAILS:
For sales/order inquiries: sales@mooneyes.com
For general information: info@mooneyes.com