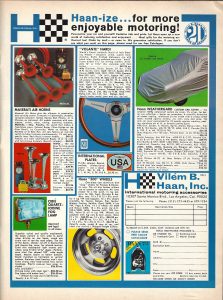 Click to enlarge
I will never forget those trips to Vilem B. Haan  auto boutique (founded by and named after that actual guy) in Beverly Hills with my dad.  It was a real adventure, about 40 miles from our home in Upland.  We'd make an entire day of it, usually just him and me, unless our whole family was in West LA to visit my aunt, cousins and grandparents.  Haan & Company was the coolest place, filled with the greatest car stuff; grille badges, driving gloves, Raydot rear view mirrors, sunglasses, stop watches and rallye clocks, decanters shaped like a Mercedes-Benz or Bugatti grille, car logo beach towels, anything cool and happening for your sports or race car.  Mostly what we called "imported" brands at the time, although there was much for American cars and racing enthusiasts too.  They put out the absolute neatest color catalogs too (remember those?).  We were on their mailing list, and the Haan catalog came at least once a year, sometimes special ones around the holidays.  And no junk at this store; only high quality goods for serious enthusiasts.  And yes it was an actual store, a retail location that you walked into, shopped at, selected or ordered your stuff, paid for it, and carried it out in a box or bag.  Prices were on the slightly high side of average, but not outrageous.  And they advertised running lavish color full pagers in all my favorite car magazines.  I mean, heck, if they ran full pages in Road & Track, their stuff must be good.  And it was.  Funny, nothing in Haan's ads or catalogs said www.blahblahblah.com or anything like that.
My bestest memory of visiting Haan was the day an immaculate silver early 70s 911S pulled up, and doubleparked right by the front door of the store.  I was inside, and ran up front to hear what was making that wonderful noise and who was driving it.  A crazy handsome blondish silver haired guy hit the blinkers, yanked the e-brake, and left the car running while he hopped out and ran into the store to grab his new racing suit, packed up and waiting for him.  He ran back out, and I said "great car sir!" and he smiled and shook my hand and said "thanks kid" and of course it was Paul Newman, who I knew as an actor but not as a racer at that time.  No matter, that was the bitchinest Porsche encounter I'd experienced up until that time (and maybe ever).

Click to Enlarge
Of course Vilem B. Haan wasn't the only such store; there were larger ones and smaller such places, most of them in California or New York.  Another smaller scale place was MG Mitten Company, in Pasadena.  It was the brainchild and child of one Marion Weber.  The original thing, not place, named MG Mitten was a car cover for her MG, and that beget a business with all kinds of cool sports car bits, including covers for other cars, and all manner of goodies.  Sadly she sold the business in 1987 and it went bankrupt just a year later.  There was also Wilco in New York, I don't know that Wilco ever had a retail storefront, but its full page ads carried all kinds of great goodies, and they too produced a wonderfully illustrated catalog.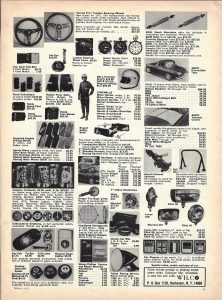 Also click to enlarge
There have also been some modern incarnations of the auto boutique; Beverly Hills Motoring Accessories was a major player with its large, elegant, welcoming showroom.  BHMA was created and run by LA Car guy Andy Cohen, and went huge into custom fit car covers, equally custom made floor mats, and a raft of high quality accessories.  Andy then went a step further, importing and stocking some very exotic cars: BHMA was the first AMG dealer that I even remember (long before Mercedes-Benz owned AMG); I used to love to cruise by the shop and check out those badass AMG-ified 450 and 500 SL Roadsters, and big engined Mercedes AMG "Hammer" sedans.   Time went along, and Cohen closed (or sold) the store and went on to other things; he's recently reopened BHMA with his son running the day to day, but of course there is no more luxurious showroom — BHMA is an entirely online business now.  Fred Lobianco, one of the original kingpins of the California Car Cover Company opened a classy boutique store in the West San Fernando Valley, called World Class Motoring, which was a nice place that always had coffee brewing, and welcomed its customers to just drop by and hang out.  Fred carried a lot of books and magazines, so in between playing video games or racing his simulator, there was always something to read and someone interesting to talk to.  That business no longer exists either.
All because, of course, the internet has become the world's most popular marketplace, which can handle all the catalog, sales, purchase, and delivery processes online.  I'm not at all saying this is bad, because it's ultimately a very convenient and time efficient way to shop — yet a very different experience than dropping into one of these boutiques to shop or just ogle.  But I sure miss visiting places like Vilem B. Haan—with my dad.