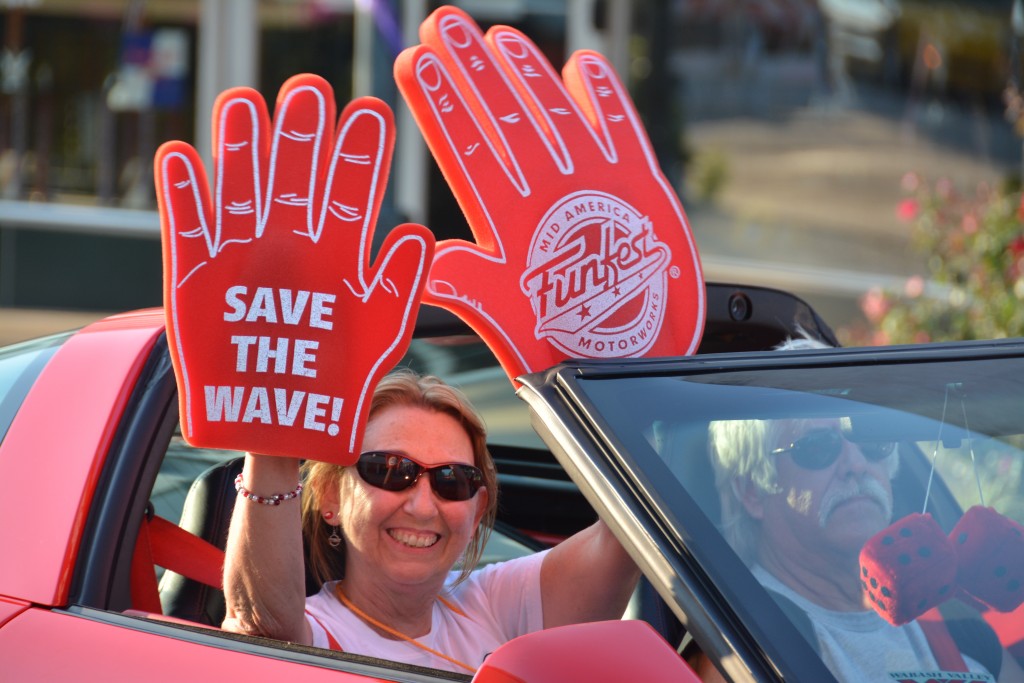 15,000 Corvettes, and nearly 50,000 Vettetistas, gather in Illinois to celebrate big anniversaries and the new C7
photography by me and Kirk!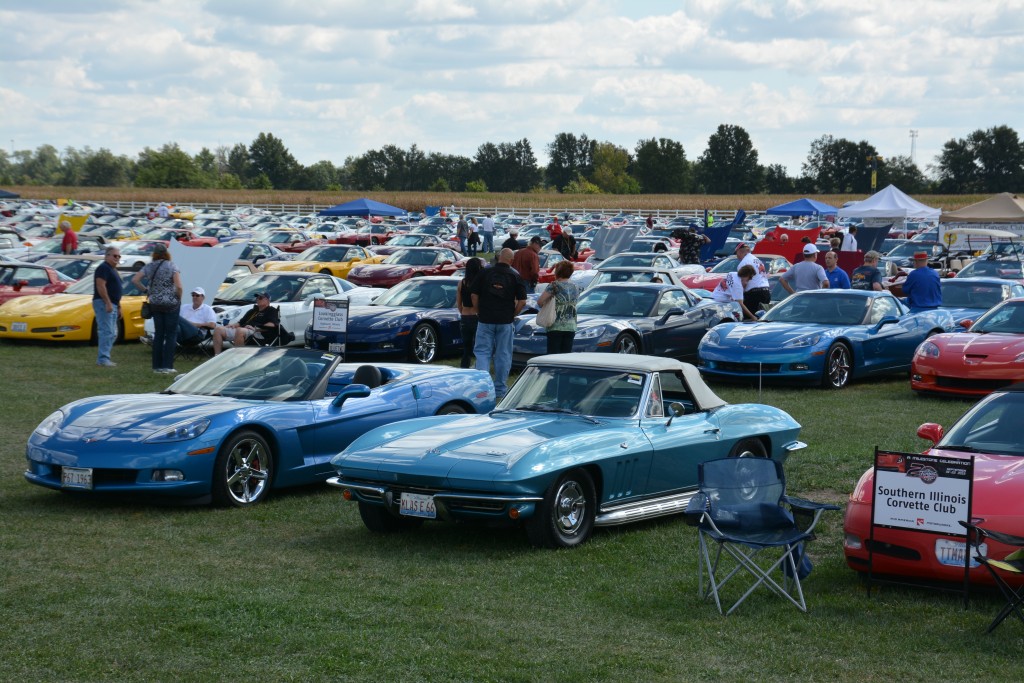 Automotively and socially, 2013 proved a year of varied and interesting milestones.
The Chevrolet Corvette, born in 1953, marked its 60th birthday, and the very special Sting Ray model, introduced a decade later (and now reprised for 2014), turned 50. The also iconic Porsche 911 made its world debut at the Frankfurt auto show in the fall of the same year, so it also notched its 50th birthday. History was changed in November of 1963 by a tragic day in Dallas, Texas. Also in '63 the Beatles released their first album, Please Please Me, in the United Kingdom; Director Alfred Hitchcock's landmark film "The Birds" premiered in the United States, and long running soap opera General Hospital debuted on ABC television.
2013 also marked the 30th anniversary of a year with no Chevrolet Corvette model. Production of the third generation "C3" Corvette (1968-1982) was over, and the all new "C4" Corvette model was officially produced beginning with the 1984 model year, so 1983 was technically Vetteless. And, just to finish up with milestones and anniversaries, Effingham Illinois' Mid America Motorworks, celebrated its 40th year in business, and Mid America also hosted its 20th Anniversary FunFest. Thus, the theme for this year's FunFest was Milestones: 20/40/60 (sequentially heralding the FunFest/Mid America/Corvette anniversaries).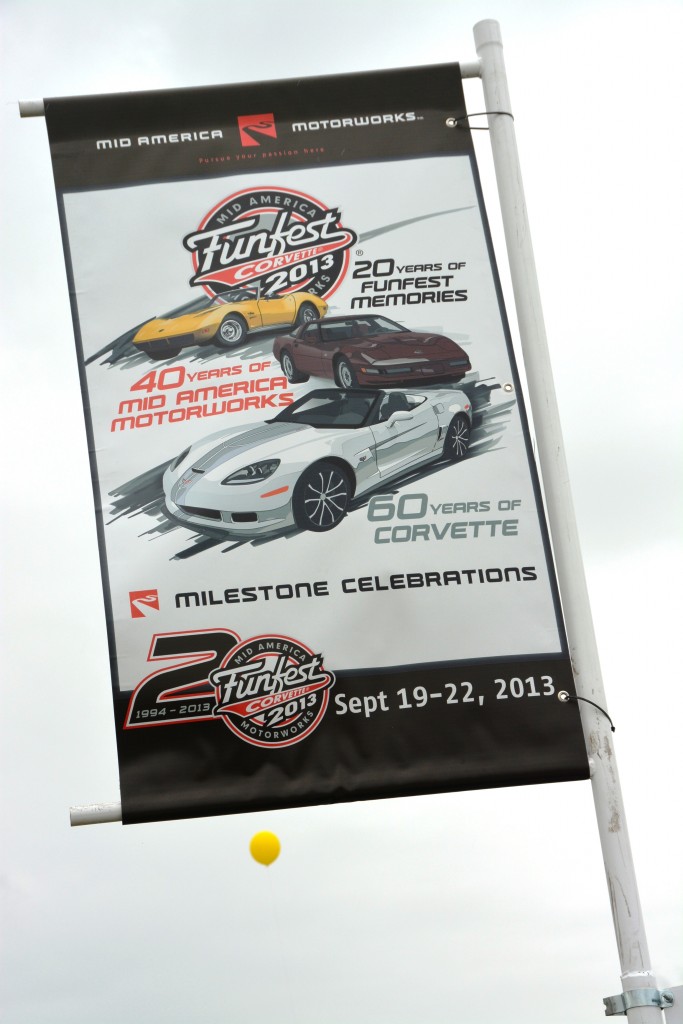 Not familiar with Mid America Motorworks? If you are in any way a Corvette enthusiast, or 'Vette owner, you should be.
Mid America is among the world's largest purveyor and provider of Corvette restoration and upgrade parts and accessories; its printed catalogs are a smorgasbord of Corvette goodies from air filters to coffee mugs. The company jump-started the reproduction of many previously obsolete parts, and carries a wide variety of products from many name brand aftermarket companies.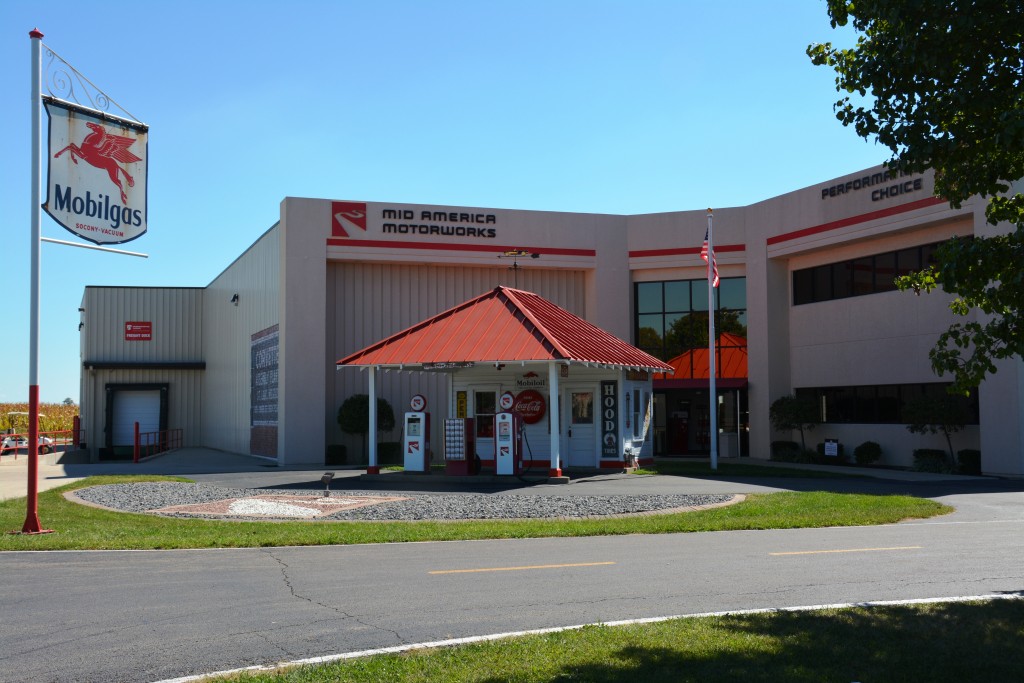 Mid America now also provides the same services for classic air-cooled Volkswagen owners and enthusiasts.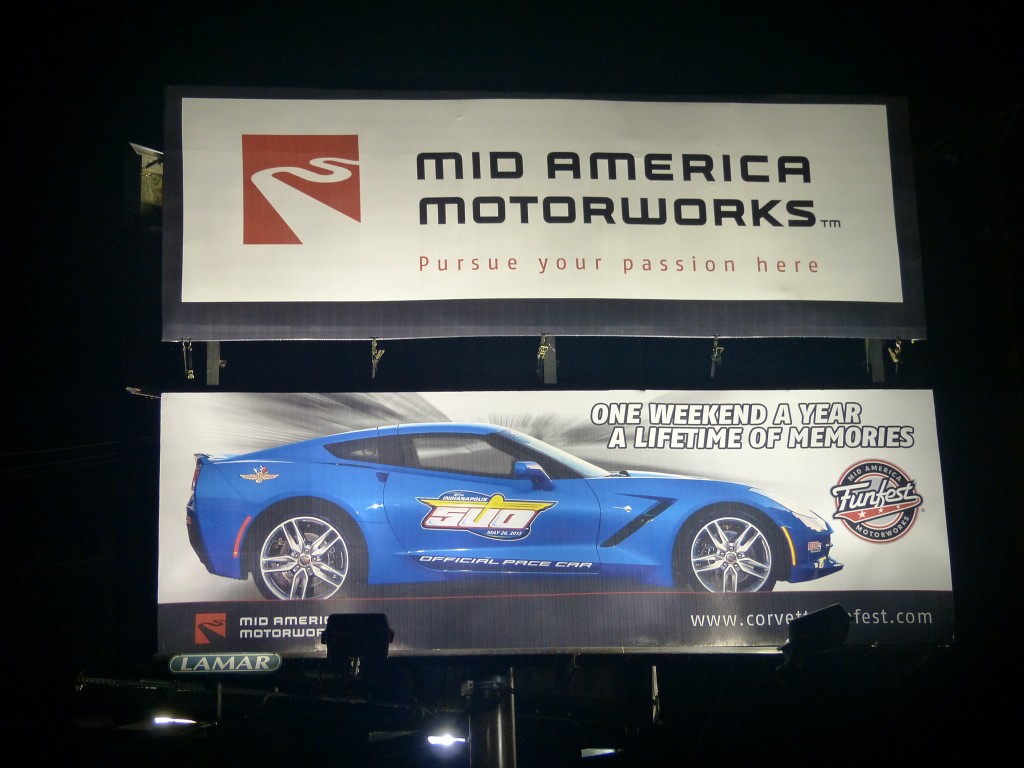 Two decades ago, Mid America founders, husband and wife Mike and Laurie Yager, conceived a festival of sorts for Corvettes and their owners, naming it FunFest. That first gathering of a few hundred cars and not so many more people proved to be the start of something big. Naturally an event of this sort is a brilliant marketing stroke for the Yagers' business, but ultimately became a celebration of the story of the car, the many General Motors execs, engineers, and those who design and build the Corvette, and of course a love-in for ultimately thousands of Corvette owners and enthusiasts. Over time, virtually every significant Corvette community luminary has attended FunFest.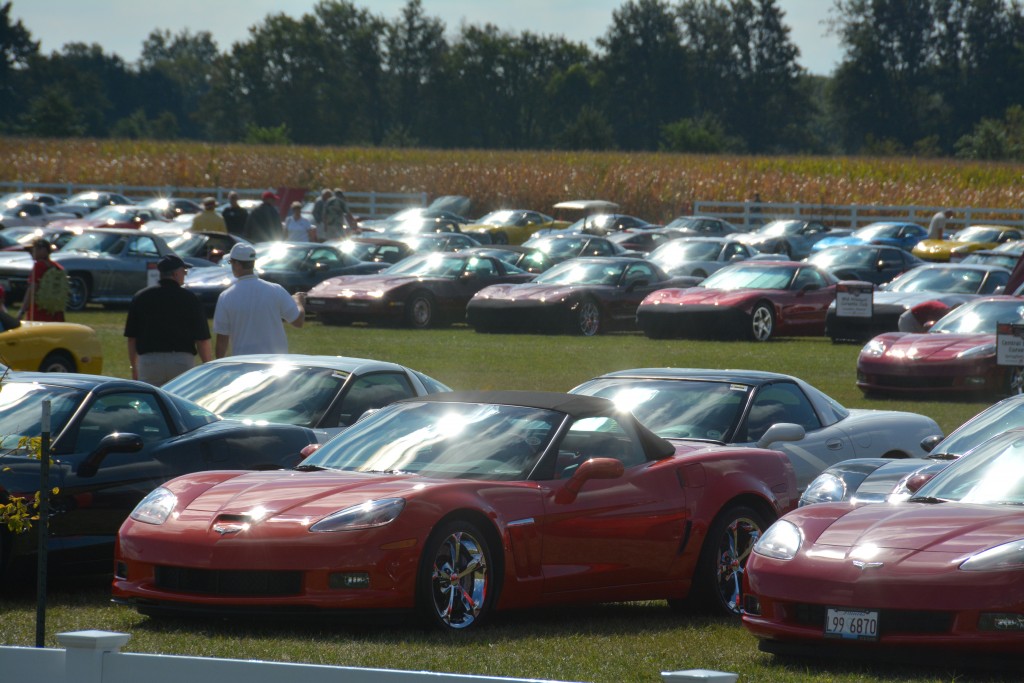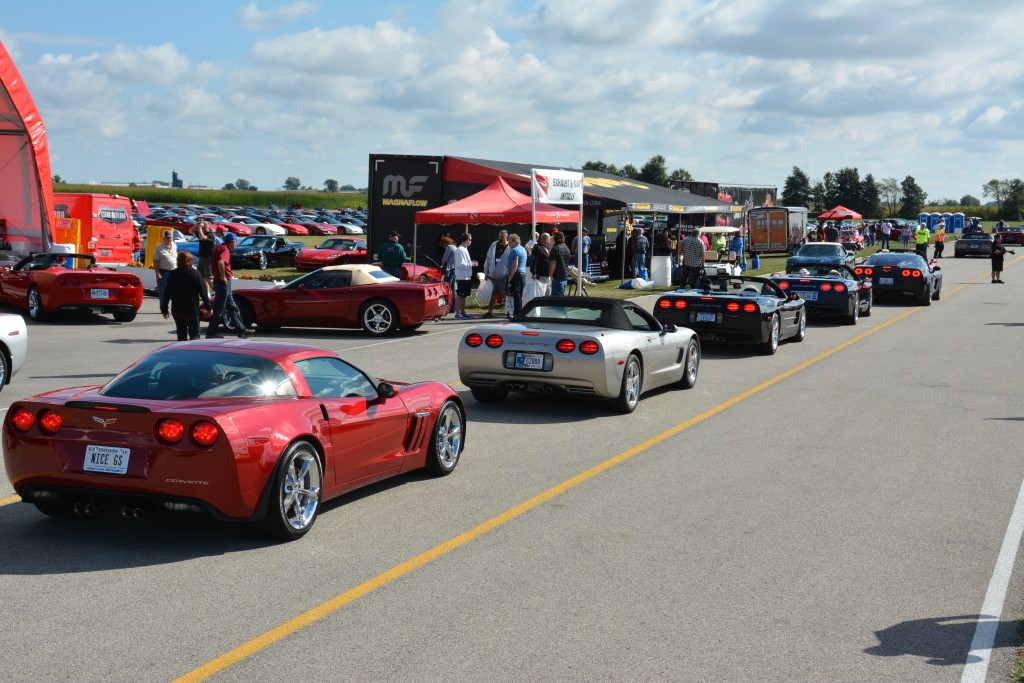 And just where does one host 15,000 Corvettes and 45,000 people? It's do-able when you have 170 or so acres of former Illinois cornfields at your disposal, because that's where Mid-America's company campus sits.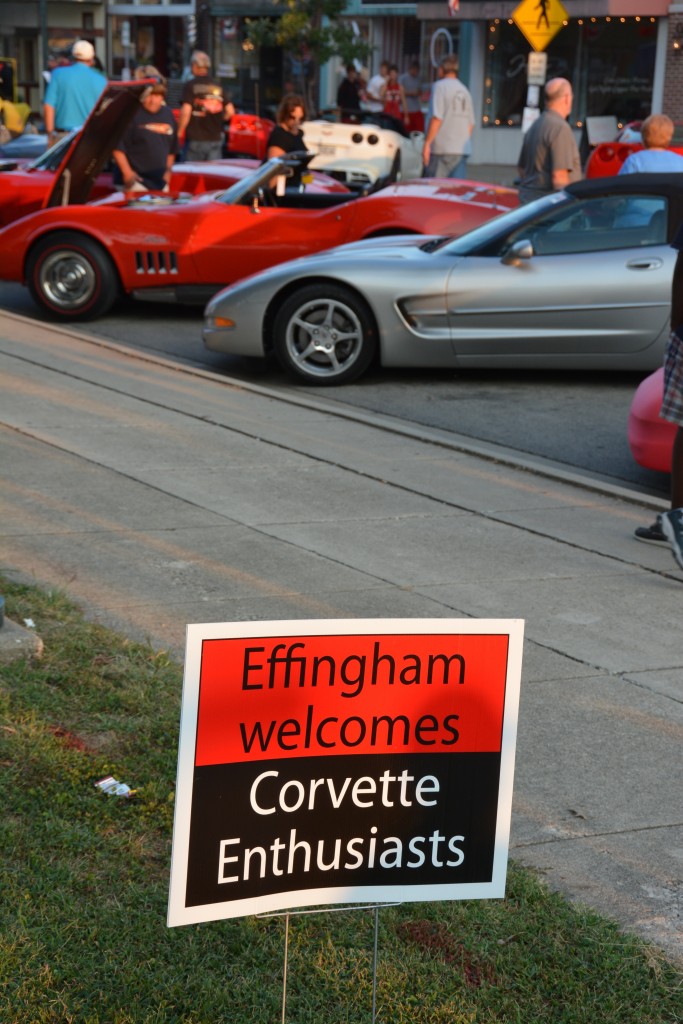 Effingham Illinois is a decidedly mid-western primarily farming burg that sits neatly between St. Louis and Indianapolis. The sprawling Mid America campus is still surrounded by cornfields, but no longer is one; in fact the property is beautifully finished and turned out. There are several permanent structures on site, including the company offices, warehouses, and shipping facilities plus a vintage gas station.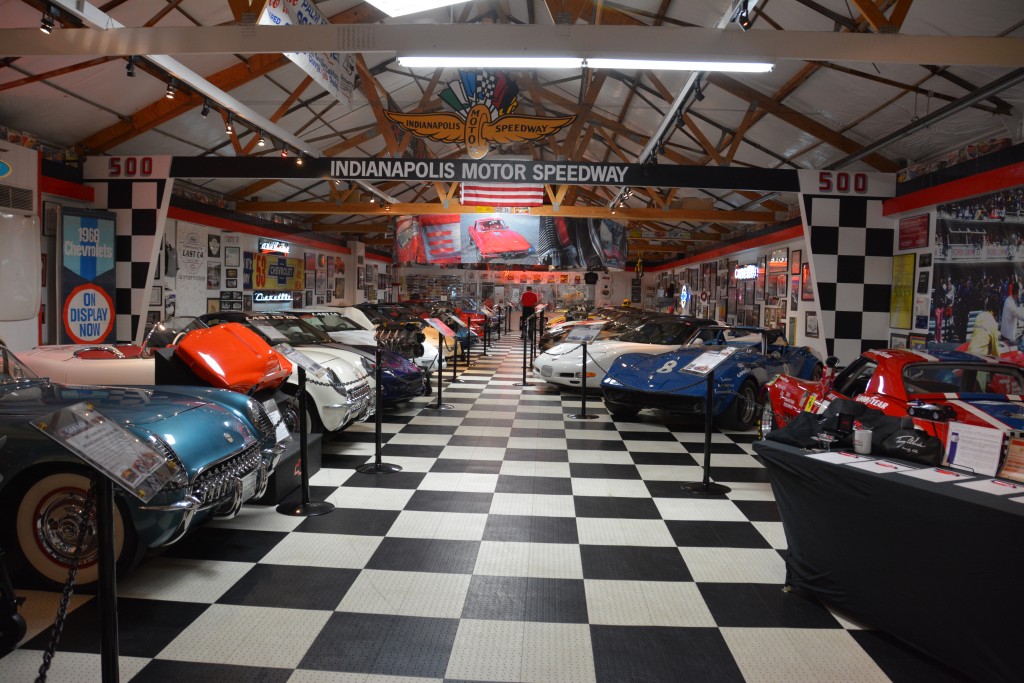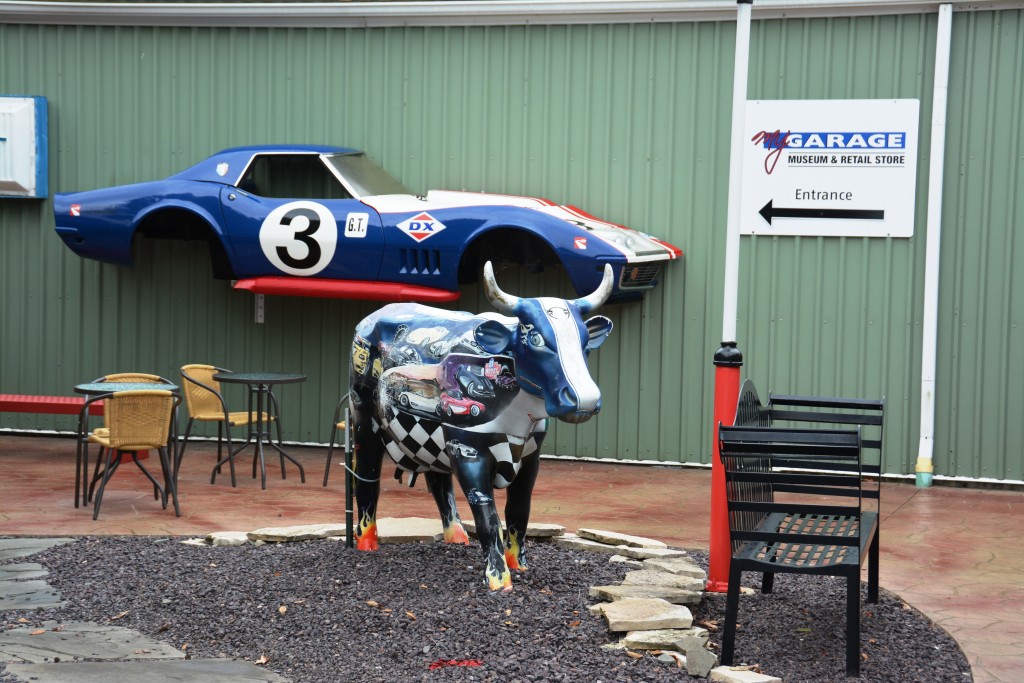 One of the highlights is the Mid America "My Garage" another name for the company and family museum, filled to the brim with historic and significant Corvettes, parts, and automobilia (and now much of the same for VWs).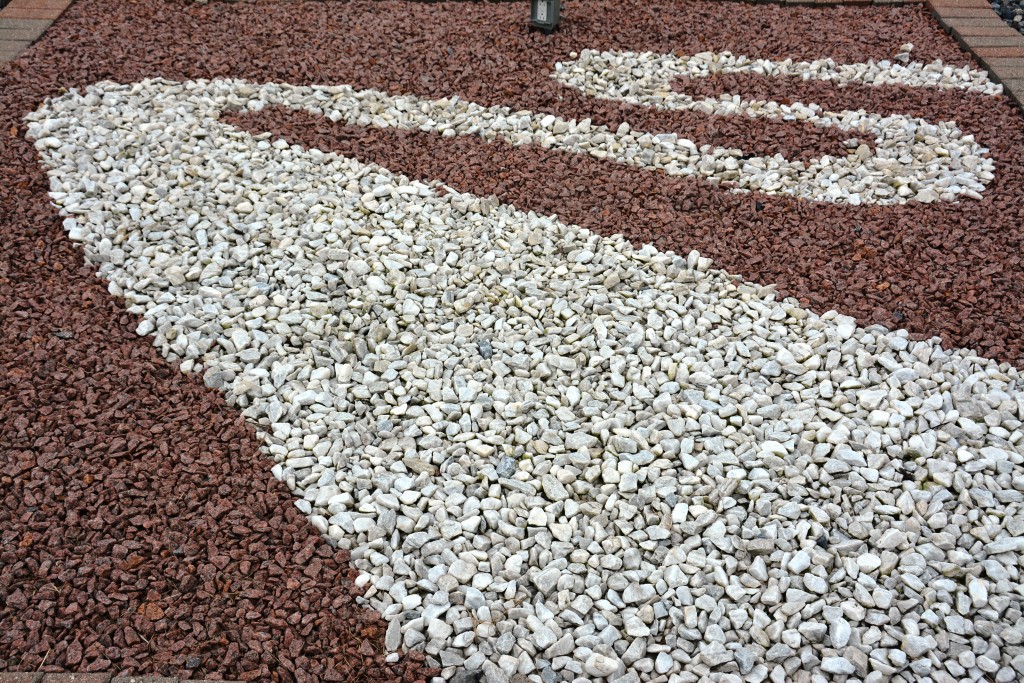 You might visualize such a large piece of farm region property as a dusty dirt field, but that is so not the case. Nearly every inch of the property is improved in one way or another and detailed to a high standard. There are miles of paved sidewalks and passageways, several permanent "event tent" style structures, considerable lighting, and anything that isn't paved is comfortable green lawn. One of the highlights of the property is a large, covered, and fully equipped event stage capable of hosting FunFest's annual rock concert for some 10,000 guests, and which also recently played host to Mid America's first country music festival. As in the movie Field of Dreams you "Build It and They Will Come," you don't need to attend FunFest to see and enjoy this spectacular property; the Yagers will welcome your visit any time during business hours.
How to best summarize FunFest? You might think of it as an automotive version of the original Woodstock, without the mud and debauchery. Held over four days in late September, 2013, FunFest celebrated everything Corvette.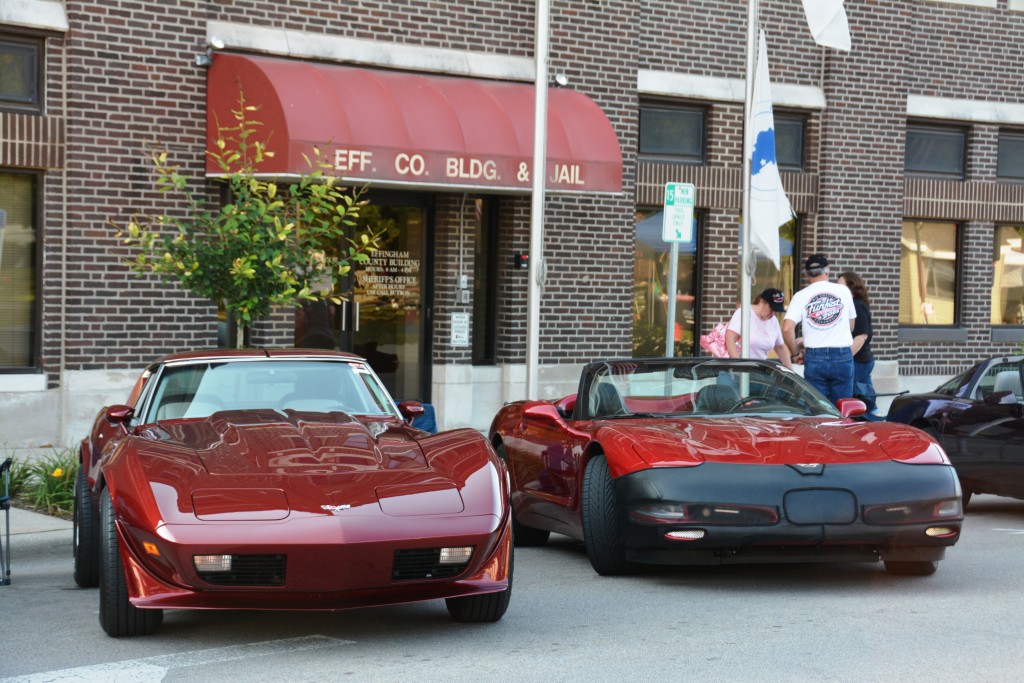 FunFest kicked off on Thursday night in downtown Effingham. Impressive is how this community supports the happening, by closing down its streets, and turning out in big numbers to greet some 500 cars and countless FunFest visitors. There's no question that Mid America and this event have considerable and positive financial impact on Effingham, but the support of the locals goes far beyond money issues. They were clearly pleased to welcome Corvette enthusiasts from more than 40 states and at least three foreign countries to their town and to the state of Illinois. Corvettes flooded the streets, as their occupants waved to the locals, and tossed out candy treats to the kids that lined the streets. It was great fun to cruise the rows of cars, noting license plates from many far away states; proving that these Corvette owners love to drive their cars, and did so, in some cases thousands of miles to attend FunFest.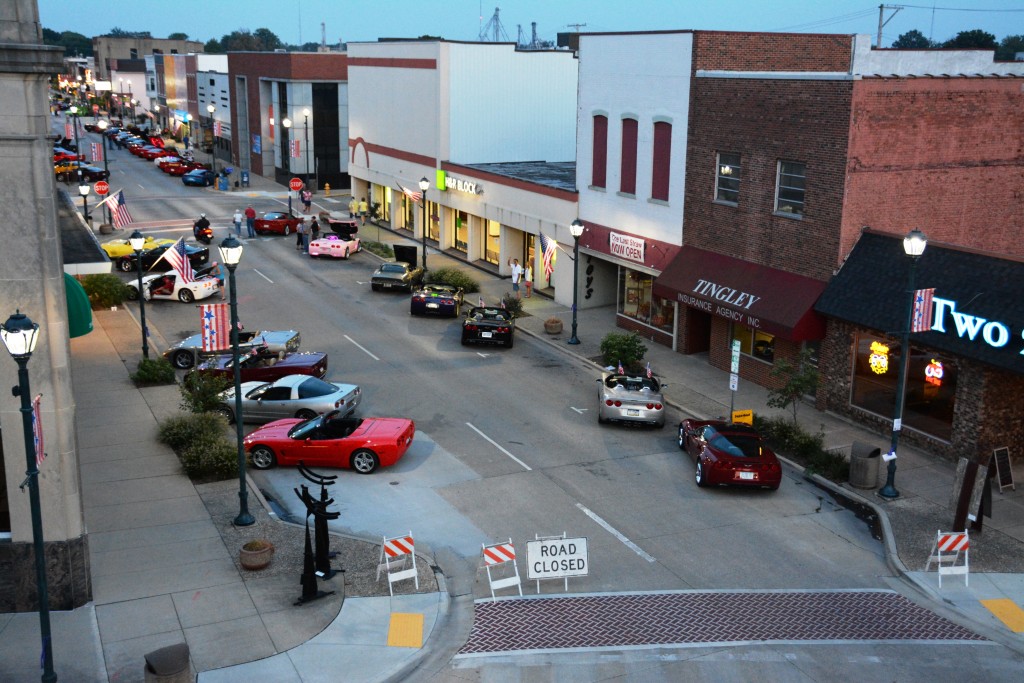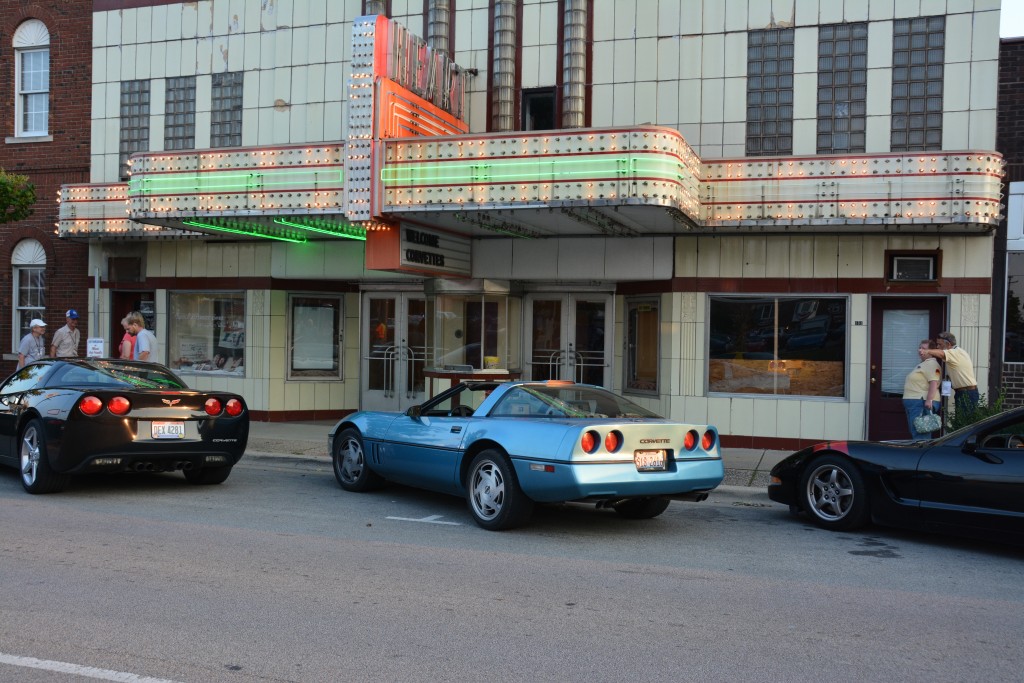 This aspect of FunFest is named the Downtown Party, for good reason. After a few hours of parking beneath Effingham's glowing street lights and neon signs, the cars and their owners retreated to prepare for the chocked full three day weekend on the Mid America campus.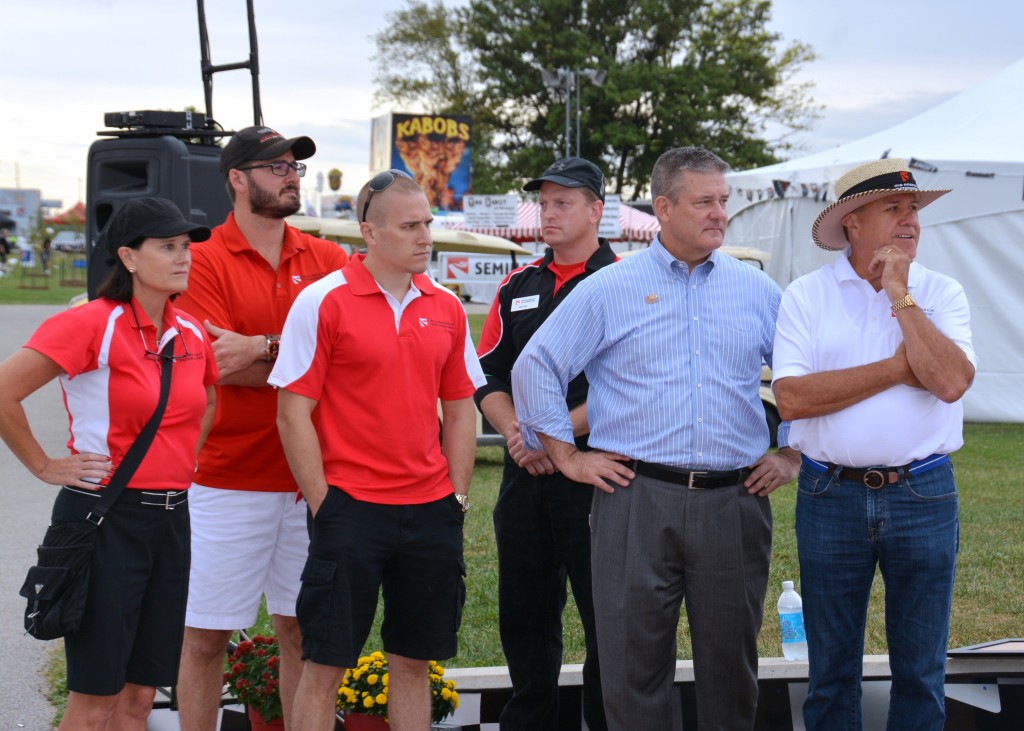 FunFest officially opened with a welcoming ceremony hosted by the Yager family (Mike, Laurie, and sons Michael and Blake who also help run the business and the event) and event emcee Dennis Pittsenbarger. Corvettes began flooding the massive show field, and entrants lined up to register. So much to do: tour the My Garage museum, visit the Fun Dome (visualize several thousand square feet gifts and goodies) or check out some of the many seminars and panel discussions on a wide variety of Corvette related (and some not) topics. We particularly enjoyed simply strolling the grounds, looking at cars, visiting the many vendor booths, meeting nice people, and soaking in the FunFest vibe.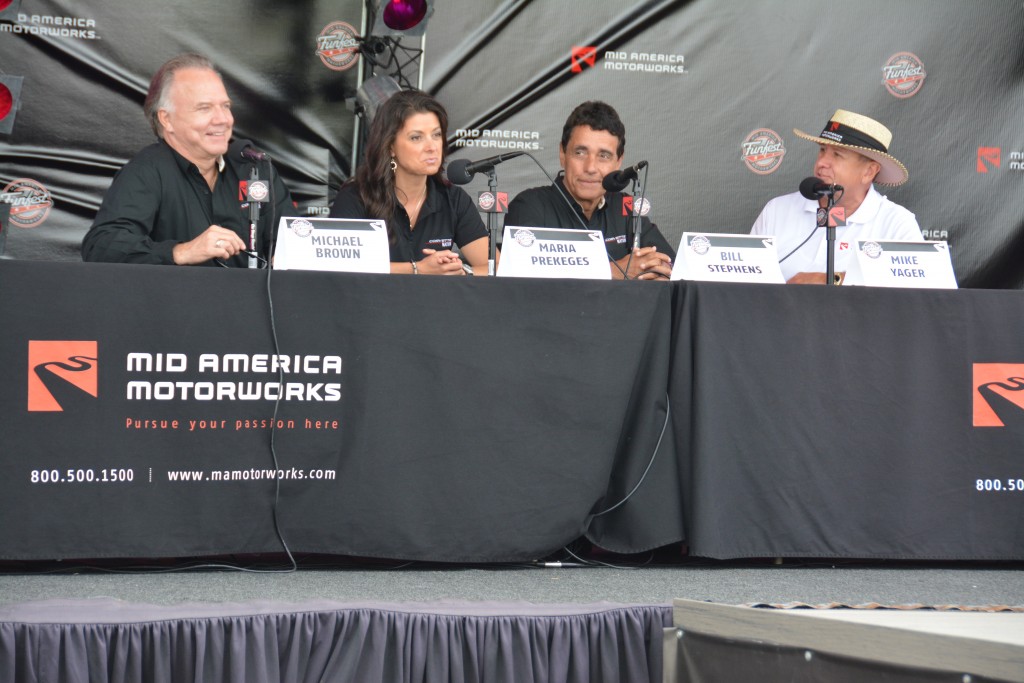 Velocity Network's new cable television show, Corvette Nation, made its debut just a week prior to FunFest, and the show's hosts and camera crews were on hand to film another episode in Effingham. Bill Stephens, Maria Prekeges, Michael Brown and Mike Yager led a discussion about the new show, airing its second episode during Fun Fest weekend.
Finally, the rains came; not very cold, not very wet, and not at all enough to dampen the spirits of the crowd. Not a single car owner drove their car under cover in fear of a little water. So it seemed like a good time to visit My Garage. Which is something not to be missed. The collection of historic prototype, racing, and street model Corvettes, engines, artwork, and dealer memorabilia assembled here is startling. And beautifully and artfully displayed. My Garage is easily worth its own separate article, or a book, but hopefully these photos will give you a clue as to the treasure to be found there.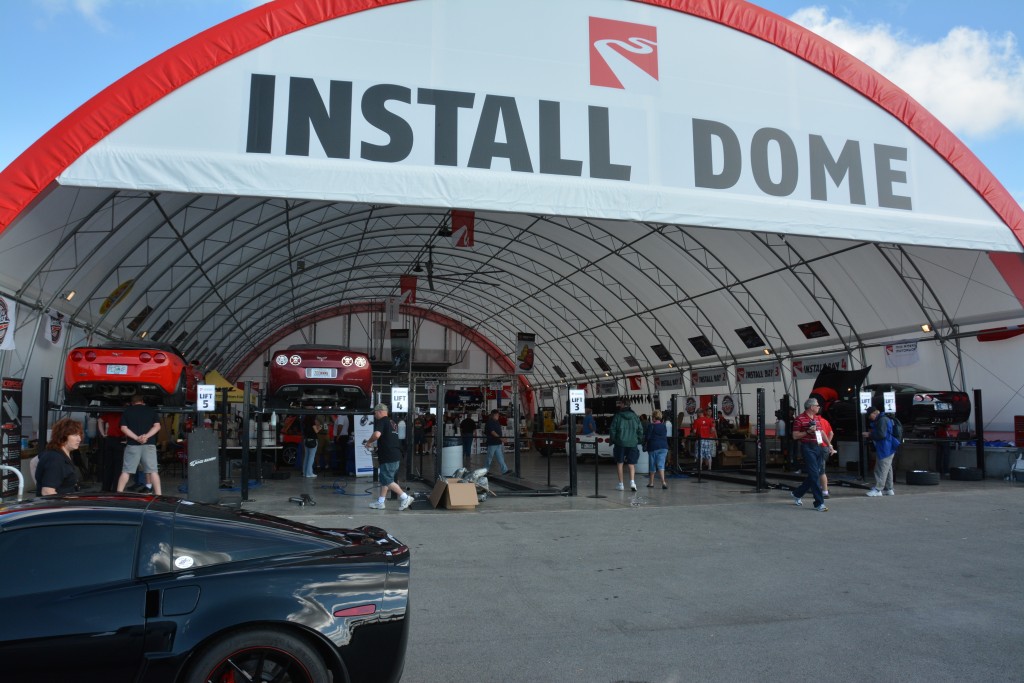 Another "don't miss" was the Install Dome. This is a shop and showroom tent where participants could select and purchase accessories, and have them installed on site during the event at discounted labor costs.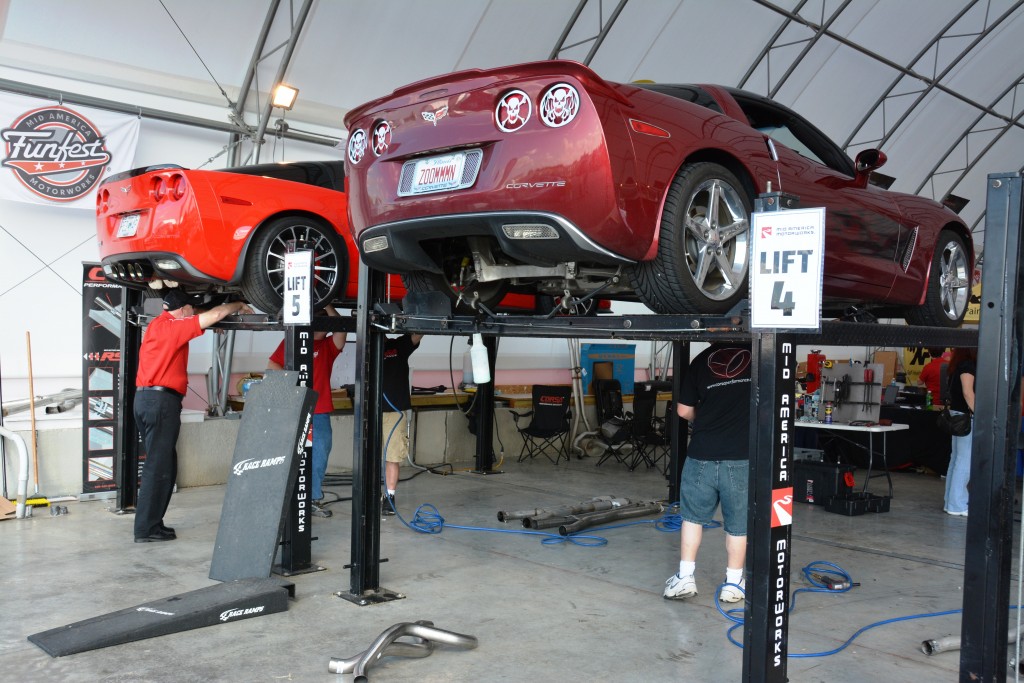 No matter if you wanted "clear bra" style body and paint protection, seat repairs, new wheels and tires or a high performance exhaust system, there was a Mid America vendor on hand to provide and install it. Not only a smart business opportunity on Mid America's part, but a worthy service to the FunFest attendee, and it was good fun to watch the techs at work and see how these various items are actually fitted.
Friday evening was capped off by the annual FunFest fundraiser and cocktail party held in the My Garage museum. In spite of the continuing rain, everyone decked out in their finest to party with the Yagers, Corvette VIPs, and rest of the crowd.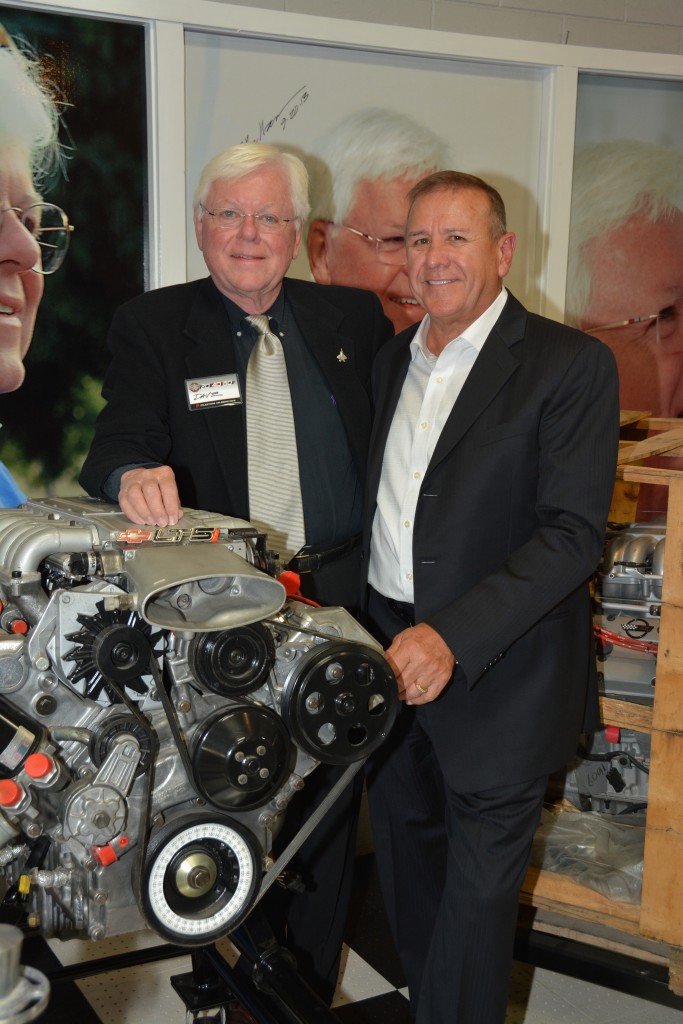 One of the evening's activities included the announcement and dedication of a Mid America funded and sponsored scholarship fund at Michigan's Wayne State University, in the name of Corvette C4 chief engineer and development program leader David McClellan; McClellan stands large in the Corvettosphere for saving the Corvette from possible extinction, and pushing GM engineers and beancounters to help make the new-for-1984 C4 an important and all time great Corvette. The scholarship is specifically named and endowed to benefit engineering students. Some of the funds raised from the event, and its silent auction, went to benefit local Effingham causes as well.
The Saturday agenda included much more of the same; more seminars, shopping, and strolling.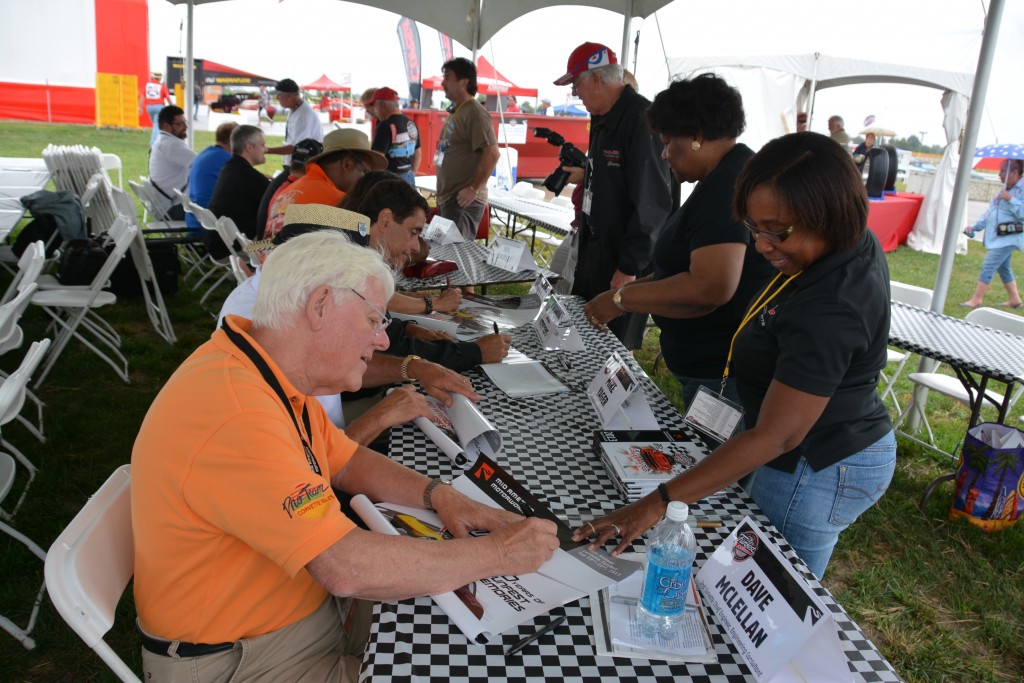 Fans lined up for the autograph session, which included the above noted Dave McClellan, several journalists and Corvette engineers, Mike Yager, the Corvette Nation TV show team, and other Vette-centric celebs.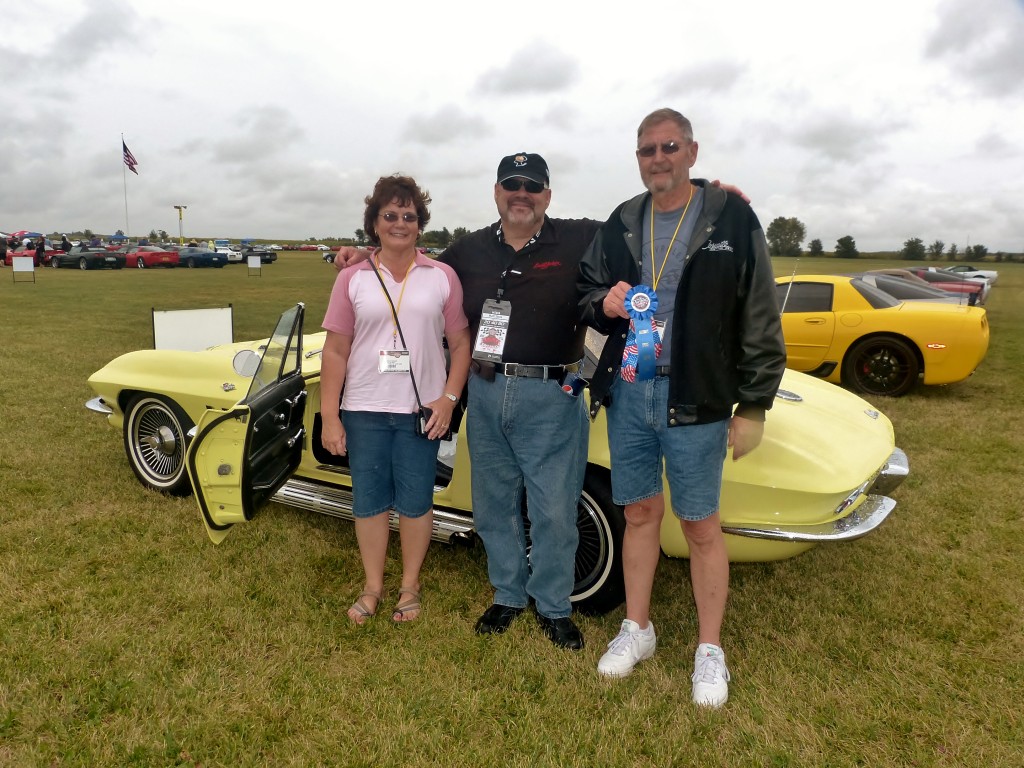 One of this writer's particular privileges was to select a favorite car (as a "VIP Judge") from a certain section of the field, which was easy, the instant I spotted Mr. And Mrs. Philip Whicker's Butternut Yellow '66 roadster (300-horse 327 4-speed, factory leather, knock off wheels, sidepipes). The Whickers hail from Tipton, Indiana, drove the car to the event, have owned it since the mid1960s, drive it regularly, and are fine representatives of the Corvette owner community. Short of the many new 2014 C7 Corvettes at FunFest, this may be the car I most wanted to take home with me.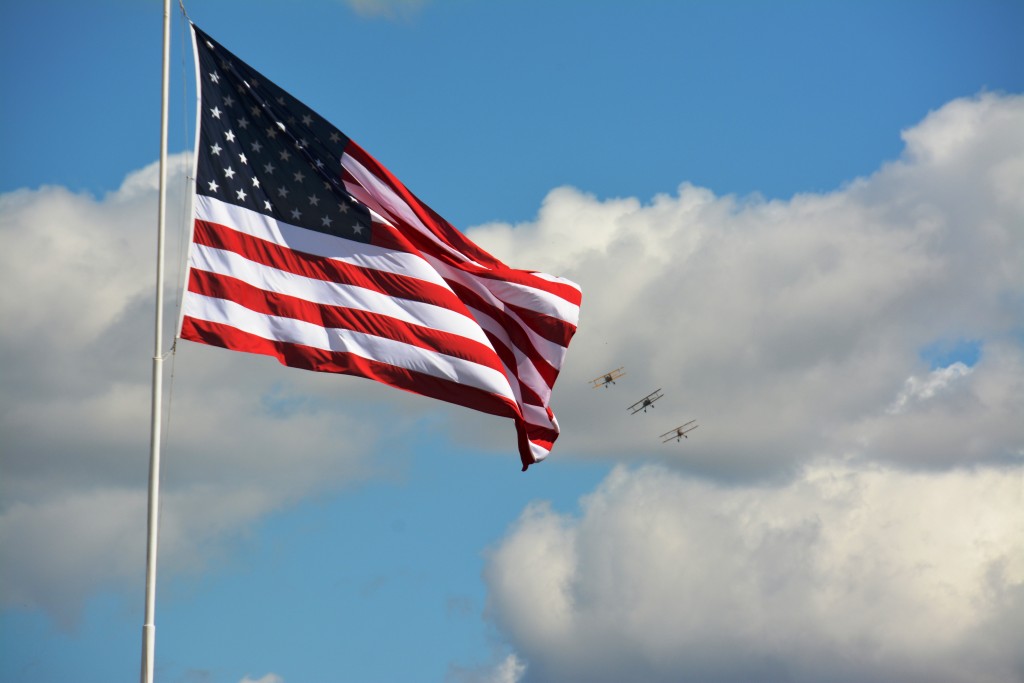 Another Saturday highlight came during the National Anthem ceremony. As the national anthem played, a trio of genuine WWII Stearman aircraft buzzed the field, and then parted into the Missing Man formation, in recognition of fallen military pilots. In a time-honored tradition, one of the pilots then banked off to the west, as a spin on the notion of "all heads bow to the west" again honoring pilots who have died in battle.
Three car owners participated in a well attended burnout contest; Mid America has its own heavy duty "burnout box" and each car smoked it up to for an appreciative crowd. We finally had a chance to cruise the swap meet and "cars-for-sale" areas. Lots of tasty fiberglass for sale here, plus all sorts of wheels, engines, and barn find Corvettes and other goodies for sale.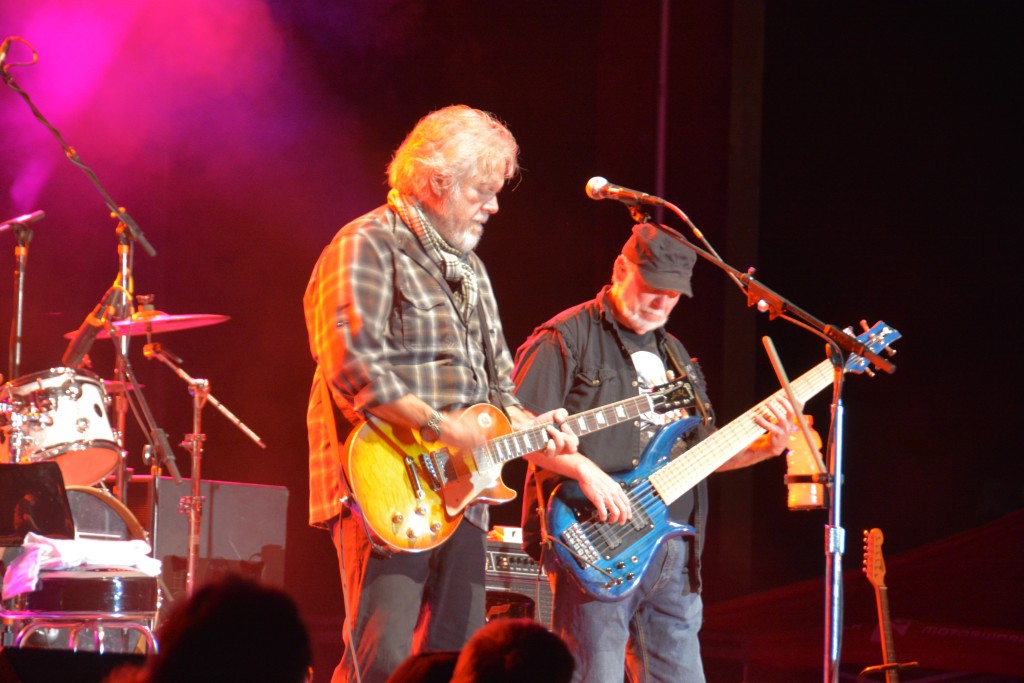 The Yagers then hosted a dinner for many visiting VIP guests, Corvette engineers, Bowling Green Museum execs, and the media, revving up to the night's traditional outdoor rock concert. Mid America has hosted a wide variety of top rock acts over the years, and 2013's headliner was Bachman & Turner, reuniting Fred Turner and Randy Bachman, spearheads of the original Bachman, Turner, Overdrive power rock band so popular in the 1970s and 80s. More than 10,000 people filled Mid America's massive stage area lawn, while Bachman & Turner performed most of the original band's greatest hits, and some of the team's newer material. Both of these guitar playing rock legends are now 70, and trust us when we tell you they can still really sing, play and rock. The concert was capped by a spectacular fireworks show.
So much of FunFest's (and Mid America's) success stems from the good will and positive karma radiating from the Yager family. Mid America is without question a family business, and we'd swear that the Yagers shook every hand that entered the grounds, and made each guest feel welcome and special. Mike Yager profusely thanked his family, staff, and volunteers for their considerable efforts in managing this gargantuan event.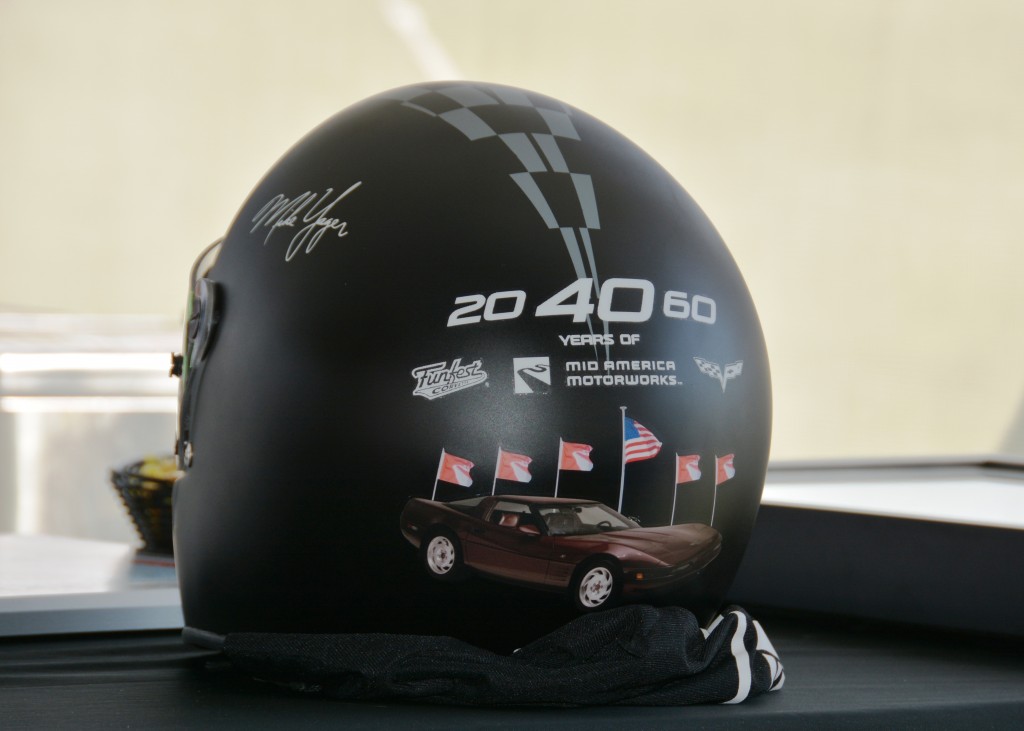 Sunday was getaway day, with the fields of Corvettes emptying until next year's FunFest. 2013's "20/40/60" theme played well, and 2014's theme was announced as "Vets with Vettes," honoring military veteran Corvette owners and enthusiasts. Learn more at www.MAMotorworks.com
More great photos below…