1970 MERCURY COUGAR ELIMINATOR: FORD'S ALTERNATIVE POWER CHOICE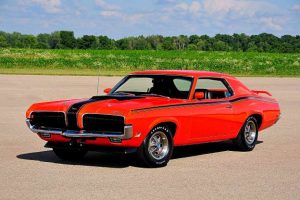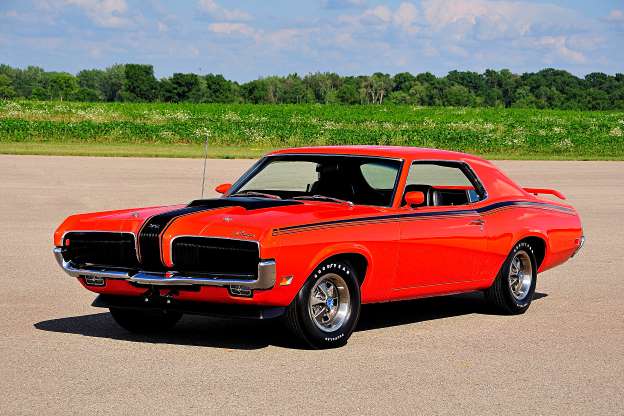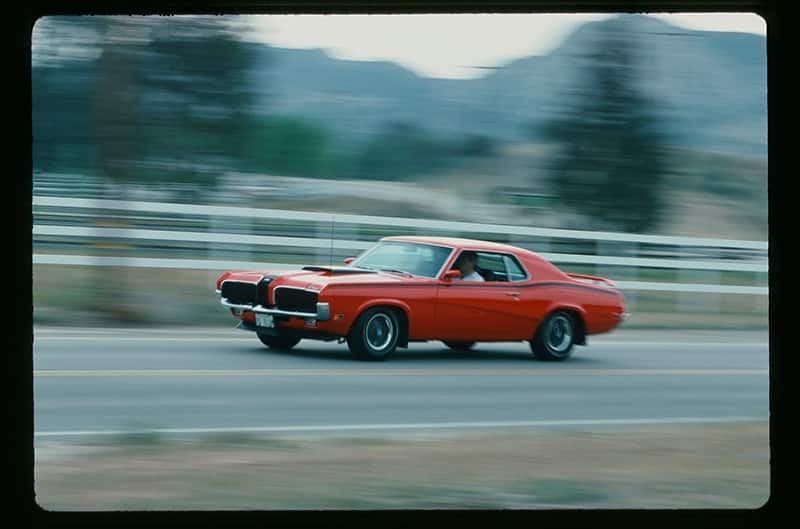 Most enthusiasts consider 1969 and 1970 to be the absolute zenith of the original muscle car era. These two years served as the apex of the horsepower and cubic-inches curve. As is so often said to someone celebrating one of those dreaded decade birthdays (30, 40 . .  . 80), "It's all downhill from here." Unfortunately, it was:  Horsepower and compression ratios sank beginning in 1971; 5-MPH bumpers and Gas Crunch 1 were here by 1973; catalytic converters in 1975 . . . you know the rest. That is, until the modern muscle car rebirth that began with the revived and revitalized 5.0-liter Mustang GT of 1982.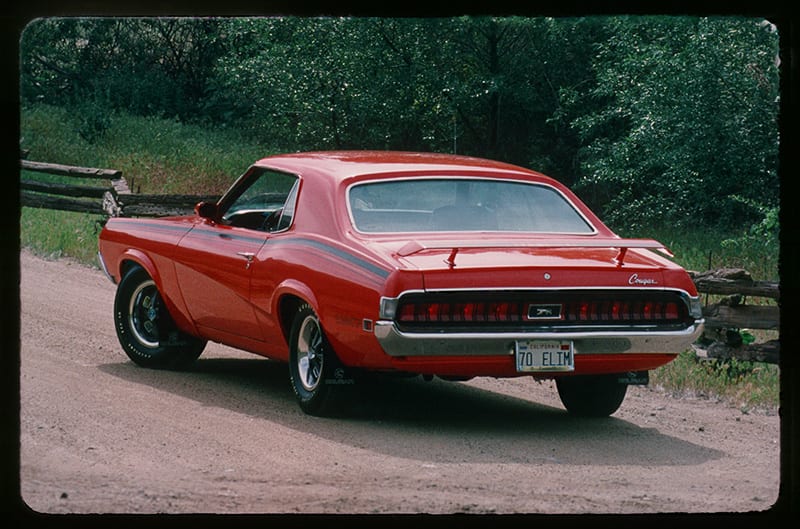 Mercury got in on its share of the 1969-70 action as well. While the Ford Mustang usually garnered most of the attention in the form of special models (think Mach 1 and Boss) and racing victories, its slightly larger and more-luxurious cousin, the Cougar, brewed up a few special dishes of its own.
Cougars were raced in the SCCA Trans-Am series with some success during 1967, enabling Mercury to finish second (to Ford) in the 1967 Trans-Am championship manufacturers standings. Parnelli Jones, Ed Leslie, Peter Revson, David Pearson and Dan Gurney were among those that piloted Cougars during the season, which included four outright wins. Gurney and Jones gave Mercury its only 1-2 Trans-Am finish in the Pan American 300-mile endurance race at Green Valley Raceway in Texas. Just like today, racing wins often yielded the fodder for manufacturers to whip up a special model or two, in the hopes of cashing in on the wins (in the form of "Win On Sunday, Sell On Monday" . . .)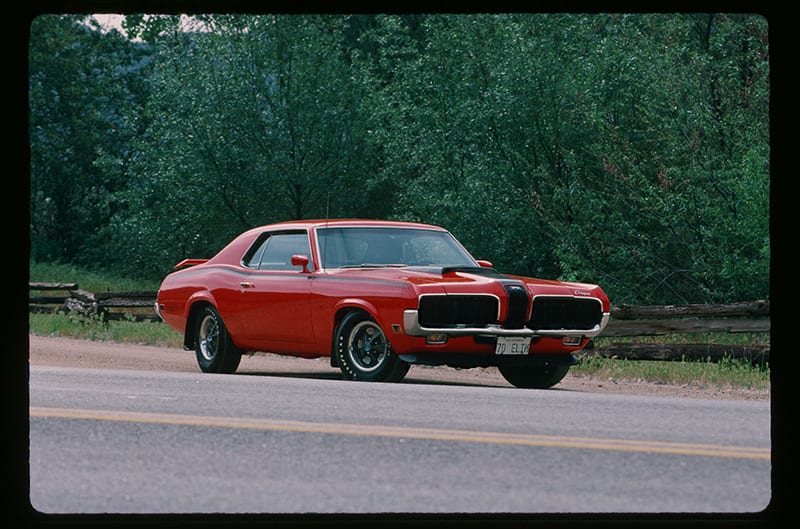 The first of the special Cougars was the XR7-G, the "G" standing for Gurney, in 1968. That same year, Mercury also offered the GT-E model, available with either a 428 Cobra Jet or a detuned version of the all-conquering 427. Both were one year-only models, with a new special package bowing in 1969 dubbed the Eliminator.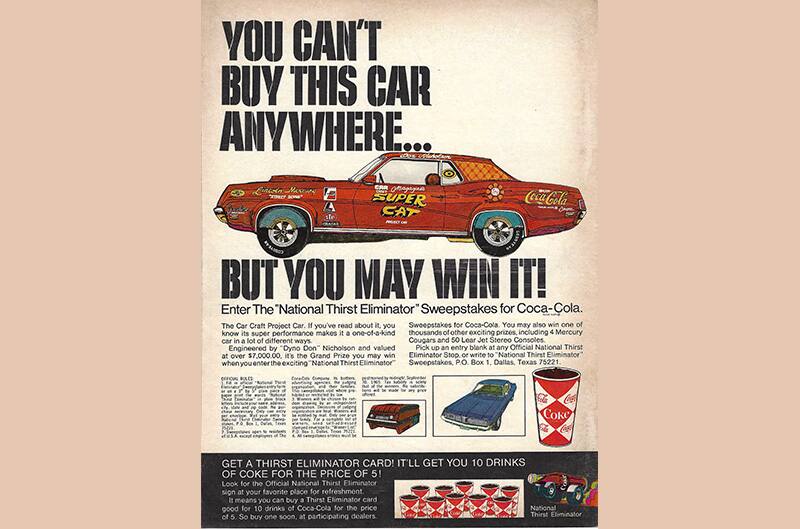 More than just a paint-and-tape kit, checking the Eliminator option box on the Mercury Cougar order form meant substantial performance-flavored upgrading inside and out. Exterior changes included a front spoiler, hood scoop, rear deck wing and a passenger-side mirror. A simple but distinctive black stripe package and "Eliminator" I.D. keyed well with the blackout treatment of the front grille and rear taillight fascia.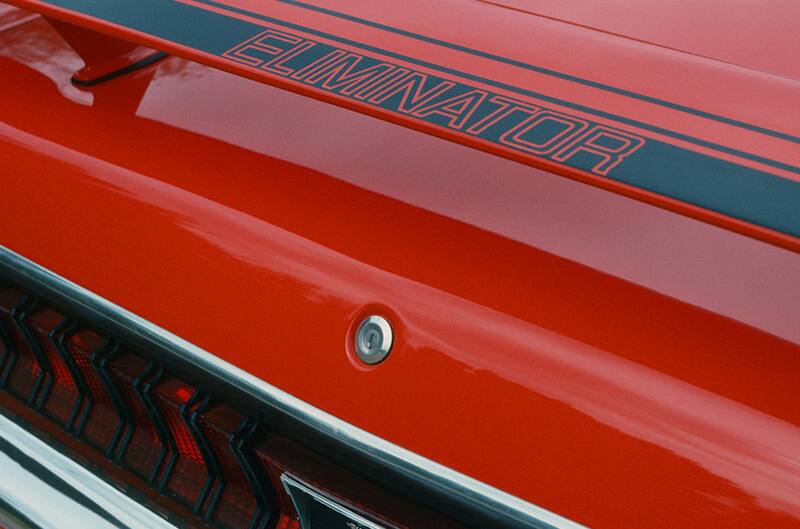 Inside, more black trim replaced the fake wood on the dash, and full instrumentation including tach and a clock was standard. It's interesting that Mercury chose not to offer leather upholstery on the Elim, perhaps to further separate it from the luxury/performance XR-7 model.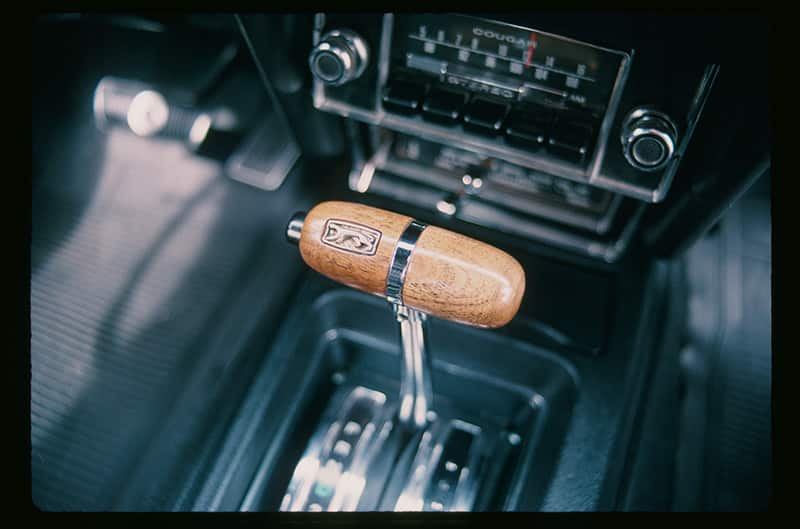 Today's new car buyer would likely faint if the following engine choices were offered, as they were to the Eliminator buyer. The base engine for '69 was a four-barrel 351 Windsor, though a new 300-horse 351-Cleveland 4-V would replace it as the standard powerplant for 1970. Next up was a Boss 302, right out of the Mustang of the same name. Rated at 290 horsepower, the high-winding, solid-lifter Boss engine brought along an 8,000 RPM tach instead of the standard 6,000 RPM unit. And top banana was the 335-horse (yeah, sure!) 428 Cobra Jet, available with or without a ram air package.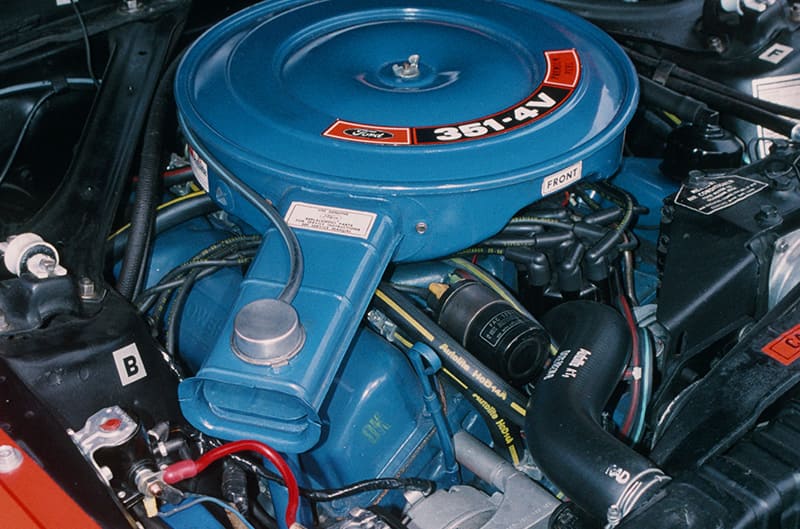 A Boss 429 engine was listed as a special-order option; best estimates indicate only two were built, with one going to drag racer "Dyno" Don Nicholson. The CJ and Cleveland could be had with either a 4-speed or automatic trans (a C-6 for the 428, an FMX for either 351); the Boss was for 4-speeders only. The 4-speeds included a gen-u-ine Hurst shifter. A beefed-up handling package rounded out the hardware, which included power disc brakes and styled-steel wheels.
It may seem strange then, that after cooking up its most performance-oriented Mercury Cougar model Ford chose not to race the Eliminator. Instead, they elected to focus factory support on the Mustang Boss 302. Its fastback shape and even zoomier image was a better match for Trans-Am, and this plan removed the chance of diluting points between the Ford and Mercury badges . . . and GM, Chrysler or AMC "accidentally" winning the manufacturer's title. It proved to be the right move, as Ford won the Trans-Am title again in 1970.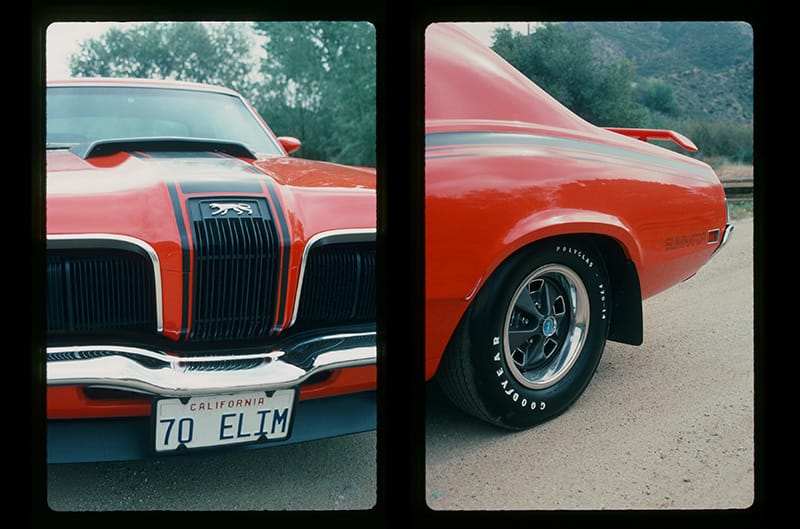 Saugus, California's Richard Ladd was actually out MoPar shopping when he stumbled upon this 1970 Competition Orange 351 Cleveland-powered Elim back in 1988. "I wanted a Challenger or 'Cuda, and then I saw this!" Though a low-mile original at the time of purchase, Ladd dove into a substantial restoration, including new paint, interior, a Ford factory engine overhaul, rebuilt FMX and considerable detailing. Showing just over 50,000 miles on the clock as of this photo shoot, this well-optioned '70 Eliminator includes styled-steel wheels, AM/FM stereo radio, rim-blow steering wheel, woodgrain shift knob and a "Comfort Weave" vinyl interior.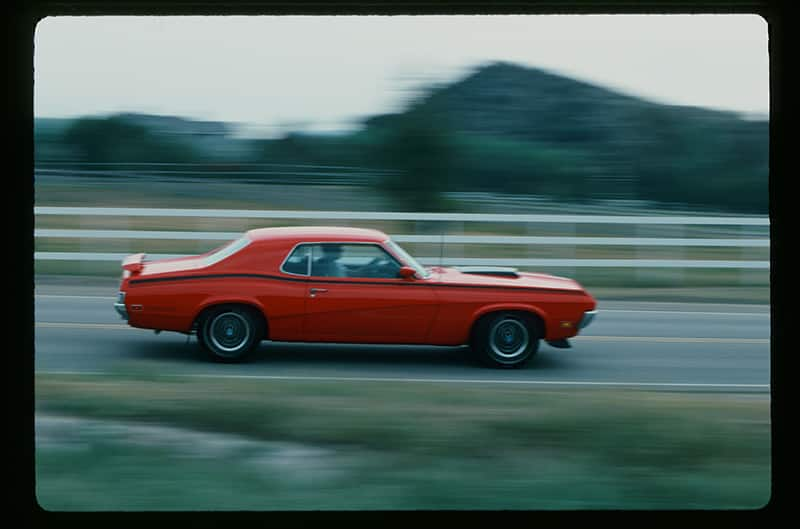 It's interesting on how driveable cars from this era still are today: they'll cruise at 70 all day long with the AC blowing cold. Steering effort is a bit numb, and of course handling standards have improved many times over these days, but you know, that 351 burbles like an expensive motorboat and still gets it on with the best of them.  The 3-speed automatic shifts so well that you would think it was one of today's electronically managed units, and braking performance from the front disc / rear drum system is wholly adequate.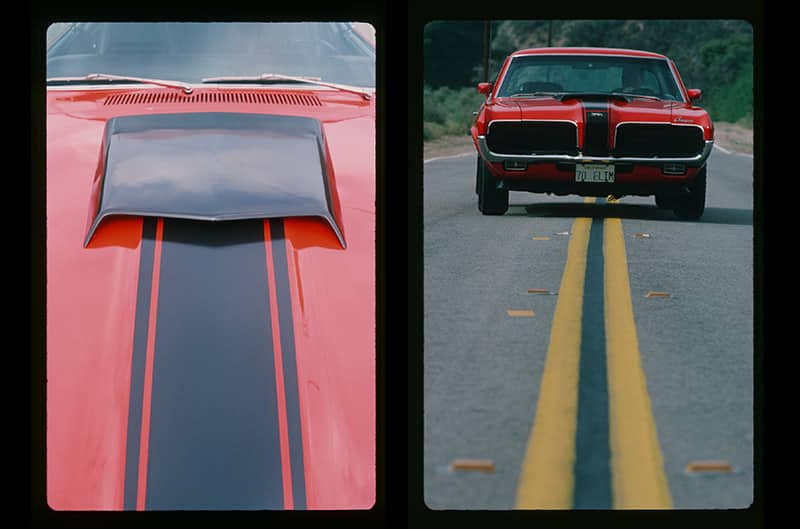 Rich and wife Carolyn never did find that MoPar, but have since raised an entire pack of Cougars. Accompanying the 351 in the Ladd's toy box are a 428 Super Cobra Jet Eliminator automatic, a 428 SCJ Eliminator 4-speed awaiting restoration, and a '70 428 XR-7 convertible.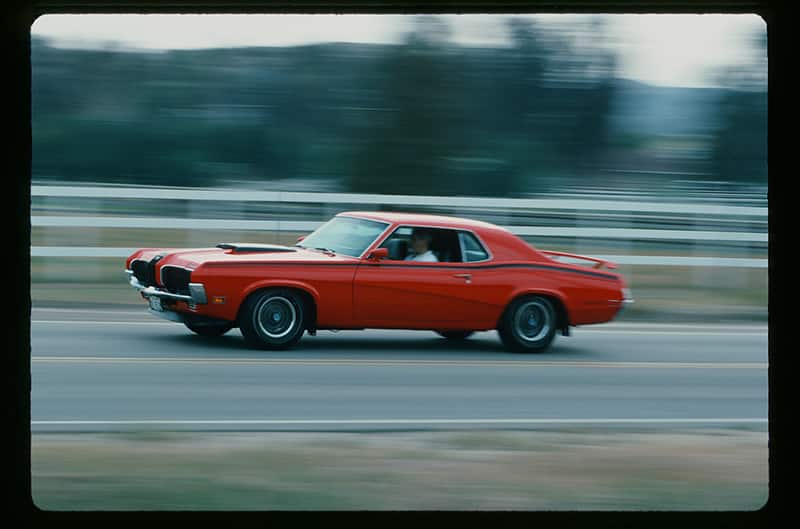 Mercury built a total of 2,200 Eliminators in 1970, plus 2,411 the prior year, so they are definitely a rare kitty given the scant two-year production run. While the Mercury Cougar Eliminator never garnered quite the status of some of its Shelby and Boss Mustang relatives, it's a more-than-worthy example of collectible Seventies Ford/Mercury muscle.