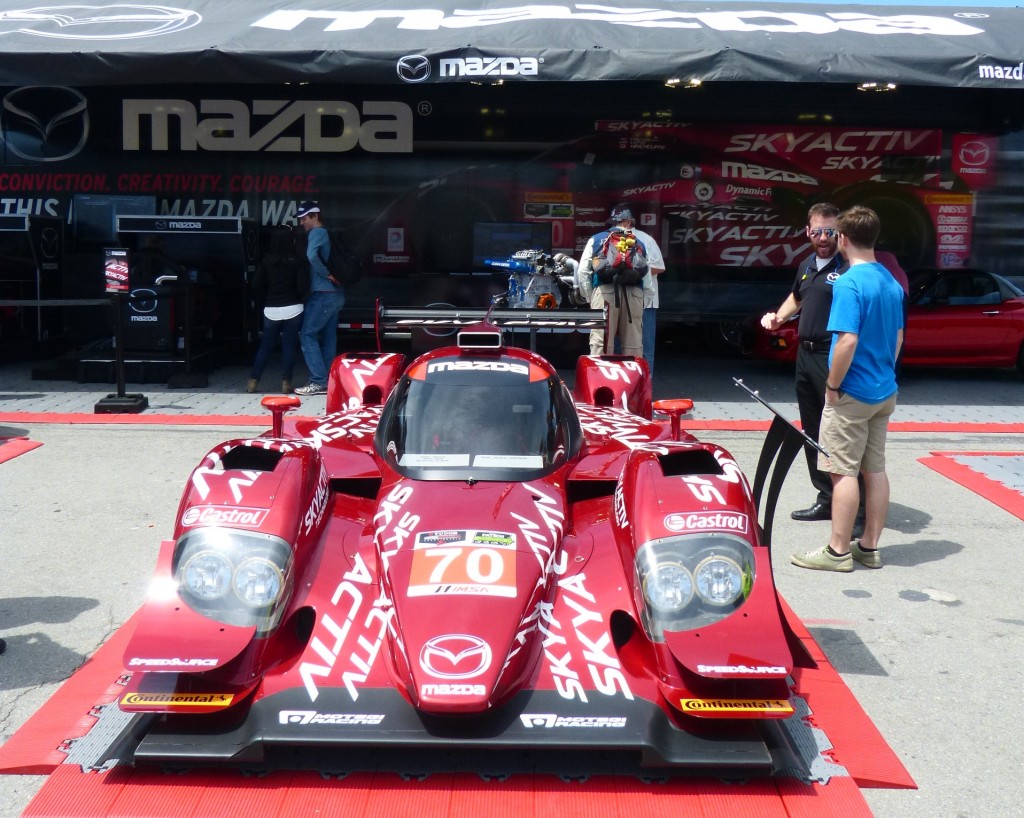 I love big game sportscar racing. Or even small time, not so big game sportscar racing. Over the years I've had ebbing and flowing interest in drag racing, NASCAR, and off-road racing, but I'm a road racer at heart. Probably from spending many a dusty Sunday afternoons at the late and perennially great Riverside International Raceway. I went to Trans-Am races there, F5000, IROC, club races, IMSA, and countless SCCA regional meets too. Now without Riverside, I consider Mazda Raceway Laguna Seca my home track; actually Willow Springs is much closer, and I've logged many more laps there, but I love MRLS as a marvelous and historic spectator track, and the home of many great pro races I've attended over the years.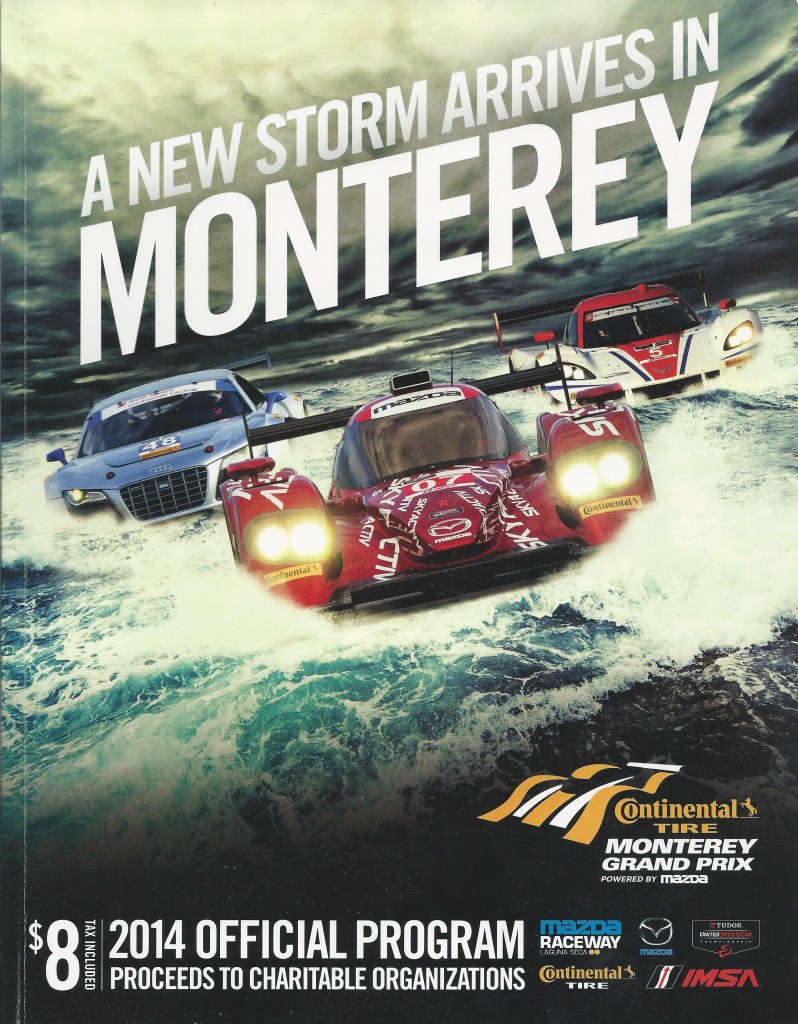 So it was great fun to visit recently for the Continental Tire Monterey Grand Prix weekend, running a full schedule of the new Tudor United SportsCar Championship.
And, in any sort of racing, I've always admired the cars that were different, and innovative. Maybe not always the winners, but interesting machines that demonstrated technical and design innovation.  One such effort built around considerable technical and design innovation is the Mazda SkyActiv Prototype.  Racing with diesel engines isn't particularly new, but its is fairly new to what was the former Rolex series run in the old Grand-American road racing organization.  As you know, Grand-Am and the former ALMS merged, being reborn as the Tudor United SportsCar Championship for 2014.  There are four classes of racer in the top Tudor category, comprised of two levels of prototype sports racers, and two production based levels of Grand Touring machines.
Diesels ran at Indy as far back as the 1950s, and Audi has dominated the 24 Hours of Le Mans and Sebring with them for many years.  Mazda's new prototype effort is much different from those.  Early on, the Audis were powered by massive turbocharged V-12s that had little in common with production engines or the company's road cars.  Not so the Mazda; while the chassis is certainly a race-only prototype (called a Multimatic, which is an outgrowth of what used to be Lola) the turbocharged four-cylinder diesel has a lot in common with that which you'll find under the hood of a Mazda6 sport sedan.  So much so that in fact Mazda raced the previous generation of this engine in the Grand-Am series last year…in a four door Mazda6!
The two car Prototype program is run and developed by SpeedSource, which in the past contested the old Rolex series in Mazda RX8s.  The team leader, and one of the four drivers, is veteran driver Sylvain Tremblay, often a winner in the previous cars and series.  He's teamed with long time Mazda supported driver Tom Long, plus Tristan Nunez and Joel Miller, who also helps engineer the car's development.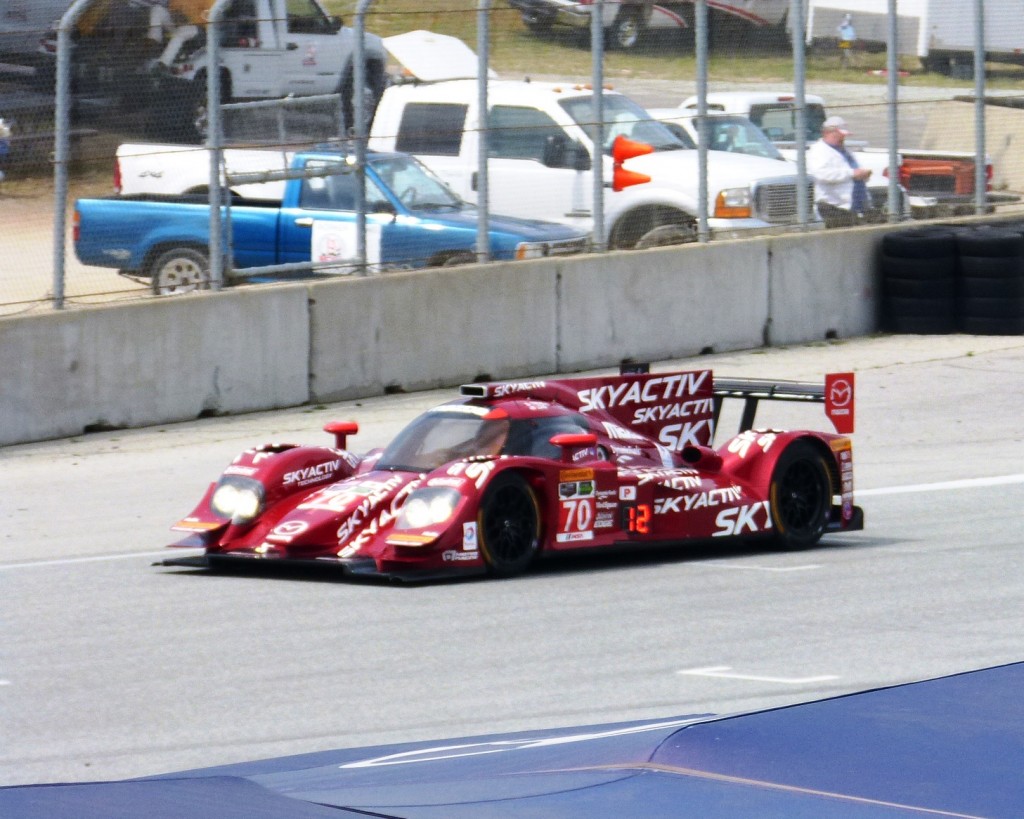 You may not think that the relatively small displacement 2.2-liter Mazda diesel can keep up with the big-inch Chevrolets, BMWs, and twin-turbo Ford EcoBoost engines, but with around 600 pounds feet of torque on tap, the Mazda aquits itself well enough.  The car has yet to win in the series, and as you'd expect of such a new and innovative effort, has been set back by a variety of teething problems in this its first season.  But reliability is improving, and the cars seem to get faster nearly every race weekend.  And its intended fuel economy advantage will likely pay large dividends in the future.
The Mazda's didn't do so well during the Mazda Raceway weekend, one car running well before an uncerimonious punt off the track by another prototype; the other team car finished but well off the pace and the podium.
No matter, I find this effort tremendously exciting, and one that shows great promise.  I sincerely hope that Mazda continues to support (and pay for) the effort, because I can see a day when the 2.2-liter diesel Mazda prototype sits in the winner's circle at Daytona, Sebring, or Mazda Raceway Laguna Seca, drapped in chequered flags.
www.mazdausa.com
www.mazdaraceway.com