A Century of quintessentially Italian Carmaking and Motorsport
This year one of the world's most-expressive and best-loved car companies celebrates its first full century in business and forges confidently into its second hundred years. Maserati's history is filled with equal measures of passion, speed, elegance and style, and was recently celebrated in Italy with a weeklong festival of activities starring special Maserati cars and people from around the world
By Matt Stone
Photography by the author and courtesy Maserati
The next time you're playing a spirited game of automotive Trivial Pursuit with your friends, hit them with this one: name the Maserati brothers. There's nothing trivial about the birth of Maserati, but too few enthusiasts are familiar with the talented family that founded this amazing marque. Carolina and Rodolfo Maserati, of Piacenza, parented a solid stock of young males: Carlo was born in 1881, Bindo in 1883, Alfieri in 1885—he sadly died as an infant, and in his honor and remembrance his name was given to a fourth son—Alfieri born in 1887, then Mario in 1890, Ettore in 1894 and finally Ernesto in 1898. Father Rodolfo was a railway engine driver, and all of his sons—save Mario who was a gifted artist—took up mechanical and engineering pursuits. Eldest son Carlo designed his own motorcycle engine while still in his teens, and later raced the two-wheelers. He worked for Bianchi, which built both motorcycles and cars. There he ultimately employed Alfieri, Bindo and Ettore. It wasn't long before the younger brothers left to form their own company, located in Bologna and named of course for the family.
Maserati!
Their first modest shop was located at Via Pepoli 1 in the very oldest section of Bologna; the company considers the beginnings of its founding on December 1, 1914, with the official deed of incorporation of Societa Anonima Officine Alfieri Maserati dated December 12, 1914. Maserati didn't begin building cars under its own name for another decade, at first modifying and preparing other cars for racing; primarily Diattos and Isotta Fraschinis.  Among the first automotive products to bear the company's name and identifying "Trident" logo were spark plugs for aircraft, marine, and automotive uses.
Mention exclusive, exotic Italian car brands, and most people think of Ferrari and Lamborghini, but Maserati is older than both of them by decades, and just a few months prior to its actual 100th anniversary date, the company celebrated the occasion by opening its doors and hearts to many hundreds of Maserati owners, dealers, executives, employees, enthusiasts, locals, and the media, for a weeklong centennial gathering in the cities of Bologna, Modena, Cremona, and Turin Italy.  Hundreds upon hundreds of cars and participants came from 29 countries, and we were among them.
Our visit began at that very first Maserati location at Via Pepoli 1 in Bologna, a small tiny located on the ground floor of a much larger residential, commercial, and industrial building in the oldest part of town, not far from the Piazza Neptune, home to the famous Neptune's Fountain statue which inspired the Maserati "Il Tridente"logo, designed by Maserati brother Mario, a gifted artist and sculptor; Mario was the only among the brothers that didn't actively pursue the family business of racing cars, car parts, and carbuilding.  The Via Pepoli property is no longer an industrial shop, instead housing a small local historical society, although Maserati has access to it when the company wishes to use it.  The company only remained in this location for five years, quickly outgrowing it before moving to larger headquarters in another area of Bologna.  Following this visit, we moved to an art and history museum located in the courtyard of the same building for a panel discussion with Carlo and Alfieri Maserati, sons of co-founding brothers Ettore and Ernesto Maserati.  Given that their fathers and uncles were all born in the late 1800s, as you can imagine these two gents are up in their years, but they remain sharp, well spoken, and extremely passionate about the accomplishments of their forbearers.  They spoke with great pride about the fact that Maserati "built nearly everything on their cars" not just the "engines and the badge on the front" as is the case with so many cars today.  They proudly noted that the company was famous for its high levels of design and engineering innovation, and for its great success in motorsport and in record setting (top speed records and such).  Interesting men, of a great and interesting family and times.
The Maserati family sold the company to the Orsi family in 1937, and thus Maserati moved to new factory grounds in nearby Modena in 1939, so that was our next stop.  Many consider Modena to be the epicenter of Italy's Motor Valley.  It is the birthplace of Enzo Ferrari, and home to the first Scuderia Ferrari raceshop, and the home of Maserati since 1939.  It was home to DeTomaso Automobili, and Automobili Lamborghini is just a few miles to the Northeast.  Ferrari's current home, factory and test track in Maranello lie just a half hour south.
It was in Modena that we visited the Casa Enzo Ferrari Museum (the house of Enzo Ferrari's birth, and his father's original machine shop, all now part of a fabulous Museum campus belonging to the city of Modena and operated by Ferrari).  The Museum's ultra-modern, avant garde main building is for this year dedicated to the Maserati 100 – A Century of Pure Italian Sports Car exhibit.  Primary exhibits rotate, and if you are ever in Modena, this property is a must see.  It may initially seem odd to see a Ferrari museum fully stocked with Maseratis, since Ferrari and Maserati were long time, cross town competitors, but now of course the two marques are brothers under the Fiat Group banner, so the old battle lines are long gone.  While at the museum,  Adolfo Orsi, of the family that owned Maserati from 1937-1968 gave a panel discussion about his memories of the company and cars during the time his family was at the helm.  Fascinating stuff, with many charming, first person remembrances of a man who was there.
Modena, as with so many European cities, has a central square (piazza grande) that is its social, architectural, commercial and political center, and proved a darn fine place to gather up several hundred Maseratis for an informal daylong display; which everyone on the Centennial program, plus countless locals, all attended.  Maserati CEO Harald Wester toured the square with Modena's mayor, while cameras clicked and videos recorded every sparkle and flourish.  Then all the cars, old and new, fired up for a parade to the nearby Maserati factory for dinner, assembled inside the factory buildings alongside the production lines, where the wine flowed, and the Luciano Pavarotti Foundation singers gave a memorable opera performance.  Wester greeted the group noting that "it's great to be 100 years old, and not even feel like it!"
The next day our group departed Bologna bound for Cremona, where Stradivarius violins were born and made for nearly 500 years.  Naturally all of the Maseratis parked up in display in Cremona's Romanesque-Gothic piazza, and we visited the Museo di Violino – obviously the museum of the violin.  Our small group enjoyed a brief demonstration of Stradivari magic by a gifted young female violinist playing a 300 year-old Strad in the museum's acoustically perfect auditorium.  After a wonderful day spent in this artistic and elegant Italian city, it was off to Turin; home base for Maserati parent Fiat, and to many of the design houses (among them Pininfarina, Zagato, ItalDesign and others) that designed and built many of the most famous Maseratis.
The day ended with a magnificent black tie reception and dinner at the Reggia di Venaria Reale museum in Turin.  Several Fiat, Ferrari, and Maserati executives addressed the crowd, as did representatives from Maserati marketing partners Zegna and Bulgari.  Plus there more classical music.  This property is superb and looks for all the world like a large, Italian medieval castle, and is also a must visit should you be in Turin.
The final day of Maserati's Centennial celebrations included a visit to the National Automobile Museum in Turin, a tour of the new Giovanni Agnelli production plant in Grugliasco (just outside Turin) where the current Quattroporte and Ghibli sedans are produced, and where the upcoming Levante luxury crossover SUV will be assembled.  While the gathering of cars in Modena's square was very informal, the week ended with a more formally organized and judged concours in Turin's Piazza San Carlo.
Add it all up, and you'll see that Maserati's first 100 year history is quite remarkable; so many memorable production cars, and motorsports history that includes back-to-back Indy 500 victories in 1939-40, the Grand Prix world championship in 1957 at the hands of Fangio in the seminal 250F, and a business plan to produce and sell 75000 cars annually beginning in 2018.
Impressionante!
 Many photos below; please keep scrolling and enjoy
And check out Maserati's excellent video here:
Maseratis of all color and stripe swarm the company's factory HQ in Modena, where the Maserati has built cars since 1939.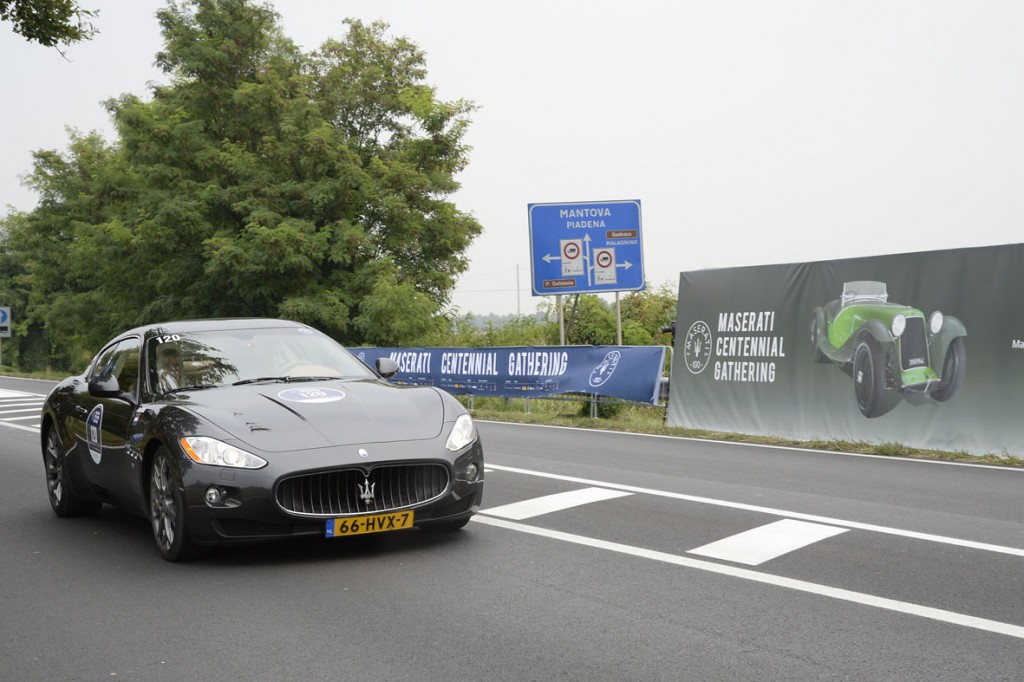 Italy's celebrated Motor Valley really turned out to welcome the cars and owners from around the world, with poster, banners and flags everywhere.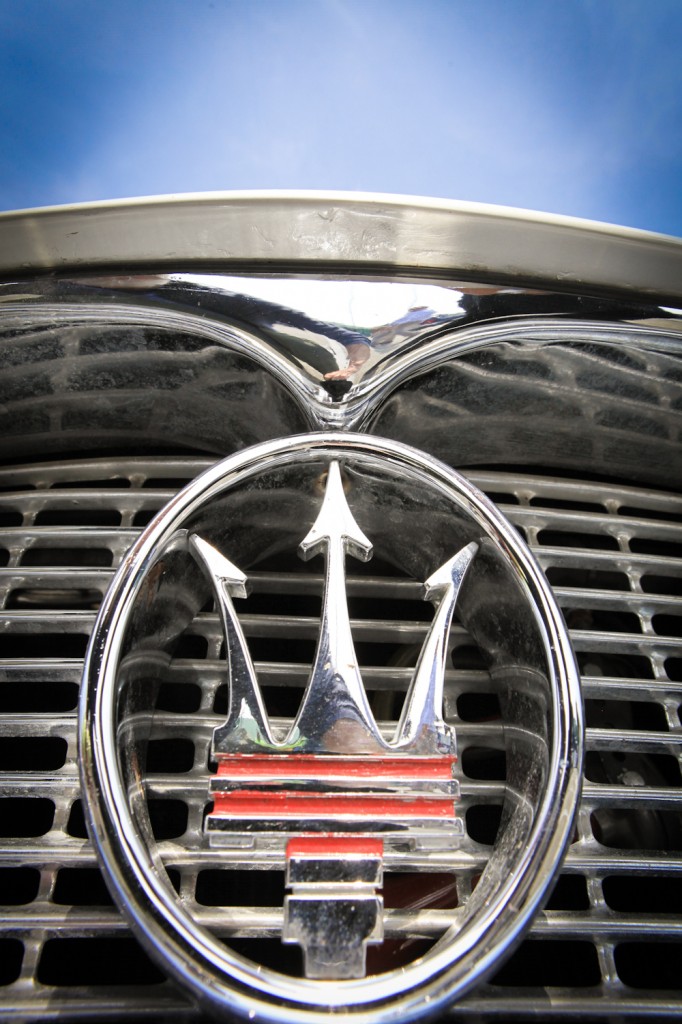 Maserati's famed Il Tridenti logo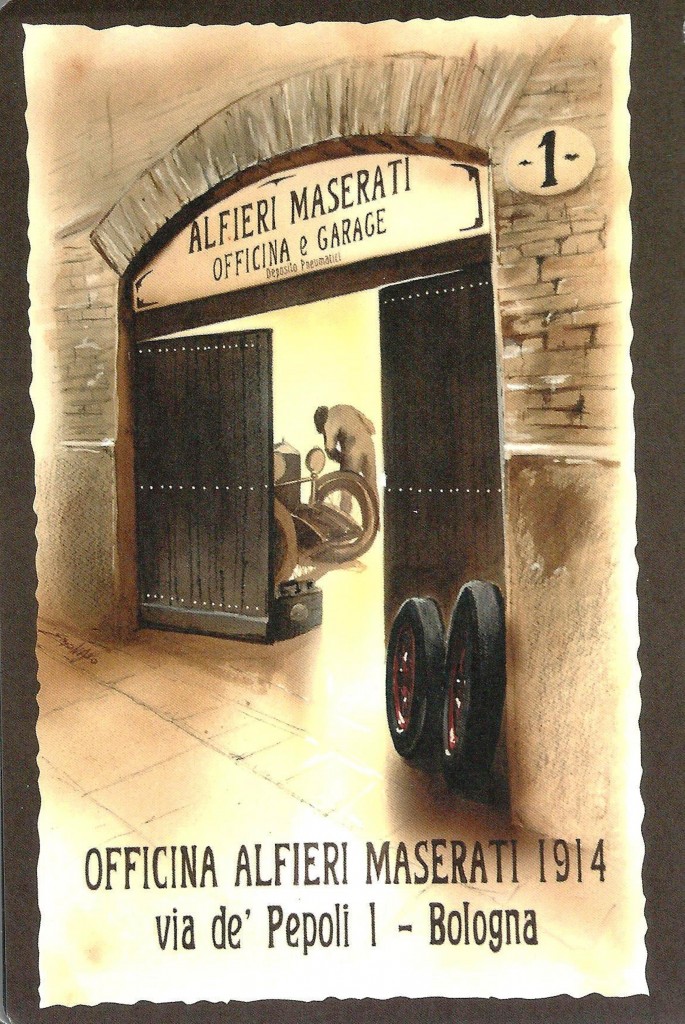 Recent period looking painting of what the first Maserati shop looked like in 1914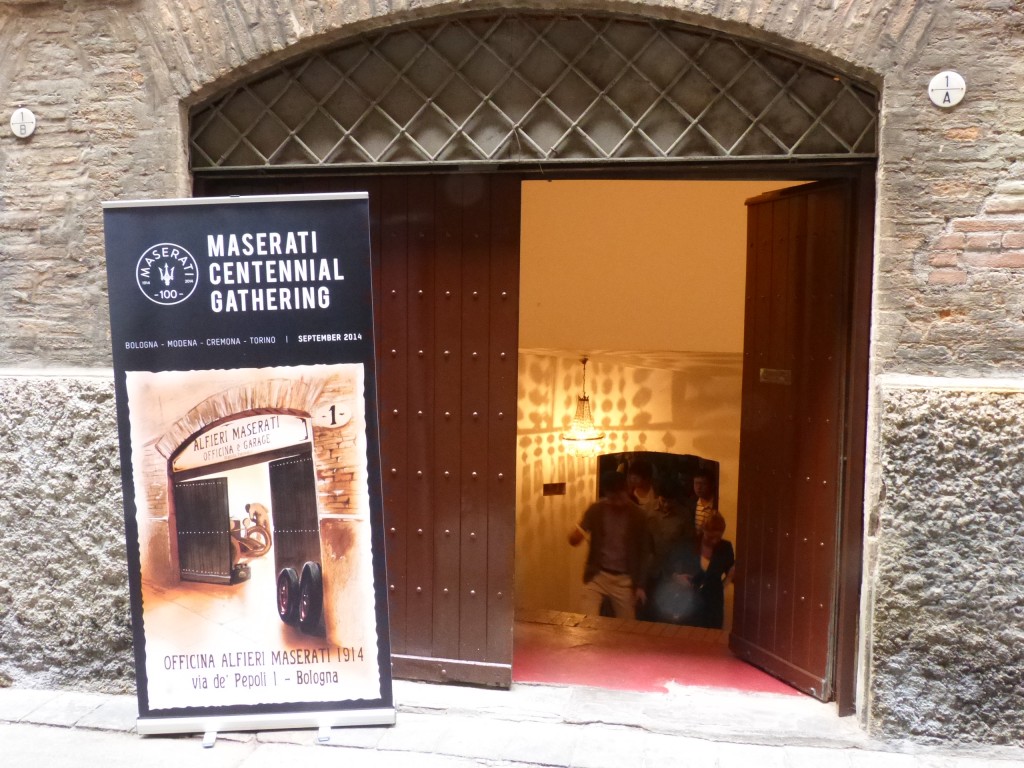 Via Pepoli 1 today, the doors to the original Maserati workshop in the oldest section of Bologna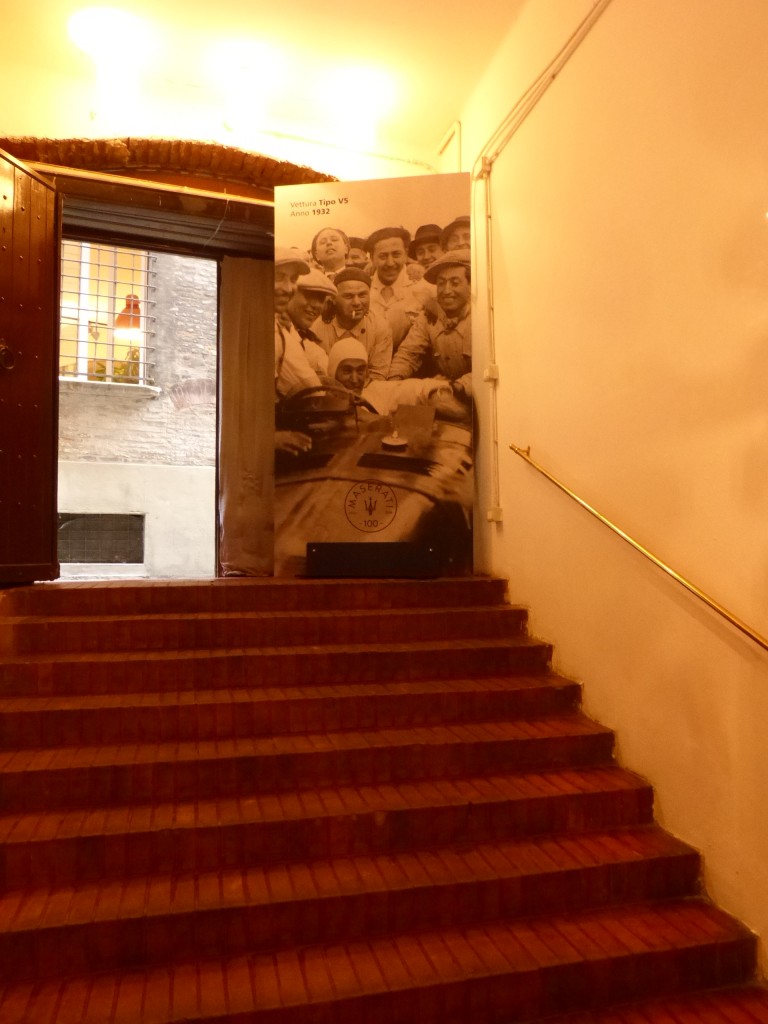 These steps cover what was originally a ramp from the doors opening to Via Pepoli, as the shop sits down about a half level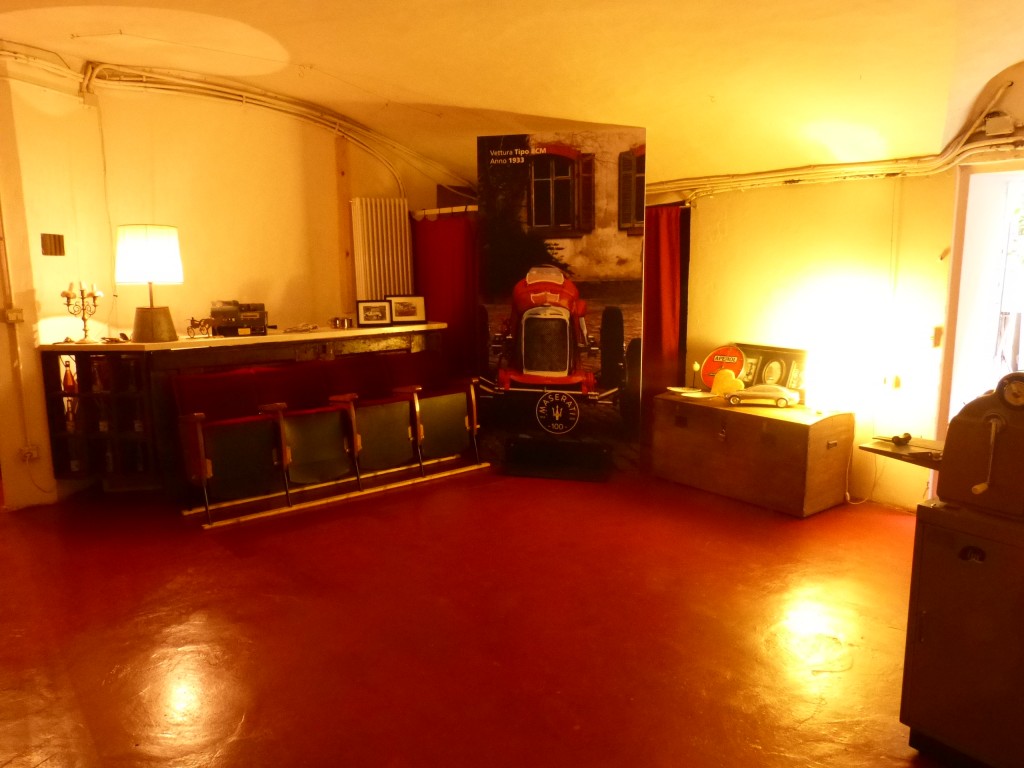 Via Pepoli 1's original production equipment and shop tools are long gone, but Maserati rents the facility when desired and decorates it as the occasion requires.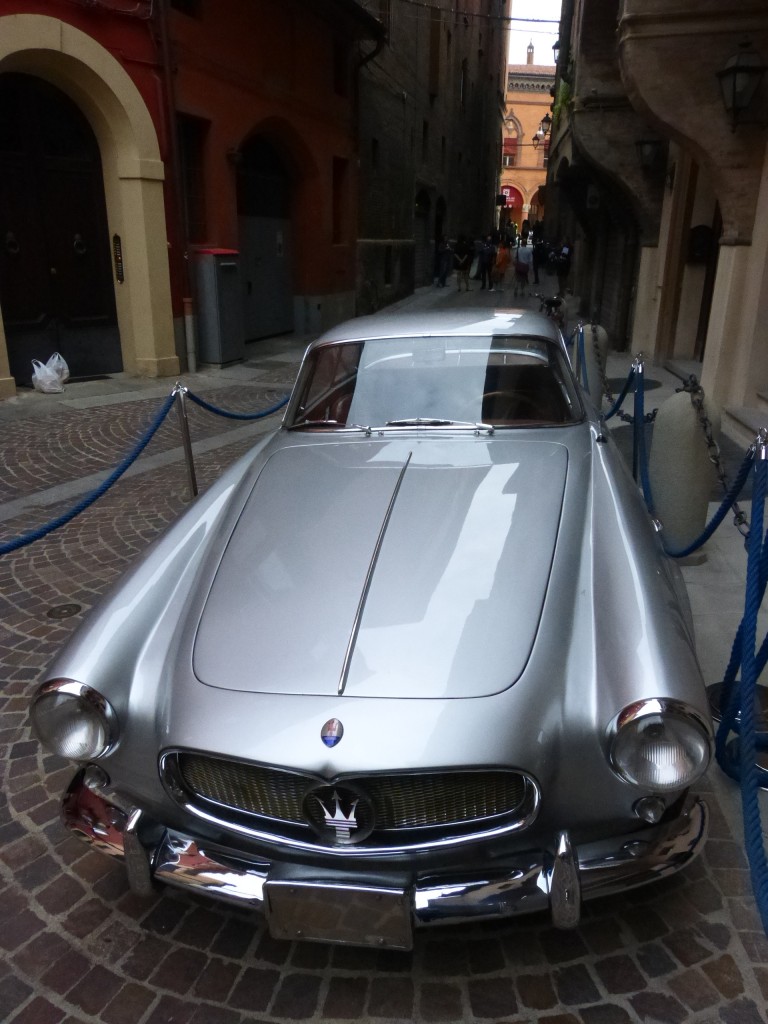 Although this Allemano-bodied Maserati wasn't built at Via Pepoli, it made for a divine set decoration.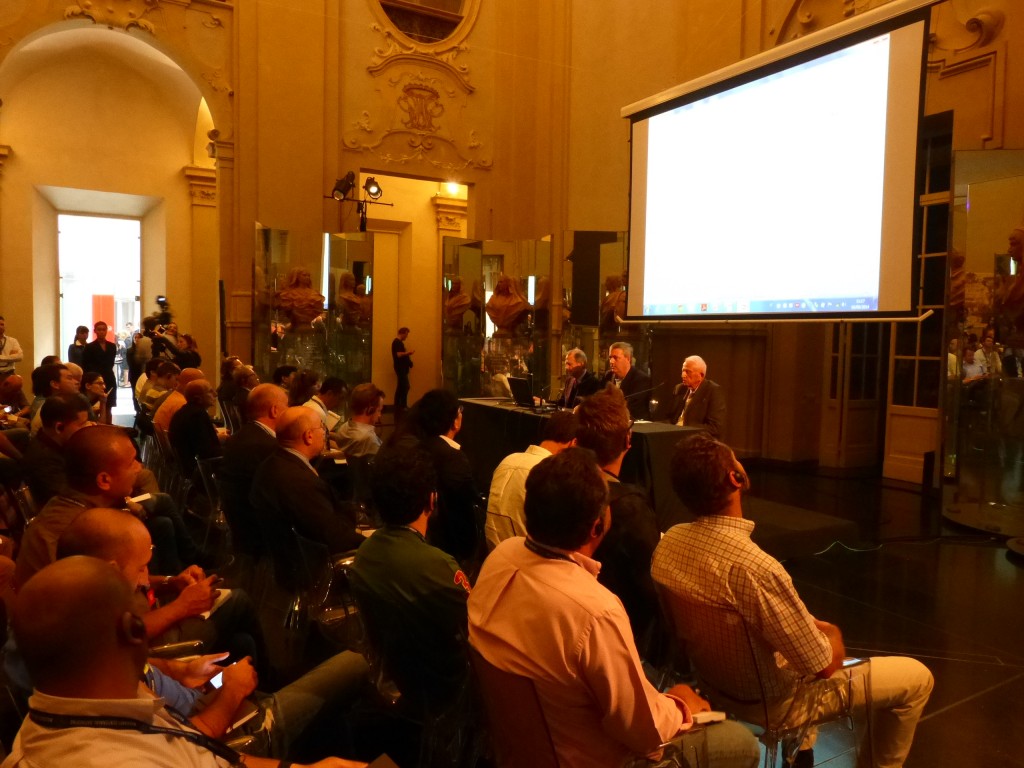 Descendants of the Maserati brothers address an interest gathering of media at a museum near the location of the original Maserati shop in Bologna.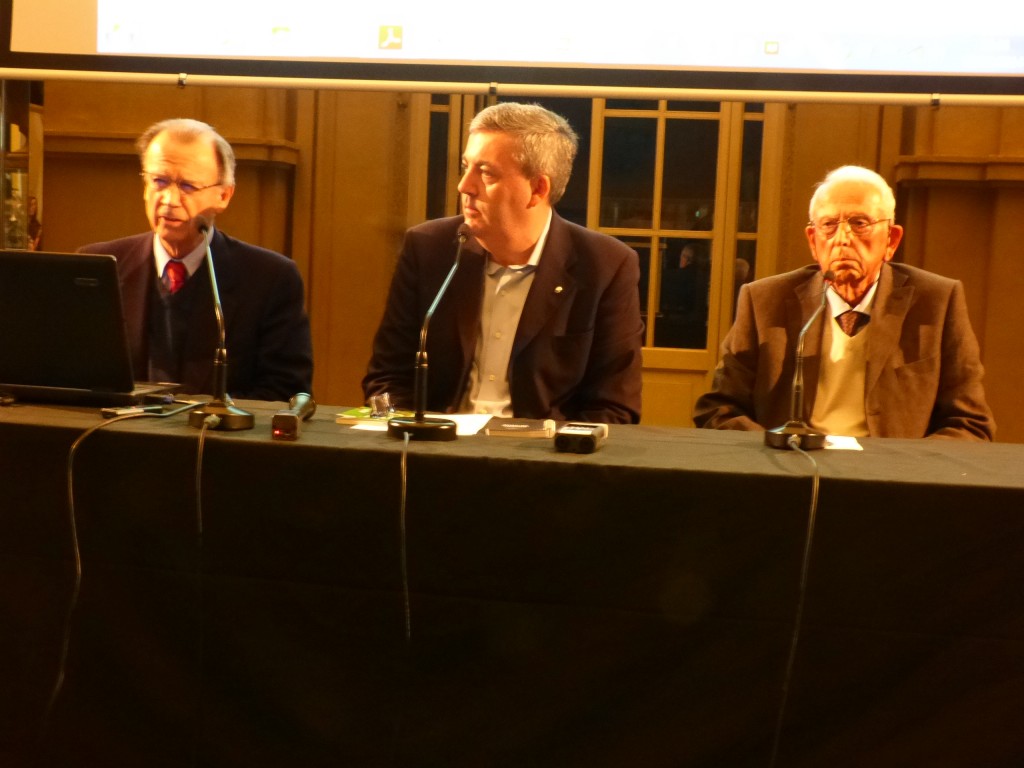 From left, Alfieri Maserati, son of founding brother Ernesto, my friend Luca Dal Monte, Maserati's chief press, media, and public relations officer, and Carlo Maserati, son of founding brother Ettore.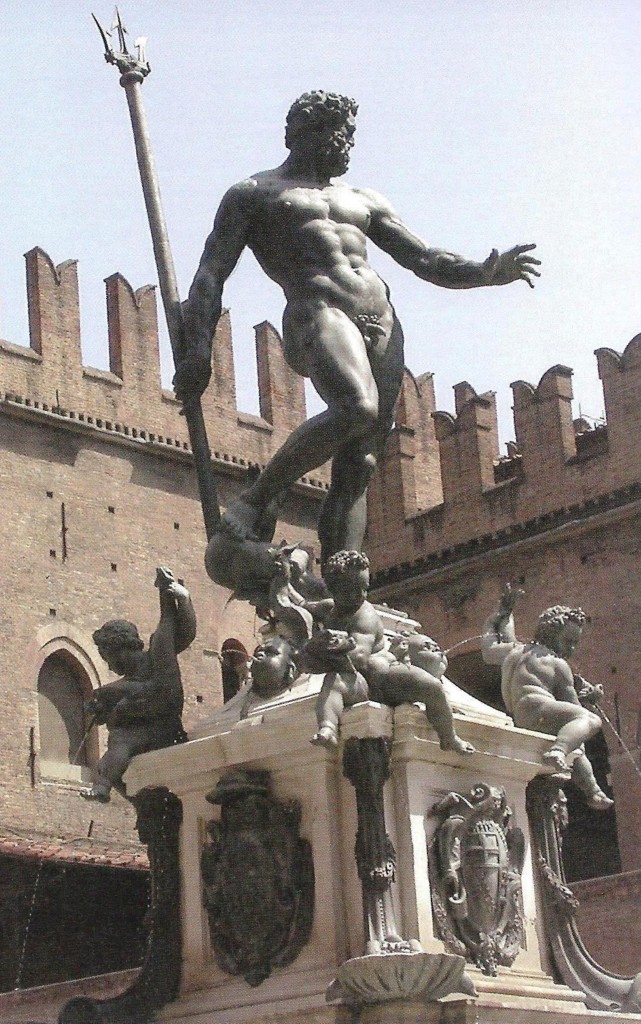 Neptune's Statue fountain, located in the nearby Piazza Netuno; it is the three pronged lance in this statue that inspired the design for Maserati's famous il Tridente logo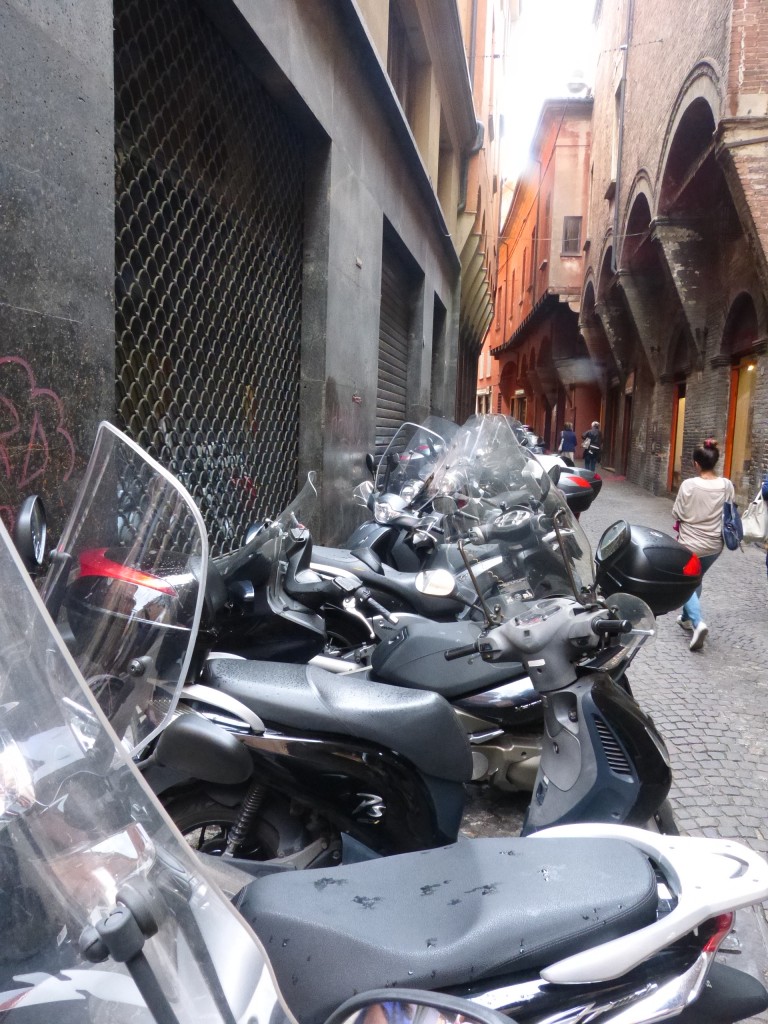 Besides Maseratis, among Italy's most popular and prevalent form of transportation is the ever present scooter.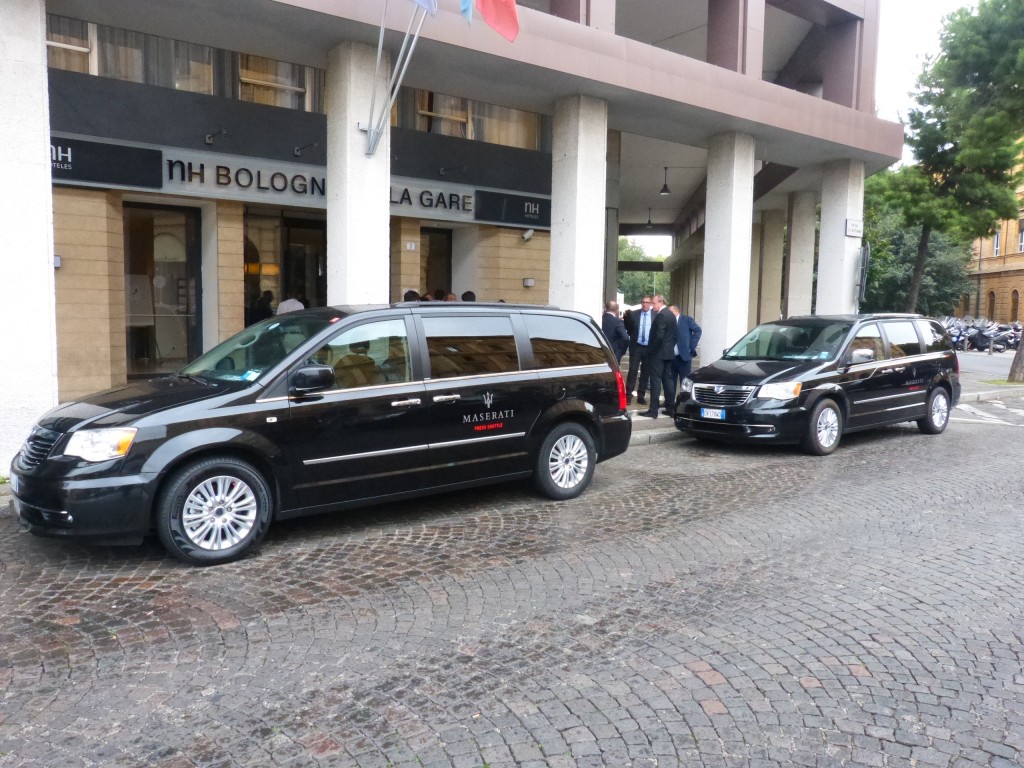 When is a Chrysler minivan not a Chrysler?  When it's finished out as a Fiat or a Lancia van, sold in Europe.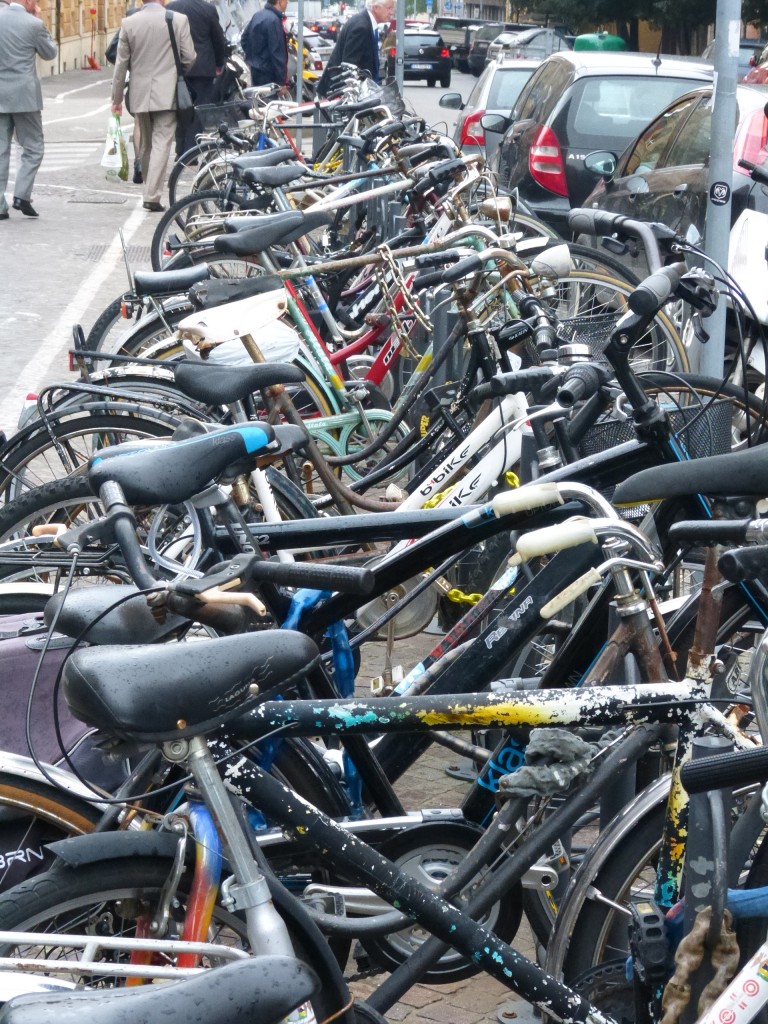 As popular and prevalent on the streets of Bologna, Modena, and Turin are human powered bicycles, common commuter transport in this part of the world where gasoline costs about triple what it does in the US.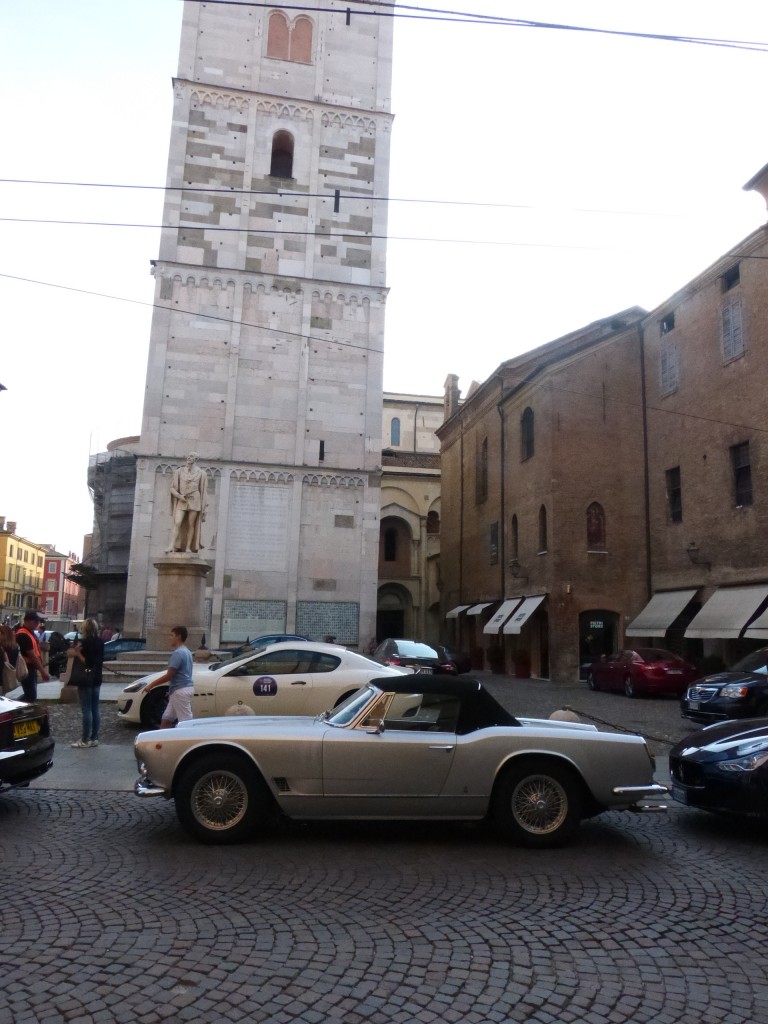 Elegant  3500GT Vignale Spyder fronts Modena's famous Duomo and clock tower.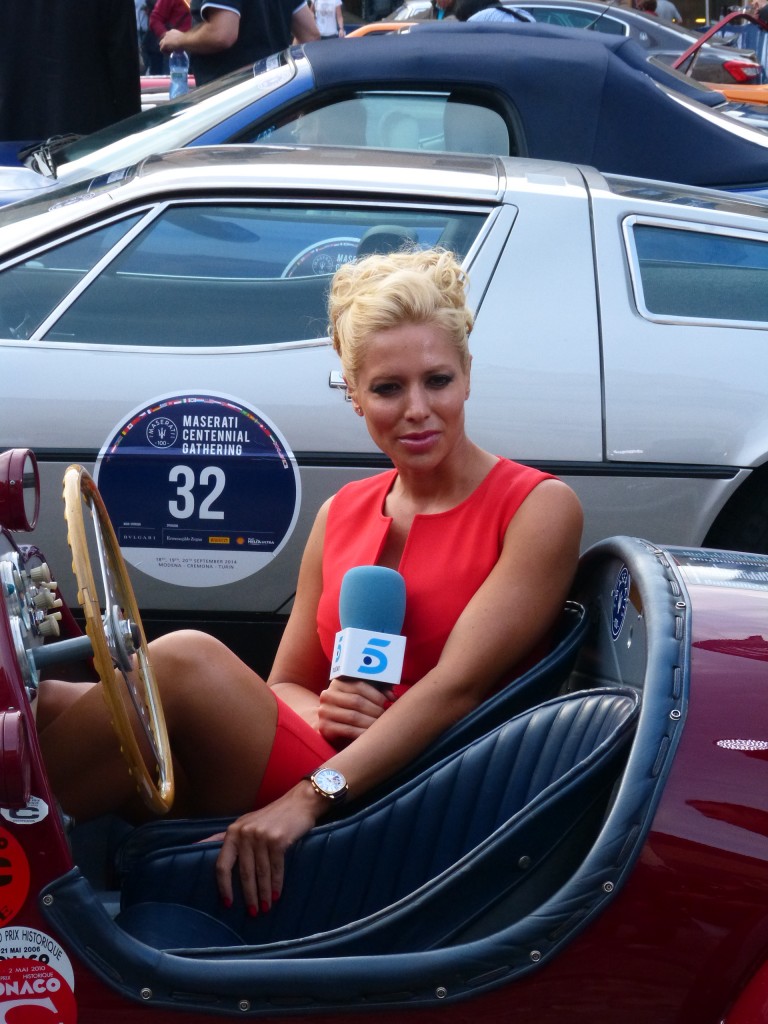 Media from all over the world covered Maserati's Centennial celebration, including this striking television reporter from Spain.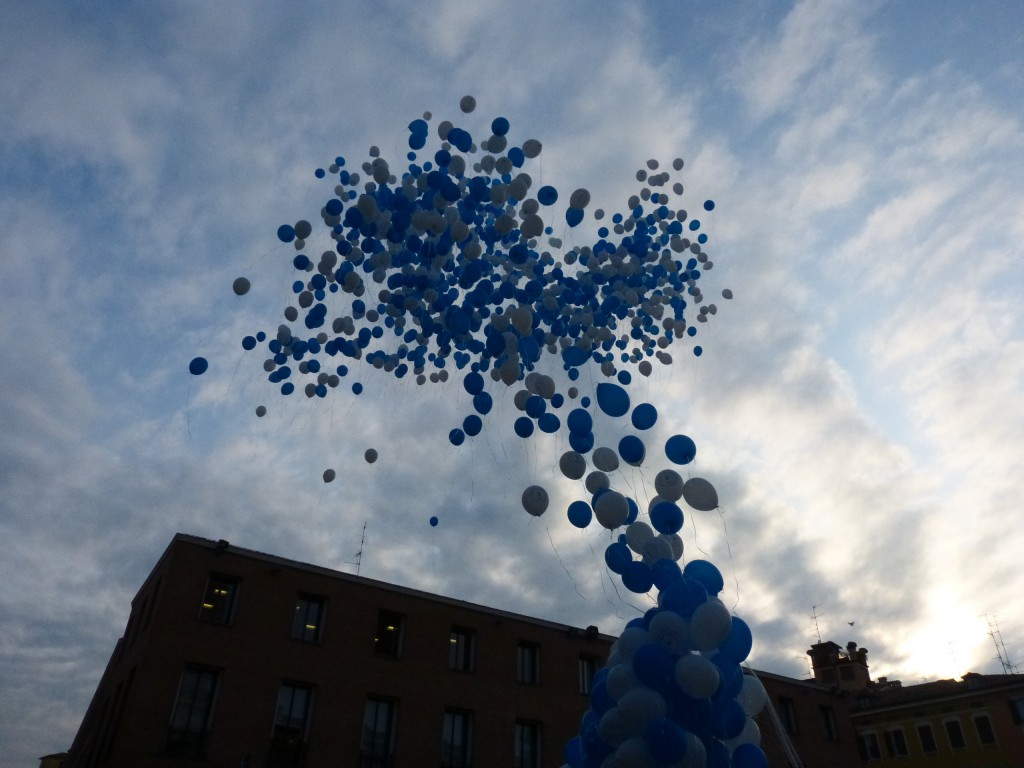 Maserati didn't let the balloons fly until every child that wanted a balloon got at least one.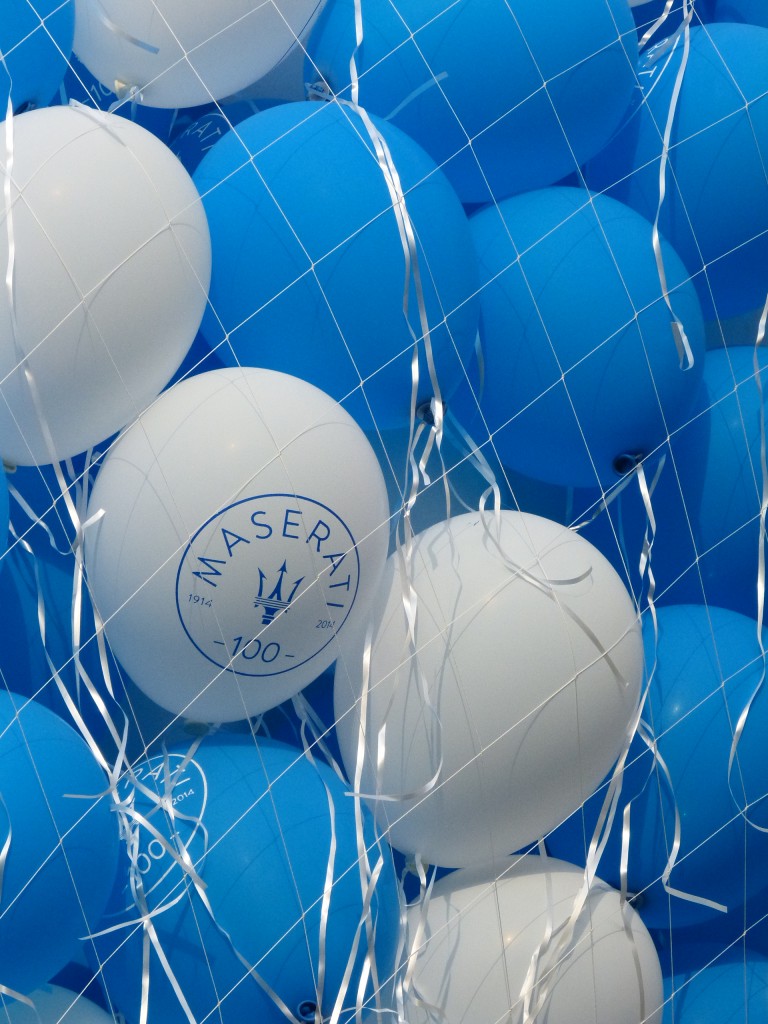 Among the several thousand balloons netted and ready for the celebratory balloon release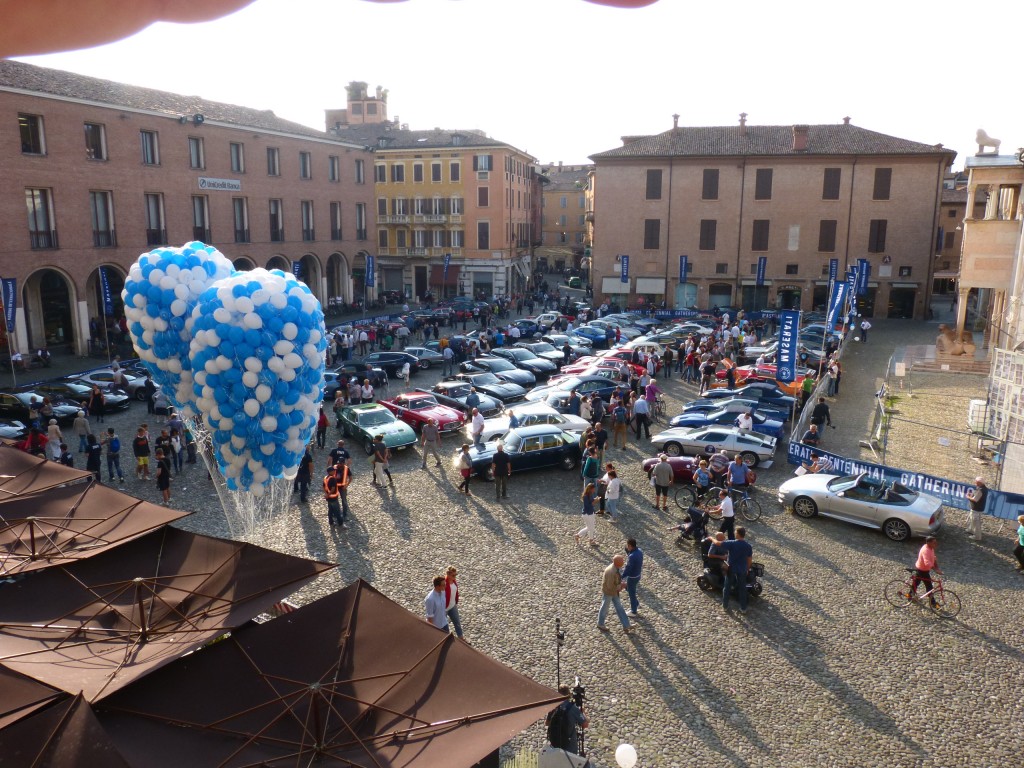 Modena's historic Grand Piazza filled with Maseratis had videos and camera phones blazing away
Among the most daring, and famous, Maserati concept cars of all time is the Boomerang, the masterwork of Giorgetto Giugiaro.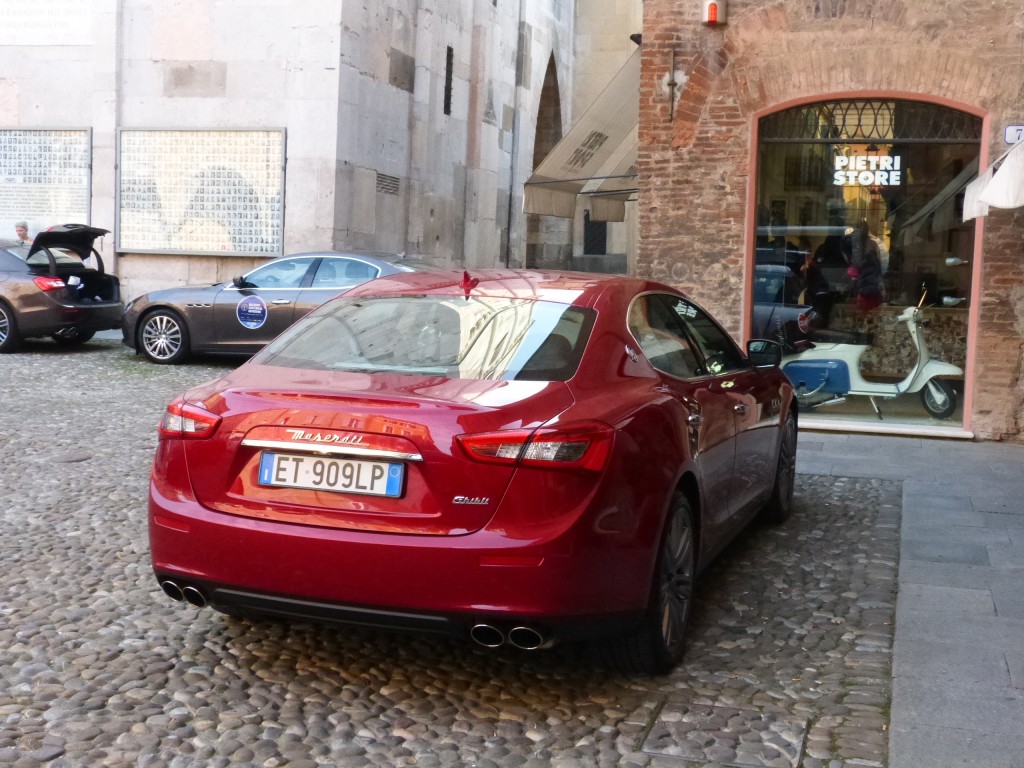 New Ghibli sedan looks well at home on the cobbled streets of Italy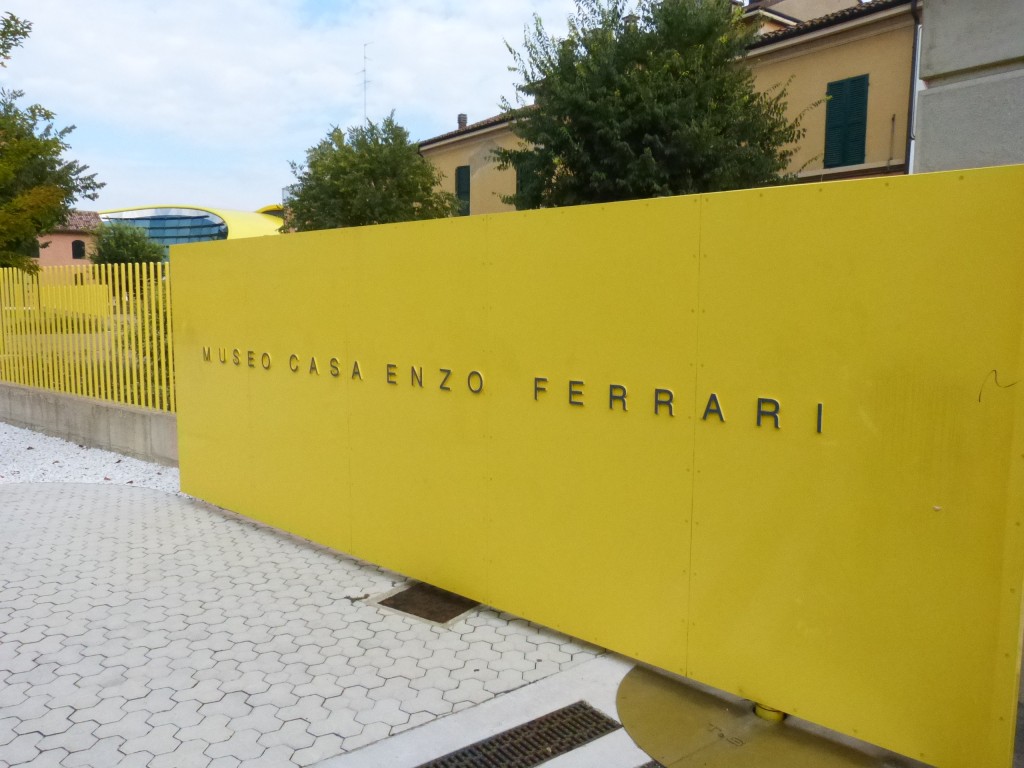 Although the house that Enzo Ferrari was born in still stands and is part of the "Casa Enzo Ferrari" museum property, it is currently not yet open to the public as an exhibit.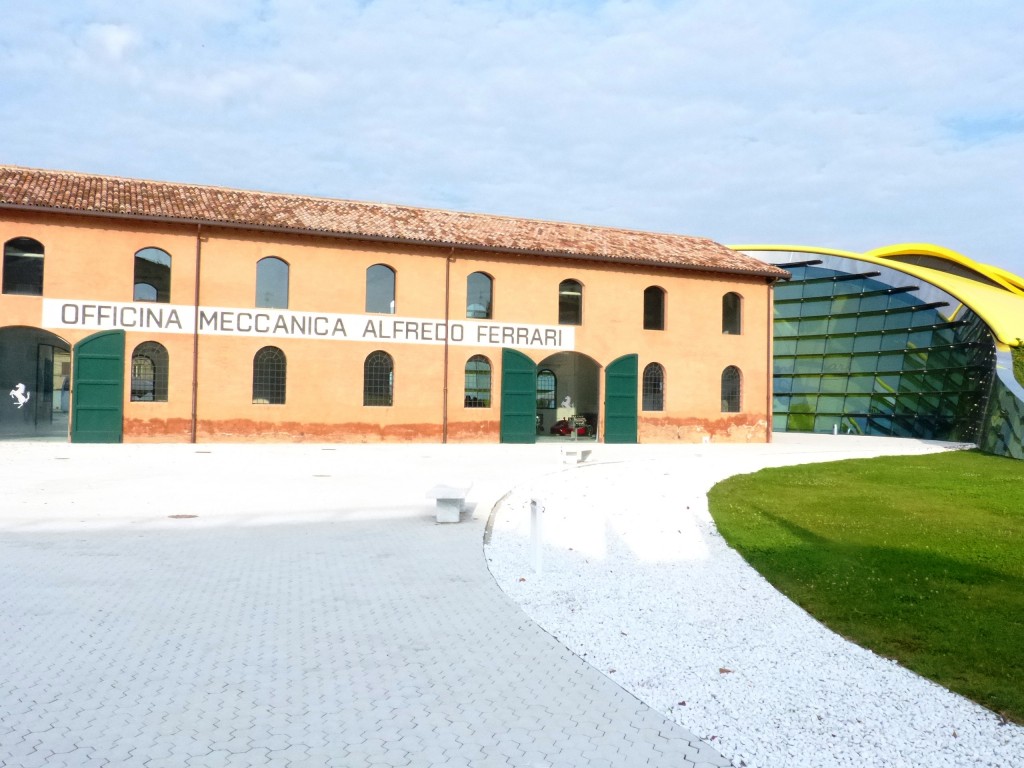 The Enzo Ferrari birthplace museum is an artful display of old and new; the block building at left is Enzo Ferrari's father's original shop, where he fabricated tools and equipment used in the railway industry.  The yellow roofed building to the right is of course a new structure, very wide open inside, able to house hundreds of cars and large exhibits, plus conference facilities and a tasty gift shop and Ferrari store.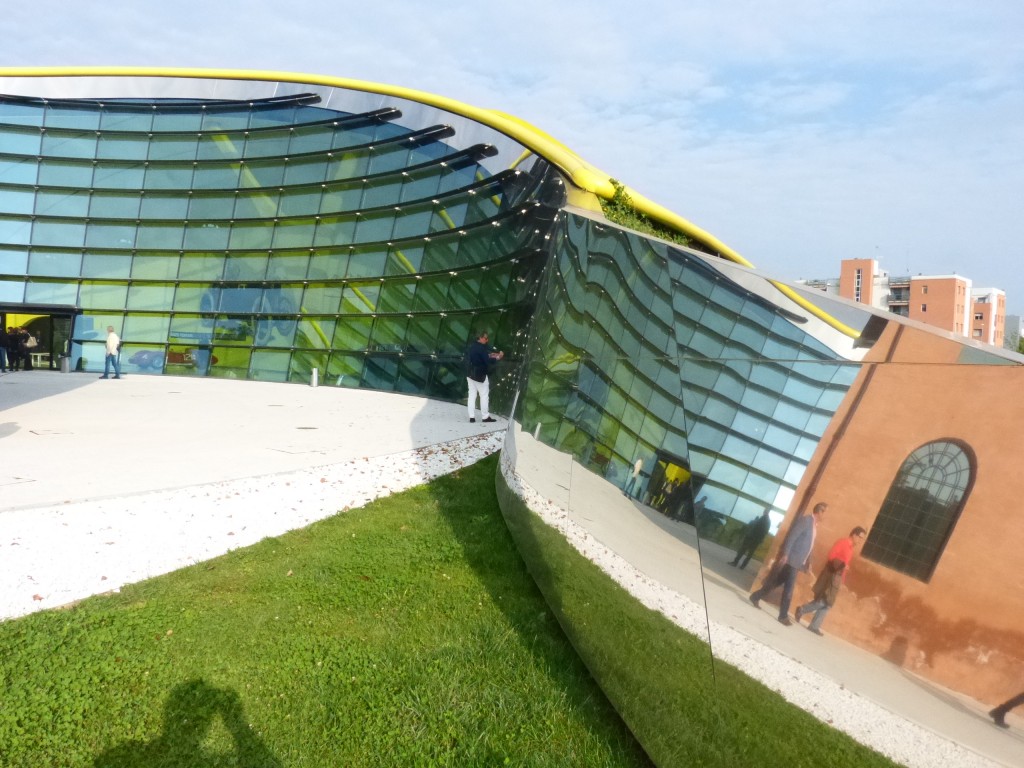 The gallery building at the Casa museum is fronted in glass, while much of the interior is windowless, and finished in white.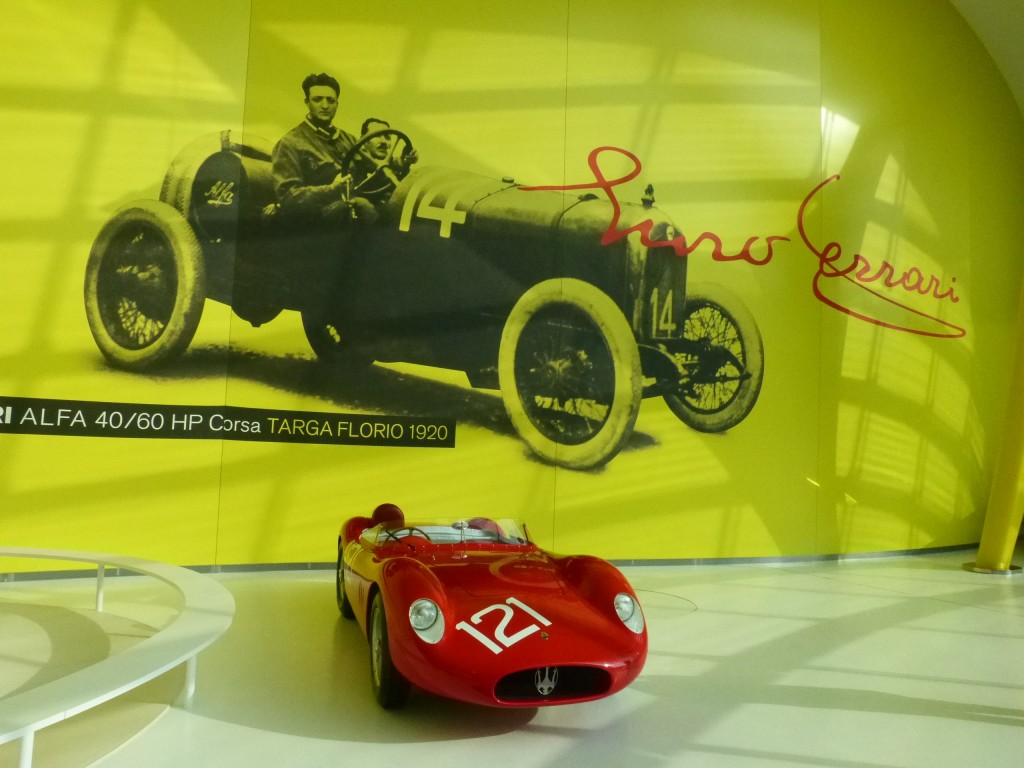 The Maserati in the foreground is an interesting contrast to the large photo in the background, of Enzo Ferrari himself at the wheel of an Alfa racer competing in the Targa Florio in 1920.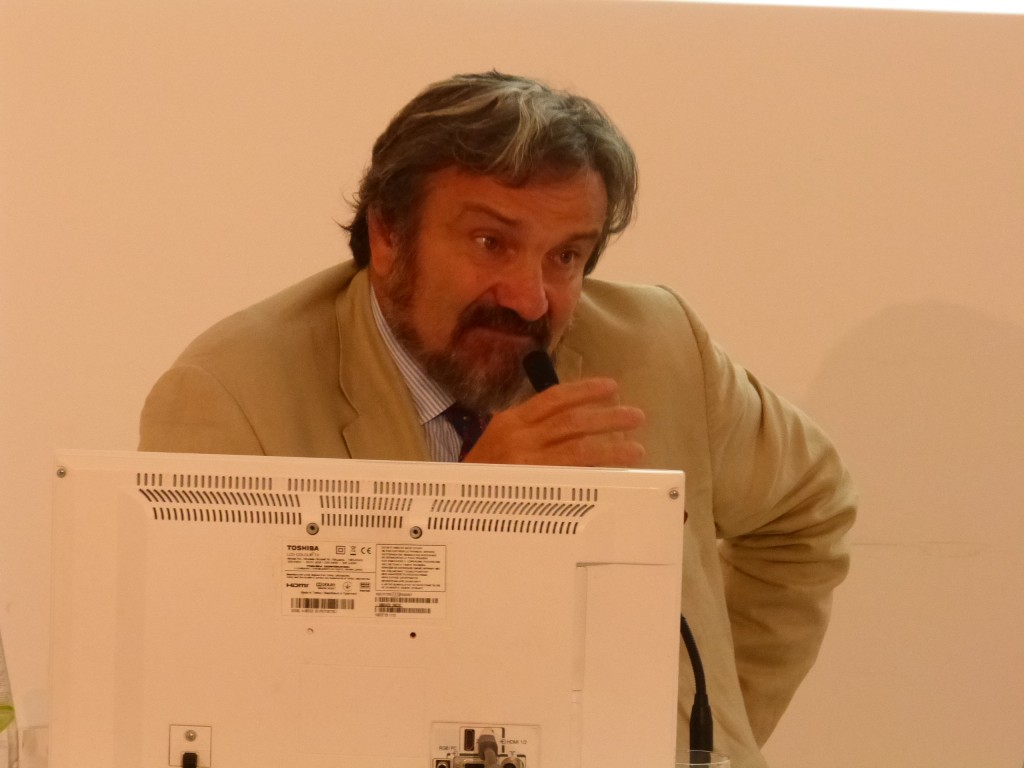 a thoughtful Adolfo Orsi discussed his family's ownership of Maserati after its purchase from the founding brothers.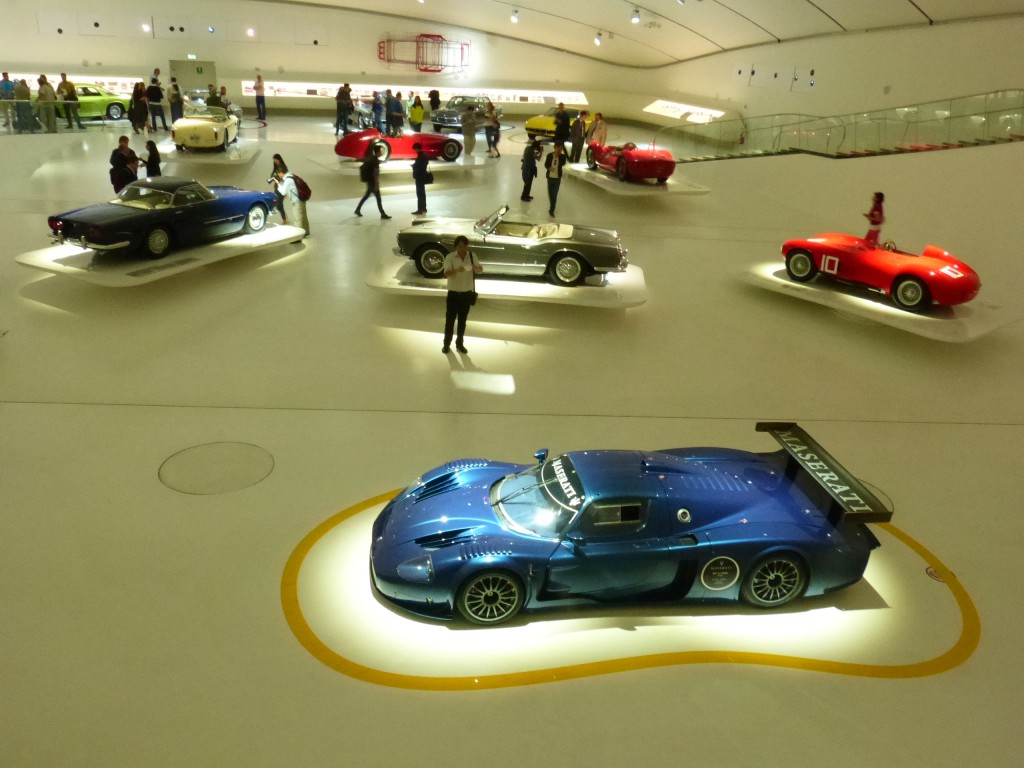 During our visit, the entire floor of the Ferrari Museum was dedicated to Maserati's Centennial, displaying cars from the company's earliest days, as well as current production models and racers.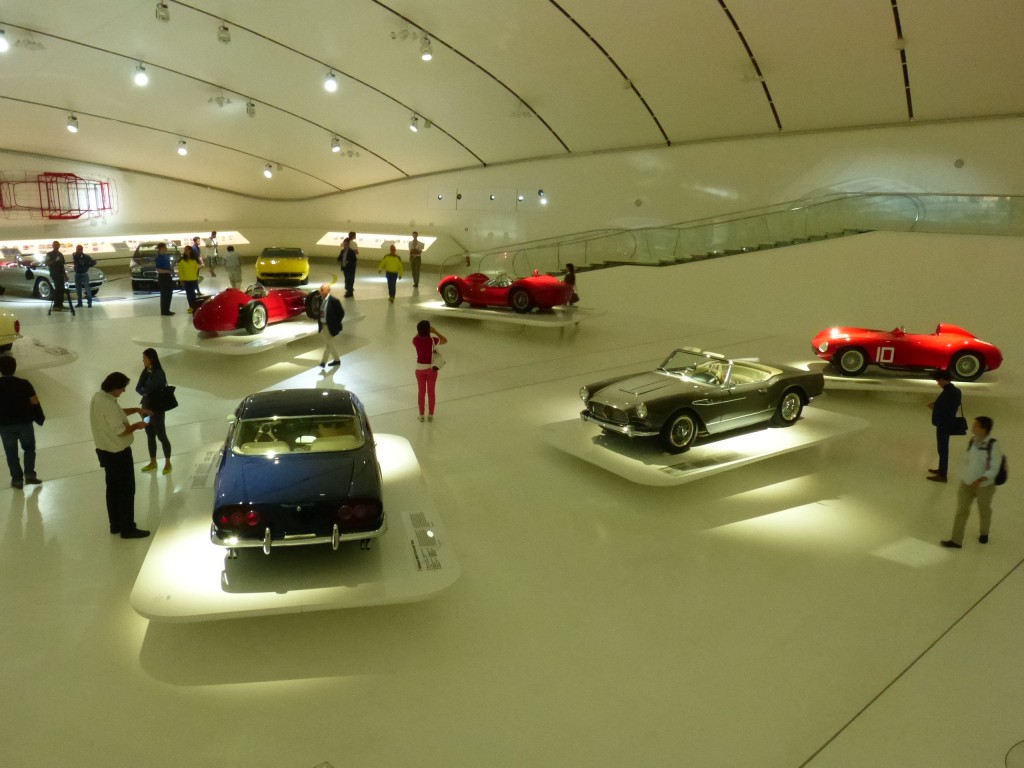 There are no columns to support structure inside the new Casa Ferrari Museum building; the curved, arching roof is fully self-supporting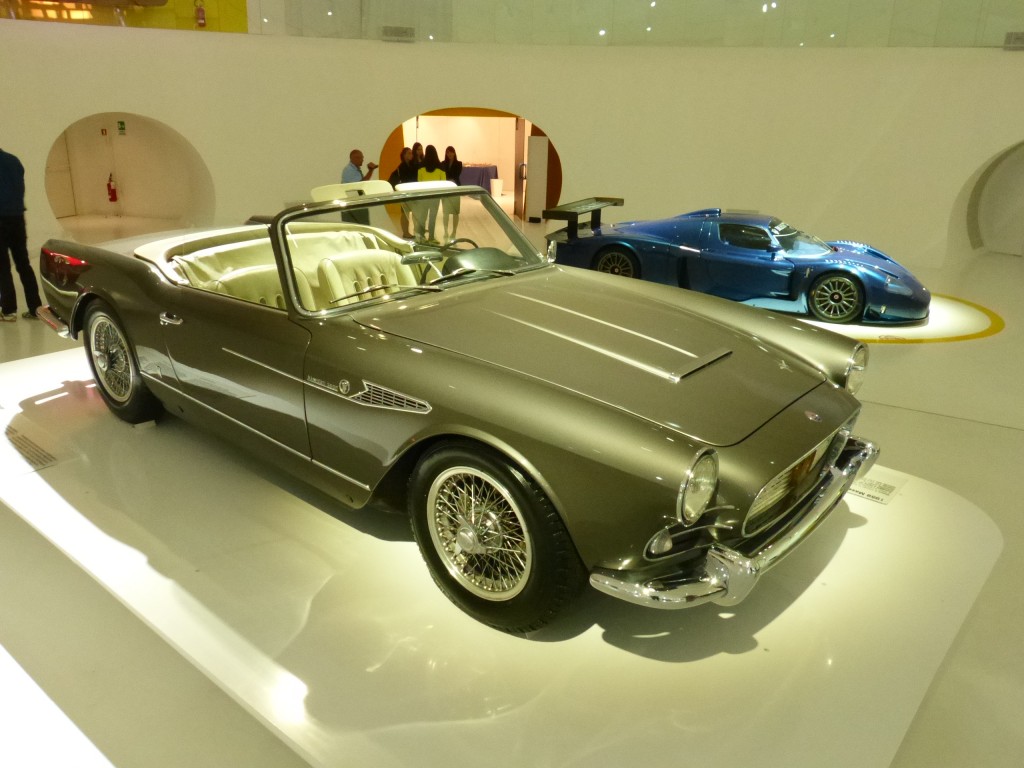 Elegant Maserati 3500 GT Vignale Spyder contrasts strikingly purposeful Maserati MC12 competizione coupe just behind.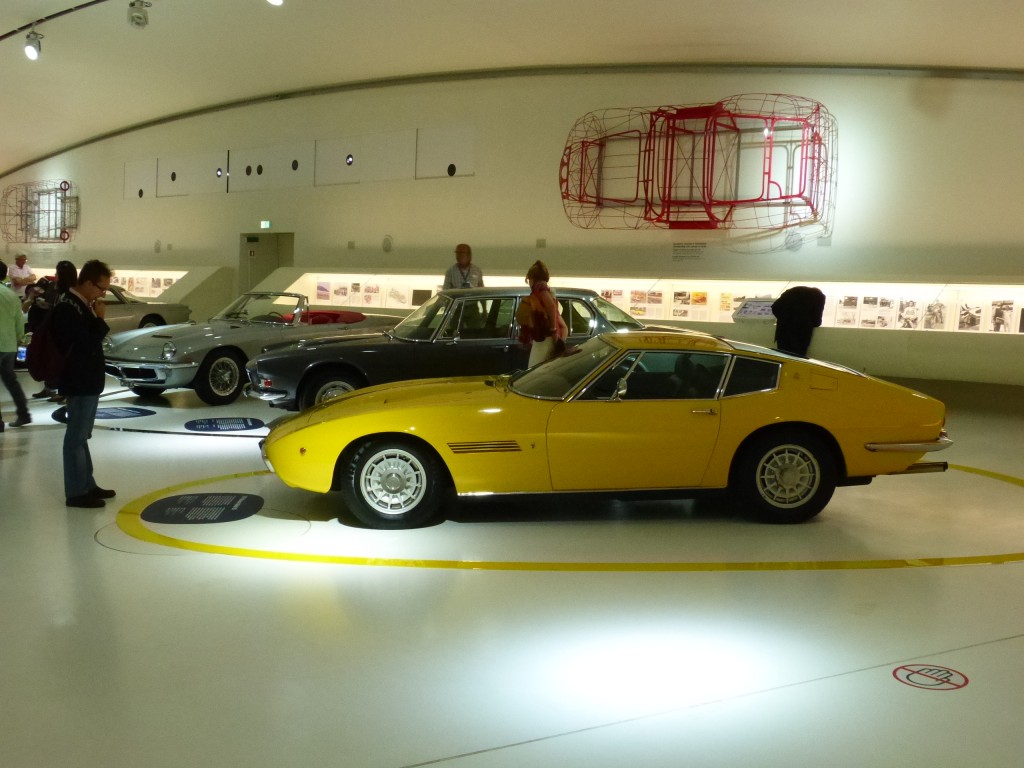 Any list of all-time great Maseratis will include the still-fabulous Ghibli coupe, the original Quattroporte, and the tidy Frua bodied Mistral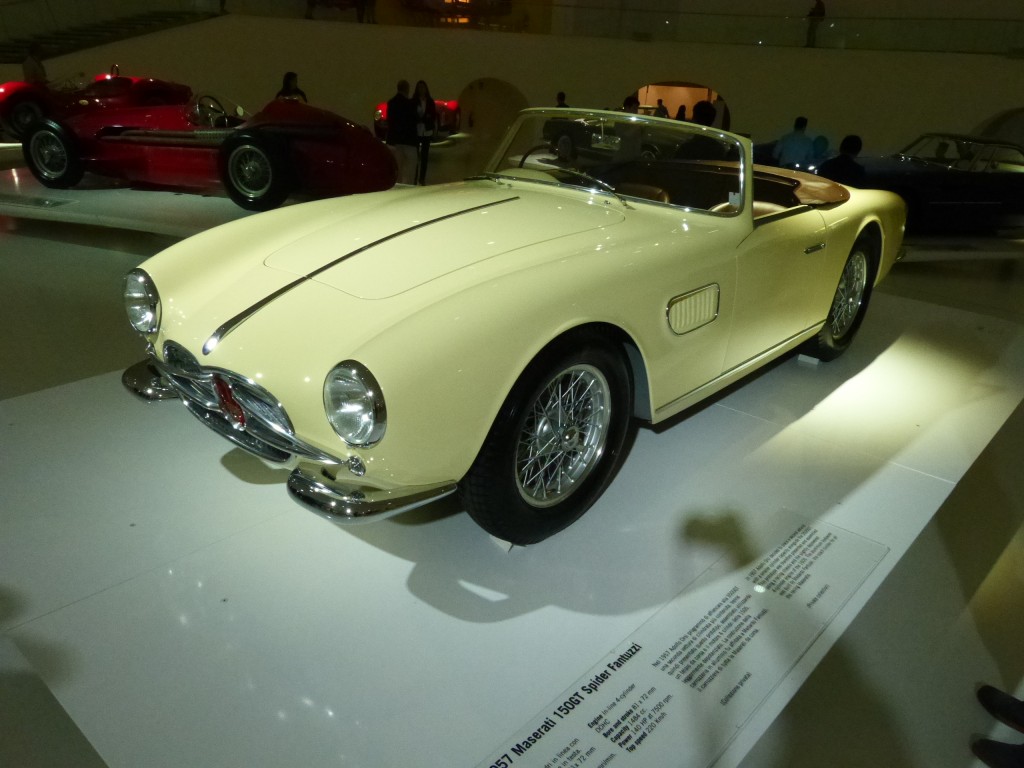 This hyper rare Fantuzzi-bodied 150GT Spyder is compact, curvaceous and very elegant; its tidy size and compact proportions demonstrate how much larger cars have become over time; a modern Maserati Grand Cabrio would dwarf this beautifully detailed convertible of 1957.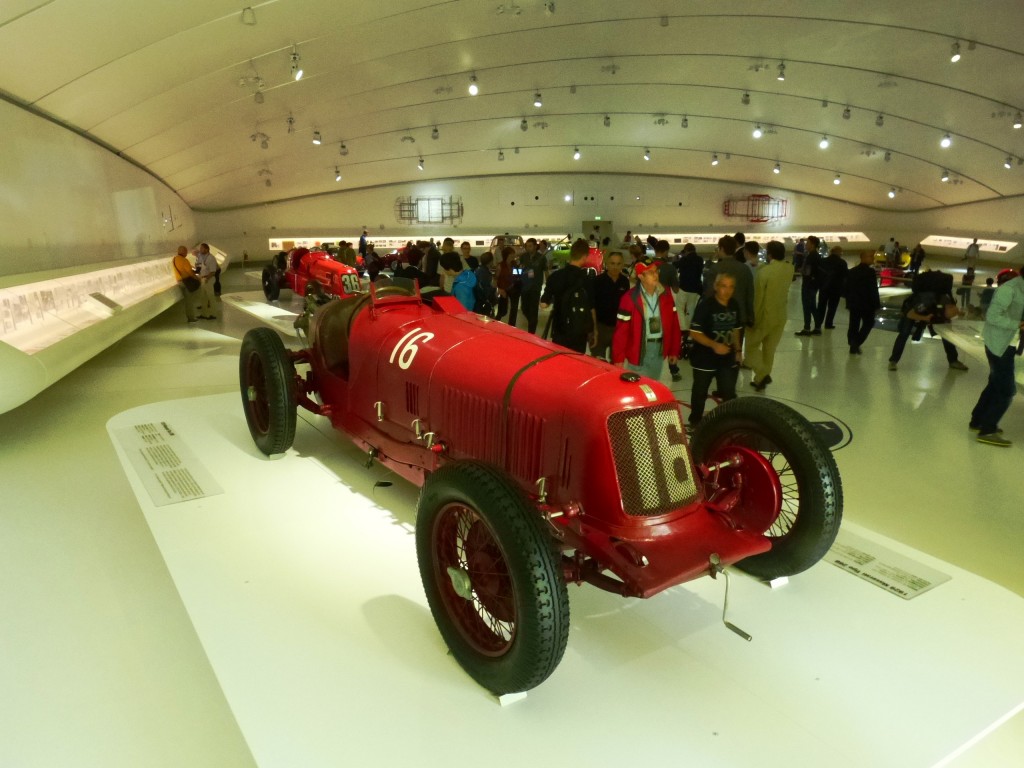 The first racing car to carry the Maserati name on its nose, this is the 1929 Maserati 26B.  Just 43 were built, and its two-liter inline-8 engine was good for around 150 horsepower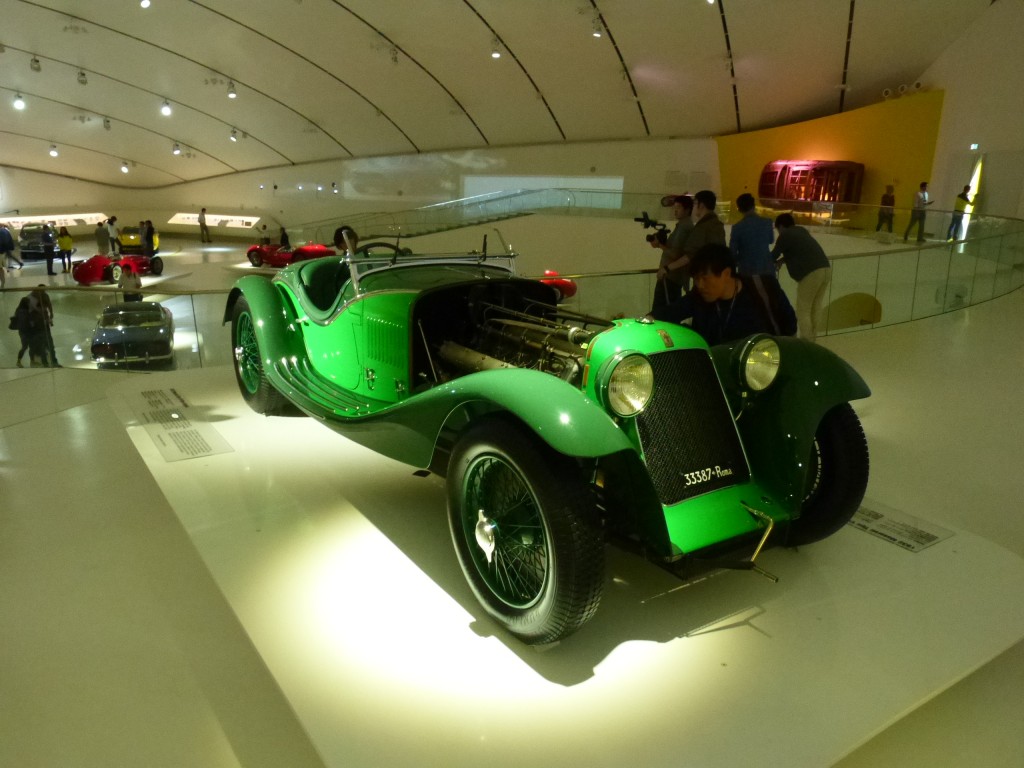 Appropriately, and lovingly named, the Green Monster, is this 1932 Maserati Tip V4 Sport Zagato.  Monster indeed, as it's powered by a 4-0-liter V-16 (yes, sixteen cylinders) engine boiling out 280 horsepower.  A similar was used to set a ten kilometer speed record in 1929 with an average of 246 kph, equal to 152.857 mph, really flying at the time on a public road.
Dinner was served on the factory floor in Modena, with many Maseratis in various states of assembly all around, including hanging above the dining tables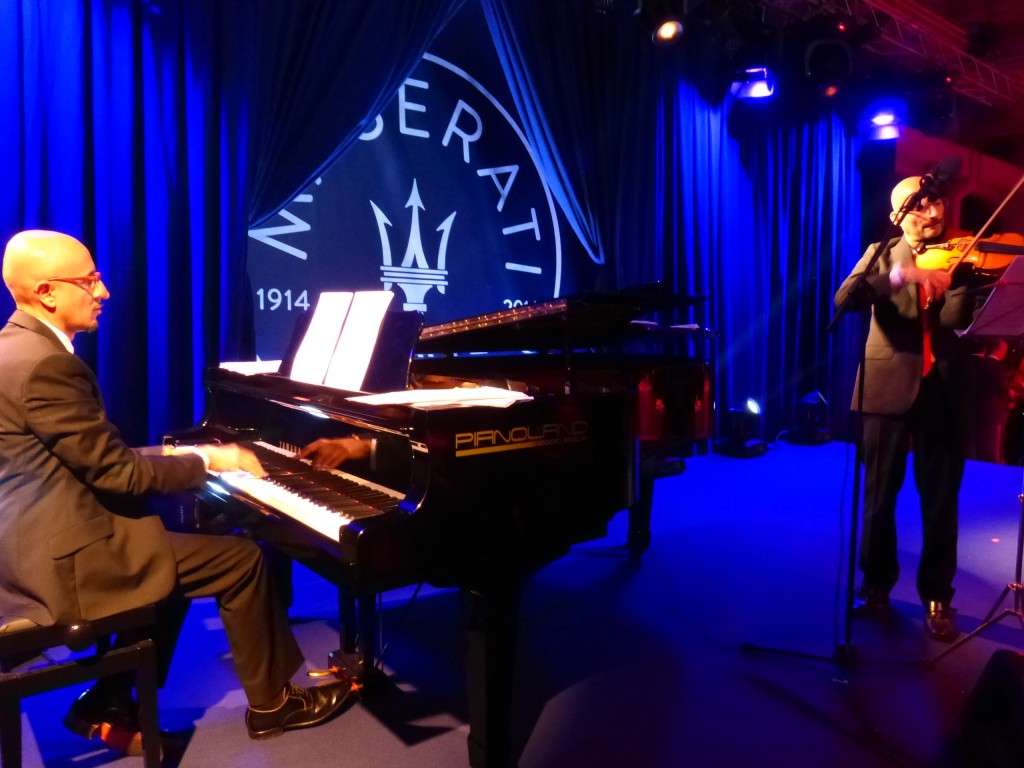 No canned music for this dinner, not a chance, not in Italy.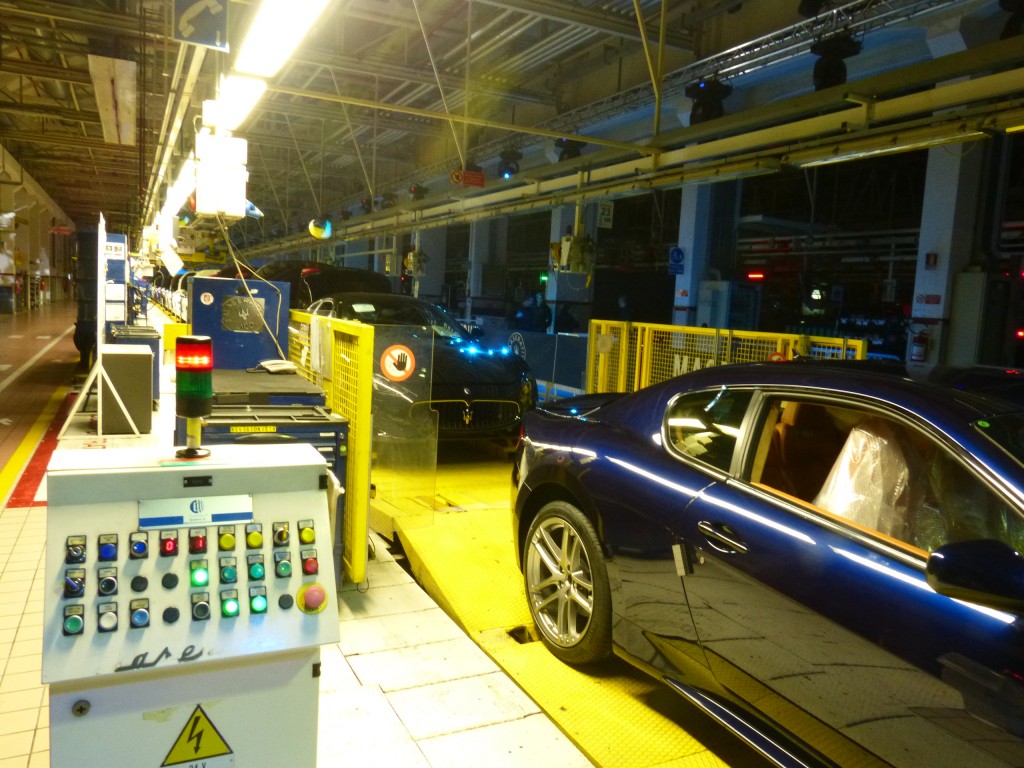 At the moment only Maserati coupes and cabriolets are produced at the Modena facility, which looks strange at night with no workers buzzing about nor sparks flying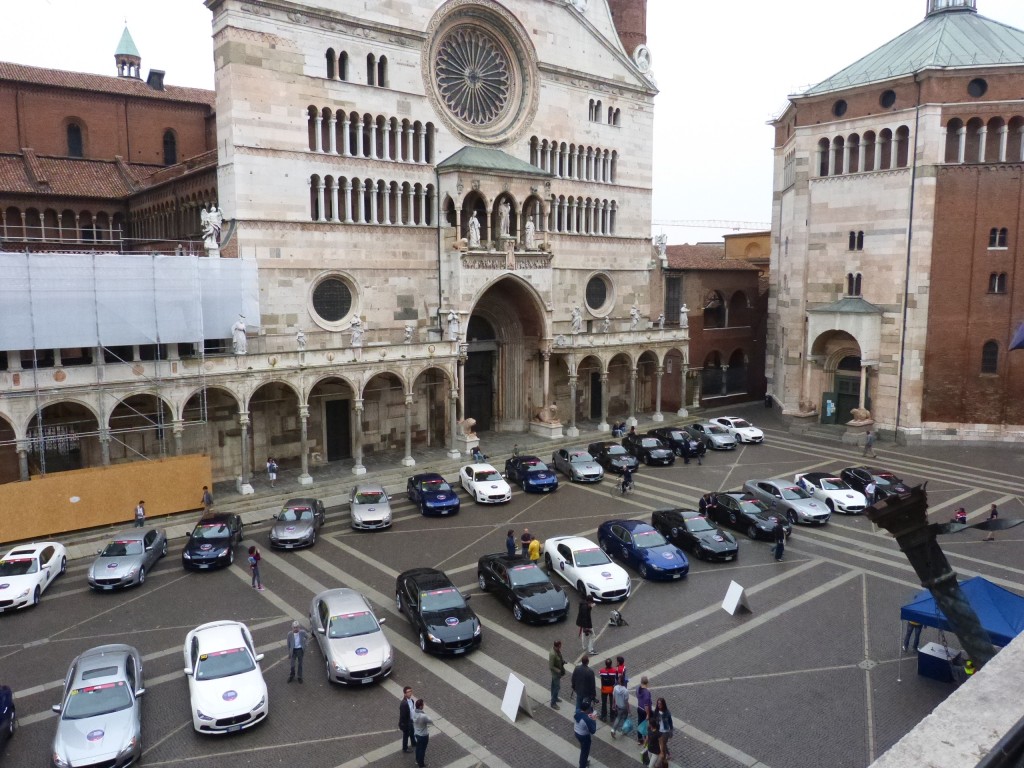 On to Cremona, which like Modena and Turin is also home to elegant squares and piazzas, perfect places for classic car shows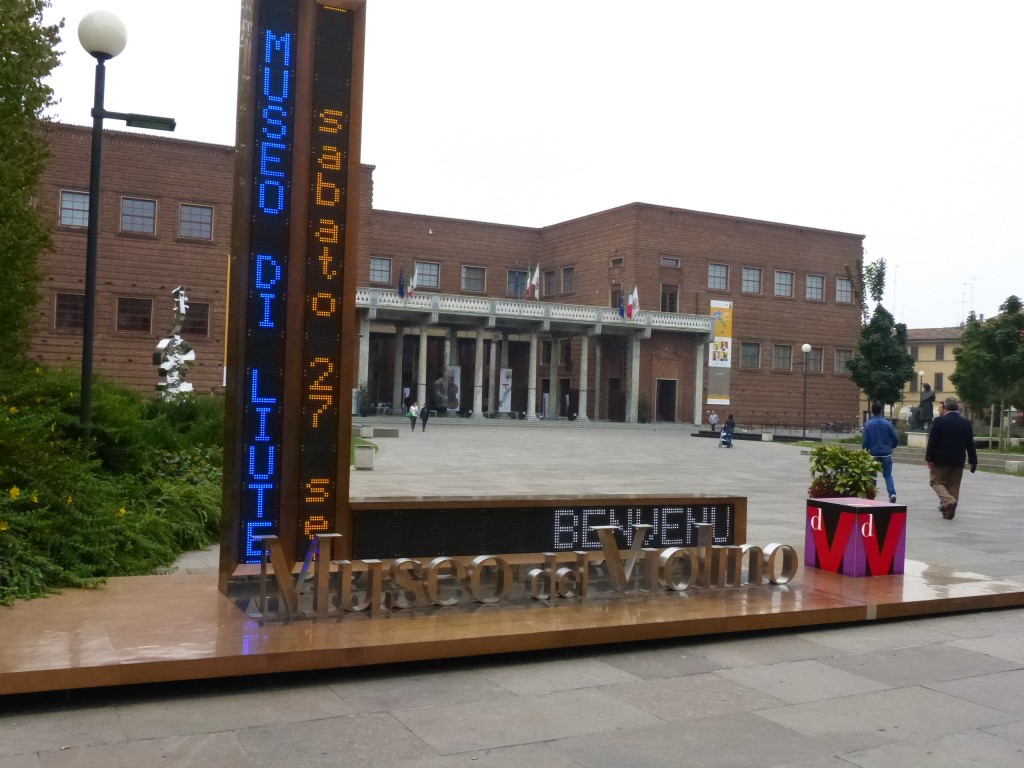 Cremona's Museum of the Violins has only been open in this location for about a year, the building sitting previously unused and now thoroughly remodeled for this purpose.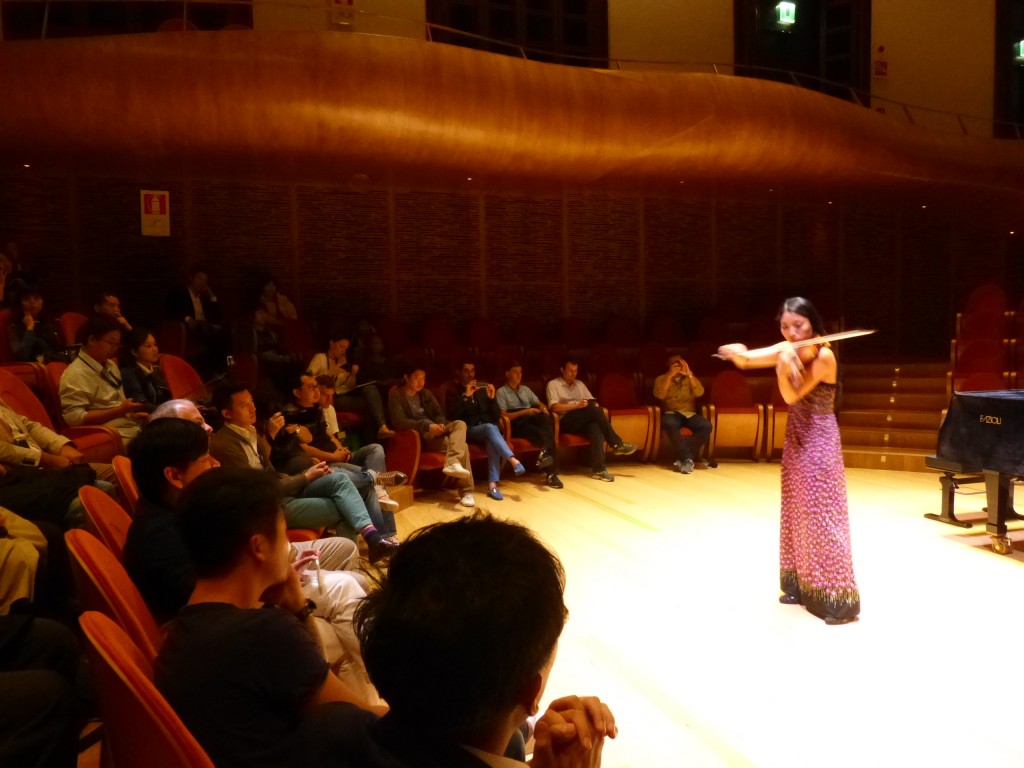 Most of the Violin Museum's auditorium is finished in wood which enhances its acoustic properties specifically to benefit string performances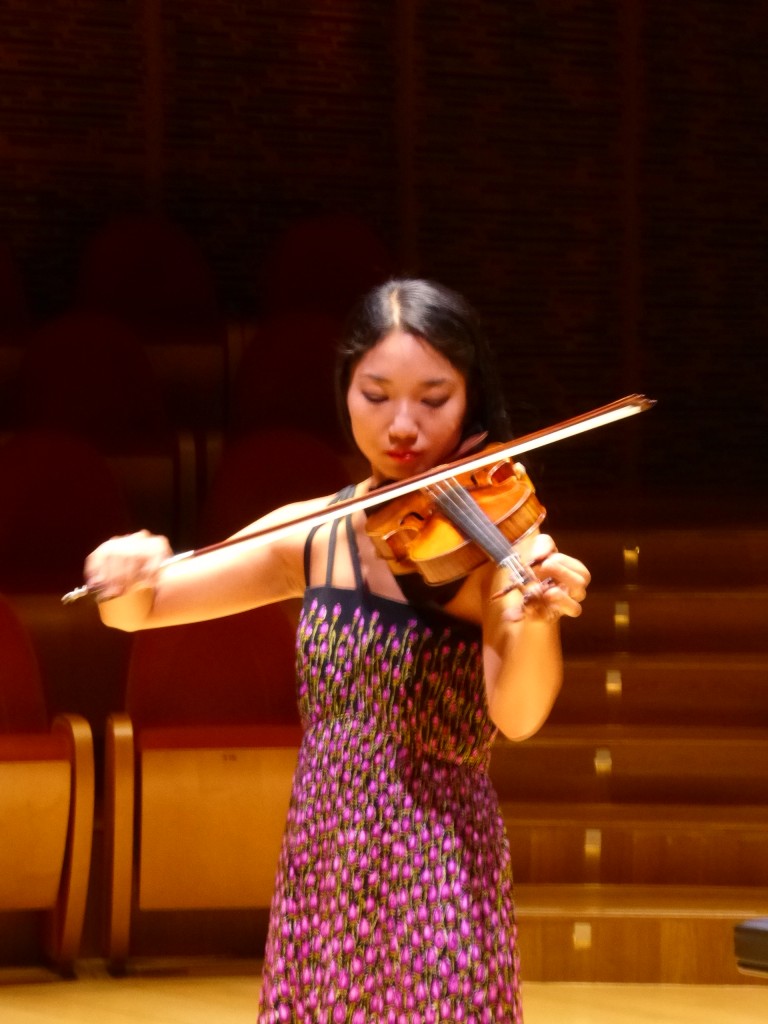 This amazing Asian violinist held the small crowd rapt with her haunting beauty and stunning musical virtuosity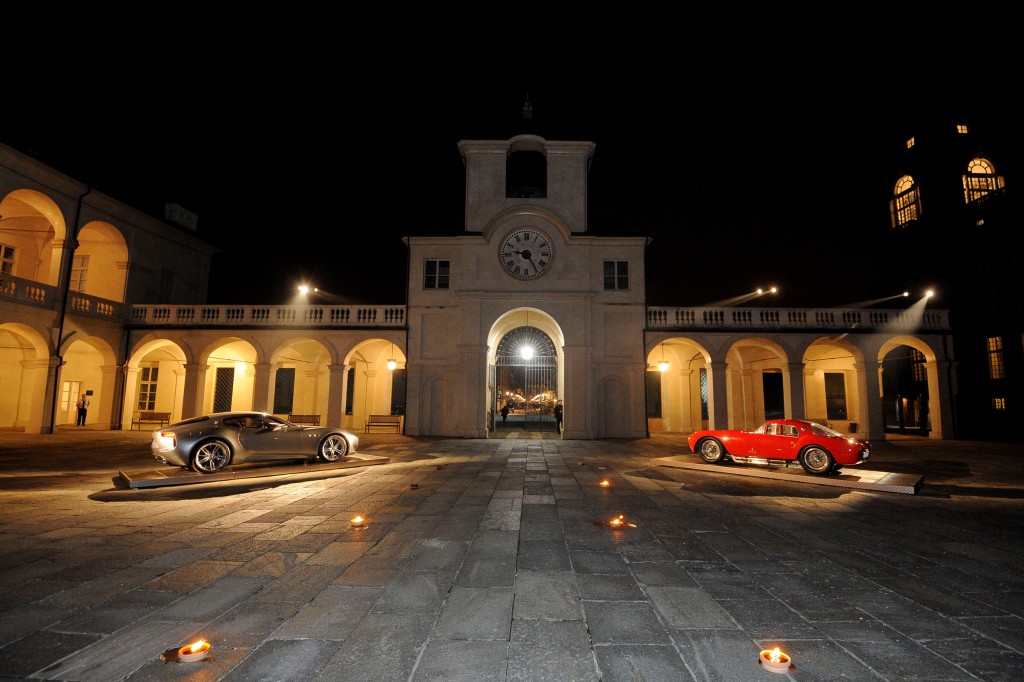 The breathtaking Reggia di Venaria Reale in Turin; the perfect place for the event's black tie reception and dinner; the cars are the Maserati Alfieri concept, left, and a Pininfarina bodied Maserati competizione coupe from the 1950s.  We expected a tuxedoed James Bond to arrive at any moment.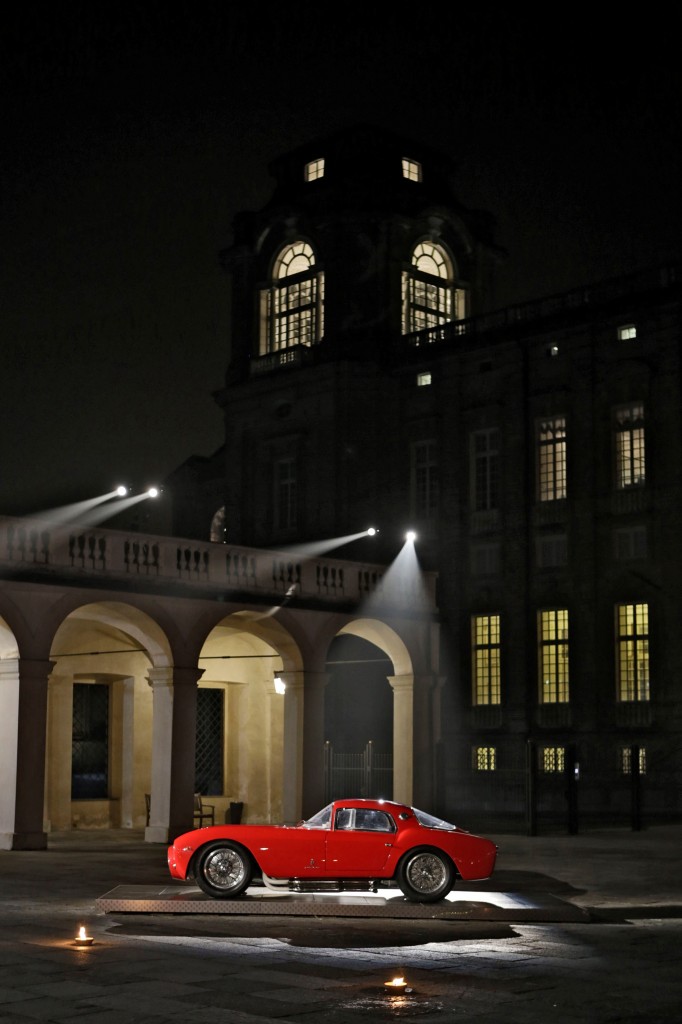 the venue, cars, lighting, and mood all particularly dramatic.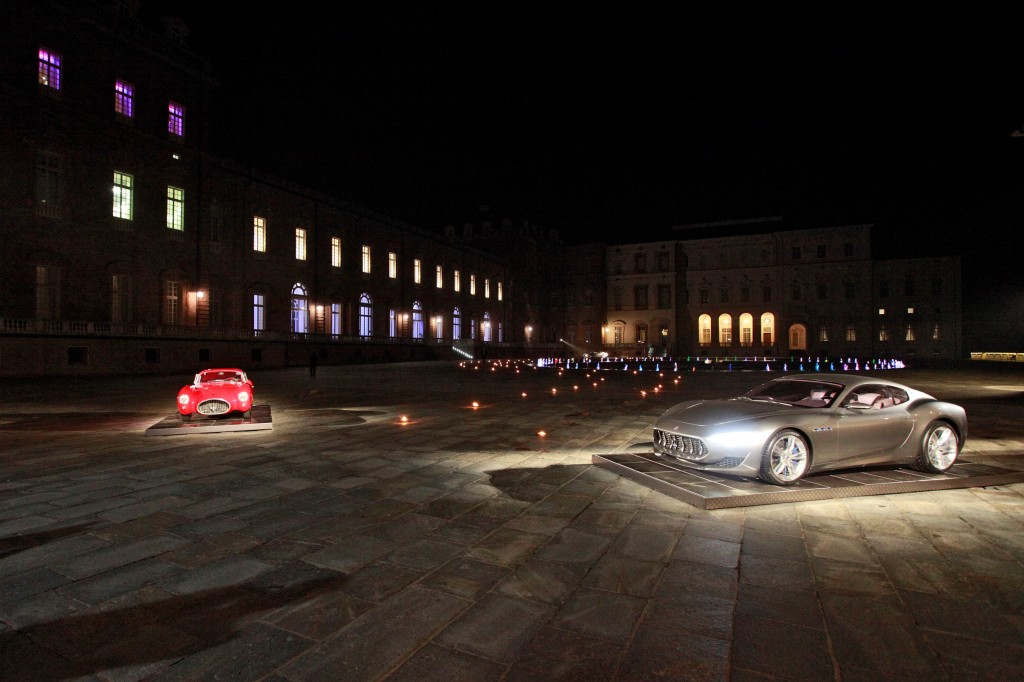 Another angle of the Reggia di Venaria Reale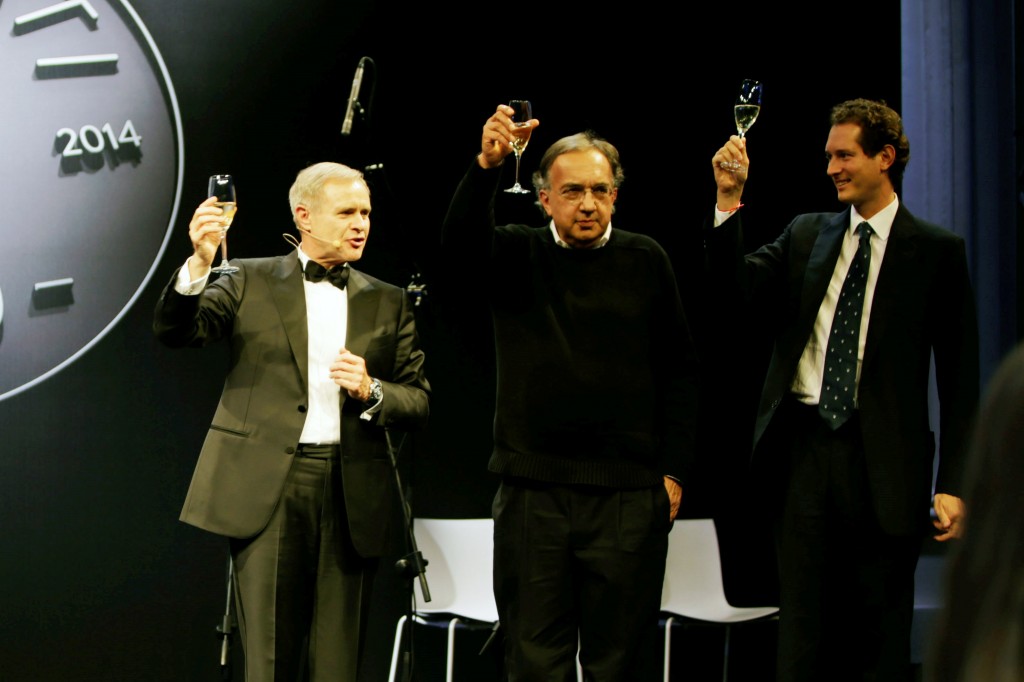 Salute Maserati!  Major players in the Maserati script; company CEO Harald Wester, Fiat Chrysler group CEO and now Ferrari Chairman Sergio Marchionne, and Fiat Chairman John Elkann