I'm no sage when it comes to investments or trends, but have been saying and writing for some years now that certain Japanese cars, from a classic and collector car standpoint, would become A Thing. And they certainly have.
Here in Southern California (where else) there is, and has been for some while, a special collector car show just for them. The JCCS for more than a decade now has become the stuff of  Japanese automotive legend, and while offshoots are springing up around the world, this is the best and original execution of the concept.  From tuners to museum pieces, nearly all the hits were here on September 23, 2017.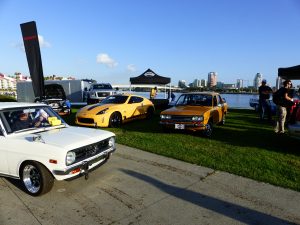 The left side of Nissan's booth paired old and new, and backed up to the bay — so call it "Vroom with a View."
My friends at #Nissan invited me to join them at the 2017 JCCS show to meet the folks who manage their heritage fleet of special cars, see the same, and enjoy a great day in the sunshine, at the beach, and a wonderfully enthusiastic car show dedicated to just about anything with a motor and wheels from the Land of The Rising Sun. And it was spectacular.
The show was held in Long Beach, in a park adjacent to the Queen Mary, not at all far from where some large number of the show participant cars likely entered the US, via the Port of Long Beach.
Nissan employed the occassion to show off the all very new for 2018 Nissan Leaf, which is modestly larger, roomier and better equipped than the first gen Leaf; the new car is also more handsome to my eye, looking a little bit less like the charming snail design that somewhat defined the original. Stay tuned for a drive report on the 2018 as soon as I can get into one.
JCCS is a lot of what you might expect, and a ton of what you don't. When you think of classic Japanese branded cars, you likely think of Datsun 240Zs, Datsun 510s, 2000 and 1600 roadsters, Miatas, RX-7s, and a pantheon of Hondas. They were there to be sure. And on top of that, a wide variety of other wonderful seldom seen stuff like JDM market Skylines, quirky Subarus, Hondas I've never seen or heard of, rotary powered compact pickups, and some wonderful scooters and motorcycles.
Nissan, Mazda, Honda and others supported the show as official sponsors. Disappointments? Not many, or I should say really just one — the sinewy Toyota 2000 GT, for some the seminal and original collectible Japanese sports car (remember it in the 007 flick "You Only Live Twice?") was notably absent. Of course they are rare and expensive, but there are a few around, and not a single example at this show this year. Bummer. But an immaculate Nissan Pulsar Sportback!?!? Yeah, we got that.
Lots of photos below, and please enjoy….