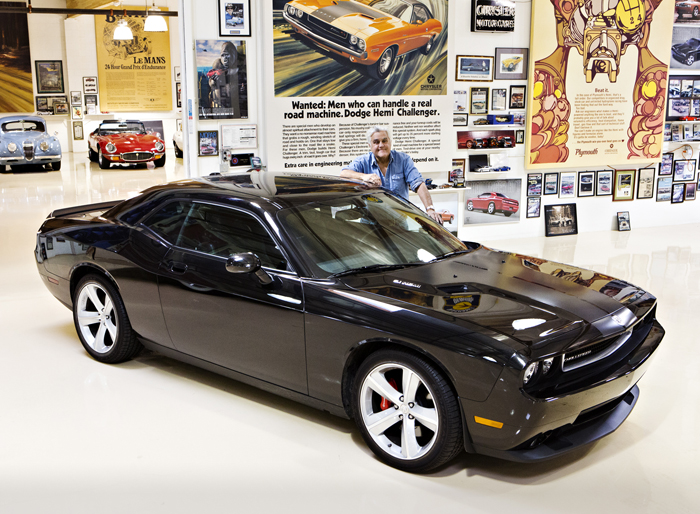 Jay Leno buys a lot of cars, and has a massive and fabulous collection of them, in the most fabulous block of warehouse garages and shops you'll ever see.  Yet he never sells any off. On rare occasion, he's been known to donate them to be sold for real and worthy charity causes. And I thought you might be interested in reading about this announcement from my friends at Gooding & Company auction house. I've seen this SRT8 and its absolutely like new. He's already got a new 700+ horsepower Challenger Hellcat, so why would he need this "old" 2008 Hemi SRT8 laying around. I'd love to have it, but probably can't afford it. No matter, it'll sell to a lucky owner and for a good cause. From my friends at Gooding & Company...
The early production Challenger will be presented at the auction house's annual
Scottsdale Auctions on Saturday, January 17
SANTA MONICA, Calif. (January 8, 2014) – Gooding & Company, the auction house acclaimed for selling the world's most significant and valuable collector cars, is privileged to announce that USO CEO & President J.D. Crouch II, 36th Chief of Staff of the U.S. Army and USO Board Member General George Casey, along with Hollywood's champion of car collecting and long-time USO supporter Jay Leno, will present the comedian's 2008 Dodge Challenger SRT8 at Gooding & Company's Scottsdale Auctions on Saturday, January 17.
The celebrated comedian has generously pledged that the proceeds from his Challenger, donated to the USO, will support the work of the USO and its longstanding mission of lifting the spirits of forward-deployed troops, military families, wounded warriors, troops in transition, and families of the fallen.
This special presentation of a true American original, paired with the always entertaining commentary by Leno, provides an exciting way to support his commitment to America's troops and military families, and raise awareness of the USO.
Jay Leno's 2008 Dodge Challenger SRT8, Estimate: $50,000 – $80,000
Image copyright and courtesy of Gooding & Company. Photo by Brian Henniker
"I rarely sell any of my vehicles in my personal collection unless it's for something as important as the USO," proclaimed comedian Jay Leno.
"We are honored to have a part in supporting Jay and the USO's commitment to bringing joy to so many service members and their families," says President and Founder, David Gooding. "Together, with the presence of J.D. Crouch II and General George Casey from the USO, we hope the Challenger will yield a tremendous contribution to support for troops and families. We are very happy to help support such a wonderful and positive cause."
"We are honored to have Jay Leno, a long-time supporter of our nation's troops and a dear friend of the USO, help us further our mission," says J.D. Crouch II, USO CEO & President. "This extraordinary gesture shows his genuine appreciation for everything they do for us at home and abroad. The USO thanks Mr. Leno and Gooding & Company, and knows this pledge will make many troops and military families' futures brighter."
Jay Leno's 2008 Dodge Challenger SRT8
The iconic Dodge Challenger of 1970–1974 was the inspiration behind the 2006 Detroit Auto Show concept car that created a firestorm of demand, making the new-generation Challenger a production reality by 2008. The new generation Challenger marks an eye-catching design and engineering tour de force with stunning performance, readied with 425 HP, a 6.1-Liter V-8 engine, 425 BHP at 6,200 RPM and a five-speed Autostick transmission and has recently been fitted with a new set of continental tires. The entire US production run of 6,400 cars was pre-sold to America's premier car collectors, including this Challenger, owned from new by entertainment icon Jay Leno. In addition to top-level specifications equipped on all first-year Challengers, Mr. Leno personally selected the striking black color and supplementary options on this bespoke example that will be presented at auction on Saturday, January 17.
**Images for the 2008 Dodge Challenger SRT8 can be found via the link below. Images copyright and courtesy of Gooding & Company, Photos by Brian Henniker.
https://www.dropbox.com/sh/l19lqtjh7ujwkza/AABQ5E5iT73t0yofnoIZj2hJa?dl=0
About Gooding & Company
Gooding & Company, internationally celebrated for its world-class automotive auctions producing record-breaking results, provides unparalleled service in the collector car market, offering a wide range of services including private and estate sales, appraisals, and collection management. This year we will present The Scottsdale Auctions on January 16 and 17, 2015, the Amelia Island Auction on March 13, 2015 and as the official auction house of the Pebble Beach Concours d'Elegance®, our premier Pebble Beach Auctions on August 15 and 16, 2015. Preceding each auction, a complete catalogue is made available online at www.goodingco.com and the sale is broadcasted live on our website. For additional vehicle information and up-to-the-minute results, follow Gooding & Company on Facebook and Twitter @GoodingCompany
About the USO
The USO lifts the spirits of America's troops and their families millions of times each year at hundreds of places worldwide. We provide a touch of home through centers at airports and military bases in the U.S. and abroad, top quality entertainment and innovative programs and services. We also provide critical support to those who need us most, including forward-deployed troops, military families, wounded warriors, troops in transition and families of the fallen. The USO is a private, non-profit organization, not a government agency. Our programs and services are made possible by the American people, support of our corporate partners and the dedication of our volunteers and staff. To join us in this important mission, and to learn more about the USO, please visit uso.org.
The Scottsdale Auctions
Date(s): Friday, January 16 at 11:00am and Saturday, January 17 at 11:00am
Location: Scottsdale Fashion Square, 4700 N. Scottsdale Road, Scottsdale, AZ 85251
Public preview: January 14-17
Auctions catalogues: $100, includes admission for two to the viewing and the auctions
General admission: $40, includes admission for one to the viewing and the auctions
Live auction broadcast: www.goodingco.com
Facebook: www.facebook.com/GoodingCompany
Twitter: @GoodingCompany
RSS: www.goodingco.com/rss.xml