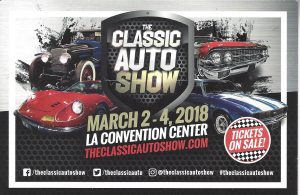 I went to this show last year, and its absolutely the kernal of something very good, and could grow into a real thing. Think of it as LA's version of Retromobile indoor classic car show and event. — MS
Iconic automotive celebrities to headline the largest classic car gathering of its kind at the Los Angeles Convention Center on March 2-4, 2018
Los Angeles (January 2018) – Comedian and car enthusiast Jay Leno will lead an extensive list of celebrities who will make special appearances at the second annual Classic Auto Show (CAS) in Los Angeles, March 2-4. The former "Tonight Show" host will meet with fans and sign autographs at the show's Celebrity Stage on Sunday, March 4th. Other automotive icons and TV stars attending the show range from Magnus Walker, Chip Foose, Wayne Carini, Dave Kindig and more.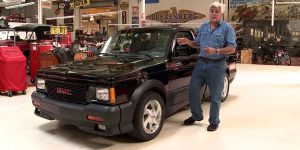 Known for both his decades-long run as the king of late night as well as his world-renown collection of classic cars, Jay Leno will make his first appearance at the Classic Auto Show to chat onstage about the collector car hobby. Currently hosting "Jay Leno's Garage" on both CNBC and online, Leno will also meet fans and sign autographs in the Jay Leno's Garage Advanced Vehicle Care booth at the show, where his new line of car care products will be available to the public.
"Wheeler Dealers" host Mike Brewer returns and will be this year's official master of ceremonies. Making their first appearances at CAS is legendary car designer Steve Moal, the show's grand marshal. Both Mike and Steve will speak at the show and be available for autographs. Preeminent automotive appraiser and frequent "Jay Leno's Garage" guest Donald Osborne will attend the event and talk to attendees about vehicle valuation and collecting.
Also making their CAS debut will be Porsche customizer and "Urban Outlaw" Magnus Walker; host of "Stacey David's Gearz" Stacey David, "My Classic Car" host Stacey David, "All Girls Garage" hosts Bogi Lateiner and Rachel DeBarros, Kevin Mack and Mike "Horny Mike" Henry of "Count's Kustoms" and "Counting Cars," and professional wrestling champion and automobile aficionado Bill Goldberg.
Returning to the show will be renowned car designer Chip Foose, Dave Kindig host of "Bitchin' Rides," and Wayne Carini host of "Chasing Classic Cars." Throughout the show, these celebrities will meet with fans, share stories, provide exclusive insights on how their programs are produced and offer expert advice on restoration and motoring.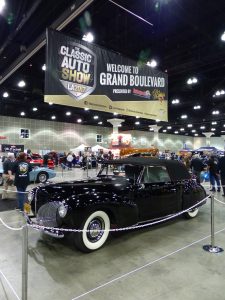 "Having so many of today's most respected automotive personalities under one roof is truly remarkable," said Michael Carlucci, senior vice president at Clarion UX, the show's producer. "Our goal is to create an unforgettable experience for attendees and with these stars onboard, we've done just that."
Tickets for the 2018 Classic Auto Show are $20 with promo code LAPR or $30 at the box office. For more information or to purchase tickets, please visit www.TheClassicAutoShow.com.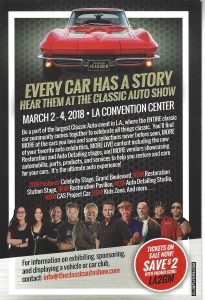 The Classic Auto Show is supported by event sponsors Hagerty, Intercity Lines, Inc., Meguiar's, ClassicCars.com and media sponsors Hemmings Motor News, Velocity, Petersen Automotive Museum, Rev'n, Old Cars Weekly, Auto Round-Up, Southern California Newspaper Group, and KTLA, among others.