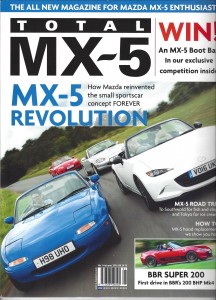 Like Miatas? Then you'll be happy about the launch of an excellent new magazine about the world's now best selling sports car.
I'm pleased to be Total MX-5's North American Editorial Correspondent, and this new mag is published by CHP Limited, a damn fine specialty magazine publishing house located near London. They also produce 911 & PorscheWorld, for whom I'm also honored to work, plus Classic Porsche, a VW magazine and a Japanese classic and hi-po mag. High quality people, high quality stuff.
Total MX-5 is published quarterly in a tallish trim format, on high quality paper with a nice mix of editorials, interviews, history, features, tests, tuner stuff and tech.
If you own or are at all interested in the Miata, I hope you'll subscribe, which you can do, or keep an eye out at your newsstand. This first issue is just out, and feeding into the distribution channels. You won't find it at your grocery or drug store but good newsstands will carry it.
Learn more at www.totalmx-5.com