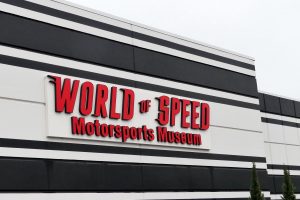 Words and photos by Kirk Gerbracht
Double-click on any image to view it full screen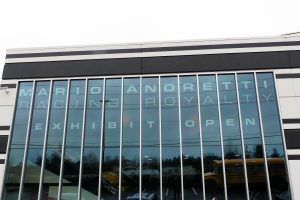 No doubt there are hundreds of automobile museums across the country, and many times visiting one is the sole purpose for our adventure down the highway.  But occasionally our travels take us where we least expect to find an auto museum – especially a great one.  Such was the case on a recent road trip from Southern Oregon to Puget Sound, Washington.  On the interstate, just south of Portland, I saw the World of Speed Motorsports Museum.  I had never heard of it, and wasn't sure if I should take the detour to check it out.  But as I passed there was a huge sign in the windows that read, "Mario Andretti – Racing Royalty," and my car was – as if on its own — heading down the offramp.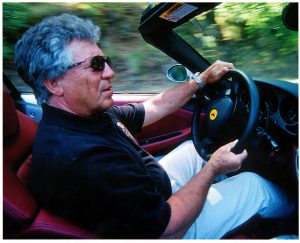 I will just say it up front; the World of Speed is fabulous.  Just four-years old, it's a first-rate facility and collection.  It focuses on several types of racing, with areas for permanent exhibits and of course rotating feature exhibits.  There are displays and racing cars representative of NASCAR, open-wheel racing, Indy car racing, drag racing, land speed racing, and motorcycle racing.  Just weeks before my visit, the museum had concluded a feature exhibit celebrating the 55 years of the Porsche 911.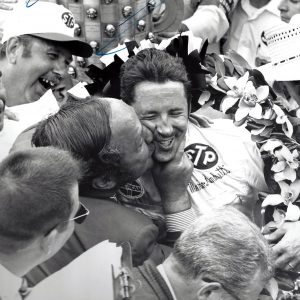 Mario Andretti participated, and often dominated, in many different types of racing – and is the living definition of Been There, Won That – often dubbed Mr. Versatile.  Throughout his five decades long and great career, he always just loved his driving, and wanted to race and win in any seat he could get himself into – about 11 types in all, and there are cars in the exhibit that are representative of each.  Included is a film of interviews with the racing Andrettis; Mario, twin brother Aldo, son Michael and grandson Marco.  For an opportunity to meet Mario Andretti in August, visit the World of Speed website for a schedule of VIP events with him in attendance.  Also, currently on display with the Mario Andretti exhibit is a tribute to Andy Granatelli – Mario's 1969 Indy-winning team owner, Harley Davidson motorcycles, and Women in Racing.  A particularly unique display is 4 legendary NASCAR cars displayed on a wall banked at 31 degrees like the original Daytona speedway.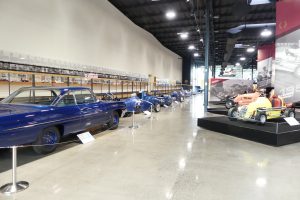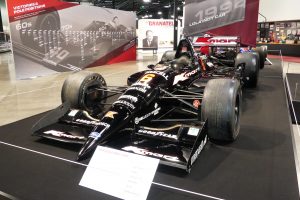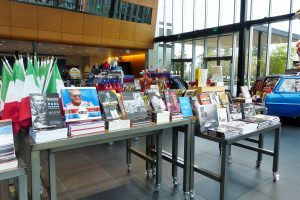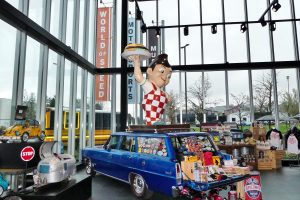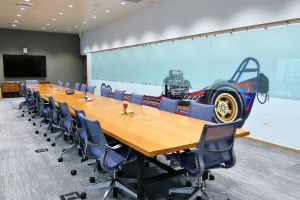 The property is large, spacious, and modern, and has it all – a book/gift store, café, driving simulators, meeting and event space, a learning center with a full shop including numerous lifts, tools, and electronics that support automotive education classes for the local community college and high schools.  The museum hosts a weekly cars-and-coffee, family events, and a special area for kids with a story time.  The fact that World of Speed could assemble a high quality exhibit built around, and events including, Mario the Great, tells you that the place has cred and quality.  This museum is a must see for the auto enthusiast visiting anywhere in the Pacific Northwest.
PS…please join me in welcoming Mario Andretti to the World of Speed Museum during a pair of events taking place at the  museum August 29 and 30, 2019.  I will host a special fireside chat VIP night with Mario on the 29th, and he'll be back for a more casual visit with fans and friends the next day.  It'll all be posted to the museum's website soon enough, so keep tabs on these events at www.worldofspeed.org — I hope to meet you there — MS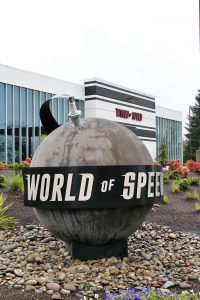 World of Speed Motorsports Museum
27490 SW 95th Ave., Wilsonville, OR 97070
503-563-6444