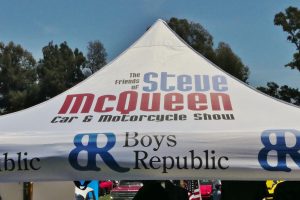 Photography by Kirk Gerbracht
J Mays, a now-retired vice president of global design for Ford, once told us that "nobody has ever done more for the Mustang's legacy or development, than Carroll Shelby and Steve McQueen." Carroll's impact needs no further introduction here, and McQueen's comes down to one word: Bullitt.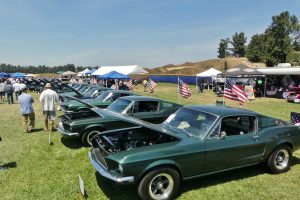 That rumbling, grumbling Highland Green Metallic '68 390 Mustang GT 2+2 Fastback, as it flew through — and often above – the streets of San Francisco, cast a die that is forever indelible. When the bets are laid down and the votes taken, that just-under 10 minutes of movie chase scene magic still ranks as the best and most authentic ever put to film.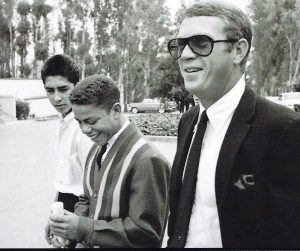 What you may not know about that iconic deeply blue-eyed, blonde-haired sex symbol actor is that he was all but an orphan, and at best a troubled youth. It seems as if the Boys Republic School in Chino Hills, California, was made just for McQueen. His young single mother, after years of schlepping him around the country trying to raise him and then sending him to live with an uncle, ultimately brought him to the school for wayward kids' door. She asked if they could help, and all bet challenged them to "see if you can do anything with him."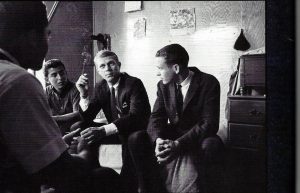 The school, originally only for boys, was home to Steve for his senior year of high school, and teaches teamwork, brotherhood, a variety of vocational skills, farming and animal husbandry, with its watchword being "No Success Without Labor." In other words, for the privilege of room, board, support and an education, Boys Republic is a most worthy spot for kids that have, for one reason or another, washed out of the foster care system, adoption, or life – and sometimes death — on the street.
McQueen bucked-up and worked hard, successfully graduating from Boys Republic with a diploma, prior to joining the military. He much credited the school for "saving his life" and financially supported the school for the rest of his own. He often visited just to meet the kids, talk about their lives at school, shoot some pool, play cards, and encouraging them always to "look out for each other," as well as to make something of themselves when they graduated.
It is to this end that the school holds an annual car and motorcycle show weekend in his honor and memory for McQueen's contributions, and use the event as a major fundraiser. The show began a decade ago, in rather humble ways, with about 75 or so cars, and now has grown exponentially in size. It's a run-what-you-brung kind of event, with a class or category for everything from rat rods to concours-quality hardware. Naturally, that includes lots of Fords and Mustangs, with so many of the latter being painted Highland Green Metallic, including many 1968 Bullitt "tribute" clones, plus 2001 Bullitt-edition Mustangs, and plenty of the 2008-2009 Bullitt cars.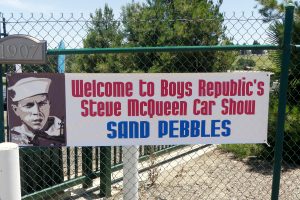 Each year's event celebrates one of McQueen's great films, this year's theme being built around his 1966 early 20's-era war movie called The Sand Pebbles. McQueen plays an engine specialist charged with keeping the gun boat's big motors running; although he never drives a car or motorcycle in this film, it was a fine, heartfelt performance that earned Steve McQueen his only ever Academy Award Best Actor nomination.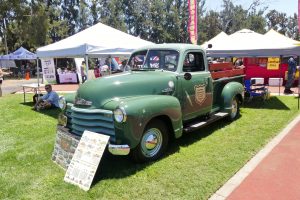 The rambling school campus has a large track area, which holds several hundred cars, plus an adjoining baseball field with room for many more; this year it was awash in color of all kinds — Fords, Lincolns, Mercurys, Mustangs, hot rods, Model As, Porsches, plus a deep and historic display of vintage motorcycles. And oh, that's not to mention a charming roster of old Airstream and other travel trailers, a few airplanes, and more than a few 1960's and '70's style vans, complete with mag wheels, sidepipes, porthole windows and more than a few yards of shag carpeting. Yeozah!
The show is assembled and executed by a committee of volunteers, sponsors and Boys Republic staff, among them Steve's only son, Chad – himself quite the motorhead, and a previously successful road racer. Each year, Chad and his family graciously stroll the show field and meet and greet the crowd all day, autographing more than a few cars and smiling for the inevitable selfies. Chad McQueen is acutely aware of his father's amazing legacy, and works tirelessly to maintain Steve's heritage and authenticity, and to support the school that had meant so much to him.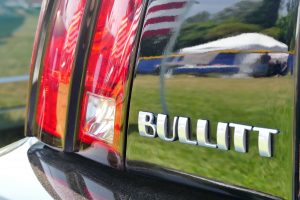 Next year will mark the 50th anniversary since the 1968 making and release of Bullitt, so that's already been announced as the 2018 show theme – expect this year's 300-plus car count to increase by many more, and the place to be swimming in Highland Green Metallic. Keep tabs and learn more at www.boysrepublic.com and www.stevemcqueencarshow.com.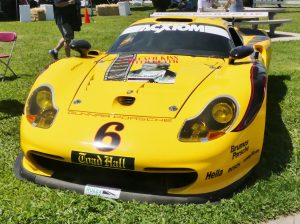 Chad McQueen raced this Porsche GT1 with the late Milt Minter.