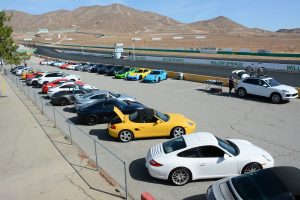 Please doubleclick on any photo to see it high res and full screen
It's not uncommon for a car dealership to host a client/customer "appreciation"event; these fetes are often cocktail style gatherings at the dealership, or a similar gathering to introduce a new vehicle model.  Sometimes these gigs also include short test drives.  It's all in the name of good marketing and customer relations.
In as much as Downtown LA (DTLA) Motors Porsche has become among the top Porsche dealers in the country, it's no surprise that when it's time to rally its clientele DTLA goes big.  As in, renting out the whole of Willow Springs Raceway, in Rosamond, California, and inviting its customer base to bring out their cars and spend the day on track, racing their toys.
Racing is somewhat the wrong word, as there isn't any wheel to wheel competition (which is in fact not allowed), or racing for position or prizes; it's a track day, in this case, one of all Porsches, and DTLA Motors picked up the tab.  The program included a driver's meeting and chalk talk, then a low speed, "stopping, and walking tour of the track" to discuss the nuance of every corner, plus the availability of Willow's own track instructors for those with less (or no) track experience, and to assist others who want to sharpen their skills.  Plus a wonderfully catered lunch, some impressive giveaways, and 1984 IMSA racing champion driver Randy Lanier also on hand to enjoy the day, experience the cars, and also do some driver coaching.
It was clear that the level of driver experience varied considerably; some owners showed up in full Nomex racing suits, while others needed to borrow a helmet.  Two women in particular were very excited to get on track with their new Macan, commenting that "we know this thing has performance, and now we can really let if off the chain without worrying about a speeding ticket."  Perfect: that is exactly what days like this are for.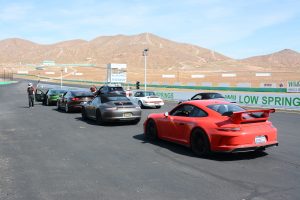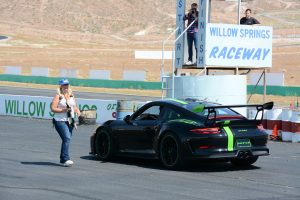 The quality and variety of cars on hand was impressive; most of the cars were of the newer watercooled variety, including big banger GT2s, GT2RSs, GT3s, Turbos, and all the current heavy duty Porsche artillery.  Plus numerous Caymans, and a few more humble 914s; the oldest cars out on the day.  There were only a handful of early air cooled 911s, the oldest being a 964 model from the early 1990s, and no 356s; the majority of the crowd clearly being recent and current DTLA Porsche customers out to stretch the legs of their new Porsche acquisitions.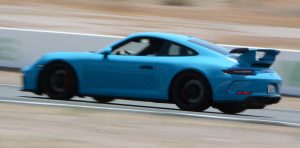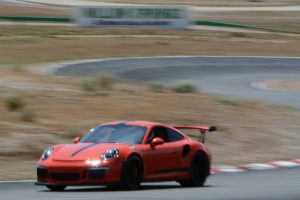 It was a good day, with the proverbial good time had by all; there may have been the assorted mechanical issues, but everyone kept their cars on the track, with the tires-side down and shiny sides up.  Props to DTLA Porsche for going all out for its customers, and to this owner group, from wanting to drive their cars as they were meant to be enjoyed.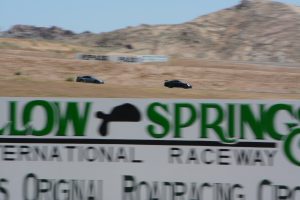 Downtown LA Motors Porsche
1900 S Figueroa St, Los Angeles, CA 90007
(213) 536-4354