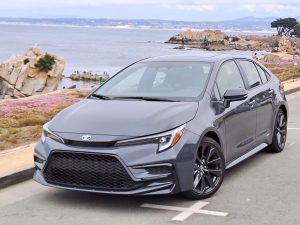 (Click on any image to see it full screen in high res)
Toyota introduced its (and nearly everyone else's) foray into the hybrid car world with the original Prius, and for some years, the only way you could get Toyota's innovative regenerative hybrid powertrain system was installed in a Prius.  As model years rolled along, Toyota introduced a variety of Hybrid models, including the RAV/4, Highlander, Camry, and most recently the compact Corolla, among the top selling automotive brand names in the world  And why not: the Corolla model lineup has been expanded, and substantially upgraded in terms of quality and features, the standard Corolla conventional "trunked" sedan is still a very strong seller in what some see as an increasingly SUV world.
IMHO, my Dark Gray over black tester was ideally equipped the way I would buy this car, and also the way I believe you would most enjoy it (see window sticker below) which affords a sweet balance between fun to drive practicality, smart packaging, and outstanding fuel economy (hey its OK to have fun driving and save some gas — proving these two notions are not mutually exclusive).  It doesn't quite match the mileage offered by some plug-in-hybrids, but its less costly to buy with no external charging ever needed).  The "regen" Hybrid powertrain (meaning it charges its own battery pack as you drive — with no plug-in or range anxiety involved).  The gas engine is Toyota's somewhat legendary 1.8-liter I-4 aided and abetted by Toyota's Integrated Motor Assist Hybrid power system.  Toyota rates the engine at 138 horsepower but it feels much punchier than that; thank the electric motor assist for that extra squirt of torque.  The only transmission offered (or needed) is an electronically managed Continuously Variable Automatic (CVT).
I'm seldom a fan of CVTs, as many among them always seem to be winding up and down the rev range or "motorboating" looking for the optimization of engine power and efficiency.  Not so this one – it's really smart, although it doesn't have traditional gears, it still works with the power unit (engine plus hybrid motor) beautifully to provide optimum power and fuel economy, without annoying "rubber band revving" as others often do.  Stick your toe in it and the trans smartly manages the engine and electric motor to give worthy throttle response, surprising power, especially for onramps, passing, or coming out of an apex.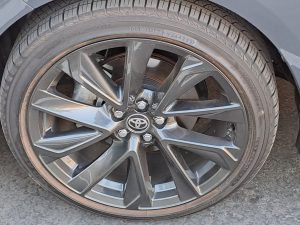 This tester also had variable all-wheel drive, which translates into a nicely neutral handling attitude, as opposed to the plowing understeer in so many front-drive compacts on smaller tires.  The rest of the Sport Equipment includes Sport Suspension tuning, attractive and racy 18-inch alloy wheels and tires, and a sport drive mode which tells the steering and transmission to give you the most responsive settings.  Best new is that all this gear comes at no additional cost when you choose the SE, which is great because several carmakers charge you hard  money for any sport pack that includes any meaningful hardware or performance enhancement.
The rest of the car was well equipped with pretty much standard everything, the two optional higher ticket items being the JBL Premium Audio system, and the SE Premium package, including the power moonroof and other goodies you may or may not want.  Toyota has really invested in the Corolla's styling and interior quality and fitments; its far above and beyond any notion you may have had as the Corolla being the "cheap Toyota."
On the road, the SE Hybrid is a gem to drive; its a superb commuter, comfortable, responsive, and easy to drive.  Also a very happy freeway runner, which easily meets or exceeds its EPA 47/41/44 MPG rating.  And it's downright fun in the corners.  The steering is crisp, sharp, and responsive in your hands, reasonably feelsome with adequate feedback.  And this little guy corners flat too; the handsome 18-inch rolling stock really sharpen up the handling, grip and response.  Tire noise and road rumble are minimal, although these tires were relatively fresh — I'm sure after 25000 miles they'd be noisier.  This car also has a large, eye level screen with all the usual connectivity, and the expected passive and active safety gear is all in place.
There's also an outstanding value message here; this SE AWD model bases for $26,600 and my tester, as well equipped, totaled at $30,388.  I don't know where you'd get a better, comparably equipped Hybrid Sport Edition anything for that money.  There's no such thing as a perfect car, but honestly, I can't find anything meaningful to call this car out for, or complain about.  It just a smart, fun, well-thought-out compact sedan that does everything well.
Were I in the market for just such a car, I'd buy it without hesitation (or put either of my 35 year old daughters into it as a daily driver) as its beautifully built and finished, a blast to drive, delivers on its fuel economy promise, plus crushes it with a strong value proposition.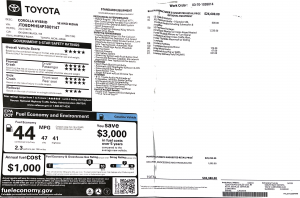 click to open full screen