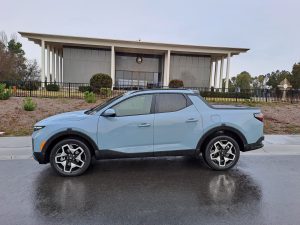 (Click on any photo to see it full screen in high res)
I have for years been berating carmakers for inflating the compact pickup market into extinction.  As most American brand pickup trucks got "longer, lower, wider" heavier, less fuel efficient, more expensive, and less easy to tool around town in — not that they aren't great tools to do often heavy duty jobs; I love American full-sized pickups and have owned a bunch of them myself — the market quickly proved that there was legit use and demand for "mini-trucks" as they came to be called.  You remember; the original Datsun and Toyota pickups, the Ford Courier (and original Ranger) and Chevy LUV,  Mitsubishis, plus later the still compact GM twin S-10 and S-15.  They had just enough truck-worthy capability to serve the needs of many customers, were easy to drive, easy on gas, and inexpensive — often proving a perfect "teen's first car" for around $5000, in some cases less.  In fact, an enthusiast movement grew up around them, with modified, hot rodded, off-roaded mini trucks becoming a meaningful trend, and many of them damned cute and or cool.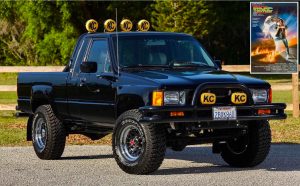 Of course them days are gone.  All the compact pickups became ever larger, more powerful, more expensive, and yes more capable, to the point that they became more legitimately mid-sized pickups, and the notion of the original compact pickup went the way of the T-Rex and Dodo bird.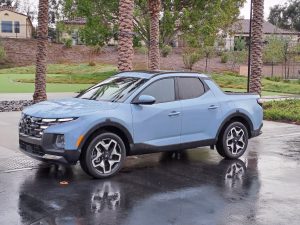 And now all of a sudden, and as I predicted, the notion is making a market driven comeback; Ford started it with the new Maverick, which seems sold out everywhere you look, and now Hyundai with the just out Santa Cruz — even Chevrolet has shown a compact pickup concept headed to market soon — bet they won't have the guts to call it the LUV.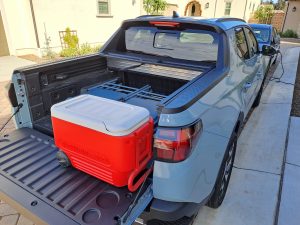 The stylish new Santa Cruz can be thought of conceptually as a four-door, two-row SUV with an open cargo area.  And its just the right size too, smaller than all of today's mid-sized pickups, yet large and efficient enough to have a comfortable, roomy cabin and just enough cargo capacity out back (along with some very clever cargo area management systems) to be useful.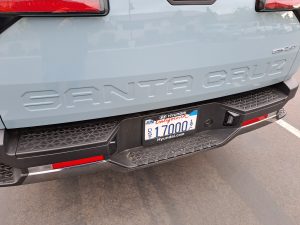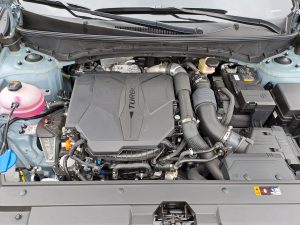 There are five different trim/model levels, offered with or without all-wheel drive.  So far there's two powertrains offered in the 'Cruz, a naturally aspirated 2.5-liter 191 horsepower I4, and a turbocharged version of same, spooling out a meaningful 281 HP.  My tester was a fully loaded Limited AWD model running the turbo motor.  The only transmission served, or needed for that matter, is an 8-speed, dual-clutch manumatic with paddle shifters — its a real efficient manual transmission that's robotically managed (and very smooth shifting), and you can drive it as a straight up automatic, or control it via the paddles.
As you'd expect of a top of range Limited model, my Blue Stone over Black test model was as loaded as loaded can get.  I won't go through all of the differences between the models and trim levels here, as you can check every detail out on Hyndai's configurator online.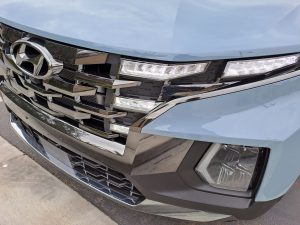 The Santa Cruz drew looks and questions everywhere I drove or parked it.  It's really handsome, wearing the now updated multi-element Hyundai "face" grill and front end design, with neatly integrated and somewhat edgy LED lighting clusters, including neat looking DRL groups on each side of the grill.  The whole cargo bed area design is particularly clever, with a nifty sliding and lockable cargo cover, below deck storage, power ports, and lots of tie down lugs to secure cargo plus LED lighting for the bed area.  Hyundai offers generally "plain box" cargo areas, and lots of  optional cargo management devices if you'd like.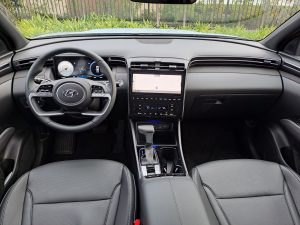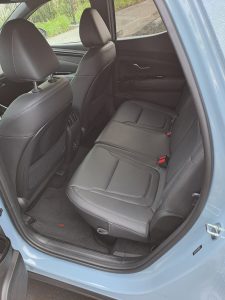 The interior is really of Genesis level quality, design, and materials, if not as fancy.  When seated in the front row, you wouldn't otherwise know that you weren't aboard a well equipped mid-sized luxury SUV.  The controls are bright, clear and logical and the instrumentation and readouts the same.  The center high-mounted infotainment touch-screen is also large, bright and clear, again with the menus and touch options logical.  We'll talk more about some of its innovate and particularly clever functions in a minute.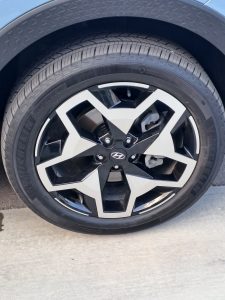 The handsome 20-inch alloy rolling stock gives a sportily beefy look, and some serious grip contributing to a great handling machine, this unit running premium Michelin rubber.  You don't always, or normally, think of dashing your pick up through the twisty corners, but the Santa Cruz is more than up to the job, and really fun in the process.  The vehicle's ride/handling balance is spot on; smooth and generally supple, not at all punishing on roads of marginal surface quality, and responsive steering and suspension with plenty of grip, and negligible bodyroll.  The brakes would stop a locomotive.  The ride is generally quiet and windnoise commendably minimal.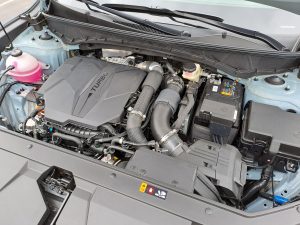 Don't worry for an instant about power — this Turbo 2.5 is a gem of an engine; so much stronger than the turbo 2.0-liters many other carmakers offer.  The slightly larger displacement (2.5 vs. 2.0 liters) gives this engine a bigger shot of low end torque, such as when pulling away from a stop, and by the time turbo spools up adding mid range and upper rpm boost, you've got power all over the place.  And honestly, the transmission is so smart and intuitive, you'll never want for a manual trans, or most likely not need to manage the shifts on the paddles; it upshifts, and downshifts just when you intuitively want or need it to — the control is all in your right toe, which the car reads with clarity.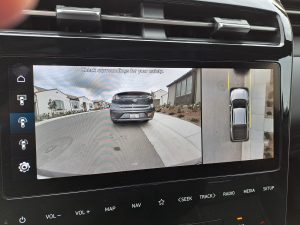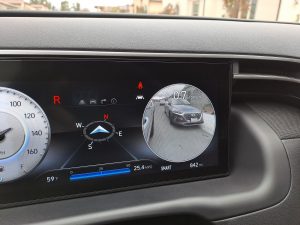 The Santa Cruz is packed with safety features; some of them passive (meaning you don't have to do anything for them to protect you) and active (things that involve you, such as great handling and brakes to help you avoid a collision).  I'm a big fan of blindspot warning systems, and Hyundai's is brilliant.  Not only do you get the lights on the mirrors and beeps, but when you activate a turn signal, a camera pops up in the dash to show you what and how close is anything in either of your blindspots.  Magic.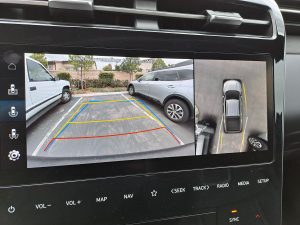 Also, the back up camera guidelines and distance warnings are equally brill.  Plus the virtual birdseye view parking guides are helpful and uber accurate.
Plus on top of all this you get a comfortable, great looking, uber functional, fun to drive TUV (truck utility/vehicle) don't forget Hyundai's industry best warranty coverage, including a meaningful bumper to bumper warranty, roadside assistance, and the now legendary 10 year, 100,000 mile warranty.
Complaints?  Not much to whine about here, although some will gripe that the bed is too small; if you need massive amounts of cargo capacity, buy a Super-Duty.  There are currently no alternative power alternatives; no pure electrics, no hybrid, and no plug in hybrid or diesel.  This models EPA ratings are about what you'd expect for 281 horsepower, tepid but just good enough at 19 around town, 27 highway, and 22 combined.  Considering that Hyundai has so many great alt power offerings, I'm confident that such things are being evaluated for the Santa Cruz's future.
This is a well thought out, superbly designed, high quality, uber fun to drive, terrifically useful, smartly sized rig, and honestly were I in the market for such a thing at the moment (yes I drive an older compact pickup as my daily runner) I'd strongly consider a Santa Cruz and feel good about spending my own money to buy one.  Go for a test drive and see what you think.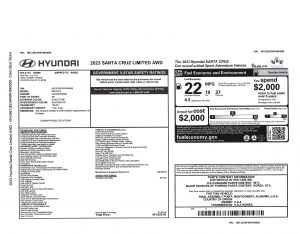 Click on any photo to see it full screen in high res