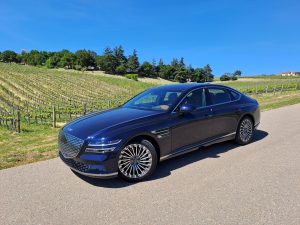 Doubleclick on any image to see it full screen in high res
Other than Ford GTs, and this or that Ferrari or Porsche, I get more questions about EVs than just about any other vehicle right now, so as you've likely noticed from recent posts, I'm working my way through as many of them as I can in terms of evaluation drives and posts.  Hyundai and KIA are going great guns with EV introductions right now, with a pleathora of new and worthwhile products worthy of consideration. So far, TESLA has somewhat commanded the EV full sized luxury sedan space, although Lucid is quickly becoming a player, and you can't for entries from Mercedes-Benz and Porsche.  Plus Jaguar, Volvo, and others have big plans in the EV space, too.
The G80 is Hyundai's entry into the upper middle class luxury sedan market, available with several different gas fueled powertrains.  And now its served as an EV as well.  The Electrified G80 comes pretty much one way — loaded.  You don't choose between rear wheel drive and all-wheel drive, nor are there optional electric motors or hotter batteries.  Nor virtually any other luxury touches you'd wish to opt for — just take a gander at the window sticker at the bottom of this post and you'll see how comprehensively this model comes, right out of the box.
The specs and ratings are generally impressive, although I'm a bit disappointed in the max range estimate of 282 miles on a full charge — there's a bucketload of EVs of all types, size, and prices that offer 300 plus.  Now we all understand that these range estimates are a compromise tradeoff between performance, vehicle weight, batter capacity and cost, but I submit that an eighty thousand dollar EV really ought to have a 300 mile charge range standard.  Beyond that, there's little to gripe about; the all-wheel drive is standard, as are stout electric motors fore and aft.  And look at the level of creature features; in fact the only option on my tester was the special metallic paint color.  Every other bell, button, whistle, infotainment feature or doodad is already there.
Plus it's a great looking luxury machine, inside and out; the interior would pass muster in a Bentley.  the leather is sturdy yet supple, the satin finished wood is genuine and elegant, and everything you see and touch smacks of quality.  The car's roomy, and uber comfortable for 4-5 adults of any size.  The nav would probably get you to Mars, and the audio sounds great.  The G80 EV gives you some choices in how your electricity is spent; you can modulate the level of regenerational brake charging in order to fine tune the performance / range balance just a bit.
The large touch screen is easy to read and modulate, although the console mounted control wheel takes some learning as to what requires a spin of the knob, a "bump" this direction or that, or a push down.  It's no biggie, but it'll take you a trip or two to fully master it. Like most premium EVs these days, the performance is stirring; you hear only the slightest whir from the powertrain, and the big car really moves.  And it handles brilliantly too, with a great ride, plenty of grip, crisp turn-in, and minimal road or wind noise.  0-60 takes only about 5.0 seconds (formerly muscle or exotic car territory).  The EV diagnostics functions lets you keep tabs on miles to go range, charge levels, and helps you find EV charge stations near wherever you're at.
Our day long driving adventure in the G80 EV was estimated at just over 300 mph, so we knew we'd have to charge at least once.  Nothing new, usually not a problem.  But along the trail, we encountered several charging stations that were out of order, including one we'd visited and used before.  This location has 3 different charges of differing speeds and voltages, and we couldn't use one.  Luckily, our destination had some 110V outlets that we could use and plug into during our dinner and other activities, yet of course this "Level 1" household current charging level meant it would take something like 20 hours for a full charge.  We plugged in and hoped for enough charge to get us to a Fast Charging location nearby so an hours charge at 350kW would get us home.  Which we did.  We never had fear of getting stuck for the night, nor of being eaten by canibals, but this is the type of Range Anxiety that scares people about EVs, which I understand.  No matter a little careful searching of the car's built in station locator function got us to a solid spot that had several open bays, and most of the chargers operational, yet a clear reminder that depending upon where you are going, and the range of your vehicle, the current EV infrastructure can still toss up challenges now and again.
Other than that, there's not much to not like about this fabulous car; as noted I'd ask for just a squeege more range, and maybe a more intuitively clear and direct interface for the infotainment system, but everything worked as promised, and the car's a gem of a design, inside and out.  Considering that Lincoln no longer makes conventional sedans or luxury coupes, I several times thought to myself that this is the car Lincoln should offer in compliment to its currently SUVs-only lineup.   It would be great as today's modern Continental; beautiful, luxurious, high quality, high tech, superlative safety package, and a great performer.