When the fourth gen Hyundai Elantra came online in 2006, it played as a strong competitor to the Ford Focus, and several other compact coupes and sedans; in terms of value, standard equipment, and content levels, I felt it bettered the popular Ford in several key areas.
[BTW – You can click on any image to see it high res in full screen]
Well here we are, not so many years later, and the Focus has left our North American shores entirely, while the Elantra is now on its seventh generation remodel, and couldn't be a stronger player in the current compact sedan marketplace, the model line fully fleshed out and competitive.  The styling strongly follows the brand's current design language, taking obvious and excellent inspiration from the popular Sonata; sharing the up-to-date geometric diamond inspired grille and lighting cluster looks with its slightly larger sibling, and also some of the angular chiseled surface detail that made the Sonata finally become such a looker.  The Elantra is today offered only as a conventionally bodied, trunked, four-door sedan (no more coupes or hatches) in four trim levels including the uber sporty turbocharged N-Line, plus a Hybrid.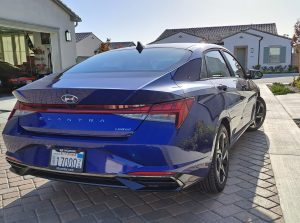 My tester was the — top of the line, among the naturally aspirated, conventional engine models — Limited, which offers a high level of standard content — so high in fact that the only option on this Intense Blue unit was carpeted floor mats.  Otherwise, she comes loaded and ready to roll, including heated, leather trimmed seats and a ton of other content.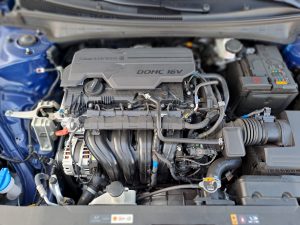 The standard, in fact only powertrain to be found on non Hybrid or N-Line models is Hyundai's absolutely trusty 2.0L I-4 rated at 147 horsepower and 132 pounds-feet of torque, which doesn't sound like a lot, but its absolutely enough for a car this size and weight, backed by a Continuously Variable Ratio Transmission (CVT), which Hyundai in this installation calls Intellegent Variable Transmission.  Also included in this trim level are handsome 17-inch wheels with relatively beefy 225/45-17 tires, power moonroof, all LED lighting, heated outside mirrors, and a host of other handy goodies (see the window-sticker below for more detail).  Plus of course an uber competitive active and passive safety package that I hope you never have to sample.
I've driven this engine in a host of other Hyundai vehicles, and find it to be an absolute gem.  Its quiet, smooth, economical, and serves enough power for the job.  I'm not at all a fan of most CVT transmissions, particularly those in early Prius models, and most Nissans so-equipped, for their constant droning the engine up and down the RPM band, that "motorboating" sound and feel they tend to exhibit.  This one I found myself hating far less than the others (not at all really); it actually is somewhat intelligent, as Hyundai's naming scheme suggests, and is tailorable with its Normal, Sport, and Smart modes, which give it more the feel of a conventional automatic with the sensation of "gears."  It all adds up to EPA ratings of 30mpg city, 40 highway, and 34 combined.  I easily equaled or beat these numbers, in fact one long semi lazy freeway slog yielding 42 mpg.  Can't do a lot better than that without going hybrid.  The powertrain is crisp and responsive — you'd never label it a fast — but its enough, and just right for the car.
The rest of the Elantra package is easy as pie.  The interior is smartly designed, laid out and beautifully constructed.  Something I notice and appreciated greatly in this car is that, even among the number of buttons, switches, dials, menus and screens, the functions they control are intuitively assigned.  Just when you want to do something that you feel direct access to a button would make it easiest — it's a button.  And when you want to take advantage of menu settings for more global functions, you can play with the tech aspect all you wish.  The seats are comfy and supportive front and back, with good passenger room in all dimensions for a car this size.  Everyone should be comfy and happy.
Something else further evident in this car, in fact, a bit of a hallmark in virtually all Hyundai/KIA group products, is how well the interior plastics are done.  If you want acres of highly polished (lacquered) wood trim and lots chrome, consider a Rolls-Royce.  Everything else in most modern cars in this vehicle class, and many others, is a manmade material of some sort; no cheapoplasticity here; everything you see touch and feel smacks of quality; the stuff that supposed to look like brushed or satin finished aluminum really does, everything has a surface tactility about it that belies the price of the car, or compliments it depending on how you look at it.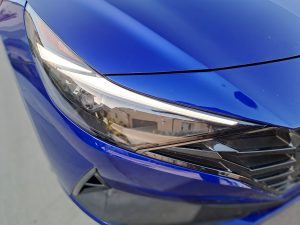 The Elantra is fun and easy to drive; not in a hot rod performancy kind of way, but its scoots and zips happily through all driving conditions; there's adequate feel and response from the steering, the brakes are strong and easy to modulate, and it goes around corners nicely.  Plus its quiet, with a smart ride/handling balance and is easy to park.  If you really want to haul beans and carve up corners, consider the racier N-Line model.
As with any Hyundai, the warranty package is best there is.  That means 5 years/60K mile New Vehicle Limited coverage, 7 Years / Unlimited miles against rust and body perforation, the now legendary 10 yrs/100K mile powertrain coverage, and road side assistance for 5 years.  Nobody does it better.
And Hyundai's value message is also handily underscored; just look at the sticker and consider all this equipment, feature content, and bonus goodies included for well under $30K.  Meaning you don't have to spend $35-40K for a decent, well equipped, safe, comfortable car if you shop here.
Would I buy one myself?  Absotively if I were shopping this market segment.  Should you be considering Corollas, Civics, and other players in the compact sedan realm, I strongly suggest the Elantra in one of its many forms, be on your shopping list.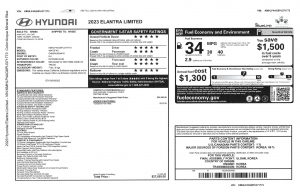 Double click the image to enlarge