I can't tell you how many so-called experts proclaimed that as soon as pure EVs became more practical and prevalent in the marketplace, the conventional, non-plug-in regenerative hybrid (HEV) would be instantly and forever dead.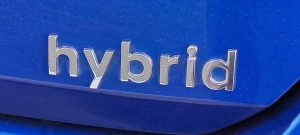 Ain't happened.
The vehicle architecture popularized by the original Toyota Prius and Honda Insight continues to live, flourish even, and grow.  It was originally seen as a "bridge strategy" between gas-only powered vehicle, and the future of EVness, and has propagated itself many times over, and continues to expand to brands, models, and vehicle types far beyond those original compact hybrids.  Which actually makes sense — HEV's generally — no, almost exclusively — get better mileage than their pure petrol counterparts, and do so without the need for, hassle, or expense of charging.  Range Anxiety needn't apply here.
So the market is telling us that the proliferation of plug-in HEVs and pure battery EVs, hasn't yet killed off the original, regenerative hybrid.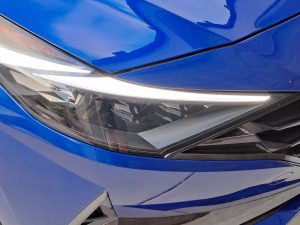 The Koreans (Hyundai, KIA) and the Japanese brands (Honda, Toyota, Nissan, Mitsubishi and Subaru) are waging battle royale in the HEV market right now — if one side comes out with a new HEV model, you can bet an opposition leader will respond with a competitor very quickly.  Hyundai's compact Elantra is a dandy compact sedan, which until recently, has been petrol only, but now there's a non-plug hybrid (HEV) version of it.  And it's equally dandy, but just gets better fuel economy.  The Elantra's 1.6-liter conventional gas engine pair with an integrated motor assist hybrid system to give a combined total of 139 horsepower, which doesn't sound like much but considering that the electric motor is at its best in adding low end torque, the powertrain feels punchy throughout the rev range.  And its only offered transmission is a very smart 6-speed dual clutch transmission, which gives the power efficiencies of a manual transmission, but operates like an automatic from the driver's standpoint – very efficient in terms of power and fuel economy.  This combination earns the Alantra HEV a combined EPA rating of 50 MPG, with 49 City and 52 Highway numbers — figures we had no difficulty equaling.
The "Limited" model designation is very well equipped and is essentially a one price buys all package — the only extras on my "Intense Blue" test unit are carpeted floor mats and destination and delivery charges.  So the total bottom line sticker price is barely a grand more than this model's base price — a pleasant surprise.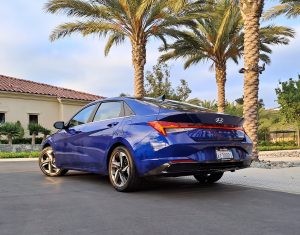 Style and design are always matters of personal choice and preference, but everyone who saw this car loved the edgy, sharply creased sheetmetal and glinting light clusters — one female onlooker called it sleek.  And its a great package too, with a roomy, flat trunk, and plenty of cabin space inside every dimension inside for real adults.  Hyundai does a marvelous job inside with plastics and materials choices that aren't cheap or cheesy in any way, with a quality feel and nice textures that please the eye and touch.  No cheap and cheerful here, everything smacks of quality in this driver centric cabin.  Props to Hyundai for sensible controls design – it just seems like the stuff that ought to be controlled by a button or a dial is, and the things best reserved for the clear, bright touch screen are.  It's a very intuitive car inside, and you'll get accustomed to it easily and comfortably.
And its a joy to drive too.  Quiet, smooth, and generally devoid of road rumble or wind noise.  Acceleration is crisp and responsive, as is the steering turn-in and feedback.  The car grips well in the corners too, with some certain credit going to the handsome alloy wheels and sporty 17-inch rolling stock.  It's not a sports car, but it is relatively sporty, and confidence inspiring to drive (and fun too).  The seating is supportive and comfy, and visibility is good too.  It handles and rides well too.
Not much to gripe about here, a great car that does everything well; any complaints would fall in the nit-picking catagory, and there's no reason to go there and search for meaningless niggles to harp on.
Add to all this a more than competitive active and passive safety package, plus of course the industry's best warranty roster.  And a value message that speaks strongly in terms of a reasonable buy-in, likely low upkeep costs (given the fab warranty) and the excellent mileage.  This is a ton of car for $30K out the door.  Its most logical competitor is the now also-offered Hybrid Toyota Corolla.  Both cars' equipment and specs read very similarly, and I can't tell you to choose between them.  Try both, and buy the one you like the most and/or can get the best deal on.
Jobs well done; try it you'll like it.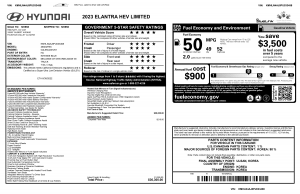 Click on any image to see it full screen in high res.