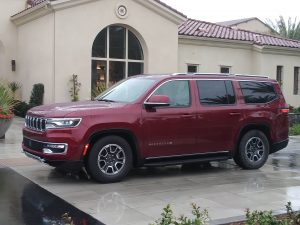 Remember the old Jeep Grand Wagoneer with the fake wood on the sides?  Don't laugh, its become a cult classic and good ones cost the money.  It had a cushy leather interior, plenty of fake wood inside too, and was very good off road — it was America's Range Rover at the time.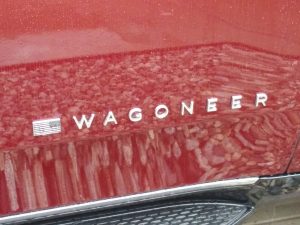 That last Grandy went away with the end of model year 1993, and by that I mean the classic, original SJ versions, not the later Cherokee based Wagoneers that didn't deserve to wear the badge.
No matter, the slate has been wiped entirely clean with an all new, from the tires up Wagoneer model roster that goes from Wagoneer to Grand Wagoneer.  It can be had in rear-wheel drive or 4-wheel drive, and the new platform is for the first time, a 3-row seater.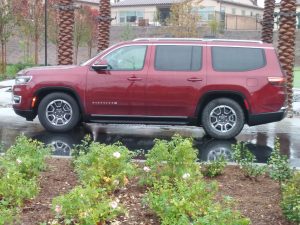 And in case you're thinking it looks huge, you'd be right.  Its offered in a variety of model levels, from well equipped and simply very nice, to over the top, (competes with a Bentley), Grand Wagoneer.  My tester was the upper middle class Wagoneer Series II 4×4.  And it was fully loaded (see the window sticker below).  That means the 392 horsepower 5.7-liter V-8 with standard eTorque system, which I'll get to in a minute.  It based at $71,845 and after all the option packages were added in it totalled at $82, 820 — a big ask yes, but a highly sophisticated, capable, and superbly performing premiun SUV.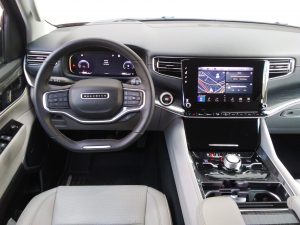 Lots of screen, lots of buttons, lots of features inside.  Jeep/Chrysler/DaimlerChrylser, FiatChrysler, Stellantis products used to get picked on for low quality, sometimes tacky, and often poorly put together interiors.  Well them days are long gone with this truck.  Everything you look at, touch, or sit on smacks of quality and good finish.  Every button and switch felt crisp, the leather was sturdy and beautiful, even the plastics looked substantive, and nicely finished.
You can read the window sticker below to see every little (and big) bell and whistle this truck had on it so I won't run through the entire list here.  Plus this thing is wonderfully roomy in all three rows.  Flop the 3rd row seats down, and it's huge.  Fold the 2nd row down and it's cavernous.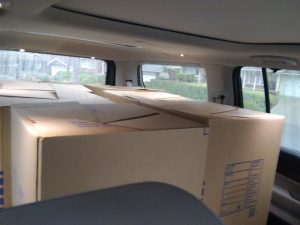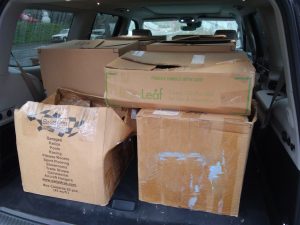 The big Hemi V-8 fires easily and woofles with authority through its large diameter exhaust.  The 8-Speed Torquflite automatic transmission engages via the now popular washing machine dial shifting mechanism and you're away.  And for a rig that weighs around 6,000 pounds depending upon configuration and options, it's not quick – its fast.  It pulls long and strong in any gear or conditions, no matter how full or empty.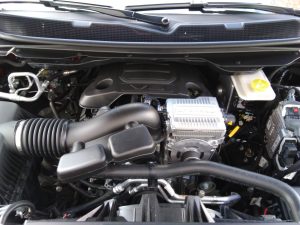 The whole things if helped along by a nifty mild hybrid system called eTorque.  The theory behind it is relatively simple, even if the execution and the integrating of it into the powertrain is likely complex and left to really smart engineers.  The underlying principle of it is simple: if you have a generator, and you spin it at high rpm, it produces electricity.  If you put juice to a generator it becomes a motor.  eTorque stores up extra juice in a battery system, and then uses it to aid low end power delivery.  So the eTorque goody is essentially an alternator/starter and motor dealio that adds low end (or cruising speed) power and improves performance and fuel economy.  Other trick tech that helps save fuel and emissions includes displacement on demand, which cuts cylinders in and out of operation depending upon load.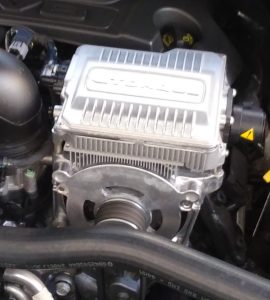 The other great thing about the eTorque system, which operates through the accessory drive belts on the engine (not with the transmission as on many hybrid) is that it acts as the auto start/stop motor.  I generally, and often strongly, dislike the sound and feel of most auto stop start DoFunnies because every time they restart, you hear the conventional starter motor have to engage and crank; it feel and sounds wrong to me.   On an eTorque equipped engine, such as on this Wagoneer, the eTorque becomes the starter.  Cruise up to a stop, and the engine cuts out.  Take your foot off the brake, and the eTorque spins the crankshaft via the drive belt, and the engine restarts immediately and quietly with no "starter noise."  Simply Brill.  Normally I shut these systems off in any vehicle I drive, but there was no reason to here.  For the first time, there's an auto start/stop system that does its job seamlessly.
No matter, don't expect major fuel economy out of the Wagoneer, rated at 15 /20 by the EPA.  I feel like I might have done just a bit better on the highway.  No matter, you don't by this large, luxurious, and capable a vehicle simply to save gas.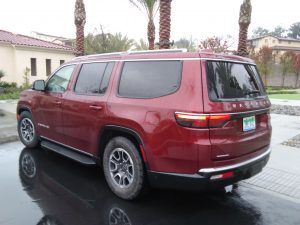 But you do buy it to transport lots of people and stuff in comfort and style nearly anywhere you want it all to go.  It rides beautifully, with a suppleness that's most satisfying.  And it handles nicely enough for a large, heavy rig, although you will feel its size and heft, but only in that it's noticeable, not a deal breaker.  The steering is precise enough, and its got plenty of brakes.  And its quiet.  My analogy here is that its a landbound 747 — large, commodious, strong, powerful, and comfy.  I still wish they flew them, and I'd fly this Wagoneer anywhere, any time.  Would certainly be a good trailer towing vehicle, especially as equipped like my tester.
What would make the top of the range Grand Wagoneer even grander?  That model comes with an even larger, more powerful V-8 engine, genuine wood inside, and even softer, more supple leather everywhere, along with every infotainment bell, whistle, charging port, and screen you can pack into one track.
Complaints?  Nada.  This thing is so good, competent, and beautifully built I can't nitpick — well just one thing, and it is indeed a nit; it has a power opener button for the rear deck, but you close it by reaching up and pulling it down by hand — why doesn't it get a "closer button?"  Or raise and lower it with the buttons on the fob if you're worried about risking your manicure.  If you are considering a Tahoe, Yukon, Suburban, Navigator, X7, and yes — even a Range Rover, you really really must give this Wagoneer a serious shop too.  It's just that good — and no fake wood on the sides either.  I'd buy one if I needed one.