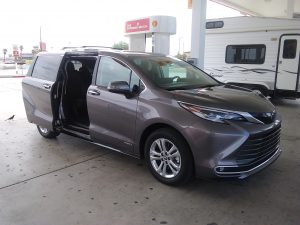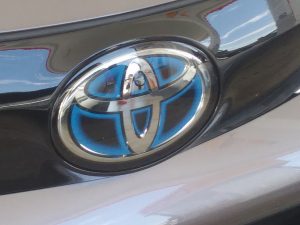 Forget everything you know, or think you know, and particularly everything you ridicule, about mid-sized passenger vans, or as they used to be called, Minivans.  And let's dispense with all the not very witty cuticisms that you've all said at one point or another: Soccermom-mobile, Rolling Baby Crib, or any other such crap.  Modern passenger vans are fabulously designed and engineered ways to tote lots of people and stuff.  Chrysler coined the modern definition of the minivan with its compact, K-Car platform based front-wheel drive vans of 1984.  Ford and GM also jumped on big time, and the Japanese brands also soon followed suit.
Ford and GM have pretty much left this particular party, as has Nissan.  Honda's Odyssey, the Toyota Sienna, Chrysler Pacifica, and KIA are about the only games in minivan town these days, they're all excellent, with Honda and Toyota's offerings being the best sellers.  The Sienna got a major overhaul in the last model year or so, and is the subject of todays scrutiny here.
I've often wondered why carmakers haven't offered hybrid powertrains in minivans earlier and in larger quantity.  Vans are low hanging fruit in terms of benefitting from the low end torque boost of an electric motor assist, and also the mileage, emissions, and range benefits of a hybrid.  The Chrysler Pacifica can be had as a plug in hybrid (PHEV) model, and the new/current Sienna also offers this model — no surprise, as Toyota has significantly expanded its line of hybrids well beyond Prius models, you can now get a hybrid Camry, Corolla, and RAV4, plus several (sister brand) Lexus hybrid players.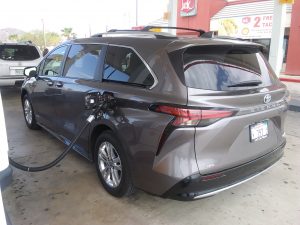 Click on any photo to see full screen in high res
Most people either don't think of styling and design when it comes to vans, which honestly has been part of their image problem.  Honda's Odyssey has a rafeish swale or dip cut into its window and doorline, which helps break up the box a bit.  Toyota has also pressed some curves into the new Sienna's side sheetmetal, with a bit of a fender flare or curve punched into the rear quarters of the body which also visually breaks up the flatness of the sides of the vehicle.  It's at least a bit sportier (go figure) if not actually handsome (again go figure).
My tester was the ne plus ultra Platinum edition, with about every bell and whistle aboard you can name or imagine — rather than recite it all here, I'll refer you to the window sticker a bit below to see all the goodies.  The infotainment is first rate, easy to use and work, and pair with devices; there's also middle seat area screens and headphones for keeping those passengers with a variety of media capability.  The two tone leather line cabin is beautifully finished and very comfy.  Fold every seat away, and the resultant cargo capacity resembles that of a backyard storage shed.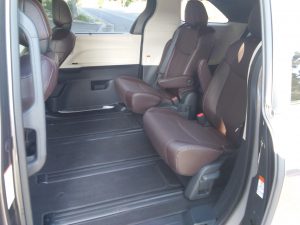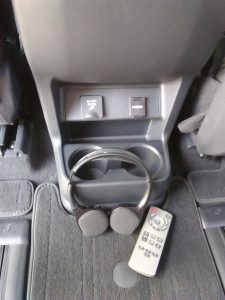 As you might expect from a topline Toyota, the fit, finish, and overall build quality is spectacular.  Everything fits, tightly and clean, with no squeaks or rattles to be found no matter what you drive over.  One seemingly small feature that really surprised and delighted me is the 120 volt, household current AC plugs to be found in the middle seat section, and also the rear cargo area.  Charge your phone, devices, tools, computers, whatever.  No funny adapters required — how handy is this!?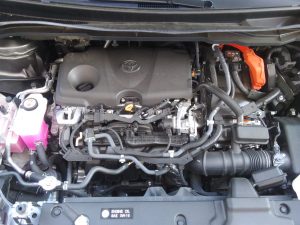 The hybrid powertrain is a jewel; in this a 2.5-liter I-4 matched with an electric motor assist that collaborate to deliver 245 combined horsepower and a boatload of low end torque.  The only transmission is a Continuously Variable Transmission automatic, typical of most Toyota hybrids. I'm normally not a fan of these types of trannys, as they tend to drone and "motorboat" while attempting to match the appropriate gear ratio to the engine's powerband and the driver's right foot.  Not so this clever, computer managed box — its calibration is much improved over early Toyota/Lexus vehicles I've tested using the same technology, that its no longer objectionable, and in fact works quite well.
What better way to test a people mover than a 500 mile road trip; there were three of us grown adult type males, with luggage, and this rig proved the perfect ride from LA to Vegas and back in supreme quiet and comfort…and economy.  At times we travelled at slightly above legal speeds, and times we were bogged in traffic, yet averaged a squeedge over 35mpg, which for a large, relatively heavy 7-passenger machine is great.  The only driving dynamic feature we couldn't really evaluate is the all wheel drive system; we never ran over anything more than a puddle, nor encountered any mountain or icy roads.  We didn't notice any ride or handling downside to this fulltime AWD system, but we couldn't sample its potentially traction challenging benefits.
This very smart powertrain, besides serving up super low emissions and great fuel economy, also packs meaningful punch.  You might not call it fast, but its got more than adequate juice in nearly any driving situation, and you'll never fear onramps or long mountain climbs in the Sienna Hybrid.  Smooth, generally quiet, and plenty of power, even when loaded.  And it's all pretty good value for money.
What didn't we like?  Hmmmmmm.  Gotta think about that.  Nothing of course is ever perfect, but this vehicle does most everything right (or better), looks good, is relatively fun and easy to drive, and offers every passenger plenty of comfort and entertainment.  I'm not in the market for a vehicle in this segment, but I were, I'd seriously shop and consider this one…and  I recommend that you do too.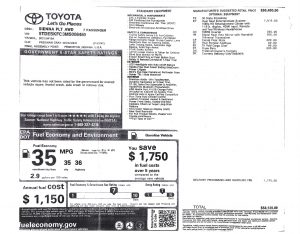 Well done, Toyota.  And now, y'all, no more minivan jokes please.