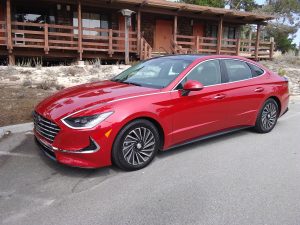 Hyundai's dynamic Sonata and corporate cousin KIA's K5 (formerly Optima) continue to prove that the mid-sized sedan is still a viable product, and not likely to be summarily wiped off the face of dealer lots by SUVs anytime soon.  The Sonata got a thorough redesign and content refresh just this year, and comes in a variety of models that will fit most or every need.  As I had  bit of a road trip in the offing, I most wanted to sample and evaluate the Hybrid model,  of course knowing that gas would be $4.50 – 5.00 a gallon the road during late summer travel, and my Calypso Red Limited Hybrid tester had it all; this trim level comes as loaded as you can imagine, in fact the only option on my tester was carpeted floormats instead of plain rubber or vinyl.  Take a look at the window sticker below to see a laundry list of all the bells, whistles, and goodies this car contains with no ups or extras.  I was particularly interested to see if the car would deliver anything close to its EPA 47 MPG overall rating.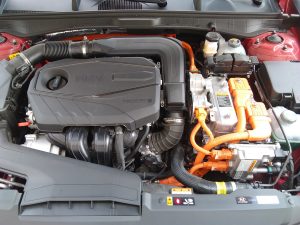 Keep in mind this is a conventional hybrid, with no plug-in feature.  And unlike so many other hybrids, this one combines its hybridified 2.0-liter I-4 with a 6-speed automatic transmission that let's you feel the shifts, rather than the endless droaning of a Continuous Variable Transmission (CVT) that you'll find on so many hybrids, particularly Toyota's and Nissans.  Plus you can click the trans into manual mode and control the up- and down-shifts with the steering wheel mounted paddle shifters if you so desire.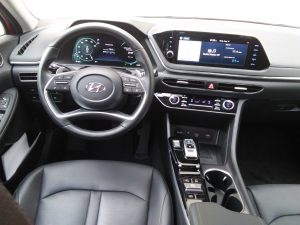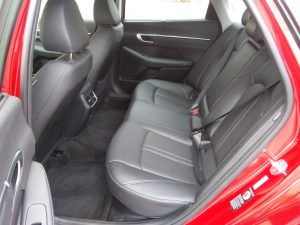 The leather lined cabin is beautifully trimmed, well finished, and very comfortable for drivers and passengers of all shapes and sizes.  Hyundai and KIA both have learned the art of handsome high quality plastics, and everything inside looks and feels good to the touch.  There's plenty of glass area for good visibility too.  The main instrument panel is now fully digital, and offers certain programable menu options.  The large nav and infotainment touchscreen is bright, clear, and easy to read, mounted high on the dash just above the center console.  Its large enough to be functional and highly visible, without the feeling of an oversized iPad or undersized TV mounted on your dash.  The shifter module on the console is a pushbutton affair that's easy and intuitive once you get a little used to it.  Lined up in a line are the choices for Reverse, Neutral, and Drive, Park is a separate button up and to the left a bit.  Sounds odd, but works fine.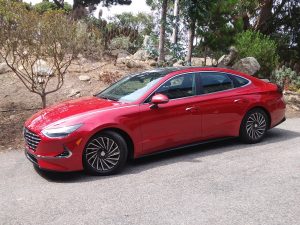 The car starts, runs, and drives very normally, and in ways anyone will be comfortable with.  The electric motor assist gives the gas engine plenty of low end punch, and does the majority of the work when putzing around town in "city" mode.  You may or may not call it fast, but it moves along smartly in any situation, and can handle any onramp you ask of it.  On the freeway cruise, the electric motor isn't doing all that much, the engine settles down into a low rpm loaf in its higher gears, and the whole things is quiet and smooth.  Your right foot summons plenty of passing power, and you'll never worry about long hill climbs.  The transmission is responsive yet smooth, giving you clean responsive shifts without being harsh or mushy.
You'll appreciate the 17-inch rolling stock with premium Michelin tires, which collaborate to deliver crisp response and handling, along with optimized fuel mileage, and a smooth quiet ride.  There's a nice blend of luxury sedan and sporty driving characteristics here, it's a car you'll enjoy driving, while your passengers are happy and comfy.  The HVAC systems work superbly, and the connectivity and infotainment capabilities are excellent.  Let's not forget Hyundai's industry leading warranty package, with 5 year/60,000 miles bumper to bumper coverage, 10 year / 1000,000 powertrain and hybrid system coverage, plus 3-year scheduled maintenance (oil changes, tire rotations, etc.) all included.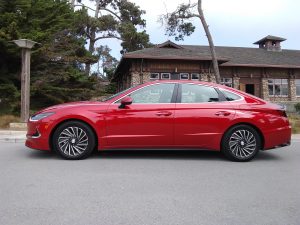 The Sonata Limited Hybrid proved an absolute joy to drive, and is a car I'd be pleased to own, and would buy with my own money.  High quality stuff, beautifully built, that just works and does everything well.  Plus I personally feel it's damned attractive.  And in my 1000 miles test drive trip, which was about 70/30 highway and city driving, it delivered a consistent 46.7 MPG with no special measures or treatment needed to reach that number, so it does everything it promises to do.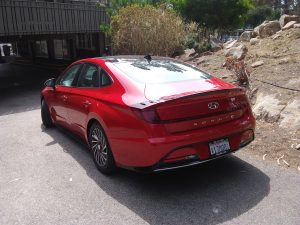 If you're considering a Camry, Altima, or Malibu, this car deserves to be on your shopping list — I promise you'll find a lot to like here.